Reviews from 1986-1992, Reviews of 1997, Reviews of 1998, Reviews of 1999, Reviews of 2000, Reviews of 2001, Reviews of 2002, Reviews of 2003, Reviews from 2004, Reviews from 2005, Reviews from 2006, Reviews from 2007 Reviews from 2008
---
Jon Langford 5/9/98 Chicago
Skull Orchard
Mekons Summer 1998
Mekons Fall 1998
Pictures from the Mean Fiddler
Wacos, Dec. 31 1998
There are other reviews in between
**** Skull Orchard Cypermusic
Hear Jon Langford's Skull Orchard
Monday Feb. 16
"Live from 435"
What is "LF435"?
It's a live, in-studio internet cybercast and chat featuring the finest in local music. Simply sign on to Metromix at metromix.com and hear a live audio cybercast performance of Jon Langford's Skull Orchard. Submit questions and comments through the Metromix chat room at chat.metromix.com.
"Live from 435" premieres Monday, February 16, 8:30 p.m. sharp!
That would be 8:30 Central Standard Time.
---
Skull Orchard live
NY, Mercury Lounge, Feb 27th
Schubas Tavern (Chicago) is sponsoring a showcase in Austin that I think is not to be missed. Thursday, 3/19, 1-6:30pm at Yard Dog Folk Art Gallery (1510 S. Congress). Black Family, Sally Timms, The Handsome Family, JonBoy Langford and the Pine Valley Cosmonauts, Mount Pilot, and Genghis Angus.
March 14, at the Magic Stick in Detroit, w/ The Waco Bros
---
Wacos live
3/7/98 Chicago IL Lounge Ax w/The Sadies
3/12/98 Lexington KY Lynagh's
REVIEW:
Date: Fri, 13 Mar 1998 16:52:25 -0500
To: Club.Mekon@t-online.de
From: Peter Hesseldenz
Subject: Waco Brothers Live in Lexington, KY
Hello,
Last night the Waco Brothers played here in Lexington, KY. It was, as you would expect, a great show. There was a fairly small turnout, since it was a weeknight and I don't think they are all that well-known around here. They played almost all of the songs from Cowboy in Flames. They also played "Revolution Blues," "Do You Think About Me," and ended with "Folsom Prison Blues." The band had a lot of energy on stage--they ended a lot of songs by all jumping in the air at once. Jon Langford looked a lot more fit than he did the last time I saw the Mekons which was a few year ago. He was witty as usual on stage. Someone in the crowd yelled out at one point: "Play some Pogues!" to which he replied: "What's that? Is Pogue Kentucky talk for song? Play some songs?" Afterwards we chatted with him for a minute and when we left he gave me a hug and a kiss even. What a night!
Peter
3/13/98 Pittsburgh PA The Rosebud w/David Poe $5.00

3/14/98 Detroit MI Magic Stick
REVIEW:
Date: Sun, 15 Mar 1998 13:11:03 -0500
From: Kurt Wasiluk
To: Club.Mekon@t-online.de
Last night, down at the Magic Stick in Detroit, Skull Orchard and Waco Brothers rolled into town. I've only seen the Waco Brothers once before at a sold-out performance with Rico Bell, Sally Timms, and Moonshine Willy this fall at the Metro in Chicago. There must have been over 500 at that one and the place was packed. Quite a different picture last night though. There couldn't have been more than 100 people in the place. The Magic Stick can fit quite a few more than that so it felt pretty bare although the fans who were there were definitely into it. Skull Orchard played first. I hadn't been able to find their CD prior to the show so the material was all new to me. For the most part I felt it sounded very good. Pretty much a straigtforward rock sound. The band (Alan Doughty, Mark Durante, and Steve Goulding) all looked relaxed and seemed to be enjoying themselves. Jon introduced every song with humor and seemed to be in a decent mood. He joked some about Capt. Picard in Moby Dick tonight introducing his Inside the Whale tune. Other songs that I can remember him playing include :
Penny Arcades
Butter Song
I'm Stopping this Train
Deep Sea Diver
Tom Jones Levitation
He probably played about 5 more but again, I'm not yet familiar with the material.
After the show I spent some time talking with him so here's some news that may be of some interest:
The Mekons album is still slated for May. Jon seems real happy with it and the way that the album is a full band effort. He kept referring to a line-up of 10 people but adding people up in my head I can only come up with 8 (Tom, Jon, Steve, Susie, Sarah, Rico, Lu, Sally). I asked him about the sound of it and he answered by describing it as "sexy" with a real dance sound. But he also mentioned that it's not the type of thing he would play for his mother (so it may be pretty explicit ala Pussy).
This summer seeing the Wacos in Chicago I got a chance to talk to Tom Greenhalgh for a couple minutes (he had made a walk-on appearance to sing "Lost Highway") and he described the album as really way-out. I asked "Weirder than United?" and he said yes. I'm not a big fan of either United or Pussy so between what Jon and Tom were saying I worry that it's in that vein. But I still look forward to finding out.
Jon expressed his hopes for a full tour with the "10 member lineup". That would be a dream come true for me.
His Pine Valley Cosmonauts album is about halfway done. Apparently it's just taking time to get all the various singers lined up. He didn't want to do a deal again where he was the singer on every song. I asked if we could expect any rereleases of the old Mekons odds and ends out there and he said that he was trying to put together a package of B-sides and other stuff he likes. He wants to put the stuff out even if it doesn't get a good review in Magnet magazine (I think that's what he said.) I was very impressed with his friendliness and willingness to answer my "fan" questions.
Waco Brothers played soon afterwards. I was a little disappointed that they didn't come out all decked out in full Cowboy wardrobe. Marc wore his hat, though. As always they were very playful on stage jumping around, kicking the air and obviously having fun with each other.
Here's the setlist:
Death of Country Music
Out There Aways
Cowboy in Flames
Out in the Light
Do What I Say
Hello to Everybody (new song sung by Deano)
Wreck on the Highway
If You Don't Change Your Mind
Too Sweet to Die
Corrupted
Do You Think About Me?
Revolution Blues
Harm's Way
See Willy
Take Me to the Fires (this is on the set list, I don't recall if they actually played it.)
Plenty Tough
For the encore they played:
4 songs by Bob Wills. They sounded terrific!
Cocaine Blues
White Lightning.
Afterwards we talked briefly with Alan Doughty at the bar and he just raved about the Skull Orchard album. A nice guy.
All in all a very happy and succesful night out.
Later,
Kurt Wasiluk

---
More shows without review
3/20/98 Austin TX Yard Dog Gallery Bloodshot SXSW Party**Free Admission**Free Beer**Noonish--6PMish
3/21/98 Austin TX Copper Tank Bloodshot Showcase @ 1AM
4/10/98 Chicago IL The Abbey Pub
4/24/98 Cleveland OH venue TBA (tentative)
4/25/98 Cincinnati OH venue TBA (tentative)
5/1/98 Madison WI venue TBA (tentative)
5/2/98 Minneapolis venue TBA (tentative)


Date: Sat, 09 May 1998 07:47:41 -0500
From: Tom Mohr
Subject: Jon Langford Concert Review

Artiste: Jon Langford / Skull Orchard
Venue: the cafe at Borders Books, Clark & Diversey, Chicago

Crowd: I don't know, maybe half the people were there to see Jonboy, another fourth were there to see whomever was playing, and the other fourth were there to sit and drink their mocha lattes and were probably confused and annoyed by the music. Fifty people total, maybe?

It looked like his wife (I assume it was his wife making kissy noises at him) brought a bunch of friends. And Jon introduced his cousin from Wales, who looked embarrassed by the applause she got.

Moron Factor: Sorry, the word 'moron' may be a bit strong, but why would you pull chairs up to right in front of Jon Langford and then talk through half the show (as a group of three people did) or read a book (as one guy did).

Sound: Minimal. The machines that were making coffee drinks were louder than the guitars.
Our Seats: We sat about ten feet away from the band.
The Band: Jon Langford, Alan Doughty on bass and vocals, Marc Durante on guitar, John Rice on violin. Jon said they couldn't find a drummer anywhere (Steve Goulding was probably playing with Poi Dog Pondering, up Clark Street at Metro). Unplugged and seated.

Setlist: Jon took a cd off the sale table, set it on the floor next to himself, and picked out songs --
Pill Sailor
Tubby Brothers
Penny Arcade
Trap Door
Tom Jones Levitation
I Am the Law
Youghal
The Last Count
Sentimental Marching Song
Inside the Whale
My Own Worst Enemy
Deep Sea Diver
I'm Stopping This Train
Butter Song
Trouble In Mind (he said to be sure to buy the Pine Valley Cosmonauts' upcoming release because Jimmie Dale Gilmore sings this song on the record)

Highlights: Sitting ten feet from Jon Langford, listening to acoustic versions of some fairly grim songs, and you can hear clearly every lyric, there was an emotional impact that you don't get at a loud electric Waco Brothers show.

Lowlights: Well, the emotion was sadness. Jon seemed kind of uneasy at being so exposed, without electric guitars and a drummer.

You go to a big show and hear some rock star crying to 10,000 people about being lonely, and you think, yeah right.

You sit and listen to Jon Langford singing about "My Own Worst Enemy", and you kind of feel sorry for him.

Songs I Wished They Played: The poster for the show said he would be playing for two hours but he only played for one hour. I overheard a couple of Borders employees saying they had expected him to do a couple of sets.

At the start of the show he had said they would take requests but they didn't...

Summary: Jon didn't look comfortable all evening. The cheerful drunken banter of a Mekons / Wacos show was missing. Aside from some sloppy endings that had the band laughing, I don't think Jon was enjoying himself. Probably the first and last bookstore appearance.

More shows without review

JON LANGFORD & SKULL ORCHARD

May 22nd Boulevard Cafe, Logan Square, Chicago (Acoustic Show)
May 23rd Double Door with Southern Culture On The Skids
May 29th Spaceland, Los Angeles
May 30th San Diego


June 1st Bottom Of The Hill, San Francisco
Los Angeles Times / June 1, 1998
POP MUSIC REVIEWS;
JON LANGFORD GETS HIS MESSAGE ACROSS
BY: NATALIE NICHOLS
It would have been hard for Jon Langford, on his first tour as a solo artist, to surprise the fans at Space-land on Friday. His band the Mekons has a mercurial, 20-year discography of avant-punk ramblings, offbeat country, belligerent folk and pop experiments that savagely lampoon politics, conformity, and nearly everything about sex, drugs and rock 'n' roll.
The members of the Leeds, England, collective have indulged their artistic muses with side projects ranging from other bands to comic strips.
So in one way, singer-guitarist Langford, backed by a bassist and a drummer, gave the small, appreciative audience exactly what you'd expect: nearly an hour of devilishly wry and righteously poignant tunes from his recent solo debut, "Skull Orchard," in which the five-year Chicago resident focuses his expatriate's lens on the economic and social downturns in his native Wales.
Langford also delivered the anticipated twist--a primitive pop that rocked more readily than much else he's done. The trio melded gritty melodies and raw hooks that recalled '60s-era Who or Kinks with a twang that reflected Langford's country offshoot the Waco Brothers. His brief explanations revealed empathy behind the biting whimsy in songs that wishfully installed Tom Jones as president of Wales and decried the indecency of plastic surgery. While not remotely as commercially viable as, say, the hits of self-proclaimed anarchists Chumbawamba, the songs got across similarly strong messages in a style even the uninitiated could enjoy.
The guitarist also sat in on an opening half-hour set by fellow Mekon Sally Timms, whose oddly sensual singing and minimal new-wave cabaret proved more obscure, though nearly as intriguing.
June 13th Lounge Ax, Chicago
WACO BROTHERS
June 12th Fitzgerald's, Berwyn IL
---
MEKONS / 1998
THU 6/25 CAMBRIDGE, MA Paradise/Middle East
Magical moments from veteran Mekons Jim Sullivan
* 06/29/98
The Boston Globe
(Copyright 1998)
MEKONS At: the Middle East Downstairs, Cambridge, Thursday night
CAMBRIDGE -- When Mekons is making magic, there is no other place you'd want to be, no other club you'd wish to join. Formed in Leeds, England, the band members are now spread to the winds, in Chicago, across England. They've been with us, off and on, for 19 years, a constant source of amusement, catharsis, political bonding, and -- well -- good drinking buddies. They bring skewed country, rock, Cajun, sea chanteys, even electronica.
Club Mekon is a place for boys and girls, with sparks always flying among the three front singers, Sally Timms and guitarists Jon Langford and Tom Greenhalgh. They rock and they sway; they sing warm and bawdy and swing from the left. Having said that, if they're aiming to convert you to socialism, it's conversion by fun, not by preaching, a la their pals Chumbawamba.
A sample of banter from Thursday's show at the Middle East Downstairs: "I can't remember what this song is called," says Greenhalgh, muffing an intro. "Maybe we should play the last song again," offers Langford. (The song turns out to be a sad, swaying number about gin.) Prefacing "Come and Have a Go If You Think You're Hard Enough," Mekons referenced today's semi-obscene chat radio and figured we were inches away from "all cursing" radio, and if so, they were the band for it. Indeed, a chunk of the songs from their new "ME" album are nasty numbers.
The seven Mekons' mission is to feed us the new, and often brilliant, stuff on "ME." Audiences, of course, want a mix of old and new. Here was Langford, introducing an oldie: "a comforting old song, an armchair, mother's milk as opposed to the El Nino of new songs." Later, he said, "Here's an old song -- your parents probably told you about this one . . ." " `Chivalry'!" cries a fan, hoping for a Mekons gem. "No, that's dead, mate," answers Langford. At the end of the show, most of the band members are wearing maroon shirts with "Mekons" on them -- rock 'n' roll garage attendants. Thursday's 80- minute set was a good kick upward from the oddly tepid set Mekons delivered last time through town.
"ME" satirizes self-obsession (what better topic for today's world?) and wades into the waters of sexual hunger. They did five or so from it. They kicked off with the joyous "Heaven and Back," saluted "Fletcher Christian," talked dirty during "Tourettes." You'll never hear more charming potty-mouths. Timms was best on the heartbreak songs ("No one ever says goodbye these days / They're all too busy running scared" in "The End of the World") with accordionist Rico Bell; the guys took the spotlight on the rockier numbers. It was rock 'n' roll played with natural passion, with meaning, devoid of pretension. It was comforting, agitating, and hilarious in all the right places.

---
Just a few comments about the show:
Mekons were really full of energy this night, even though the audience was not. I hadn't heard any of the new stuff, but made sure to buy ME before the end of the night. I don't know what it is about Boston/Cambridge crowds. Sometimes they are a bit boring. I've lived in Boston all my life so I should know. Anyone got any suggestions of better places?
Basically, I got drunk ,sang/shouted/slurred off key, ogled Sally, was amazed at what keeps the Mekons going, ogled Sally some more and wished the Mekons came around more. Long live the Mekons! In the words of Louis deBernieres, this show was "so fuckin pukka I could have fucking spunked myself"
Neal
---
Date: Mon, 29 Jun 1998 21:15:16 -0400
From: "tom"
Subject: Re: Club Mekon #65
Hi y'all. Was at the Cambridge show last week. Thought it was good but aseemed like a show by a different band than I remember from a few years back. The sound was bit more modulated. I remember them being louder back in '93 and '94, more of a hard punk sound back then. The saz and accordion added a different atmosphere and I'm not pretentious enought right now to articulate what "atmosphere" is. Still a boozy bash. However, they were cheated out of playing an encore by the club (Middle east). So I was bummed to find that they played Bomb and Memphis Egypt at the Bowery (wanted to come down for the show but was broke). I have to say that Bomb may have been the best song I've ever seen them play live.
Did they play Bomb with choreography or is that honor been left only for Belly to Belly?

---
Date: Sun, 28 Jun 1998 17:48:53 -0400
From: "Kevin K."
Subject: Re: Club Mekon #64
At 09:21 PM 6/28/96 +0200, you wrote:
>There were more songs,
>and encores of course. Someone help me out! There was a long 'Back to Back',
>with dance moves.
Richard,
Thanks for the review of the NYC show and sorry to hear you got mugged (been there, too, and the cops didn't much care either). Believe it or not, it was my first Mekons show ever, though I've been a fan for years. Just never seemed to get my shit together when they're around. I signed up to this list, hoping to get a set list. Thanks. As far as the encores go, I know that they did "Memphis, Egypt" as the first song -- first encore and ended the second encore with that thing the roadie sang. Don't know if that appears on any recordings. Can't recall what the other two encore songs were. Anyone else?
I really loved the show and like the Bowery Ballroom a whole bunch. As I'm getting on in my years, I liked the fact that there was a lot of room to move around. The view from the balcony (where we were) was great and, as you noted, the sound was superb.
I don't agree with you about the crowd being dull -- at least when you consider it was a New York crowd ... normally very reserved. I couldn't believe it when they started singing, in unison, the "belly to belly..." chorus to get the Mekons to do an encore. I was stunned. I never imagined I'd see a NYC crowd do that.
The band seemed to be really tight that night and sometimes the harmonies just soared. Jon was funny as shit as he bitched about an unflattering blurb about them in the "Village Voice" (implying they were tired/old) and when someone yelled "Sally, I had your baby" she said, "Can I have it back?" I didn't think anything would beat my favorite show of the year (Chris Knox at Maxwell's), but this did.
Heck, I've been admittedly neglectful of keeping up w/ the Mekons since the signed with 1/4 Stick, but now I'm gonna run out to buy "Me" and probably everything else they've done on that label. Foolish behavior on my part, I confess, and I plan to amend my ways soon. Which one would I be best to start with -- after "Me" -- "I Love Mekons"?
>called 'In defense of the Spice Girls' written by Sally Timms. Don't miss
>it, she's serious! For a start, Sally says she wants to be Old Spice.
BTW, the first time I ever heard anyone use Old Spice in reference to the Spice Girls was Peter Jennings (!) a half year or so ago on the "Daily Show" (Comedy Central).
Kevin

---
FRI 6/26 NEW YORK, NY Delancey Street Theatre
The Record (Bergen County, NJ, June 26, 1998
SEX AND DEATH SUSTAIN THEM; BUT THERE'S NO MONEY IN IT
BY: ED CONDRAN
MUSIC PREVIEW
THE MEKONS: 8 tonight. The Bowery Ballroom, 6 Delancey St., Manhattan. $ 12. (212) 533-2111.
Even though the group's music has shifted dramatically during its almost 20-year career, when it comes to lyrics, the Mekons continue to revel in their two favorite subjects: sex and death.
Those topics were constants throughout the group's debut album, 1980's"The Quality of Mercy Is Not Strnen,"and were bandied about on the band's following records, including its latest release,"Me."
"That's our currency,"said vocalist-guitarist Jon Langford on the phone from his Chicago apartment."Sex and death are two very important things to discuss, but those are two reasons we don't get to the bank much."
The Mekons never sold many records. The British group, which relocated to the Windy City, peaked commercially in 1989 with the release of its lone major-label release, "The Mekons Rock 'n Roll."The album sold 25,000 copies and earned the band a pink slip from A&M Records, this despite the fact that the collection sold four times as many copies as the Mekons prior release, 1988's"So Good It Hurts."
"That was a very frustrating time for us since we were so pleased so many people bought 'Rock 'N Roll, " said Langford."We thought we could build on that, but it didn't compute with A&M." The end of the major-label run didn't affect the band sonically.
The Mekons continued to craft whatever type of music, punk rock, synth-pop, offbeat rock-and-roll, country, and noise rock , that struck its fancy and, subsequently, pleased its devoted group of fans.
"We're well past the notion of what it would be like to be successful,"said Langford."We're happier with the fact that we can write and record whatever we like. We can float around to form one genre to the next if we want.
"We're locked into the idea that there is a small but enthusiastic audience out there for us. We're quite happy making records for them if they would like to buy them or not. We made records when we didn't have an audience and we will make records for as long as we want to."
The Mekons latest disc is comprised of material that is catchier than most fodder gracing contemporary-hits radio stations. The tunes are predominantly melodic, occasionally ethereal.
"Who knows what tickles the masses fancy?"said Langford."All I know is that I love this album, and it wouldn't matter if everyone hated it. But if that was the case it would be a bit embarrassing asking the record label Quarterstick for more monies for the next album, but we would do it.
"We still have a lot to say, and we'll be saying it for years.
Unlike a lot of people, we don't have to go back and try to make albums that sound like our first ones. I loved what we did in 1980, but those days seem like a distant dream to me. If you get stuck in the past you're in trouble."
Unlike some of its contemporaries, the Mekons, who play tonight at the Bowery Ballroom in Manhattan, are aging gracefully.
"At least we still have our wits about ourselves,"Langford said.
"We wouldn't continue if it became an embarrassment. It's hard to believe what has happened to people we used to respect. I was watching former Pogues member Shane McGowan the other night on 'Conan O'Brien. ... He looked like this leather-clad, Irish ruffian playing a bad version of a Pogues song. It was appalling.... If I were ever to act up that way or write truly awful music, someone should pull the plug on me immediately. Don't give me sex. Give me death if I deserve it."
---
REVIEWS:
The show was a blast, getting mugged on my way home wasn't.
To make a short story long....
This was my first time in the Bowery Ballroom, and it's a very nice venue. Plenty roomy, big stage, balcony, cool downstairs bar. Excellent sound system. But you know what? It was almost too nice for the Mekons. Maybe just too big. Sure Maxwells is too cramped, but it seems like that helps create those euphoric Mekons moments. The crowd last night was a bit dull, it seemed.
The band was in fine form as usual. Lu's saz playing was prominent in the mix and rather tasty throughout. Sarah is a fantastic bass player; a friend told me to concentrate on her playing, and it's good advice. I was surprised that Tom doesn't play guitar anymore...it sure freed him up to pose, drink and mess with Sally. And concentrate on his singing, oh that too!
After the show I snagged a cue sheet from Mitch (thanks Mitch!) so for all you curiosity seekers here it is, just as written:
HEAVEN
ORPHEUS
COME & HAVE
OBLIVION
ENTER LIST
KING ART
MIRROR
FAR SUM DOM
DOWN
FLETCH
NARRATIVE
TOURETTES
GIN & IT
Yes that's 'King Arthur', 'Fletcher Christian', etc. There were more songs, and encores of course. Someone help me out! There was a long 'Back to Back', with dance moves.
Plenty of ME, as you can see. As much as I like the album, I have to say that some of the tunes didn't come off well live and bogged the set down a bit. But overall it was a fine show.
At the CD table, they were handing out copies of an essay (screed? diatribe?)
called 'In defense of the Spice Girls' written by Sally Timms. Don't miss it, she's serious! For a start, Sally says she wants to be Old Spice. After the show in the downstairs bar, I got each Mekon to sign my copy, asking for Spice Girl names if they like. Jon signed 'welshspice', Rico 'Rico Spice Mekon', Mitch is 'Smelly Spice'. Lu did a drawing of a saz (at least that's what I think it is...he also gave me a long winded and rather potted history of the saz at the bar). Tom, who was actually drunker than yours truly, simply wrote 'me' in the margin. Thanks to all of you.
I stayed way too late in the bar, spent way too much money (but I should have spent it all, as it turns out), tried to chat up Amy Rigby, failed miserably (I have a worse crush on her than I ever had on Sally).
Then I got mugged going home. Don't worry, I'm fine, no blood shed, it's only money. Adding Insult to Injury Department: The first police officers I flagged down refused to do anything about it--told me to go home and in fact threatened to book me for public intoxication. I was drunk, but not too drunk to take down their license plate number. I filed an official complaint earlier today.
But enough about ME.
On with the tour...I hope to read more reports!
Richard
ps--can I be Dick Spice?

---
Date: Sun, 28 Jun 1998 17:48:53 -0400
From: "Kevin K."
Subject: Re: Club Mekon #64
At 09:21 PM 6/28/96 +0200, you wrote:
>There were more songs,
>and encores of course. Someone help me out! There was a long 'Back to Back',
>with dance moves.
Richard,
Thanks for the review of the NYC show and sorry to hear you got mugged (been there, too, and the cops didn't much care either). Believe it or not, it was my first Mekons show ever, though I've been a fan for years. Just never seemed to get my shit together when they're around. I signed up to this list, hoping to get a set list. Thanks. As far as the encores go, I know that they did "Memphis, Egypt" as the first song -- first encore and ended the second encore with that thing the roadie sang. Don't know if that appears on any recordings. Can't recall what the other two encore songs were. Anyone else?
I really loved the show and like the Bowery Ballroom a whole bunch. As I'm getting on in my years, I liked the fact that there was a lot of room to move around. The view from the balcony (where we were) was great and, as you noted, the sound was superb.
I don't agree with you about the crowd being dull -- at least when you consider it was a New York crowd ... normally very reserved. I couldn't believe it when they started singing, in unison, the "belly to belly..." chorus to get the Mekons to do an encore. I was stunned. I never imagined I'd see a NYC crowd do that.
The band seemed to be really tight that night and sometimes the harmonies just soared. Jon was funny as shit as he bitched about an unflattering blurb about them in the "Village Voice" (implying they were tired/old) and when someone yelled "Sally, I had your baby" she said, "Can I have it back?" I didn't think anything would beat my favorite show of the year (Chris Knox at Maxwell's), but this did.
Heck, I've been admittedly neglectful of keeping up w/ the Mekons since the signed with 1/4 Stick, but now I'm gonna run out to buy "Me" and probably everything else they've done on that label. Foolish behavior on my part, I confess, and I plan to amend my ways soon. Which one would I be best to start with -- after "Me" -- "I Love Mekons"?
>called 'In defense of the Spice Girls' written by Sally Timms. Don't miss
>it, she's serious! For a start, Sally says she wants to be Old Spice.
BTW, the first time I ever heard anyone use Old Spice in reference to the Spice Girls was Peter Jennings (!) a half year or so ago on the "Daily Show" (Comedy Central).
Kevin
---
Date: Mon, 29 Jun 1998 00:10:49 -0400 (EDT)
From: Neil deMause
Subject: Bowery Ballroom show (NYC, 6/26)
Some more thoughts on the Bowery Ballroom show (which was in New York, not Cambridge -- at least, *I* was in New York):
As noted by the previous correspondent, the set list was mostly ME. (Mitch's posted set list was the main set, ending with GIN & IT, and an audience-participation dance number to the "Belly to belly..." chorus.)
The encores:
Now We Have The Bomb
Memphis, Egypt
The Curse
--------------
Where Were You
The ME material, as I had hoped, came off better live than on record, especially "Enter The Lists" and "Gin & It". Lu's saz and oud (I'm guessing at the spelling here) playing was sparkling, and front and center, especially with Tom forsaking the guitar entirely and Jon taking on more of the rhythm duties. Actually, everyone was pretty sharp -- Tom even remembered all the words to Fletcher Christian!
(Er, though he did jump in too quick with the chorus in Oblivion. And Rico forgot the words to Orpheus. But really, for a Mekons show, it went pretty smoothly.)
And the banter was sharp as usual -- when one audience member shouted out, "Just play Rock and Roll!" Tom promptly walked up to his mic and intoned, "Go home. Now." And Jon had me literally convulsed with laughter when, after inviting the audience on stage to have sex with the band (don't ask), he observed that "If this were a Fall show, we'd be inviting you up to beat the band senseless."
Still, there was something slightly off about it. I don't know if it was the venue (the Bowery Ballroom, newly opened by the management of the nearby Mercury Lounge, is closer in size to Irving Plaza or the old Marquee), the crowd (which talked incessantly through the opening acts, and seemed a bit distracted overall), the new material, or the grueling pace of a three-week-long tour, but the band felt a bit distant somehow. As a friend of mine commented recently, the main thing about the Mekons that's still punk is that at their shows, there's a real sense of egalitarianism between them and the audience, and that was missing slightly here -- it felt more like they were Putting On A Show, a good show, but still...
One other note on the night's festivities: the Handsome Family, who went on before the Mekons and after Lonesome Bob (who was also good, accompanied by a sore-voiced Amy Rigby), were amazing. The songs from their new Through The Trees CD are darker and more achingly beautiful than ever, and their new drumless format worked pretty well, though the crowd around me couldn't be bothered to stop yammering long enough to listen. Still, if you like country-tinged fairy tales about death and loss -- and who doesn't? -- I highly, highly recommend both Through The Trees and their previous Milk And Scissors.
I also got a chance to briefly chat with the Handsomes (Brett and Rennie Sparks) after the show at their mostly-overlooked merchandise table, and found them to be just about the nicest and friendliest people on the face of the earth. I hope they're better appreciated by the crowds on the rest of the tour.
Neil

---

Date: Tue, 30 Jun 1998 15:53:43 -0400 (EDT)
From: Neil deMause
Subject: Moshing and The Bomb
> Neil talked about the egalitarianism between the band and the audience, on
> bullshit someone complained that there was no moshing and dancing.
There was a fair amount of dancing at the Bowery Ballroom show (up at the front, at least). Actually, the encores were somewhat ruined for me by a complete drunken asshole who seemed to think that moshing was about slamming himself physically into everyone within a 50-foot radius, whether they wanted to mosh or not, plus stepping on the toes of anyone wearing open-toed shoes. Remember: mosh, but mosh responsibly.
> So I see a discrepancy between those live shows and the artitistic
> development the band had. If there's a saz I want to hear it, if they sing a
> lyric I want to hear it. If you want to bring that across to the audience
> maybe inviting the audience to come up and join is nothing but a mere
> gesture.
One of the great things about many past Mekons shows has been the literal audience participation -- at several shows they brought audience members up to dance on stage during the last number, and during the famed Vito Acconci tour in '95 they just passed the mics down into the crowd at the end of "100% Song," to sing the chorus over and over for about 15 minutes after they'd left the stage. I also remember well one show at Maxwell's where the band stood and listened while we all sang the first few verses of "Bohemian Rhapsody," though I can't for the life of me remember why.
Anyway, there was an attempt to do that this time with the "Belly to belly..." singalong, but it wasn't quite the same. Again, I don't know whether to blame the venue, the material, or just an off-night.
> Did they play Bomb with choreography or is that honor been left only for
> Belly to Belly?
The Bomb dance was indeed done, but coming immediately after the Gin & It/Belly to Belly dance, it was a bit halfhearted. Also, they had Steve up on a big ol' drum riser, which meant we missed the incredibly goofy expression he wore the entire time during previous renditions of the Bomb dance.
This is terrible -- I'm making it sound like a lousy show, when it wasn't. As I told someone else online yesterday: The Mekons were still great, they just weren't transcendent.
Neil

---
Date: Fri, 3 Jul 1998 12:37:32 EDT
From:
Subject: Tooshay Neil
I agree with Neil, the NY show was good but not *transcendent* I think the larger venue made it less intimate. They seemed less energetic and the banter with the audience wasn't as heavy nor funny as past times. But they sounded fine. ME comes off better live than on a CD (when it sounds like one long wank).
btw, saw the shithead mosher on my subway stop yesterday. I think he lives in my neighborhood (blech!)

---
SAT 6/27 WASHINGTON, DC 9:30 Club
The Washington Post, June 29, 1998, Monday
At 9:30 Club, Mekons Are Right on Time
BY: Mark Jenkins
Fans disappointed by the Mekons' half-baked new album, "Me," were reassured by the Anglo-American septet's exuberant performance Saturday at the 9:30 club. The band mostly abandoned the disc's electronic timbres, invigorating such new songs as "Enter the Lists" with Jon Langford's guitar, Steve Goulding's drums, Rico Bell's accordion and choruses that mustered as many as five voices singing in raucous unison.
There was arty method to some aspects of the Mekons' playfully amok act: All the band members save singer Sally Timms wore matching red shirts emblazoned with the "Me" logo, and the contrast between Tom Greenhalgh's singing and Timms's recitation in "Tourettes" recalled "Anthrax," a song by the Mekons' late-'70s comrades Gang of Four. Some of the more arcane elements, however, were immaterial: Part-time Mekon Lu Edmonds employed a variety of Eastern string instruments, but except for one brief solo he played them all in rock-guitar style.
Characteristically, the band charmed the audience with various bits of stage business, both rehearsed and impromptu. A few sloppy but spirited dance routines seemed to belong to the former category, while Langford's decision to sing one refrain in an ape voice apparently was an example of the latter. To no one's surprise, the show climaxed with encores of "Memphis, Egypt" and "The Curse of the Mekons," songs that showcased the stomping country-punk sound that's the most winning of the band's many modes.
SUN 6/28 cat's cradle in chapel hill, nc
MON 6/29 ATLANTA, GA The Point
TUE 6/30 travel day
WED 7/1 PITTSBURGH, PA Rosebud/Graffiti
On July 1st:
Nobby:
mekons w/The Handsome Family & The Johnsons.
The tornadoes and storms had passed. The electricity was back on. The humdity was down and the skies were clear. The Steel City welcomed the mekons to only their second appearance ever in town. I had expected about 25 people max to attend the show but nearly a hundred were in attendance. I will tell you this, every single person left with a smile on his or her face. If you are reading this before they hit your hometown on this tour do yourself and your loved ones a favour and haul ass to catch 'em live this time out. As always, a mekons show requires a fair measure of drinking and dancing so what I recollect may be a little fuzzy. The Johnsons played a brief set, thankfully, and turned the stage over to the Handsome Family, aka husband & wife team Brett and Rennie Sparks. I must confess I had never heard their albums before but had read about them in No Depression magazine and was curious to see if they lived up to their hype. I fucking loved 'em. Brett played guitar, banjo, washboard and sang. Rennie played bass, autoharp, mouth organ and sang not nearly enough. Playing to prerecorded drum tracks they ran through a short., wonderful set. Their songs were full of great imagry and humour and Rennie's between song banter was hillarious. Needless to say, I will be buying their CD ASAP>
Before the show I had a chance to chat with the world's greatest drummer Steve Goulding; met and introduced myself and my wife to Jonboy and a sweetheart of a man, Rico Bell; and had a shot of Jack Daniel's with Mr. Langford.
We toasted the Welsh and Polish and the mekons hit the stage.
Drawing largely from their latest release "Me" with only a smattering of the past (i.e. a fan-fuckin'-tastic King Arthur, Fletcher Christian and Oblivion) their set was polished, tight and the sound/mix was great. Having not yet heard "Me" didn't in any way keep me from enjoying the new material. To me it seems the new stuff incorporates some elements of hip-hop beat and the Seattle sound into some funky original mekonsy vision. Lord knows the mekons have touched almost every other piece of musical turf known to modern music. I say fuck it and go with the flow. Dance into the new millenium!
Highlights and hindsights are many so just a few of my own. Jonboy on stage left, Rico on stage right and Steve center. Does anything more need said? Sally singing & reading lists. Sarah playing funky bass and smiling as Jonboy goes spastic. Tom singing and roaming the stage. And God forgive me, the guy I forget his name, playing the stringed instrument I don't know, so well, in the stew. A song called "Mirror"? with killer Rico fills, Jonboy & Sally on a song called "Down" sounding like "The Pretenders" slowed-down and maxed out. "King Arthur" sounding better than the record. The "Back to Back" shtick. Rico singing a killer "Fletcher Christian". Not a bad note, not a bad moment.!!!
A last thought. Across town at the Igloo, aka, Civic Arena, Plant and Page were playing to a sold-out crowd. Meanwhile the mekons played an old Zep riff and Jonboy did a funny falsetto "Lemon Song" but that stopped and made me think how unfair things are in the musical universe. "Go to the Show!!" and tell 'em Vinny sent ya.
P.S. Judy
---
THU 7/2 COLUMBUS, OH Little Brother's
The Columbus Dispatch, July 4, 1998, Saturday
MEKONS CARRY PUNK TORCH WITH STYLE
BY: Curtis Schieber
Since its beginning in 1977, British punk band the Mekons, which played Little Brother's Thursday, has been more for doing than saying.
As leftists go, the group is to the anarchist, late-'70s hard-core punk movement (which included Chumbawamba) what the absurdist, freewheeling Yippies were to the revolutionary SDS in American student politics of the '60s.
Few recent Mekons songs are blatantly political, the group preferring instead to make its point with the communal celebrations of its performances. To that end, the Mekons met with mixed success in their Columbus show.
Guitarist Jon Langford and singer Sally Timms carried on a warm dialogue with the audience from the start, entreating concertgoers to dance, buy CDs and, perhaps, a condom at the marketing table.
The band purveyed an energizing brand of rock 'n' roll that seamlessly melded punk, funk, dub reggae and English folk.
Come and Have a Go If You Think You're Hard Enough combined a profane chorus with a loose, guitar-driven funk reminiscent of groups such as the Clash. The casual eroticism of this and other songs from the new Me album was one of the band's most appealing traits, as was the raw drive of many tunes.
But too often the group coasted on good vibes and lazy performance.
The final song and two encore tunes were a different matter - goofy, subversive and totally hypnotic. Back to Back featured choreographed dance moves and a Mongolian throat-singing solo; Memphis, Egypt was a great, if ironic, rock anthem.
The Mekons' simple honesty was in marked contrast to Handsome Family's opening set, a pretentious evocation of Appalachian stereotypes and lowbrow culture delivered with way too much irony.
Between tryingly tempoed tunes, bassist/guitarist Rennie Sparks perpetuated a rambling dream narrative that touched down in every trite TV series from Quincy to Dallas to Little House on the Prairie, interjecting frequent scenes of decapitations and blood-letting.
The duo's shtick suggested an imagined episode of The Beverly Hillbillies in which everyone begins to behave like the Clampetts because they've heard it's cool.
---
FRI 7/3 CINCINATTI, Top Cat's
Von: betagole@fuse.net
Datum: Sonntag, 5. Juli 1998 19:52
Betreff: Mekons - Live at Top Cat's - Cincinnati - 7/3/98
As promised, the following is the set list from the Mekons concert in Cincinnati at Top Cat's:
1) Heaven And Back
2) Tourettes
3) Come And Have A Go At It
4) Oblivion
5) Enter The Lists
6) King Arthur
7) Mirror
8) Far Sub Dominant
9) Down
10) Flethcher Christian
11) Orpheus
12) Gin & It
13) Now We Have The Bomb
14) Memphis, Egypt
The band was made up of Jonboy Langford, Tom Greenhalgh, Sally Timms, Rico Bell, Lu Knee (Edmunds), Steve Goulding and Sara Corina. (Everyone but Sally was sporting a red shirt, like that worn by an auto mechanic, with the ME album logo printed on it. Sally was dressed as a nurse. Jon announced that for insurance reasons they needed to have a nurse on stage at all times.)
---
SAT 7/4 CHICAGO, IL Metro
Chicago Tribune, July 7, 1998 Tuesday
DANCING ON THE EDGE OF CHAOS; MEKONS MIX SEXUALITY AND ABSURDITY IN A MUSICAL FROLIC
BY: By Jeff Economy
'OK, so I'm a singing chimp in a nurse's uniform, but at least I get laid," declared Sally Timms, who surveyed Saturday night's sweat-soaked Metro crowd and quickly added: "Regularly." The vocalist's remark neatly encapsulated the Mekons' mix of sex appeal and self-effacing absurdist humor, and she did it the way the band appears to do everything: effortlessly.
But looks are deceiving, and casual observers could almost be forgiven for accusing the intellectually restless onetime punk band of dilettantism for their excursions into reggae, dub, country, electronica, rap, folk, metal, dance and even pop forms. But punk promised avenues of expression unfettered by commercial considerations or adherence to arbitrary musical rules, and a scratch beneath the surface of the Mekons' 21-year history reveals exploration of consistent themes: the need for community and intimacy, the physical longing inherent in that quest, and ambivalence toward the often ridiculous aspects of sexual desire and the havoc it wreaks.
Never a prudish band, the Mekons' 1996 collaboration with writer Kathy Acker, "Pussy, King of the Pirates," seems to have inspired greater heights of uninhibited self-gratification, and on their "nude" album "me," the Mekons channel the late libertine's spirit as they take their taboo-trouncing experiments to new extremes.
The best Mekons shows dangle on the precipice of chaos, and though some recent shows found band members guilty of suffering from world-weary ennui, Saturday's show found them dancing on that edge with blithe abandon. The festivities began with the dispensing of 'Mekondoms,' which were issued with the disclaimer "for novelty use only--don't sue us if they don't work."
Soon afterward singer/guitarist Jon Langford used one to entice "alpha drummer" Steve Goulding into a bit of behind-the-speakers frolicking. On "Tourettes," singer Timms, dubbed "nurse knickers" for the evening, recited nonchalantly from a sex toy catalog. "Narrative," sung from the point of view of a dog, was accompanied by the spectacle of accordionist Rico Bell, singer Tom Greenhalgh and Langford transforming into canines who chased each other around the stage while Lu "Knee" Edmonds reeled off an electrifying, distorted saz solo.
"Back to Back" introduced a dance that could be described as post-modern macarena, and by the time the band encored with old favorites such as "Memphis, Egypt" and "Where Were You," many in the audience erupted into near-bacchanal status, giving themselves to a spirit of independence much different than our founding fathers envisioned.

---
This one comes from Bullshit and is about: SAT 7/4 CHICAGO, IL Metro This was probably the second best Mekons gig I've attended. (My first was also the best; it too was at the Metro.) Sally threw out a few Mekondoms. I actually got one! (Selfish me: already got one free when I bought a ME t-shirt) They started the set with "Heaven and Back" (a personal favorite). Sally was down in the all-female slow-motion dance pit during "Far Sub Dominant". Rico, Tom and Jon crawled around like dogs and sniffed each other's butts during "Narrative". We all joined in a little dance for "Gin & It" complete with moves that seemed to owe a lot to kindergarden choreography. Altogether, a wonderful, uplifting time! Dance and drink the Mekons!
---
SUN 7/5 day off
MON 7/6 day off
TUE 7/7 day off
WED 7/8 MADISON, WI Regent Street Retreat
From: Bill Feeny
Subject: mekons on the net
I sent the following message to a network of (mainly radio) people who are obsessed by "world" music:
Just saw the Mekons last night.
Their saz/oud player is also a member of Yat Kha(?!). Yat Kha is a most elusive band. I've been trying to track down their CD (on some Finnish label) for a long time. Imagine my surprise when, during the course of a very interesting conversation, I discover he plays with them. He says they've got something coming out soon in the US (their 2nd CD, I think).
The Mekons have been the most consistantly entertaining bar band I have ever witnessed in the (quite a few, maybe 7) times I've seen them since 1985.
Add this strange guy playing electric oud who seems to like to slip some throat singing into the mix...
Not for the purists out there but if you love really good, unique pop music with a few twists, I highly recommend catching this tour.
The songs are generally dripping with entertainingly scathing social/politcal commentary but done with intelligence so you don't feel at all embarrassed by clumsy writing, because they never fall to that level.
On top of that, they generate an atmosphere of pure fun and wonder. I don't want to give anything away.
Witness Rico Bell on accordion and Steve Goulding on drums.
Tonight they're at 1st Ave in MNPLS. Tomorrow they fly to Seattle and make their way down to LA. If you still have a soft spot for rock, go see them & bring a friend.
--------
responses:
>Their saz/oud player is also a member of Yat Kha(?!). Yat Kha is a most
>elusive band. I've been trying to track down their CD (on some Finnish
>label) for a long time.
Wow.
That CD - Yenesei Punk is great. But, yes hard to find. Also not for purists. Electric guitar and Tuvan throat singing in a really cool mix.
__________
From: Bill Feeny
>yeah. Where do I start looking? (I periodically search various stores on
>the web. I've ordered it a few times but the orders get cancelled "out of
>stock".)
>
>Do you have an address for a distributor or the label?
It's on a Finnish label if I remember. Distributed here through Stern's I
think. I'll try to remember to look it up next time I'm at the station.

>he's the bony fellah who plays electric saz & oud. In conversation he was
>quiet at first (probably thinking "who IS this geek?") but once we got
>started he had a lot of interesting stuff to talk about. His
>translations/descriptions of the Tuva lyrics are engrossing. He really
>knows his way around the professional Euro-world-music scene and I could
>have yacked with him for hours.
--------------
[from MNPLS]
So how was the Mekons show? They were pretty good here - did mostly new stuff with "Fletcher Christian" and "Curse of the Mekons"thrown in. We liked a new song ( to me anyway) that featured Rico playing one note repeatedly on the keyboard. The show ended early (10:30) so 1st Ave. could still do their disco dance party. I wish they had more time to play some old Mekons classics, but it was also good to get home by 12 so we could get to work the next day. This heat is unrelenting. I wish we could have "sun days" same as we have "snow days" and all get off of work to go swimming! Cathy
-----------------
[I reply with a (now long lost) description of the Madison show]
------
YEah, the Mekons musta done pretty much the same show. I forgot - I really like that Shiva dance they all did with their arms. I think that song was off the cD/Book project.
I ordered Deep in the Heart of Tuva for the library but its checked out - I think I have it on hold. Have you heard the new Lucinda Williams cd? I like her a lot and the straight press is raving about it comparing her to Dylan/Neil Young.
back to the Mekons - John was giving sAlly quite a hard time during the whole show and she acted like she thought he was a drunk old coot. I'm surprised the wAco bros. haven't come to Madison/mpls. - they'd do well - maybe in the fall.
Cath

THU 7/9 MINNEAPOLIS, MN First Avenue
Date: Mon, 13 Jul 1998 12:00:46 +0000
From: rracz@bitstream.net
Subject: July 9 Minneapolis Show Report
I'm not going give you a set list (can't remember), or a set running time (didn't pay attention), or attendance ( never turned around).
The Mekons started out tentatively I thought, but then the three shots of Jameson that I slammed took hold, and we never looked back. Most of the typically Minnesota audience stood around tapping toes until given permission to move during "Gin and It," but I've gotten used to that at 1st Avenue shows.
I find that I am having trouble writing this without sounding gushy, so I'll just say that this was a fine show. "Orpheus" was arguably the best song of the lot, coming near the end of the set with everyone remembering the words. A bottle of Cuervo Gold was passed around in celebration of the birthday of one Rico Bell, who Sally referred to as " old chicken legs." Sally seems to be carving out a niche as pop music's Mae West, at once cynical, sexy, knowing, and just a bit scary. This is a good thing.
And I think she was a necessary foil for Jon Langford's relentless devilishness. Jonny treated us to Anthony Hopkins imitations, dirty dancing Welsh style, invitations to his hotel room (or perhaps Sally's or Rico's, it wasn't quite clear), and genuine good cheer. Buy him a Bass for me; I dumped all my last cash and some of my partner's on Mekons United.
The band was on the mark throughout. Song selection was curious only in that Retreat and I heart was ignored altogether (no Pussy either). I should throw in that the only song that came off as particularly stale to me was "Memphis, Egypt," a ramala run through of a song that now sounds out of place.
And finally, I persuaded four Mekon neophytes to attend. Their opinions were split; two loved the show and want to catch up on the Mekons catalog. The other two were ambivalent, one commenting that "Some of them (the band) didn't seem into it."
There's no accounting for taste, and I feel no obligation to explain mine. I hope to see the remaining and then current Mekons forty years from now croaking to a beat box and wishing happy birthday to a band member while swilling Ensure laced with rum.
---
Date: Fri, 10 Jul 1998 11:01:05 -0500
From: Steve Petermeier
Subject: Minneapolis show report
The following is my post to the Mekons Bullshit list.
It was a hell of a good night at First Avenue:
Jonboy was looking for novelty sex with the novelty condoms, but it seems that Steve Goulding was his object of desire. And Sally did point out that since the condoms came from the Mekons you could be sure that they wouldn't work. Of course, they were really trying to round up a date for Rico Bell as today is his birthday. I don't believe anyone stepped forward but we did all sing Happy Birthday to him.
Highlights for me included the rousing version of Orpheus, Rico's technical wizardry on Far Sub Dominant, the funky funky Down, Tom's singing on Fletcher Christian, The Curse, the doggy show that is Narrative, Now We Have the Bomb, a brilliant Mirror, and of course the dance moves for Gin & It as we were all dancing round the square right through Mitch's blinding version of Where Were You. It was also great to hear Oblivion and King Arthur, Tourettes, Heaven and Back, and the high powered Memphis, Egypt!
My only disappointment was that I had planned on buying a t-shirt and a copy of Cowboy Sally after the show, but me & my wife & our friends headed upstairs to get some more beer and continued our revelry until after the merchandise table had been taken away, so I missed my chance. Oh, well, I guess my life will be a little simpler without any more product.
Steve Petermeier
Thanks to Nobby for posting Sally's Spice Girls article.
It was a nice primer for the show.
"Lose, lose, lose, lose, lose, lose your head!"
---
FRI 7/10 SEATTLE, WA Crocodile Café

Evolution rock
The Mekons leave their '70s punk-rock peers in the dust.
by Jackie McCarthy
You see them all over town. Leftover punk rockers, both survivors and wannabes, wearing motorcycle jackets with the Damned or the Sex Pistols emblazoned across the back, and T-shirts that proclaim "Sid Lives."
------------------------------------------------------------------------
Mekons
Crocodile, Friday, July 10
------------------------------------------------------------------------
You'll never catch those crusty punks sporting Mekons logos. That's because, of all the British punk bands that started in the late '70s, the Mekons may be the only one to evolve beyond the angry amateurism of its roots. While their peers died off, or broke up only to reunite in the service of costly nostalgia, the Mekons have been busy moving forward. Currently the premier purveyors of post-punk folk, they draw from world music and especially American country and western to create not just music, but also art exhibits, theatrical events, and novels. It's no wonder that prescient critic Lester Bangs once called the Mekons "the most revolutionary group in the history of rock 'n' roll."
Formed amid the late-'70s Leeds University scene that also launched the Gang of Four, the Mekons (named for a character on the British TV series Dr. Who) began as an aggressively unpolished punk band whose first single, "Never Been in a Riot," took aim at the Clash for the lofty politics of its hit "White Riot." Twenty-one years later, the band members' critical attitude and "non-aligned lefty" politics remain the same, though their music has become much more interesting. And their roster has changed. The only founding members still around are singer/guitarists Jon Langford and Tom Greenhalgh (as well as bassist/guitarist Kevin Lycett, who records but no longer tours with the band). Yet most of the rest of the current lineup have been in the band since 1983, when the Mekons began to explore American country on records like Fear and Whiskey. Throughout the band's career, members have used different pseudonyms and credited all writing to "the Mekons."
Since the mid-'90s, about half the band--including Langford--has lived in Chicago. "Not since 1989 has [the Mekons] been our main thing," Langford explained recently from a pay phone outside of Columbus, Ohio. "We work in blocks. We set aside a certain amount of time, maybe a month, [and] we work very intensely. We do that about twice a year."
The band has done two projects since its last full tour of the US four years ago: Pussy, King of the Pirates, a 1996 collaboration with the late novelist Kathy Acker that included both an album and a theater piece; and an art exhibit/record/catalog, Mekons United, which was, according to Langford, "a completely crazy project, because it was very expensive to do, and very expensive to sell. People were kind of annoyed with us because the price was so high, but we couldn't have made it any cheaper, or we'd be losing money.
"We encourage other activities," said Langford, who plays in not just one but two side projects: honky-skronk band the Waco Brothers and the more rock-oriented country-punk outfit Skull Orchard. "Rico [Bell, a.k.a. Eric Bellis] did a solo album. Sally [Timms] has done a lot of solo stuff. Lu [Edmonds], who's playing with us on this tour--he's doing a Siberian project--it's throat singers from Tuva. He actually does some throat-singing in our set now. It's great--it kind of hushes the room, and people slowly back away from the stage."
This actually happens during the track "Gin & It," a midtempo epic chorale from the band's current record, Me (Quarterstick). A lot of the record's other songs read like soft porn, but Langford said the record's meaning goes deeper: "It's about the construction of self--how you come to be who you are.... There's a lot of sex in it, yes, but there's also death. And a mindless listing of products as well."
He's referring to the album opener, "Enter the Lists," which contains a scientific-sounding recitation of a drugstore's worth of "health and beauty aids": Molding Mudd, Sun In, Tampax, Dexatrim, et al. The lyrics are the result of a weekend of collaboration in Leeds. Langford said the band members initially came up with titles--for the album and individual songs--then decided what each one should be about. It's an intriguing picture: four or five rock musicians gathered around a computer to come up with lyrics for a song called "Tourette's." (It's got a lot of unprintable words in it.)
"It's not such a big 'message' album," Langford opined, "but the lyrics are really descriptive.... It's about the myth of self-expression in our society--how you can be an individual by buying a pair of Nikes."
The product lists on Me aside, it's a safe bet that you won't be hearing the Mekons hawking Advil anytime soon. Langford has some definite opinions about consumerism's faux rebellion and its use of rock music as a signifier. You may be hearing the Verve when the latest $150 pair of shoes comes up on screen, but those who proclaim that rock is too "pure" for such commercial use Langford calls "naive." "I don't think you can just make grand statements and sidestep the involvement of commerce and capitalism in rock 'n' roll," he pointed out. "It's a lot more complicated than that. People like U2 make grand political statements, and really, they're the problem."
1998, Seattle Weekly. All rights reserved.
---
More shows without review

SAT 7/11 PORTLAND, OR La Luna
SUN 7/12 travel day


MON 7/13 SAN FRANCISCO, CA Great American
The San Francisco Chronicle, JULY 13, 1998 Mekons Like Life on Rock's Fringe
BY: James Sullivan
For nearly 20 years, the defiant misfits known as the Mekons have been combining simplistic pub chants with brainy, sardonic dance music.
That's the same left-field turf recently conquered by Chumbawamba, another veteran band that had a surprise hit with last year's "Tubthumping."
"They're very close friends of ours," says Jon Langford, singer, guitarist and the Mekons' chief rabble-rouser. "I think they're trying to make sense of a very strange, fluky situation."
It's not the first time that friends of the Mekons' have stumbled into prosperity in spite of themselves, Langford says. "Soul Asylum were ready to split, and suddenly they had a huge hit single. It's possibly the worst thing that could happen," he says with a chuckle.
In support of the transplanted British group's newest release, "Me," the stubbornly self-sufficient Mekons pull into town for a rare full-band performance tonight at the Great American Music Hall. The beer-swilling, musically adventurous collective was not only one of the first punk-era groups to venture into the world of dance music, but it also corrupted pure country tunes long before the rise of the "alternative country" movement.
Though the group is likely to draw a full house tonight, it sells small numbers of records, existing mostly on impeccable critical credentials and enthusiastic word of mouth about its wild and woolly shows.
To singer Sally Timms, the group's saucy attitude is its saving grace. "I suppose the reason we've been able to continue is we don't really give a s --. If you have expectations and you don't fulfill them, obviously you've had it. We don't have expectations."
Though she didn't join the group until the mid-1980s, Timms was a fellow student in Leeds when the Mekons began to take shape. Her own musical debut, she says, was an improvised jam with Pete Shelley of the Buzzcocks. Committed to tape in 1980, it was "30 minutes of howling and people banging on pots and pans," she laughs.
Her friendship with the Mekons was built on mutual irreverence. "We used to go to the shows and laugh," she says, "because we thought they were so bad."
Over the years, however, Langford, Timms and the rest of the Mekons -- a revolving roster usually numbering about seven, including singer-guitarist Tom Greenhalgh, violinist Sara Corina, accordionist Rico Bell and drummer Steve Goulding -- have secured a prominent spot along rock's lunatic fringe.
Blurring the lines between high art and low is one of the Mekons' underlying themes, says Langford, who creates high art (ghostly mixed-media portraits of country icons) and low (the syndicated comic strip "Great Pop Things") when he's not making music. In 1995, the group collaborated with the late San Francisco writer Kathy Acker on a CD inspired by her book "Pussy, King of the Pirates."
"I like the idea that (high and low art) can be combined," Langford says. "I don't like the barriers people put up. . . . That was definitely (the case) when we first started. Punk rock was about the glam rockers and the football hooligans getting together and having their own music."
Beginning with Goulding, an alumnus of Graham Parker's band the Rumour, various Mekons began relocating from England to Chicago in the late '80s. "We all moved here to get married, but not to each other," jokes Langford, referring to the group's notoriously tangled sexual history.
By now the group is well established in the Midwest, releasing various Mekons and related records with several of Chicago's best-known indie labels -- Touch and Go, Bloodshot, Sugar Free. Langford's side projects, including the punk-hillbilly Waco Brothers and his recent solo album "Skull Orchard," have made him a fixture on the alt-country scene.
In a recent swing through San Francisco playing solo sets at the Bottom of the Hill and the Makeout Room, Langford and Timms drew appreciative audiences filled with local musicians, including Barbara Manning and alumni of the American Music Club.
"Barbara Manning was heckling," says Langford with another laugh. "I bring out the worst in people."
---
Date: Wed, 15 Jul 1998 01:46:53 EDT
From:
Subject: Re: Club Mekon #75
Hey Nobby! Just wanted to give everybody a quick review of the Mekons at the Great American Music Hall in San Francisco, CA. 7/13. First off the G.A.M.H. is one of THE great venues. The ornate 1800's architecture makes for a great place to see a show. I will say I didn't like the Hansome Family to much. I would rather hear the Mekons do that kind of fare or the real thing, Merle Haggard. Anyways after getting a couple Bass ales under my belt (I'm a light- weight at drinking!) I was ready for the Mekons.They did a great selections of old and new( my faves- "Where were you?" and a couple songs off "United" which I don't know the names- I ordered it from Touch n' Go today!) Jon was in top form rambling between songs as Sally would try to stop him and tell him to get on with the songs.The funniest moment came when Sally tryed furiously to shove a inflated "ME-condom" up her skirt so she would look pregnent. Well, at that point, Tom comes over and sticks his hand up her skirt and POPS that baby! Sally got this disgusted look on her face like she felt some kind of condom fluids on her belly! At the end of the song Tom and Jon "cryed" as if the baby had been killed. Anyways, it was a gas. and speaking of bellys, the dance to "belly to belly" was alot of fun. They got the WHOLE place doing it - and it was packed! We were all "dancin' 'round the squares".
love gettin' the list!, Mick Gray
---
TUE 7/14 LOS ANGELES, CA Troubadour
THU 7/16 Fitzgerald's, Berwyn IL
Date: Fri, 17 Jul 1998 08:18:43 -0500
From: Tom Mohr
Subject: Mekons at FitzGerald's 7-16-98
Artiste: Mekons
Venue: FitzGerald's in Berwyn, Illinois. "The best club in the world," according to Jon Langford.
Crowd: The place was not full -- maybe three hundred people. Not bad for a Thursday evening show which was announced only ten days earlier.
Moron Factor: A moshpit which developed during the encores brought out a few. One guy even got himself thrown out of the club.
Sound: Very good. Considering that the band soundchecked for like an hour, it should have been even better. As with all other Mekons shows, Sally's vocals were never mixed high enough.
Our Seats: We stood toward the front, maybe fifteen feet from the stage.
Opening Act: Half an hour of jazz/country/whatever with the great Kelly Hogan, whom the crowd loved.
The Band: Five with facial hair, two with miniskirts. From left to right: Rico/Erich (Jon called him "Rico", Sally called him "Erich"), Lu, Tom, Steve, Sally, Sarah, Jon.
Setlist: Someone on Club Mekon posted the songs from a recent show. I printed out the list and promptly lost it, but I think last night's set was exactly the same as the one posted.
Not in order --
Heaven and Back (first song, introduced by Jon as autobiographical, since "Tom has been to heaven and back")
Oblivion
King Arthur
Fletcher Christian
Orpheus (a tremendous version, much louder and stronger than on the record)
and about half the new record, including:
Enter the Lists (with Rebecca Gates fumbling through her part -- she kept repeating "lots of condoms")
Narrative
Gin & It
Come and Have a Go If You Think You're Hard Enough (dedicated to the English football team)
Far Sub Dominant
Tourettes
and probably a couple of others
And the encores:
Now We Have the Bomb
Where Were You (sung by Mitch, in his underwear)
Curse
Memphis Egypt
All stretched out to about an hour and forty-five minutes.
Mekon Moments:
Sally selling off the band's clothing all through the evening ("we have to break even on this tour").
Jon, introducing a song: "This song features Me on drums, Me on bass, Me on accordion..."
Voice from crowd: "Me on Sally!"
Sally: "Please, my husband is here."
Sally: "Who will pay for a night with Erich?"
Rico/Erich: "Three dollars?"
Voice from crowd: "Two seventy-five!"
Sally: "Tracy Dear, who has spent a night with Erich, and knows what he is worth..."
Jon, after Sally sold Steve's shirt right off his back: "I've never said this before, but Steve is a stone fox."
Jon, explaining during the encore that this was the band's last show ever, because (let me try to remember all this) Steve had been recruited by the Bee Gees, Sarah was joining Van Halen, Tom was going to be an exhibit in a museum, Rico was going to die and be buried ("probably tonight" agreed Rico), and Lu was going to Siberia (Sally: "...to live as a woman").
Rico looking like a cross between Freddie Mercury and George Michael.
During the extensive soundcheck, the band ran through fragments of "Heaven and Back", "King Arthur" and "Orpheus". Sally did an a capella "Oblivion". And Steve did a dramatic reading of "Hard Day's Night" ("but when I get home to you... I find... the things, that you do...").
Tom and Rico/Erich throwing condoms into the crowd.
Jon wearing a nurse's white dress. Sally in a nice black dress (Jon: "we're yin and yang").
Sally, in a particularly good mood all evening, offering to sell her dress and herself for twenty-two dollars, and actually blushing when a voice from the crowd yelled very enthusiastically "SOLD!!!"
In Summary: A typical Mekons show, very silly, mildly chaotic. Perhaps, in my little opinion, not as good as some previous shows, since the new material is not as good as their old material, and since they did not have Susie with them.

---
Date: Fri, 17 Jul 1998 13:11:48 EDT
From:
Subject: Mekons finale
Just recovering from the Mekons final show at Fitzgeralds, too much Bass Ale, too much jumping around, and just too much fun on a work night for my age.
The show was similar to the Metro July 4 show, similar set list(different order),lots of energy onstage and off, lots of sex. I think playing Fitzgeralds, which Jon proclaimed as the best club in America, and being the last show of the tour brought out even more lunacy than usual.
They took the stage with both Jon and Sally wearing Nurses dresses, Jon had his tour shirt on over the dress. After the first song(heaven & back) Jon literally sold the shirt off his back to some guy for $20. By the end of the show every Mekons tour shirt had been sold into the audience. And Jon & Sallys dresses.
All songs were delivered with high intensity, their voices sounded great, their playing was excellent, and all were very active onstage. Fitzgeralds sound system was flawless as usual, the best place in the Chicago area to see a band.
Points of interest: Lu singing into a mic stand with no microphone, Jon calling a barechested Steve a "stone fox" after his shirt had been sold, Tracy Dear bidding $2.75 for a night with Rico AND his shirt, Jon thanking every audience member by name for showing up(including "the 3 Nobbys"), and too many others to mention.
Hopefully, there won't be such an extended period between Mekons albums and concerts in the future. There just isn't another band quite like the Mekons. But being in Chicago, the Waco Brothers etc. will help fill that gap.
Bill
---
Rocktropolis allstar daily music news

July 21, 1998
http://www.allstarmag.com
Punk legends the Mekons wrapped up their tour last Thursday (July 16) at the Fitzgerald in Chicago by telling the surprised crowd (which included people from their record label, Touch and Go) that this was their last show ever. Founding member Jon Langford even approached the label's manager after their set to tell them he was serious. The breakup, however, turned out to be short- lived, as Langford explained in a message on the answering machine of allstar correspondent Bill Snyder Monday (July 20): "We decided not to split up," he laughed, "because we sold so much merchandise we realized there was another tour to be squeezed out of it." He then continued in a slightly more serious tone: "We always say we are going to split up at the last gig of the tour, and give reasons why. But we really are too lazy to split up. It's a lot easier to keep going." It's unknown at this time whether the band has informed their label about their continuing existence...
-Miss Truth

---
---
Pine Valley Cosmonauts, Oct 27th 98
Saw the Pine Valley Cosmonauts doing the Bob Wills tribute last night. The band consisted of Jonboy, Tom Ray, Steve Goulding, Maximillian on piano, trumpet, and accordion, John Rice on guitar and fiddle, a woman on sax, and a older gentleman replacing Mark Durante. I don't remember the names for the last two. Guest Vocalists included Kelly Hogan(several songs), Chris Mills, Deano, Bret Sparks, Sally Timms, Edith Frost, and Rico. The show was excellent and a lot of fun. They played most or all of the new Bob Wills tribute album and then came back out and played about 4 songs from the Johnny Cash tribute "Misery Loves Company". Everyone was great, Deano, Jonboy, Sally and Kelly Hogan were exceptional. The finale was the entire group onstage for "Folsom Prison Blues",trading verses and solos. And all this for only $7. Mekon/Waco/etc. shows are the best value to be found anywhere.
(Bill Peiler)
---
Fall 98 Tour
Follow up to the Mekons summer tour:
FRI 10/30 Grand Rapids
Just got home from the 1st show in grand rapids (driving 90mph sure cuts that 140 mile drive down to size!)
7 piece band... Tom strumed guitar through half the show, same as the summer show.
They came out very loose & jovial. Tom & Jon seemed to be getting off on some private joke. They were possibly tooo loose, as Enter the Lists was totally fubared... Sally said they'd have to practice that one a few times again. Jon turned to the band & whipped them into shape for the next few songs, they got serious & flew right the rest of the night, getting loose again by the end of the evening.
The set was pretty much the same as the summer tour... lots of ME. Highlights of the show... Prince of Darkness (from the encore... the bar was cleaning up the joint... maybe 20 people left in the joint) and a rockin version of Insignificance.
The night was very long w/ 5 bands all together. Vulva Ultra & Pit Boss were totally forgettable. Keep an ear out for a band called Dangerville. Carl Perkins on speed, a foxy fem upright bass player who's prefered plucking style is straddling the instrument... really fun. Handsome Family was a real let down after that. I didn't know who they were as people & took an immediate dislike to the guy when I saw him at the bar insisting that he should get free drinks all night. He has a pretty serious chip on his shoulder. His talent doesn't support the chip.
The house had about 75-100 people in it at 11:30 when Dangerville ended (peak of the night). There were maybe 35-50 left by the time the Mekons hit the stage at 12:50.
I think I read here on the list a few weeks ago that Sally had the flu. I don't think she's fully recovered yet. She started the evening bouncy & full of fun but finished the night kind of listless & opted out of the encore songs.
set:
Heaven & Back
Tourette's
Come & Have A Go
Oblivion
Enter the Lists
King Arthur
Down
Far Sub Dominant
Narrative
Fletcher Christian
Insignificance
Orpheus
Gin & It
Prince of Darkness
Curse of the Mekons
Finally, due to the bizare construction of the bar, they had to have a giant projection screen showing footage of the band so that anyone outside the dance area could see. They were running the picture through a VCR. I would bet good money that the set was recorded to tape. It might be worth someone's while to contact someone w/ pull and see if the tape can be obtained before its taped over.
Hopefully my report after tonights Detroit show will be more coherent.
-rich
snnnnnnnnzzzzzzzzzzz
---
i went to the show at the intersection friday night...
i just wanted to say i thought they were great--the most unpretentious group of people i've ever seen at the front of a stage; even the occasional screw-ups were likable in the face of the support bands (who were all sickeningly hip and posturing and gave me that this-world-is- a-stale-promontory hamlet feeling). i'd also like to apologize to anyone who was there, b/c i was standing way down in front and flailed about in such a maniacal way that people gave me a wide berth, and i think i inadvertantly stepped on one or two toes. so if that was you, i'm sorry. really. (i was the guy in the purple burger king shirt, as if it matters.)
if anybody here actually communicates with the band themselves, tell 'em thanks for coming and that they actually convinced me to spring the forty bucks for *united*.
blessings,
philip christman
---
Mekons wow and delight previously tortured fans
By Phil Christman
Sometimes good things come to he who waits. I spent Friday night getting utterly lost on 131, running out of gas, arriving in Kalamazoo forty-five minutes late and out of breath and so broke I had to hit up my friend Kirsten for the price of a small Coke at the Eastown Deli, then herding several of my friends to the Intersection at eight, where (as I'd been promising them for weeks) their hopes, dreams, views and underclothing would be permanently changed by (drumroll, please) The Mekons, whom everyone that reads this space regularly knows represent my only real hopes for Western civilization, were comin' to town. Of course, my ticket said they'd be playing early in the evening, and of course, they didn't go on 'til the clock had ticked midnight and four of the worst bands of all time had ruined our flying spirits with hours of depressingly drunk, unoriginal, posturing nihilistic crap-rock. The highlight was either the Handsome Family, whose lead singer was so appallingly rude to the bassist that I seriously considered giving him a bloody nose,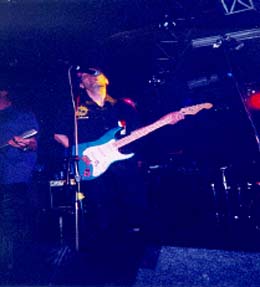 or Vulva Ultra, whose "stage show" included clips of pornographic films which made me sick to my stomach because I know women who've been raped/abused/harrassed by the bread-and-butter clientele of such filth. All of which made me so depressed that Tim (my co-editor) and I actually debated leaving the show as a kind of impotent protest against the life-denying forces of post-Hedeggerian ironic "art," until we decided that picking up empty beer-cups and napkins was a more effective protest against the Devil's entropy.
I didn't think that even the Mekons could redeem such a night. Surprise: they did. Two seconds into the show I was movin', and I didn't stop until the last soaring strains of "Curse" had bled from the air like streaks from a Fourth-of-July sparkler. Swinging through a setlist that included most of '98's "Me" and a smattering from their other Touch-and-Go/Quarterstick releases, the band-four vocalists, two guitars, an accordion, a keyboard and bass from the "popular" Sara Corina-sounded thunderously solid and airtight, except during "Enter the Lists." It's a tribute to the Mekons' skill as performers that their glossier, more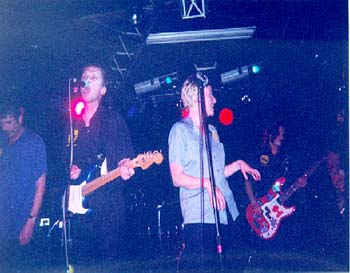 electronic stuff didn't suffer at all in the transition to a rootsier live rock 'n' roll show idiom. "Tourette's," "Narrative," and "Lists" sounded just as good as the album, and the sociological overtones (much of "Me" amounts to a deconstruction of capitalist society's relation to individual and sexual identity) weren't lost in the general spirit of fun—you could dance and analyze at the same time. It's music for the head and body. Even more impressively, though, it's music for the heart. In their willingness to cover weighty issues, the Mekons refuse whininess, sentimentality and feel-good liberal piety, instead landing, again and again, on what may be the hardest attitude of all-melancholia.
"(Sometimes I Feel Like) Fletcher Christian" made me laugh and nearly cry in the same two minutes; "Heaven and Back," "Insignificance" and "King Arthur" rocked with the determination of a band whose long, hard years of jawdropping commercial failure haven't slowed them down a bit. Like a leather-jacketed Al Camus, they admit that life is painful and the good guys often lose, that giant multinationals are sucking the life out of nearly everybody (group leader Jon Langford recently compared Wal-Mart to the U.S.S.R. in its "gray sameness") but keep on hoppin' up Sisyphus's mountain anyway because some things are still worth affirming. Not only is this a good message-if all I cared about were good messages I'd just listen to gospel music all the time anyway-but it leads to good art, because it's the truth about life on earth. It's better to light a candle than to curse the darkness, but my Bozo Grand Prize goes to people who can convincingly do both at the same time.
And they do it all without slipping into the Rock Star Egotrip.
On stage, they look like a bunch of normal folks in work shirts
And they do it all without slipping into the Rock Star Egotrip. On stage, they looked like a bunch of regular folks in work shirts; there was no expensive light show and no grandstanding. No security entourage. No cheesy jokes. They came off as ordinary people enlarged by the passion of their convictions. During encore, when Tom Greenhalgh screamed the lyrics I'd waited all night to hear-"Call it intuition, call it luck/But we're right in all that we distrust"-it sounded like the most inclusive victory cry I've ever heard, and I spilled into the street with a goofy grin and sore legs from jumping up and down. Later, I started to wish I'd asked them to go to Denny's with all of us for coffee. Of all the bands I've seen, they're the only ones who might've gone.
---
SAT 10/31 DETROIT, MI Shelter
Subject: detroit breakdown
it seemed more like a motor city shakedown.
Halloween night found a small crowd of deputy mekons sitting in the early evening gloom, waiting for the fun to start.
The Handsome family played to a sparse crowd of maybe 10 people when they kicked things off around 7:30. Many of those 10 were the Mekons. An ausipcious start to the fun, eh?
My impression of the Handsome family was much more favorable than their Friday night performance. Part of it had to do w/ no high throttle band before them, part my exhaustion, part their reaction to playing to an empty house. It worked for me. I still think the singer for the band has far too much attitude, but he seemed to be directing it more at himself than the audience this time.
The Mekons staggered on to the stage around 8:30. As Sally said early on, "They're all drunk already. Really!". It showed in the playing, which was very loose, to be kind. They also had a very exhuberant attitude, and were very fun to behold. Everyone was having equipment problems, there were maybe 35 people in the house, and the band was drunk. Bummer set?
HELL NO!!!
The Mekons kicked our asses! Jonboy prowled the stage like a forgotten guitar hero. He even did a few Pete Townsend style leaps during some songs (though no flying windmills). I thought he was going to smash his guitar at one point, he settled for smashing strings instead. Jon prowled the stage, using his guitar like an axe against the overgrown shade tree of capitalism. Rico roamed the stage w/ his accordian humming like a bad vibrator, Tom meandered drunkenly about... unable to figure out how to plug his guitar into the amp, Sally dancing about in her unique style laughing at all the fun. (The back section seemed pretty sober, but it was hard to see them w/ all the roaming of the front four). The crowd was small but all rabid fans.
The set list was the same as Friday. Given the constant equipment problems (many seemed to be caused by the house), they were only up to Fletcher Christian at the 1hr mark. The song ended and suddenly the house music came on. Management suddenly faced a room full of hostile people... audience & band alike. It seems the house didn't even bother to inform the band that it was last song or anything. Just get the hell out (which, as y'all will recall, I warned would happen from previoius experience). Sally gave the sound board flunky a most civil & nasty tongue lashing. I would have felt humiliated after her speech, but this bozo was too dense to figure it out. Jon started getting beligerant and Sally calmed him down into just playing one last song.
Many in the crowd wanted to hear Memphis, Egypt (which would have been appropriate given what was happening), but the band stuck to the set list and finished w/ a hasty & ragged Orpheus.
Drones in official looking "STAFF" shirts (nobody over the age of 25 among them, all ignorant of who they were insulting) hovered near the stage and started packing up the equipment. One fan confronted the head drone & insisted on a refund (tix were $10). Drone got really nasty and told said fan to fuck off, among other things. This was a mistake & Jonboy went livid. Delivering a sermon just as pointed but on the opposite side of the politeness scale as Sally's, Jon left the drone w/ several new assholes. Drone popped up and seemed ready to take on the old man. Jon seemed really itching and ready. Droneboy was saved from getting clocked (and probably gang tackled by the audience had anything started) by Dronegirl, who told him to just forget it and get these "people" out.
So, what's our lesson here?
The St Andrews/Shelter used to be a premier place for any band to play. Most bands really looked forward to when the tour stopped there. Not any more. The last few years have seen this place turned into a mockery of its former glory. If Nashville is representative of the death of country music, the proprietors of the Shelter/St Andrews are the death of modern music. Why was the plug pulled? To clear the place for a bunch of 18-23 year olds to dance- not to the international DJ sound started in our city, but to crass marketed 3rd generation distillation of that sound. The shelter had a small but well off crowd at 9:30... and everyone was enjoying themselves w/ spirits. We probably would have put a considerable profit in the bar register by the end of the night, had it gone on. Instead, they insulted everyone there and kicked us out for a bunch of kids just to get their cover charge. Kid that wouldn't start arriving until nearly 11.
I feel shamed (again) for my city. Hopefully, if the Mekons choose to give Detroit the pleasure of their company, they'll play the Magic Stick, the Magic Bag or slide over to Ann Arbor & play the Blind Pig.
-rich
I can second the review of the Detroit show. They were laid back, Jon was characteristically ribald--something about greasing himself up, and ramming, ramming, ramming; and some tasteful humping of his guitar, Rico and whatever equipment was close by.
The sound guys were insanely shitty, there was noise in Tom's amp for 30 minutes, which wouldn't have been so bad except the show was barely an hour because of (extremely shitty nightclub) The Shelter's "club nite." Rico complained about no accordion in the monitor, at which point some of us tried to add that there wasn't any in the PA either...I'm really pissed that I couldn't get free for the G.R. show the night before. Everybody else got to see them do Memphis as an encore and I only got half a show. It's just no fair.
michael cannella
detroit, mi usa SUN 11/1 CLEVELAND, OH
---
Grog Shop
---
TUE 11/3 BALTIMORE, MD Fletcher's
hey. im new around here. ive been lurking for awhile, seeing what kind of info was on here. i am a mekons fan from way back, having fallen out of touch with em in the past couple of years or so. saw awhile back that they were actually gonna be venturing here to baltimore for the first time in 10 years and thought, what better time to reaquaint myself with them? so, what follows is a brief, somewhat scattered report of their show at Fletchers in Baltimore on Tuesday, November3rd, from someone whose experience with their recent music is somewhat limited...
the friend i was sposed to be going with was sick, so i headed down alone. got there around 10:15, a couple songs into the Handsome Family. i was somewhat impressed by them. had a good old-fashioned traditional country-folk sound, with enough good humor to make it interesting pretty much throughout. as i first arrived, i noticed Tom was behind the counter, hawking tshirts, cds and assorted Mekon memorabilia. after the Handsome Family set was over, i ventured over and purchased the Bob Wills salute cd for $12 (a bargain!). said "thanks, Tom" and ventured back out to drink a beer and wait. an older guy with an annoying grin felt the urge to engage me in conversation, making the comment that, in his words, the Mekons were a big influence on the Clash among other bands. i thought he had the clash influence thing backwards, but i just smiled and kinda turned away, as he seemed to have that semi-psychotic look.
the mekons went on around 11:30. i wont even attempt to reproduce a set list, not knowing many of the titles of newer songs and having a pathologically bad memory for names and lyrics. overall, everyone seemed to be in a raucous good mood. the crowd was fairly decent, better than i expected. sally commented early on that this was a bigger, more spirited crowd than they had gotten at recent gigs in bigger cities, which only garnered an even more spirited response.
as was the case in other shows mentioned here, it was the Big Four up front, doing lots of singing along and having a generally great time. this was the first time i'd seen them since about 1992 or 93 and they seemed notably looser and more energetic. well, theyre always pretty loose...but they sure seemed happier than the last time i'd seen them.
as i said, the only songs i knew were older, such as King Arthur and Fletcher Christian and Memphis, Egypt, which all sounded amazing. i was very pleasantly surprised at the new material as well. the set closed with a newer song which ended with an extended sing/yell-along with the crowd, including elaborate hand gestures and body movements, all echoed by the crowd. amazingly, as the band went offstage, the crowd continued chanting the chorus "belly to belly, back to back, dancing round the square", complete with hand gestures, with ever building intensity until they came out for the encore, joining in with the crowd for a minute, bemused expressions on their faces. a barkeep came by and passed out complimentary shots of something to the band, eliciting gleeful responses from Tom Jon and Rico in particular (sally abstained). then they launched into The Curse and a couple others, then going off stage again. after five or ten minutes more of loud cheering, they came back out and played a startlingly brilliant long version of Prince of Darkness that began with several minutes of lovely instrumental work before tom started singing and concluded with some lovely playing by jon. they finally went off, saying they had no more songs left to play.
i had been admiring the big ME workshirts that several band members were wearing. being a Big and Tall kinda guy, i was made hopeful by the fact that Dave, the extra guitar/synth/weird noises player fit just fine into his. so i ventured back over to the counter, where sally was now minding things and asked her if they might have one in "really really big." she rummaged around in the box for a few minutes but came up empty. then she said that the band was all selling the ones they wore over the course of the tour and that Dave could sell me his. she said she could go find him, and just then he came by. he said fine and went back to find the shirt. i sat by, basking in the buzz of a great show. after 5 minutes or so, sally comes by and says "where is Dave with that shirt?!" and hurries by to go look for him. a few minutes later, i am the proud owner of a ME workshirt in "big man" size. sally even bumped $5 off the price because the sleeves were kinda frayed. i thanked her profusely and made my way out into the cold baltimore night, only to get caught up in the middle of a high speed chase between a stolen pickup and a dozen or more cops. how exciting!
i apologize for the excessive wordiness. its just the way i am. hope this little report is of interest to the few people who seem to lurk hereabouts.
yours,
josh

---



More shows without review
WED 11/4 PHILADELPHIA, PA Pontiac Grille
THU 11/5 NEW YORK Mercury Lounge ---- Jon Langford & the SKULL ORCHARD


SAT 11/7 NEW YORK, NY Bowery Ballroom (CMJ) c
SUN 11/8 HOBOKEN, NJ Maxwell's

LOST MEK-END IN NYC

by Neil deMause

"Followers of all things Mekon might approach this year's CMJ Music Marathon as if it were the high holidays."
--Ann Powers, in the New York Times

Friday: Sally Timms and Skull Orchard each had gigs on Thursday night, but I decided to skip them and conserve my energy for the weekend proper. Friday had Sally playing yet another solo gig, with all sorts of good people like Amy Rigby and the Schramms, but I instead headed for someplace called Brews, where the Waco Brothers were headlining a bill with the Handsome Family, Rico Bell, and Split Lip Rayfield.
Brews turned out to be a fairly egregious yuppie bar on East 34th St., but with a cozy enough upstairs room for music. The Handsomes opened, and almost immediately ran into trouble: Brett had the flu and was in a foul mood over all the music industry hacks at their CMJ gig earlier in the week; in the midst of "Cathedrals" he suddenly muttered, "Watch out, wrong verse!" then attempted to backtrack to the one he'd missed while the digitized backing track launched jarringly into the chorus. Rennie tried to keep the crowd entertained with stories about men dressed as Santa Claus carrying bags of screw-top chickens, and bickering good-humoredly with Brett. ("This doesn't belong on my side of the stage!" as she kicked a washboard at him.) They finished up with a determined tangle of melodica and distorted banjo-guitar, before Brett abruptly detuned his instrument during the tail end of a song and disembarked the stage to massive applause.
Afterwards, I went up to Rennie and congratulated her on having put on a perfect Mekons show.
Next up was Chris Mills (Jon, who was MC for the night, was seemingly just pulling people out of the audience at random and shoving them onstage), who was as blandly pleasant as the last time I heard him. Split Lip Rayfield, a guitar/banjo/washtub-bass-made-out-of-a-gas-tank trio, followed and were lots of bouncy bluegrass fun.
Finally, after Jon had killed some time playing Tom Jones covers and children's songs, the Wacos gradually took the stage and launched into "The Death of Country Music." The sound was off, leaving Tracey Dear's mandolin and Mark Durante's steel guitar all but inaudible, but the band made up for it with raw drunken energy -- "See Willy Fly By" made as good a crowd-pleasing anti-anthem as any Mekons tune I've heard. A bald-headed and goateed Lonesome Bob, introduced by Deano as the "new governor of Minnesota," took the stage for a couple of songs ("Do You Think About Me?" "My Mother's Boyfriend"), as did Rico Bell, during which Jon polled the audience on Rico's sexiness and other matters. ("Now raise your hand if you think Rico's the bravest man in the world for playing such a silly instrument as the accordion!") Eventually they broke all the microphones, and Jon, Alan, and Tracey all fell into the audience, and then they played a loud and raunchy "Folsom Prison Blues" and we all went home because it was 2 a.m. and we had to get up for the Bloodshot Records barbecue the next day.

Saturday: Woke up bright and early (well, early) to drag myself down to Brownie's for the barbecue. The lineup was much the same as the previous night's, without Chris Mills and with the addition of the Sadies, the Blacks, a better sound system, and a whole mess of macaroni salad.
The Wacos had obviously had a rough night: Jon kept cracking bitter jokes about wanting to sack the whole band, and Alan and Tracey were strategically placed at opposite ends of the stage. The show itself was considerably tighter than the night before's -- I think even the Wacos would have had trouble getting that soused by 4 in the afternoon -- which made for better music but not necessarily more fun. At one point Jon asked the crowd, "Would you prefer if we just brawled onstage? That seemed rather popular last night," and as I later found out, during the encore I'd missed at Brews, Tracey and Alan got into a minor fistfight that was apparently less in jest than the crowd had thought at the time. There was obviously some leftover tension, and Deano seemed to be taking the lead more to hold things together. (Deano's songs seem to come off better live, anyway; while I love Tracey's songs on record, his voice and mandolin are both a bit weak on stage.)
The set itself was longer than at Brews, with several new songs. (The Bloodshot catalog lists a Wacos CD as due in 1999.) One, a Deano number featuring a chorus about getting arrested in an alley, was introduced sarcastically by Jon as "the song we're hoping will finally be our big break"; they also did a nice "Revolution Blues," and had Lonesome Bob and Rico up on stage again for a couple of songs.
(A friend of mine wound up chatting with Lonesome Bob at Brews -- said he was the nicest human being imaginable, by the way -- and found out that Bob had come all the way up from Nashville for CMJ, and had been booked for a total of three songs at his one gig. He was not pleased.)
After the barbecue, we all headed over to the Kiev for a latke dinner that couldn't be beat, and then it was off to the Bowery Ballroom for what had been advertised as a 7:00 start for Richard Buckner, Firewater, Paradise Motel, and the Mekons.
The Bowery Ballroom, a newish space run by the owners of the Mercury Lounge, is a medium-sized club with a small balcony and altogether too many cast-iron railings and other highfalutin accoutrements. At some point since the last Mekons show there in June, the venue had picked up some new moving spotlights and other lighting effects, which made the whole thing feel like a bad imitation of an MTV taping. The place was also packed with both ticketholders and industry weasels -- er, I mean CMJ tagholders -- and got even more packed when the bathrooms, located in the downstairs bar, overflowed and everyone was evacuated to the main hall.
Buckner was fine -- I'm not a huge fan, but my friends who are said it was the best they've seen him -- backed by a band including the ubiquitous Dave Schramm on guitar. I missed Paradise Motel, and Firewater put on an overly slick lounge act before making way for, as their singer put it, "the legendary Mekons."
We squinted up into the newly installed garish backlighting and a haze of cigarette smoke as the Mekons took the stage. As our eyes adjusted, we saw the same setup as the summer tour, with three exceptions: Lu was in absentia (off in England, presumably), replaced by Chicago ubermensch Dave Trumfio on guitar and synthesizers; last tour's red "Me" shirts were likewise replaced by a variety of colors (which were also for sale downstairs, the Mekons having had a thrifting and stenciling session before the tour); and a large cardboard spaceship-looking thing sat at one side of the stage, later referred to by the band as a "Dalek" (as in Dr. Who, presumably).
The setlist, too, was about the same as in June. Roughly in order:
Heaven and Back
Come and Have a Go
Tourette's
Oblivion
King Arthur
The Bomb
Far Sub Dominant
Narrative
Insignificance
Enter The Lists
(Sometimes I Feel Like) Alan Doughty
Orpheus
Gin & It
----------
The Curse
Memphis, Egypt
Where Were You
----------
Down
Prince of Darkness
The band seemed in an exceptionally good mood, especially Sally, who was dancing about and goofing with Jon all through the evening, even if she didn't seem especially interested in singing. ("That's one down!" she announced after "Oblivion." "One more for me, then I can go home!") They did the line-up-behind-Sally bit during "The Bomb," during which Jon first pantomimed the lyrics with his hands, then stuck his forearms out under Sally's and led us in the Bomb dance from behind her. Tom indeed strapped on his guitar for a few songs as previously reported, and hid behind an amp making dog noises into a mic during "Narrative." Sara asked if anyone had any pot.
Mitch was absent for some reason (Jon explained that he'd joined the French Foreign Legion), which meant that "Where Were You" was sung by Jon, in a high squeaky voice, from inside the Dalek costume. Truly a moment not to be missed.
All in all a good if not quite great show: I still wish they'd mix a few more older songs into the set (they don't have to be the same-old tunes like "Amnesia," but surely the Mekons have enough back catalog to mine for something fresh), but the Me material was tighter and better this time around. Mostly, the band's exuberant giddiness was infectious -- at one point, Jon and Sally went into a routine about the new "Hotel Mekon" chain that puts you up on people's couches across the country, but then kicks you out at 4 a.m., and poor Steve Goulding had to play half the next song with tears rolling down his cheeks from laughing so hard.
At the end of the show, Jon asked that everyone come to Maxwell's the next night "where we'll embarrass ourselves all over again," as the crowd roared and Tracey Dear and Alan Doughty embraced in the front row.
(Er, and then they came back out and played two more songs. But it makes a better story the other way.)

Sunday: My sore ankles from hopping around had just about healed and the ringing in my ears had mostly subsided by the time the final Mekons gig of the weekend rolled around. Maxwell's, the legendary Hoboken club, was transformed into a microbrewery a couple years back, and thence into a vacant storefront, before longtime booker Todd Abramson and Sonic Youth's Steve Shelley teamed up to buy the place and restore it to its old glory. (Such as it was.)
After yet another opening set by the Handsomes (at their charmingly self-deprecating best -- and with the addition of a new pretty song about death), the Mekons slogged through the crowd to the tiny stage. After just one song ("Heaven and Back") it was clear that the well-oiled machine of the previous night was gone -- made evident when Jon asked the audience if we wouldn't rather just listen to the band chat, cracked many entertainingly bad jokes ("We want to get some pot for Sarah! You give us some pot, and we'll give you Sarah!") and then tried to make Sally read poetry.
After another few songs and a lot more banter (Sally at one point estimated they'd played five songs in the course of an hour), another problem became apparent when Tom, aided by copious amounts of alcohol, broke the all-time Mekons record by forgetting *all* the verses to "King Arthur." To make matters worse, Tom then decided that his preferred position was slumped on a bench at the side of the stage, and would only take the microphone to introduce the rhythm section, which he did five or ten times throughout the course of the night. This was easily the most drunk I've ever seen any Mekon onstage, and that's saying something.
The set was short, mostly because of Tom's condition and the fact that the band had to drive back to Chicago in the morning. At one point, the band played several bars of "Prince of Darkness" while Tom lounged in the front row of the audience, bumming a cigarette from a friend of mine. (He finally returned and sang it, more or less.) By the end of the show, Sally was playing den mother, begging Tom to leave the stage (and asking the crowd "not to ask for any more songs, if you care at all about the people in this band"); she finally just began packing up everyone's gear while Tom and Jon stood in the back and played with Baron Von Trumfio's sampling devices.
A very weird show -- I felt like for the first time, the subtext behind the stage banter broke through, and it was as if we were watching the Mekons' personal lives unfold before us. (At one point Sally actually ran down a list of everyone in the band she'd slept with, adding, "I've been in this band 12 years, what do you want from me?") The songs they did play were great, and they were hysterically funny as usual, but they unraveled at the end in a way that was sort of ugly to watch. A tape may yet surface of this gig -- Sally spotted someone taping the show towards the end, and asked for a copy, "To make these guys listen to when they're sober."
So farewell, Mekons, and have a good trip back to Chicago. I hope to god you have the good sense to let Sally drive.


---

11/10: Lounge Ax, Chicago

Just saw the Mekons last Tuesday at Lounge Ax, I must be honest and say it wasn't their greatest show ever, they seemed tired and Jon's voice was nearly blown. The material, though it stills sounds way better live than on record, was nearly the same as the Fitzgerald's show in July. I spoke to Jon before the show and he said they were about to record a new record the next day and had no songs yet! Rico was in fine form and a new Mekon substitute surfaced, a guy from The Pulsars who played instead of Lu, he added a lot and fit right in. (Bill Peiler)
---
Jon Langford at the Old Town School of Folk Music, Chicago, Nov, 20 1998
From: Tom Mohr
Subject: Jon At OTSFM
Some notes on Jon's set, opening for Guy Clark at the Old Town School of Folk Music in Chicago.

There were two shows last night, so Jon's opening set for the early show was kind of short. About thirty-five minutes.
He had a touch of laryngitis, which actually added a nice edge to his singing. Just him and Jon Rice (mandolin, dobro).
And he did the most interesting set I've seen him do in a long time:
Tubby Brothers
Delilah (the Tom Jones song)
Death of the European (Three Johns) (!)
a Procol Harum song, about an overcoat too long ("this is dedicated to Keith Reid")
Nashville Radio ("in this one I assume the voice of Hank Williams -- at least that's what the newspaper said")
Millionaire
Tom Jones Levitation (with guest vocalist "Stacey Early")
Pill Sailor
Point of No Return
The intro to Millionaire went something like this...
Jon: This is a Mekons song...
(scattered applause)
Jon: ...normally sung by a woman...
(a big cheer from someone in the balcony)
Jon... I don't think she's here?
And of course he introduced "Tom Jones Levitation" with the story of how 79% of the Welsh people would prefer Tom Jones to Prince Charles as leader of a Welsh republic.
He was a bit tentative at first, but they really got going by the end of the set. He thanked the audience for being "very polite -- we were told you would be." OTSFM audiences are known for their good manners -- for an opening act, it's a great place to play.
And there was a showing of his art in the school's gallery. Paintings and headstones both. If I had a spare four hundred dollars I would surely have bought something.
And Guy Clark was just great, too.


Thanks to all who wrote these reviews.
---
Some Pictures from a Mekons show in London:
The Mean Fiddler, London December 12 1998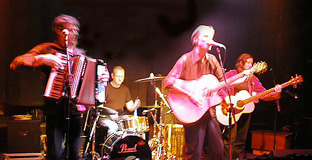 The Mekons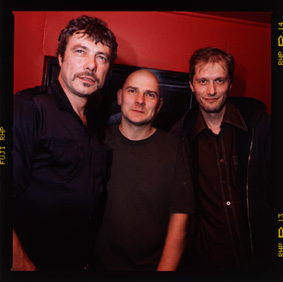 Rico (Mekons), Danbert Nobacon, and Tom (Mekons)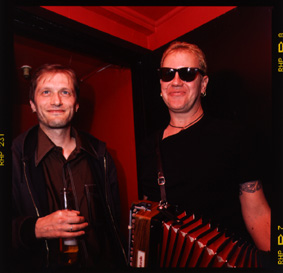 Tom (Mekons) and John (Oyster Band)
---
Music review, Waco Brothers at Lounge Ax
By Linda Ray
Special to the Tribune
Like some benign Beowulf lurching and yowling a welcome to the new year, the Waco Brothers wreaked havoc on the roadhouse New Year's Eve and left a sloppy wreck of humanity happily exhausted in its wake.

Few bands have more fun onstage than the Waco Brothers, and it's infectious. Succumbing to the energy of their punk genre-melange is a fair substitute for 7 a.m. TV aerobics, and Thursday's crowd at Lounge Ax may have awakened to whiplash from bobbing their party-hatted heads in time with such revelry.

As much fun as they are to watch, they are also intimidating. Imagine the thrust of an offensive line without discipline and grace, or a combat battalion assaulting a beachhead with guitar fire. From the band's opening song, the Bo Diddley beat-driven, "Out in the Light," the Lounge Ax monitors withstood countless surges of Wacos bursting toward the audience, and the stage survived the impact of a hundred pounding leaps.

The trademark Waco ruckus almost invariably delivers food for thought, though. The year ended with "Cowboy in Flames," the title track from the Waco's 1997 Bloodshot release. The song was inspired by speculation that TWA Flight 800 had been shot down by American missiles and casts the incident as a metaphor for the abuse of economic and military power.

Leading the midnight toast, lead Waco Jon Langford urged fans to "Kiss whoever's next to you," while the rest of the band encouraged interaction somewhat more scatological. When the response was not the bacchanal the band had hoped for, Langford chided, "What's this? The post-Lewinski puritan age? Come on! Make out!"

Langford then announced "the first song ever written in 1999," and when played at full volume to a turbocharged beat, it was a remarkably cohesive ensemble improvisation that was summed up best by Langford: "It wasn't necessarily very good, and it was mostly about (pedal-steel player) Mark Durante," the good- natured butt of endless teasing by his Brothers.

Lead guitarist Dean Schlabowski debuted a song from the band's forthcoming release, "Waco World," a blues hangover of up-against-the-wall injustice called "Red Brick Wall," it features the most aggressive bass line Alan Doughty has ever supplied the band.

By a quarter to 1999 in Los Angeles, mandolinist Tracy Dear had toyed with crowd-surfing, Langford had ripped opened the snap buttons on his cowboy shirt with savage glee and the band was bellowing its peerless, rafter-threatening cover of the Who's "Baba O Reilly" to banish the ghosts of the passing year.
---