Reviews from 1986-1992, Reviews of 1997, Reviews of 1998, Reviews of 1999, Reviews of 2000, Reviews of 2001, Reviews of 2002, Reviews of 2003, Reviews from 2004, Reviews from 2005, Reviews from 2006, Reviews from 2007 Reviews from 2008
---
Insurgent Visions: 10 Years of Bloodshot Art & Music
Saturday Feb. 7 at the Old Town School of Folk Music
4544 N. Lincoln Avenue
Featuring music by Rico Bell, Trailer Bride, the Honorary Shack*Shakers, Jon Rauhouse's Steel Guitar Rodeo (w/Sally Timms and Kelly Hogan), and the Waco Brothers.
Reports:
My wife and I went to the art show as well as the early show and had a great time. Talked to Jon at the art show and he said the Mekons were going to release a "greatest hits" CD in Europe, probably a double disc to include "rarities".
On to the show itself...
Rico opened with 5 or 6 solo acoustic tracks. I wasn't writing down the set list and I was distracted by baby-sitter issues, but my wife really enjoyed it. Somehow I'd never noticed that Rico had lost most of his index finger on his left hand so it was interesting to see how he reconfigured his fretwork to play the chords.
In the second spot, Trailer Bride played a near comatose set. Haven't heard their albums but hopefully watching the CD spin is more exciting that watching the band play. That said, I really enjoyed the song with the "saw" solo and their guitar player is quite good. Best watched with your eyes closed and with headphones.
Next up were the Legendary Shack Shakers. HOOOLLLYYYY CCCCRRRAAAPPPP!!! You couldn't find a band more different than Trailer Bride. While TB's material was probably best heard and not seen, you have to see the Shack Shakers to believe them. I'm woefully ignorant, but the lead singer/harp player was about 5 foot 10 and 100 pounds of pure unbridled insanity on stage. Somehow in my 42 years on this planet I had never seen anyone actually rip off their boxer shorts on stage by pulling them up over their head!
Jon Rauhouse's Steel Guitar Airshow with Sally and Kelly followed up with a fantastic set guaranteed to leave a smile on your face. While I love Sally, Kelly's joy and beauty can bring tears to your eyes, especially when you "accentuate the positive"!
The Wacos closed the show with a fantastic 45 min set. Jon was hilarious introducing the band as leviathans of the "Folk" scene proud to be at the Old Town. No new material was played, though they did cover "I Fought the Law".
The funniest comment of the night was Jon reminiscing about an imaginary show seeing Joni Mitchell at the Old Town School of folk music. "It was fantastic as the sound of the snoring in the audience drowned out her dreadful music."
The Bloodshot folks were filming and recording the event so hopefully it will see the light of day for everyone to enjoy. I did not record it as the Old Town folks are really harsh on that subject.
Avery

Chicago Tribune said:
Alt country label throws a loud party
By Michael Parrish
Special to the Tribune
February 9, 2004
Fifteen years ago, alternative country was not yet a genre, and those that plied their craft in that emerging arena were most likely to be found in Nashville, Austin or Los Angeles.
But several events, including the migration of the Mekons to Chicago, the establishment of No Depression magazine and, perhaps most significantly, the birth of Bloodshot Records here conspired to make our town the hub of the insurgent country universe.
Saturday night, Bloodshot celebrated its 10th anniversary at the Old Town School of Folk Music with a loud, vibrant celebration of heartbreak, death and beer that was far more rock than country.
Opening the show was Mekon Rico Bell, who eschewed his accordion and performed in folk troubadour guise with acoustic guitar and harmonica. A powerful songwriter and singer, Bell's set was marred by his sometimes ham-fisted guitar work.
North Carolina quartet Trailer Bride played a spooky set of Gothic psychedelia that was somewhat like a strange hybrid of Harry Smith's "Anthology of American Folk Music" and the Nuggets anthology. The group's twin secret weapons were vocalist Melissa Swingle, who switched from guitar to musical saw for "Hope Is a Thing with Feathers," and the electrifying, surf-drenched playing of lead guitarist Tim Barnes.
The night's wildest stage antics came from J.D. Wilkes, the hyperkinetic lead vocalist of rockabilly combo the Legendary Shack Shakers. During the group's boisterously entertaining, high energy set, Wilkes mixed equal parts Jerry Lee Lewis and Iggy Pop as he stalked the stage and contorted his body, finally stripping to the waist, pulling out his chest hairs, and throwing them to the audience.
The evening's best musicianship was delivered during pedal-steel guitarist Jon Rauhouse's short, classy set. Rauhouse and his quartet focused on smooth mid-20th Century swing music, including an instrumental version of the Mills Brothers' "Glow Worm" and sparkling versions of "Accentuate the Positive" and "White Cliffs of Dover" warbled elegantly by guest chanteuses Kelly Hogan and Sally Timms.
Capping off the show was a loud, physical set by the irrepressible Waco Brothers, who crammed an evening's worth of energy into their hourlong set, which favored the band's hard-charging original rock tunes. Genial front man Jon Langford, whose role as musical catalyst of the whole Bloodshot scene cannot be overstated, was in fine form, leaping, shouting and peppering the spaces between songs with his witty, erudite and sometimes oblique commentary.
***
Good show for the second set. Rico (minus guitar) came on with the Waco Brothers and Mr. Ash (who owns a magic store on Western) to do a medley of sorts of two Elvis songs--Blue Moon of Kentucky and . Mr. Ash, who's a ham, did some jokes as well. Jon: "I heard your wife likes to talk during sex."
Mr. Ash: "You bet. She likes it so much she once called all the way from Dallas." Then there was the fifteen-minute penguin interlude, which is too hard to convey in email. It's been said before, but I'll join in late: Steve G. is the best fucking drummer ever. He just drove that band. The Waco Brothers, after a kind of greatest hits set--starting off with Plenty Tuff and including White Lightening (even though the Shack Shakers did it as well [yes, I agree,they are not to be believed until you see them; J. D. Wilkes, the skinny chicken-eating geek, stripped to his bony chest, posed and mugged and preached like a southern minister, even doing the arm chopping move that David Byrne used to do, and then baptized himself with water and pretended to get electrocuted by his mic] and Do You Think about Me? and Fox River) closed with I Fought the Law and Twentieth-Century Boy, with what sounded like Pink Floyd's "The Narrow Way," featuring weird chicken guitar noises and phallic posturing, inbetween. Excellent time, lots of laughs. Sally, of course, wanted to go home, but she sang her two
songs with Rauhouse, and Kelly did, too. They are both so great in their own ways.
Jay
---
MEKONS TOUR
mekons tour diary march 2004
Pittsburgh:
all the heavy heads on the Pittsburgh scene were out NO JIVE really good people not in it for the bread - thanks to Paul and & the heavy electronic boogie Johnsons Big Band & Bubash for the cosmic hospitality... Johnny Dowd band looking really cool with a beard of stars very nice. Great to be out doing it 'cos there really isn't much time you know...
Ithaca
you know the way across America is so beautiful with real woods snowed up along hillsides that could be straight out of the elf and fairylands that sparkle wild inside the heads of the kids and the five finger lakes and gorges that meet at Ithaca at the leyline of The Chapter House where we played to some more really good people who really got into it. Johnny Dowd's family and Kim who used to sing with Johnny came to see us and they were totally far out to meet and beautiful and Brian's wife just had a baby and her Mum is from Irkutsk, another lake, y'know.
Boston
We drank wine. It was beautiful and we rocked. The kids were beautiful and pretty and we danced them. Mike from the Johhny Dowd Band took us high in the sky with swirling psychedelic organ. We drove through the night. Hello Galen and Abigail and the Leeds heads who are really good people in their own way. It's the easiest thing in the world to just call Elton John or Eric Clapton and have them come and play on your record, just pick up the phone y'know.
Bowery Ballroom, Manhattan
Sold out show lots of new heavy headed kids and FBI men, who seemed like really nice people in their own way, but who knows what's gonna happen even like next week - We would really liked to have given everyone a free T-shirt or a poster or something but the headless people said that was a bad idea y'know. And Sally says yes they are real!! Great jive with Dowd and the 2 guitars... anyone get a photo?
Maxwells Hoboken New Jersey
Don't laugh. In ten years time this will be all the rage. This is how music will be distributed in the future. Tonight Mekons launched MeTunes, a neanderlog way to speak to the heavy heads without the intervention of THE MAN. Hollywood Rico Bell is awoken in the underpant region by Jon's tiny wooden bra, Jon sits on a cushion in the van today. Mekons rocked the Maxwell's crowd with their acoustic songs and tape auctions. $75 raised, most satisfactory. But it wasn't about the bread - that just gives us the resources to live like gypsies and play for free next summer 'cos they know what's really happening, but why should they really?
Trenton NJ Free show The Gypsy's Vest
somebody spiked our drinks at breakfast and the next thing we knew we were in the middle of a field across in New Jersey playing to some cows mostly but you never know how long you've got and some of them may have been Johnny Horton reborn so we played. sorry about the security which got a bit too much and heavy and the jive about getting backstage but we don't mind really cos the kids really dug it. cosmic thanks to danny's hemp haberdashery for the free threads... I mean, what is a rip off? $25 for a tie-dye is really uncool... No speech no language where the voice is not heard, Sally must have eaten a bad bit of tofu but who can blame her? We just wanted to do it and sort of get it over with y'know so we could move on.... Also, about the portable toilet we can explain everything. If they want it back they can email us via Nobby or call (609) 674 2453 after 3pm. Thanks to ConAg for the use of the field.
Attention Mekonheads. The In-Store at the opening of the Tastee Freeze in Arlington got cancelled without our knowledge, sorry if you showed up.
Arlington VA
Gigs for free and gigs for bread, stay free from jive and keep the music Dinwiddie...
The cats were cool while the Johnny Dowd Band rocked their heads and Johnny spread his message of peace and love then we hit the stage and got into a heavy meditation vibe as Sally droned away with her shruti box and floated off on a cloud of stars. Some of the gypsies came up after the show and said they'd been following us around for the last four gigs. You can look in their eyes and tell how cool they are...
We have lunch in a swanky DC restaurant with the FBI and some guys in a variety of different and unusual uniforms who seem to be following us about as well.
In their own way they seem to be cool heads.
For us success is all about making the right choices and we've really only just begun.
Greenville SC,
After a cool stay in the Motel-U-Like we wake to see that today of all days is the day. We are PREPARING OURSELVES, washing with sweet smelling oils and shaving ourselves smooth. Soon we will be greeted by maidens in flowing leopardine robes bearing garlands of bright flowers and singing songs of welcome, for today we reach Atlantis, the fabled city of legend, where mages on unicorns ride through the marbled streets and weave spells to beguile the innocent. Only 150 leagues until the lofty spires of her airy temples appear through the perfumed mists...
Atlanta Echo Lounge
Little hard fingers probe the boy's lumber region on a make-shift operating table in the man from Atlantis' living room. Julie conjures up a rainbow punch and crazy rice. The jive is – NO WILLY TONIGHT!!! Mekonic art show (something we really wanted to do, along with writing some science fiction novels and getting into movies) at the Alcove, full of really nice people but our heavy heads are heavy. Willie B from the Dowd band fills in with great aplomb and Barry B requests and performs GUARDIAN a song we hadn't really grooved on since 83. But behind the rush and the triumph…. tattered fragments of purple, pink and orange cloth just coming apart in our hands… tomorrow we lose Scott…
New Orleans The Parish @ H.O.B.
Drive all day thru spring blooming shamrock green southern lands & over murky swamps and towering sky bridges to the pot of gold at the end of our Mardi Gras rainbow! It's St. Paddy's day in the Irish Quarter and a coach load of emerald floppy boot lepraucornish Irelanders all the way from Stuttgart are in the elevators and onto the street as the hotel bar revolves imperceptibly and the parade arrives… WILLY is back (laying down a heavy electric war dance stomp) but we have become headless, like the poultry. Non-communicating, scattered and forlorn, even the simplest task is a broth to spoil in… We rally for the throng but can't really go on like this y'know… Hey! Who's that lying in the gutter green and shiny and lost as we are? We pick up Pierre and take him back to our suite… He says what we think. He is in charge. Now it's time we left this place and started behaving like a British rock'n'roll band again… there's been enough jive… sad to see the Dowds head out, they real ly are very good people in their own way and we certainly don't begrudge them their success, quite the opposite in fact…
Austin SXSW
A wonderful paisley blur and we've got our automatic shoes on, dig? Meet so many heavy cats it's hard to stay true to the kids. John Cale looks happy and tanned at Las Manitas (as does Kris and Joanie) Timms solo show at the Cactus is turned into Me-Tunes 2 as we try to give something back to the kids… but at what price? 6th St full of the headless so we retreat to Antones and do the room-clearing 1 am spot all jived up in a diamond star halo of pure Mekons pleasure… Tony & Jean are hanging, Micky Bohl from Berlin! Yard Dog is long & groovy as always, The Meat Purveyors blow the lid of our lobes, beautiful people to see, ugly deal go down, touch my cheek with your winged angel fingers. Guerro's for a few! Our secret show for The Backpacker party in the backyard at El Stingues was aborted when the word got out and we didn't want a heavy scene OK – sorry if we left ya hangin'. We went and checked out with Big Mike at The Casino El Camino instead and rocked to the monster boogie
of White Heat – You gotta give it to me so I can give it to you! Calexico tell us they saw a lot of homeless people wearing yellow Mekons T-shirts in New Mexico!
LA
Sit down at McCabe's, stand at the Troubadour, recline in the golden rays with Mindy, The Baron, Wren, Bob Rice, Kengineer and Yves. Paul Burch is NOW aboard ship and he is the perfect guest, one classy dude. Ride the land Lear jet on turbo thru the night laughing like space jackals bouncin' off the Hollywood hills. Pierre loves LA!!!
San Francisco
Down in the pool it's cool but out on the street the scenes are freaky. Delicate edgy fun at the Starry Plough with Greil and TJ Clark then deep woodland bop at Slims (thanks a multitude WAYCROSS!) split by a saber-toothed acoustic set at Amoeba Records (thanks for the discount cats) and pints and pints of golden nectar at Dylan's (Mog & Lil ad the Fightin' Pacifists are cool) in the Mish… We'll probably add to this when it starts coming back to us… Pierre hates hippies!
Seattle Chop Suey
The best gig we ever played OR a shambles who's to say, in a way nothing really matters as long as we get on the fuckin' plane in the morning… Hello Brooklyn Baby B. Pierre stayed in the hotel cos he didn't wanna get smashed
Chicago Double Door
Nice and heavy, nice and early (thanks to Rocky & Ellen for selling all the shirts)
Berwyn IL Fitzgerald's
Pierre thinks it's time we read Moby Dick again…

9th Pittsburgh, PA Club Cafe
1. Teeth
2. Chalkie
3. Beaten & Broken
4. Work All Week
5. Millionaire
6. I'm So Happy (title?)
7. Lone Pilgrim
8. Roseanne
9. Hey Susan
10. Now We Have the Bomb
11. Lonely & Wet
12. Last Dance
13. Hard to be Human
14. Dan Dare
15. Orpheus
16. Tina
17. Apple
18. Powers & the Horror
19. Curse
20. Wild & Blue
21. Never Been in a Riot
Random notes:
*Jessica on fiddle; everyone else was there, looking good and in fine spirits
*Almost no opening-night false starts/missed cues -- they sounded fucking fantastic
*Early show (because it's Tuesday, I guess) -- I was home by 11 *Club Cafe is a shit place for a Mekons show -- all tables and chairs front and middle
*Still, the place was packed and enthusiastic, dragging them back on stage for 3 encores
*Langford gave shoutouts to local heroes The Johnsons and Lonesome Bob -- who led the cheering for the final encore
*Not much Langford banter, except:
"This tour is sponsored by Depends" (adult diapers)
"Steve is our John Edwards ... and Lu is Al Sharpton"
*Sally joked that she was Charlize (sp?) Theron from "Monster" -- but without makeup needed
*Johnny Dowd opened and was weird and brilliant as usual -- but really rocked, in his own off-kilter way. Covered Luke the Drifter and Johnny Cash ("The Wall"), and told jokes by Chet Atkins and Dolomite
Keith

---
More news from Pitt:
A really fun show, though tiny tiny venue with too many tables taking up most of the space. The club is interesting in that it is set uyp or filming and multimedia (though none of this was recording - lots of WYEP live shows are broadcast from the club). I missed Johnny Dowd, as the show started really early. Keith provided lots of info, here are some more highlights
- really diverse crowd (and full club). I think the guys in the Johnsons (local Pitt band that has backed Jon here and in Chicago, or as he referred to them in the Halloween hoedown, "Jon's sons") were amongst the youngest in the crowd
- the call had to go out for Tom as the band was set up w/o any sign of him
- An incredible Hard to be Human (partially my bias towards Fear and Whiskey era Mekes), great harmonica by Rico! Other highlights for me were Beaten and Broken, Millionaire and encores
- though I am 6' 4", I felt a little small standing near the bar next to Lonesome Bob and an enthusiastic fan who had to be at least 6' 5" or taller. I think the two of them were primarily responsible for coaxing the second and third encores as the house lights were on and music was playing over the PA.
- wild and wooly Curse! Jon made many comments about their moving to America for health care as they now need nursing after the show. The Depends comment was in response to Sally stuffing padding in her ears for the encore.
- a truly unexpected and glorious third encore. Sally was saying for us all to go home or buy merch since they had not prepared anymore songs. Then she and Jon started on Wild and Blue (another highlight). The Rico amble out partally into the song to sing back-up and play, and slowly the rest of the band joined on stage. Followed it up with Riot.
- can't help feeling a little like a stalker since will probably see them and other Langford permutations many times next week at SXSW. This is only my second time at SXSW, but 2 yrs ago time I had seen Jon, Rico and Steve in SF the month before SXSW and caught the Wacos and Pine Valley Cosmonauts et al many times in Austin.
- Mike in Pitt
---
10th Ithaca, NY Chapter House
By JAIRO van LUNTEREN
Punk rock: The Mekons perform at the Chapter House Wednesday night, renewing a touring relationship with the Johnny Dowd Band.

One remarkable thing about the Mekons, a band with its roots in British punk, might be that they have been together for more than 25 years. Also notable is that the band is scattered across the western hemisphere with members living London, Chicago, Los Angeles, and New York. Most unique, though, might be that the Mekons, who will perform at the Chapter House in Ithaca on Wednesday, are not a band at all. "We are more like an art project," says singer and longtime band member Sally Timms over the phone from her adopted hometown, Chicago. "First we come up with a concept, then we turn it into a song."
In many ways, the Mekons are a quintessential British phenomenon. Their counter-cultural approach to rock 'n rock is part of a tradition that dates back to the early days of the Rolling Stones and the Beatles and continues today with acts like Badly Drawn Boy, PJ Harvey, and Billy Childish. Stretching the band's significance, one could argue that the Mekons, who have also embedded American roots music into their sound, are to British underground music what the Rolling Stones are to mainstream pop.
Over the phone from Chicago, where he, too, has found himself a home, founding member Jon Langford says that despite their continuous appeal to British counter-culture, the Mekons have developed in a totally different direction throughout the past quarter century. "When we first started as a band none of us could even play an instrument," he explains. "I think we first benefited from that fact, but later on it became a kind of a stigma."
Timms, who became a permanent member of the Mekons in the mid-1980s,
says: "In some ways, we are definitely still guided by what happened to us during punk rock. We still never rehearse, for instance. But I think we have become more like musicians now, although even that is debatable."
Langford agrees: "I think our desire to experiment and our attitude are still our main trademarks."
In order to celebrate their 25th anniversary, the Mekons recently released an album on which they re-do fifteen songs that were written during the first five years of the band's existence. The album, aptly called "Punk Rock," is a collection of songs that shows that the band has always been interested in experimenting with song structure and a very loose sound. "Not all of the songs were all that great originally," says Langford. "But we definitely still connect with a lot of the lyrics."
Although she was familiar with the old material, Timms had never touched any of the songs on "Punk Rock" until the band decided to refurbish them. "I do a lot of covers," she shares. "But this is different because we covered the songs of the band we are playing with." Although she describes the process as odd, Timms says she is satisfied with the outcome of the decision to celebrate the anniversary. "It was a pleasant reconnaissance with the Mekons," she says. "The weird chord changes made the band play differently."
On "Punk Rock," the Mekons prove to be one of those rare bands that are capable of using a wide variety of styles without forgetting to sound like they are just being themselves. A song like "Lonely and Wet," for instance, is a fragile ballad with a wink that seems so genuine that it feels like a tear, whereas "Dan Dare" is pure and chaotic comedy rock. The revised version of one of the band's most well-known songs, "Never Been in a Riot," is one of those short and sharp sound bites that are typical of real good punk music; the song is such a hard rocking and edgy punk anthem that it might very well make people who grew up listening to punk music look back in nostalgia with a smile.
Although many years of hard work never paid off with a mainstream following, "Punk Rock"sounds so refreshing that it might even help the Mekons to finally get the attention they deserve.
In that respect, even Langford, who is involved in several musical side-projects and also is a professional figurative painter, has learned to stay optimistic. "People take us a little more serious these days," he says. "They used to just freak out about us. It sort of seems like we are bigger than ever now."
Still, Timms thinks that the Mekons, who started off as a college band in Leeds, England, in 1976, will never be as active as they were between the late 1980s and the mid-1990s. "We used to tour at least once a year, but now we go on the road just once every one and a half years," she says. "The Mekons take up very little of my time, which is a good thing because I am not particularly ambitious and rather lazy."
Several of Langford's side-projects have built up reputations for themselves. Most notable are his participation in the discordant, socio-political guitar punk band the Three Johns, an all-British socialist honky-tonk project called the Waco Brothers, and an anti-death penalty and Johnny Cash/ Bob Wills tribute band called Jon Langford and the Pine Valley Cosmonauts, in which he collaborates not only with Timms again, but also with renowned musicians like Lucinda Williams' ex-guitarist Gurf Morlix and the bluesy British songwriter Kevin Coyne.
Lazy or not, Timms, too, has a career besides the Mekons and the Pine Valley Cosmonauts. Most recently, she has been working on her third solo album, which she asked Ithaca musician Johnny Dowd to produce.
"I have really high standards," says Timms of her decision to work with Dowd. "He has more musical propositions than any one of us does, sonically. Some of his stuff is the best I have ever seen. I laugh my head off when I hear some of his songs; he brings very serious songs in a humorous way. His music is simply presented but very complex. I think his approach only appeals to people who are true music lovers."
The Mekons' appreciation of Dowd's musical efforts has resulted not only in the request to produce Timms' solo album, but also in a tour of the United States together. The show at the Chapter House in Ithaca is part of that tour.
According to Langford, The Mekons and Johnny Dowd are a perfect match. "'Dowd is definitely doing punk rock right," he explains. "He is sticking to his guns on one level, while open to ideas on another."
Timms: "We obviously like his music a lot and for some reason he seems to like us a lot as well."
Timms visited Ithaca twice last year in order to record some of the material that will be on her solo album, which is scheduled for release later this year.
The town reminded her a little bit of home. "I felt like I could be out there with my friends in England, albeit that they all speak with an American accent. I don't always connect with Americans as well as I did in Ithaca."
That seems to be a compliment, considering the fact that Timms published an essay on "Brits in the USA" on www.mekons.com in which she says: "I am totally and utterly English (.) And a Brit is always homesick."
Originally published Thursday, March 4, 2004
---
Just got back on Thursday from the road trip to Ithaca on Wednesday..
Great show. Bar called Chapter House was an old drinking tavern down the hill from Cornell. Venue had a fire limit of 120, and there were about 150 people crammed into the bar; hot sweaty drunken and dancin'.. Jon really liked the place. hey why not, 30 different beers on tap and Manchester United on the TV. The band tore, having a great time with the usual banter between all. Eight mekes on a tiny stage. Tom, Jon, Sally, Rico, Lu, Sarah, Jessica, Steve. Set list similar to Pittsburgh, with the encore different, substituting Fantastic Voyage and I'm sorry, was having too much fun to remember the rest of the set list. Astounding version of Hard To Be Human.. For everybody on the list, get there early. Do not miss Johnny Dowd Band. He has gotten so much better over the years. After two tours with mekons, he's definitely been influenced by mekes. johnny's drummer is totally amazing. He drums and at the same time, does all the bass lines using an old Moog bass pedal set. A very poly-rythamic person. Anyway, must get sleep.
Ciao for now,
Gary


11th Cambridge, MA Middle East Club Pictures

12th New York, NY Bowery Ballroom

OK, perfect Mekons show last night. As all good morning-afters start, I have just had my Alka-Seltzer and am now ready to tell the tale of the night before.
Set list was more or less:

Teeth
Corporal Chalkie
Beaten & Broken
What
Millionaire
I'm So Happy
Work All Week
Rosanne
Bomb
Lone Pilgrim
Lonely and Wet
Hey! Susan
Hard to be Human
Dan Dare
Tina
**
Powers & Horror
Fantastic Voyage
I Love Apple
32 Weeks
The Building (sung stop-start by Sally while Jon tuned
up for the next song)
Orpheus
Heaven and Back
Curse
Never Been in a Riot
Trevira Trousers

whew! Not in that order of course...although hopefully I placed them in their general area in the set list.

Great show with a lot of energy--the show picked up notably about 5 or 6 songs in with "I'm So Happy"--by the time it came down to playing encores they just stayed on stage and played what must've been about another 8 numbers without leaving. Said it was much easier than going up the stairs, down the stairs...When they finally played Trevira Trousers the Bowery Ballroom was basically telling them that they had to get off stage I think...

Apart from one or two very obnoxious people whom I had the misfortune of standing by (one of whom kept shouting incessantly "Mekons Rock and Roll" and "I payed alot of money for these tickets" along with shouting for the band to "Shut Up" when ever they talked between songs...he was a huge ass-hole) it was a show with inauspicious beginnings which developed into one of the best sets I've seen them play.

Tom broke a string early on and had to leave the stage
for a bit to put a new one on; There was much political/anti-bush rhetoric, Jon says he will move to Canada if Bush wins; all of this prompted Sally to say that the show was turning into an Indigo Girls gig.
Overall I got the sense that b/c the next night was an acoustic/lower key evening they were pulling out all the stops and not worrying about wearing themselves out. For once Sally actually wanted to stay on stage, suggesting "Trevira Trousers" as a final number as the band was leaving! Classic stuff.

Recuperating now for the Maxwell's show tonight...

Juan Stacy
oops,
"Last Dance" was in there towards the end of the set
as well.

J

I believe the exact words were "It's easier than carrying Rico up the stairs and back down
again..."

Neil
---
well, i just got back in dc few hours ago after a way much earlier train than i would have wanted to take...so the mind is still very fuzzy. juan did a great job of summing things up -- though he was far from the only one standing next to some complete jagoff; the idiot next me kept screaming "mekons, i luuuuuvvvvv you" over and over and over again.
at first jon replied "well, which one of us, mate. there's eight of us
-- do you think you're up to the task. i mean, how big is your love...we're at radison (or some such hotel), room 123. come on by after the show, there's eight of us, three beds, you figure it out." or something like that...after than, he mostly ignored the moron.
jon was definitely in top form last night. way too much banter to remember. i thought rico was particularly quiet...he usually talks a bit more and jon was constantly ribbing him, calling him "hollywood rick."
other bits: it was nice to see the whole "satan, satan, satan..." chant come back at the end of the night. been a while since they've pulled out that old bone.
and then, as the band was walking off at the end of "never been it a riot," which seemed to be the end of the gig, jon stopped tom, with everyone else walking off, and suggested the two of them doing a poetry reading of some songs ("a mind slam" did he call it?). this eventually ended up with jon getting behind the drums and tom grabbing his guitar and them starting trevira trousers by themselves. eventually, everyone else staggled back on stage, but it was touching (a very appropiate word for the night, in many ways) to see jon wanting it to be just the two of them to cap it off.
that's all for now...slag away jimbo!
lynn john
---
Some other items of note, through fog of brain:

* Johnny Dowd calling Jon, Tom, and Sally up on stage to sing backup on a slowed-down-and-twisted version of "File Gumbo." (Please, somebody record this if it happens again.)

* The Mekons retaliating by calling "Johnny and the Dowds" up onstage to sing backup on "Dan Dare," which ended with Jon and Johnny playing (but not wearing) each other's guitars.

* Jon's voting instructions, which involved going into a booth and seeing a screen with selections like "pizza" and "Bush" (and pushing anything that didn't say "Bush").

* Steve playing guitar on "Trevira Trousers" like an animatronic Keith Richards. (Please, somebody videotape this if it happens again.)

* Lu needing to take care of some business offstage during a song, and tiptoeing as inconspicuously through the band as can be for a man seven feet tall with five cubic feet of hair.

* "Where's Mitch?" "In prison, where he belongs!"

* All the new/old material sounding just fantastic, including my favorite "32 Weeks" (and Mindy's favorite "The Building", even if it took Sally singing it one-half line at a time then asking Jon how the next bit went).

This is about 2% of the highlights of the show, which went on for almost two hours. Truly an epic Mekons evening.

Neil

---
13th Hoboken, NJ Maxwell's

"Don't Laugh.
In ten years time this will be all the rage.
This is how music will be distributed...in the
Future.
MeTunes Number 1..."
--Jon Langford

Setlist as best as I can remember:

01 This Sporting Life
02 Ghosts of American Astronauts
03 Cast No Shadows
04 Easy Chair (Bob Dylan cover!)
05 Prince of Darkness
06 What
07 Lone Pilgrim
08 Work All Week
09 Rosanne
10 Tina
11 Fletcher Christian
12 Fantastic Voyage
13 Corporal Chalkie
14 Lonely and Wet
15 Last Dance
***
15 Powers & Horror
16 Trevira Trousers
17 Dan Dare

More or less, but not completely in that order. A show couldn't have been more different from the night before; what was advertised variously as "Club Mekon: an evening of music and readings" or an acoustic show turned out to be a mix of both. There were some acoustic instruments on stage (Tom played a mini Banjo thing, as did Sarah on a few tunes) and the music was definitely more laid back, Sarah sitting throughout; and, while there were no readings, MeTunes, the "wave of the future" (more on that later) supplied much banter/conceptual art fun. Highlights:

*Song choices. It was fantastic to see a wide range of different material from the night before--and to see them pull out "Easy Chair" by Dylan--which to my knowledge they've never covered before. Prince of Darkness was also a highlight--intro by Jon saying that the song was about the leadsinger of the Sisters of Mercy, who after listening to it never spoke to them ever again. Some people can't take a joke...

*MeTunes. The word of the evening--they had a mini cassette recorder on stage with them, which they'd apparently just bought, and following Jon saying the introduction (at the head of this email) to various drum beats/musical improvisations, they would record the song on stage and then sell the tape to the crowd. They were in fact recording over "Retreat From Memphis" cassettes, which Jon said they all had a lot of ("my couch is made of these"). All tapes went for $5, except the last tape containing 2 songs, which one rabid fan purchased for $25 following a bidding war, and one tape purchased by Sally b/c of a fantastically funny improv blues intro in which Jon played paeon to Rico's sexual prowess (old jokes are the best: chicken legs, skin like leather, good in bed). MeTunes supplied all the banter between songs basically, and was hilarious. Crowd member: "Why must everything be a commodity?" Tom: "You know, I say the same fucking thing every day I wake up"

*Johnny Dowd band again stormed the stage, this time for all of the encores. Tom and Rico also sang "File Gumbo" with Johnny again to finish off his set (minusJon & Sally for this it was not as good as the night before, which had featured a great improv middle part/conversation between Jon & Johnny during the breakdown).

*Lu speaking the MeTunes intro in Russian--actually the first time he said something along the lines of "we are coming for your children to barbecue them like *mmmm* bacon" which sounded great in Russian; when he got to the word "distributed" he had to stop and admit there was no word in Russian that he knew for this, which was very funny; Tom suggested "Production
Quota", and they eventually settled on "5 year plan".


Overall another amazing performance; despite all the banter between songs (and there was a lot of it), when the songs did start they were incredibly tight and together. Great, esp. as some of the songs they hadn't played on the tour yet...together the two NYC area shows are two of my favorite sets ever.

Juan

I think Juan said it all.

I was amused that at some point in the show Tom stopped playing electric guitar and played what they called the "banjo-lele" for a few songs (I think it might also be called a "banjo-uke"), when he
normally would have been playing guitar.

Does anyone here on the list "get" Johnny Dowd? He certainly is an interesting character, but I'm not sure what it is about his music that people like. I've heard some of the recordings and heard him play acoustic sets also, and am not sure what people like so much.

John
---
14th Arlington, VA IOTA Club & Cafe

Another great show last night at Iota. Perhaps it was the usual "you're a great audience," stuff, but Sally even commented at the end of the night that "This was a fun show. We don't usually have fun at our shows in D.C." I'd agree though that it was a lot better than the last time I saw them in D.C. (about four years ago?) playing in a club that was too big, to a crowd that seemed uninterested in the music or too cool to care. Iota's a great venue because it's so small and personal--you're right on top of the band. BTW, since they were sold out of 'em at the show, does anyone know if the Mekons are
selling any tour shirts online anywhere?

Peter Hayes

Order / Song Album(s)
1 This Sporting Life / This Sporting Life 12"/The Mekons Story/Punk Rock
2 Roseanne / The Quality of Mercy is not Strnen
3 Ghost of American Astronauts / So Good It Hurts
4 You Ain't Going Nowhere / Dylan cover
5 Cast No Shadows / Journey to the End of the Night
6 Lone Pilgrim / Out of Our Heads
7 Work All Week / Work all Week single
8 Prince of Darkness / Honky Tonkin'
9 Oblivion / The Edge of the World
10 Tina / Journey to the End of the Night
11 (Sometimes I Feel Like) Fletcher Christian / So Good It Hurts
12 Fantastic Voyage / So Good It Hurts
13 Lonely & Wet / The Quality of Mercy is not Strnen
14 Last Dance / Fear and whiskey
15 First Encore
16 Trevira Trousers / The Quality of Mercy is not Strnen
17 Second Encore
18 Powers & Horror / Journey to the End of the Night

Jon said they were going to re-release "Honky Tonkin." I believe he actually said it would be on Touch & Go, as opposed to Quarterstick. Not sure if that was accurate, or if he actually meant 1/4Stick.

When someone in the crowd had the audacity to question the decision to do so, he asked the heckler if they'd ever heard a CD of the album, to which I believe the heckler replied in the affirmative. Jon's response was that the original discs were too quiet, and they wanted to release a proper, louder, version. So, yeah, look for that in September.

As for the Me-Tunes, Jon mentioned an auction held at a prior gig, of a tape made of that gig, on a cheap, handheld cassette recorder, on stage. Apparently, after (during??) the show, they sold said cassette, as a true, one of a kind, collector's item, Mekons release. The buyer of at least one of these tapes was in the audience, and she assured Jon it actually sounded pretty good.

Jon announced the new trend he wanted to start of one copy record releases. We'll see how it catches on.

As an unrelated, but vaguely cool aside, this German (?) band, Eisbreacher? is releasing their latest album, and including two blank CD-Rs, printed to look just like the original album enclosed. Buyers are encouraged, to make as many as two "official," bootleg copies of their album. that's a trend I wouldn't mind catching on.

Cheers,

Tommy B

Me-tunes clarification

At the Saturday Maxwell's show in Hoboken, Jon and Sally played with a portable cassette recorder and recorded each song. After each song they auctioned off the song to the audience. Each went for $5. This went on for about a dozen songs. The next song Sally wanted to keep so there was no auction. The last me tunes was 2 songs and was auctioned going for $25.

Jon had fun doing different versions of his Don't Laugh, this is the way music will be distributed in the future speech in blues, spoken, etc before each song started. Jon and Sally did a good job of keeping it moving so it didn't get old but a friend I dragged along thought it was pretty self absorbing (his first and last Mekes show I presume)

PICTURES FROM IOTA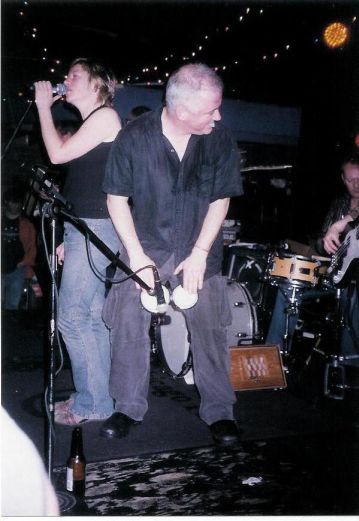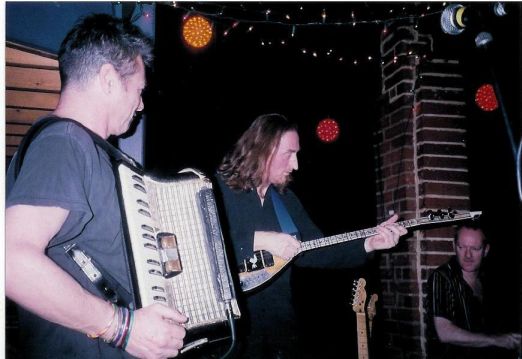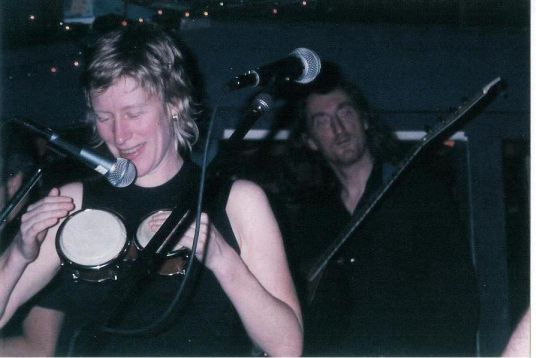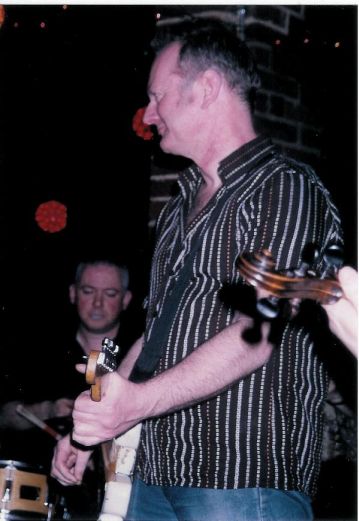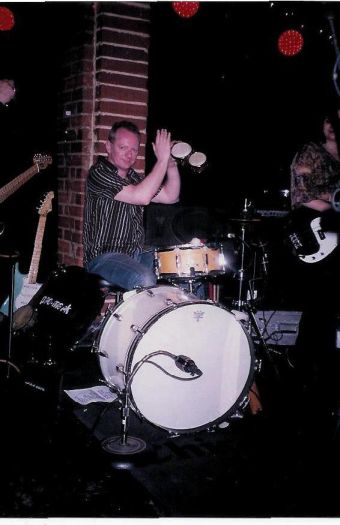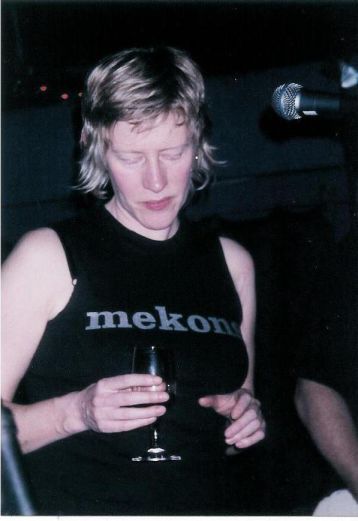 ---

16th Atlanta, GA Echo Lounge
>"We are the greatest punk rock group in the world...Because we're the
>only one left. All the others are working or dead."
>
>v
tonight's variation in atlanta -- "we're the greatest punk rock group in the band. because we're the only one left. we're also the worst punk rock group. we're also the mediocre punk rock group."
no steve, unfortunately, as he apparently was laid up with a bad back. johnny dowd's drummer filled in admirably.
the set-list, as graciously handed to me by mr edmonds when i explained that i'd gotten too damned fat to grab it off the stage myself --
this sporting life
work all week
ghosts of american astronauts (it *says*, though i swear i remember hearing another song entirely ... not one i can name off the top of my head, though) i'm so happy millionaire beaten & broken easy chair (you ain't goin' nowhere) 32 weeks prince of darkness tina lonely & wet now we have the bomb hey! susan last dance
(encore)
teeth
powers & horror
wild & blue (not on the set-list)
guardian/trevira trousers
fletcher christian
(Dan Bailey)

Show last night was fun as hell. Lots of "Punk Rock" numbers. Johnny Dowd kicked ass with his blazing guitar and his organie whirlimagig. Everyone was on-stage for the encore... up to 11 people at one time. I can't give you a good track list - but I taped the show, so I'll figure it out later. If the recording came out half-good, I'll announce here + upload to Archive.org.
People have been asking me if I'd seen the Mekons before and I'd say "no, but I saw the Waco Bros and Langford solo". I should've just said "No. No, I haven't." Cuz I love the Wacos, and that was one of my favorite live sets of last year, but now I see it's no replacement for a Mekons show. Wow. I'd been having dreams (seriously!) of this show, in which the band closes with "When Darkness Falls". Well, I didn't consciously think they would... and they didn't... but "Last Dance" was an excellent substitute.
Thanks so much, Neil, for getting me into this group. Hopefully, someone else will post a less raving, more informative message about this show later on.
Impressed in Atlanta,
Brandon
PS: the art show was spiffy, too, and will be open for another month. I arrived one hour after doors opened on day one, and two pieces had sold already.
PPS: god, they have a LOT of merchandise for sale at the show. I came away light, with a Mekons shirt, and a Dowd CD ("temporary shelter") recommended by Sally.

The Atlanta show:
1) lots of T-shirts were available at the show last night.
2) Talked with Tom for a while after the show. Besides thinking I'm Nobby's American twin, he said that his solo album is still in process but hasn't really developed yet. He hopes to do some recording on it in Chicago. Look for a release next year.
3) I thought Barry B doing the vocals on Guardian was great, one of the highlites of the show for me.
4) Very rushed performance, but as Tom said, that's what you usually get with a new drummer. Johnny's drummer did a great job, all things considered.
5) Brandon is correct, that was Corp Chalkie instead of Ghosts.
6) The Banter was nearly non-existent. What was there was basically retreads of the stuff reported from earlier shows. Hollywood Rico, Where are the female fans, etc.
7) I was next to a guy who had never heard of Dowd before. He was shaking his head in amazement, said that it was the closest thing to Beefheart he's heard in years.
8) I wasn't too impressed with the soundguy at the Echo Lounge. Sound was horrible during Dowd's set and he refused to touch anything. Had the headphones down and sat there with arms crossed. Took a bit of extended pleading to get him to fix levels early on for the Mekons.
9) Sally sure can be fickle. I asked her if about singing Revenge and she said, 'yeah, I love singing that song. I'd like to do it again.' Then when I said it'd be great to hear it in Chicago she said, 'I don't take kindly to requests.'
10) Someone mentioned that they thought Jon was responsible for keeping the band touring and doing the booking. I was there early enough to be nearby when Sally was negotiating final details with the management and she was in charge of the cash exchanges.
11) All said, this was a nice show, but I think all the illness and injuries took their toll on it.
-rich
---

17th New Orleans, LA The Parish
Warning! No Set List!
My wife and I spent our entire investment portfolio on a trip to New Orleans to celebrate a birthday, mark our two week anniversary in AA, and see the Mekons.. To tune up for the show we arrived a day early, staked out a neighborhood bar not too far from the teeming French Quarter and began drinking at the same incredible rate of speed that the locals and the bartenders and the help were; it was good in theory and good in practice.
Already drunk by noon on Saint Patrick's Day we observed men in skirts wander in and out of the bar. Gay marriages on tap!? It was explained to us that these were kilts being worn for the Big Parade. Saint Patrick's Day with kilts!? I don't get the connection, unless it was some kind of Scottish show of solidarity. On the other hand, it seems any excuse to dress funny and hold a parade is the modus operendi in New Orleans.
We went to the Quarter for the parade, but passed out in a tattoo/piercing parlor called Electric Ladyland, and missed the entire debacle. When we awoke the street was full of trash and bleeding bodies. A cop interviewed me about my investment portfolio while I tired to stand up and was not impressed. In order to establish some vestige of credibility I was going to show the cop my taping equipment when she got on her horse and trotted away like we were just a couple of drunk tourists.
We were late for the show because we had to walk through the French Quarter proper and ended up playing hit the wino with a shrimp and drinking Monsoons with a bunch of green clad green faced green beaded fraternity boys and a bunch of variously green shaded young girls that were drunk enough to hang out with them. We tried to convince them to come along to the Mekon show, but they all had tickets to see a group called Spew Man Hard On & The Slaves (maybe not a group, could be a DJ) at some joint called The Guillotine Lounge. Show starts at midnight. Unbelievable! Who are these heathen fuck heads? A good time was had by all.
We were walking when we got to the place, but when we saw the stairs it was all hands and knees. Got to the top and there's Tom, Jon, and Rico aiding and abetting Johnny Dowd & band. Song ended and we man handled each other towards the bar. The band, such as it was, did File Gumbo might be the name, but Jerry Lee Lewis calls it Jambalaya, and I've never known the Killer to be wrong even when he's wrong.
"I need to plug into the board! Where the hell is Jon?Where the hell is my DATSUDWMD recorder!!??" I asked my wife these things; I was one alarmed archivist, believe you me. What would my boss, Nobby, say? "You traded it to those green kids for methamphetimines." "What are you talking about!?" "Let's have a few of those right now, eh?" Enough already. I handed them over. "I think I paid cash for those." She smiled at me, "No, you're wrong. You traded the entire unit for drugs. You said Jim English told you to do it. Who is he?" "Take it easy, have a Lortab. It'll keep you from getting too jumpy." "Who's jumpy?" "You."
Must have been like a 1985 Mekon concert in Chicago; there was nobody there. Looked like about a hundred people had showed up, but sometimes I was seeing double. 75, tops. Lots of Punk Rock. Goulding was back on traps. The entire band seemed to be having a good time even though Sally was, surprisingly, tired. Tight as a wound watch. Jon was hyper, and playing some of the best guitar I've ever heard while lying down in a bar drinking a $5 beer. Tom finally nailed the lead on Millionaire loud enough for my taste. Rico sang like a man possessed and.... It Was Poetry Night Too. Between songs each band member would give us a poem. Some were good, some were bad, some were one word; minimalist haiku (Steve Goulding's: "Do not go gently into that... GOOD NIGHT!!"). The audience was supposed to get to vote for their favorite at some point, but that never came about. From the response I'd say Lu would have been the winner even though, as Jon said, it was a "cover". As I said, plenty of Punk Rock, and a shit load of fan favorites. No Orpheus, no Memphis. Very good small audience participation on The Bomb, and Swing (my
wife) and I held some chickens to our heads.
The New Orleans sound guy must have taken "this is our last song" seriously. When the band came back on for encores (sans Sally, she was, unsurprisingly, "tired". She worked the merch booth which Dowd had been handling) it took the guy quite awhile to get everything amplified. Dowd played Jon's guitar on all encores. You Ain't Going Nowhere was nice with Tom, Jon, and Rico each taking a verse (Jon announced a Lu solo, but the sound guy hadn't activated the Saz; a moment of silence for our beleaguered President). There was another song, I can't remember what. Then, to plow it all down into the ground, the rest of Dowd's band joined the group for a spirited high-kicking Heaven & Back.
My idea was to hang around, have a few more beers, but no. The bar shut down immediately, so we headed for The Guillotine Lounge.
Imagine this: Right next door the House of Blues was sold out. Who was playing? The B-52's.
(Dan)

19th Austin, TX Antone's (SXSW)
---

21st Los Angeles CA, McCabe's Guitar Shop, 7 pm
Alot of favorites, no duds, small cramped stage but all 8 mekes fit somehow, with Steve sitting on his commode in the back row flanked by Lu and Sarah, and Rico, Tom, Sally, Jon, and Jessica spread out in front. A couple of readings by Tom, Sally, Sarah, and Steve. Highlights for me were This Sporting Life, Orpheus, Beaten and Broken, Fletcher Christian, Wild and Blue, Prince of Darkness, Bomb, Hey! Susan, Corporal Chalkie, Last Dance (not played in that order), finding out what a tooter (sp?) is, and Jon playing the car alarm in their rental car out front.
Crowd was a little sedate. Hopefully it'll be the complete opposite tomorrow night when they play some PUNK ROCK!
Greg
All fans were treated to an excellent show in Santa Monica this
evening. I've never seen the Mekes all play sitting down! Plus it
was billed as a reading, so they read a few ditties from their book. Even with no flowing booze, the Mekons were a blast. Great venue,
unique set. Sally was in particularly good spirits, very feisty.
Setlist:
Sporting Life
Corporal Chalkie
52 Weeks
Ghosts of American Astronauts
that "behave as I should" song
Curse of the Mekons (spoken by Tom)
Beaten and Broken
You Ain't Going Nowhere
"you've always known and you'll always remember..." (Flitcraft?) Never Work (spoken by bassist) 1st song on "Journey.." LP Fletcher Christian Bomb Prince of Darkness Last Waltz I'm Not Here (1967) (spoken by Sally) Hey Susan "the more you stray, the more you're saved.." (men only, acapella) Wild and Blue Lone Pilgrim Lose Your Head Hard to be Human
(David)
---

22nd Los Angeles, Troubadour
FROM VARIETY:
Mekons
(Troubadour; 450 capacity; $17)
Presented inhouse. Reviewed March 22, 2004.
Band: Jon Langford, Sally Timms, Steve Goulding, Sarah Corina, Tom Greenhalgh, Rico Bell, Lu Edmonds, Susie Honeyman.
By STEVEN MIRKIN
Before the Mekons had even played a note at the Troubadour Monday night, singer-guitarist Jon Langford announced the band would be playing selections from its new album "Punk Rock" (1/4 Stick). "It's a new concept," he deadpanned. "I hope you can grasp it."
Although it was part of the first wave of English punk bands in 1977, the Mekons take on what constitutes punk has expanded to include accordion, fiddle and the saz, a precursor to the bouzouki; the new album finds the Chicago-by-way-of-Leeds collective revisiting songs written during the band's first four years.
It's a project that appears to have energized the Mekons. The 90 minute perf showcased the band at its roughhewn and pointed best. As the band performed material from all phases of its 27 year career, the night felt less like a performance than a group of old friends up on stage partaking in the simple joy of playing music. Songs such as "Teeth" retain their agit-pop bite, while the ramshackle country-Celtic "Last Dance" and "So Good It Hurts" have the lumpy, lived-in comfort of an old favorite sofa. The brooding "Corporal Chalkie" is a showcase for Sally Timms' plummy, alluringly tousled voice.
Oddly, "Lonely and Wet," introduced by Langford as the first song the Mekons wrote, strikes the most contemporary note. Its lumbering tempo, melodramatic pacing, squalling guitars and confessional, occasionally screamed, lyrics of thwarted love wouldn't sound out of place on an emo compilation.
But thankfully, the Mekons isn't that easily pigeonholed. You leave their show with a buzz, knowing you have heard a band that sounds gloriously, unselfconsciously like itself.
And if that's not punk rock, I don't know what is.
---
They started with Teeth, and it went all downhill from there. Teeth being the first Mekons song I ever heard way back when I was a wee little tyke it's still my favorite and was tonight. Fucking brilliant. Jon was a maniac, Lu was dancing like a whirling dervish, Rico was raging (especially on 32 weeks), and the rest followed suit. No heckling nor many requests except for one very tasteful request for Orpheus, and some greasy longhaired, sweaty, stomping old fart wearing a Bloodshot workshirt requesting that Sally do The Building. Oh yeah, there was even some dancing going on.
Cursed,
Greg
---
well, after months of receiving messages from this forum, i've decided it's time to offer an observation of my own, a decision prompted by my first live show. a johnny-come-lately, but arrived, nonetheless. the mekons were nothing less than fabulous, even my girlfriend, fortunately far-removed from the frenzy affectionately known as "club mekon," thought they were really good; i mean, perhaps none of the members are hot as the black keys' guitarist (although my girl took a shine to rico), but she really dug the show.
conveniently located right up front, i swiped the set-list right from under jon's nose. alexis, my girlfriend, stared aghast at my audacity; however, she calmed down as sally smiled and silently mouthed "it's ok." i was intending to use it to bolster my report, but i forgot it at home. fortunately, i wasn't terribly intoxicated, so i think i can confidently replicate most of the titles. let's see, they started with "teeth," progressed into "chalkie," proceeded with "beaten and broken," played a couple others i can't recall, and then launched beautifully into "millionaire." they played "bomb," "human," and "32 weeks," i think.
all in all, i thought the mekons really lived up to their rep; although, they perhaps were not as intoxicated as i thought they might be... is that too much stereotypical projection? sally was beautiful, and although she appeared very tired and beset upon by several other fans, she nevertheless graciously received my few words of appreciation. i can't wait to see them again.
colin
---
> conveniently located right up front, i swiped the set-list right
> from under jon's nose. alexis, my girlfriend, stared aghast at my
> audacity;
however, she calmed down as sally smiled and silently mouthed "it's ok." i was intending to use it to bolster my report, but i forgot it at home. fortunately, i wasn't terribly intoxicated, so i think i can confidently replicate most of the titles. let's see, they started with "teeth," progressed into "chalkie," proceeded with "beaten and broken," played a couple others i can't recall, and then launched beautifully into "millionaire." they played "bomb," "human," and "32 weeks," i think.
Let me see, I was a little intoxicated but I'll try to add a couple of more: Work All Week, Dan Dare, Curse, Fantastic Voyage, Last Dance, I'M SO HOPPY!, Powers and Horrors starting off the encores like the previous night, and there were a few more off of Quality of Mercy but I'm at work managing my investment portfolio and my brain hurts because it can't comprehend the size of my portfolio. I wouldn't have minded hearing Memphis, Tina or Neglect, Where Were You?, or Thee Old Trip...
> all in all, i thought the mekons really lived up to their rep;
although,
> they perhaps were not as intoxicated as i thought they might be... is
that too much stereotypical projection? sally was beautiful,
She was very beautiful, although much more pleasant than usual. Perhaps it was the chimpanzees and chicken porno she was in the middle of filming in TJ?
Greg
---
23th Berkeley, CA Starry Plough PICTURES
Well... this was a pretty "laid-back" show in Mekon terms... but it was still GREAT!! Tom playing banjo-lealei? Without his rhythm guitar it was a much mellower show. And they didn't even let Lu solo on the saz! Brought my pal Howard, a Mekon virgin, and he ended up talking to Jon alot about their Indiana connection ...it was pretty cool . Sally persuaded him to buy OOOH and Fear and Whiskey... and he did. He went away a fan. The T-shirt situation was still bad...only lady's sizes. So I went home empty handed. It was good to see fellow "Mekon lister" Rick, now an EastBayer, and to catch up with him. The highlight for me was to talk to Mindy Bell, she is just the sweetest person , she even invited me to her and Rico's new home in LA...she is just somethin'
else! All in all I drank some Bass ale, but not too much (I had to drive!) and I think the band didn't drink enuff! We went away happy and content. OH YEAH.. Paul Birch opened and did a GREAT solo set.... ended his set with Nick Lowe's Heart of the City ...with Jon on bass and Steve on drums! OUTSTANDING!
And yes... I think I've come to the realization that I really don't need to continue to collect EVERY live recording they make!
Mick
---
Anight of nights at The Starry Plough, Berkeley...
They came on stage wearing kilts, except Sally. Without a word dove right into a scintillating set of Scottish reels and kept it up all night, Jonboy whirling around in kilt is a sight to behold. Rico & Jessica accordian/fiddle duels were unrelenting. Steve's bodhran playing was mighty. Sally sang a gorgeous version of Hamish Henderson's "The 51st Highland Division's Farewell to Sicily" Tom performed "Never Been In A Riot" as a slow air.
Jon then pulled the sgian dubh from his hose, and in an obvious and quite moving tribute to Yoko, performed her "Cut Piece" as audience members stepped on stage to cut a piece from his kilt until it was gone.
But the weirdest moment occurred as the dry ice machine starting fogging in the stage, out of the fog came Gene Kelly and Van Johnson singing "Gae Hame Wi' Bonnie Jean" and other Brigadoon favourites with the Mekons backing until the fog completely enveloped them. When it cleared they were gone.
Set list below, sure hope this show was taped... Sorry, don't know the Brigadoon titles
--K

24th Amoeba Music, San Francisco, 1855 Haight St., 6 pm
---
24th San Francisco, CA Slim's
Many beers and much tequila found their way into a red faced man from Wales.
A band from Leeds lay down on stage and kicked their feet in the air.
A bottle was passed down from the stage, but you could only have a drink if you said you were from Wales.
A Yorkshire lass sat behind the drum kit, but would not play, despite being told "it's punk rock, you just go (miming of hands pounding drums)"
And then we went into the night, with enormous grins on our faces, and we still have those grins today.
Rick
---
25th Seattle, WA Chop Suey
The Thursday show at Chop Suey in Seattle was, predictably, great. Unfortunately, the club was only half full. The band seemed low key in the crowd before the show, but warmed up nicely. My friend and I left shaking our heads at how awesome they are and how the club wasn't more full. How can people not get it?
Notable: Running gag the whole night about the show being their best ever, and being especially for "you" (us); Dylan cover; Hey! Susan (one of my favs); and the closing encore of Wild and Blue-- repeatedly, as Sally tried to begin the singing, Jon would go into some heavy metal riff (ex: smoke on the water). And, what Sally said was a first--to open the encore, the women coming out to sing "Powers and Horrors" rather than the men. Steve was next to me shouting the lyrics up to guide them. A sweet moment.
Setlist (pretty close, anyway):
Teeth
Corporal Chalkie
Beaten and Broken
Work All Week
32 Weeks
I'm So Happy
Millionaire
Rosanne
Hey! Susan
You Ain't Going Nowhere (Dylan cover--listed as "Easy Chair" on
Jon's setlist)
Tina
Now We Have the Bomb
Lonely and Wet
Hard to Be Human
Dan Dare
*********
Power and Horror (sung by the woman!)
Wild and Blue (a bit rough, but nice to hear)
Note to those at the Berkeley show: Jon said it was mad, that they made good money, and that "we're going back!"
Cheers,
Kevin

---
Sally: Thank you. It's rather hard to sing when the other band members are having a loud conversation right behind you.
Jon: When you realise someone in the band - who is you - is doing something brilliant, you should tell the others so they'll know about it. I think it's important to encourage your coworkers. Tomorrow, in your office, encourage the person who sits next to you. This is our office. Or if you're not employed, encourage the person sitting next to you on the park bench. Tell them to have a drink from their paper bag. We should all encourage each other more.
Sally: You were only encouraging yourself.
Jon: I need encouragement, too.
---
27th Chicago, IL Double Door PICTURES
punk rock
what I remember:
the clash before the show, I'm not working for the clampdown.
john rice played the piano on guitar, while another guy made spaceship sounds with his bare hands in mid air.
jon telling the audience "the people who are doing it are cooler than the people who aren't", during the synchronized swimming part of "the bomb".
steve's bass drum kicking me right in the throat all night. very cool.
sally sings like an angel.
tom and rico tearing it up on trevira trousers[if that's the song about the ford cortina]
sarah looks kind of like a young madeline albright and, as always in the great rockandroll city of chicago, the all girl mosh pit!

28th Berwyn, IL Fitzgerald's PICTURES

I'm at work so i can't be too detailed.
This show was great fun.
There weren't too many people there, so it wasn't uncomfortable (space, cigarette or volumewise).
It was Chicago's premiere of MeTunes, and it seemed they were getting a little tired of "the mantra."
Hell, I knew it by the end of the show... Still, the overly-long auction that took place before the encore netted them over $170. One tape went for $70 alone. Makes me think how much money I should be milking out of you fuckers. Anyway, only a few songs were repeated from the Double Door show, and the whole thing lasted 2 1/2 hrs (with auction). This was truely more of a musical comedy than a concert. The "readings" didn't add much to the proceedings imo. They read lyrics from the lyric book, not stuff from United like I'd seen before. Steve was particularly funny as he was being taunted. Steve behind a guitar (Dan Dare both nights) was joy to behold. I look forward to more of that.
Aadam
---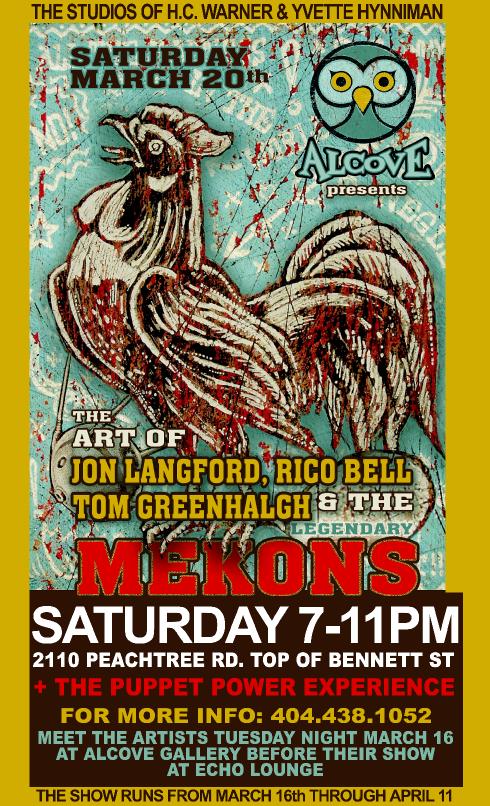 June 04
Attended the Jon Langford Bloodshot records 10th anniversary show (Lofty Deeds, release show)Friday night at the Hideout, Chicago. Arrived early sat around a table with Pat Brennan (keyboards) and John Rice (Dobro, Mandolin, Lap Steel, Fiddle-those of you who saw the Double Door show he was the guitar-piano player). Also had a chance to talk to Jon a bit and suggested he tour the Three Johns again. He said they played a festival in Leeds (2001?) and got a good response. He mentioned the recent resurrgence of out of print CD's appearing on E-bay and the re-release of the Live Chicago CD. Say's he still in touch with the other chaps, who knows...
About 50 people and one dog (black lab?)in attendance. Good intimate show.
Did Millionaire as last song, always a favorite. Was expecting Sally to pop in for vocals, since Jon sang the last verse of Corporal Chalkie at her show the previous week at the Abbey Pub.
Glad to be living in the Chicago area.
---
September 2004
Hideout Party: Sept. 26:
Pictures (PVC) on Robert's site
---
October 23004, Austin:
BBQ Report:
I meant to post a report on the Bloodshot CMJ events last weekend, but got distracted watching the accursed baseball. Suffice to say that Langford's Ship and Pilot were great (Bill Anderson of TMP and Randy Franklin of Yarddog joined in - Bill said they'd played this lineup in Austin before?), though since they didn't go on till 1 am, not many folks were still around for the end of the set. If I have one gripe, it's that the setlist was a bit on the same old, same old side - I've heard "Joshua Gone Barbados" and "Pill Sailor" quite enough times now, thanks, though Jon did add a nice version of "Are You An Entertainer?" with Carolyn Mark on backing vocals.
The Wacos the next day were a mess - after a long afternoon of free Rheingolds, Jon was as sloshed as I've ever seen him, barely able to stand upright, and the rest of the band didn't look far behind. The result was pretty much unlistenable, though it did make for some entertaining bits like Jon telling the audience before an attempt at a cover of "Maggie Mae" (sung by Tracey, more or less): "For this next song, please: LOWER THE BAR."
In non-Mekes news, The Meat Purveyors kicked ass both Friday night and at the Saturday BBQ, with the Monica Seles of alt-country, Jo Stanley Walston, grabbing crotch and taking no prisoners. And Carolyn Mark played a very nice set on Friday, and a very weird set on Saturday accompanied by Jon on guitar (and sometimes drums) and an unidentified woman in a red wig on keyboard and cheesy drum machine. (She may have been identified earlier, but we only got there for the end of the set - as Carolyn later said, "Good, that's when the Advil and vodka kicked in.")
Missed most of the rest of the BBQ, except for bits of Bobby Bare Jr. and Graham Parker. I will note that the Union Pool sound system was much improved this year - they've added some acoustical panels to the cinderblock walls, and are in the process of building a loft for the soundboard. They also hacked off part of the back of the audience area to build on more bathrooms, which was both welcome and really confusing to BBQ-goers who couldn't make head or tail out of one door marked "Men," one marked "Women," and three with no markings at all. The future belongs to the non-gender-prescribed! (The future toilets, anyway.)
Tried to go buy Sally tickets yesterday, but not only does Joe's Pub have that goofy two-drink minimum, but also the Telecharge website won't work with Safari browsers. I'm starting to understand why the Public Theater is on the verge of bankruptcy.
Neil
P.S. Yes, I'm cranky this morning. Cf. above re: "accursed baseball."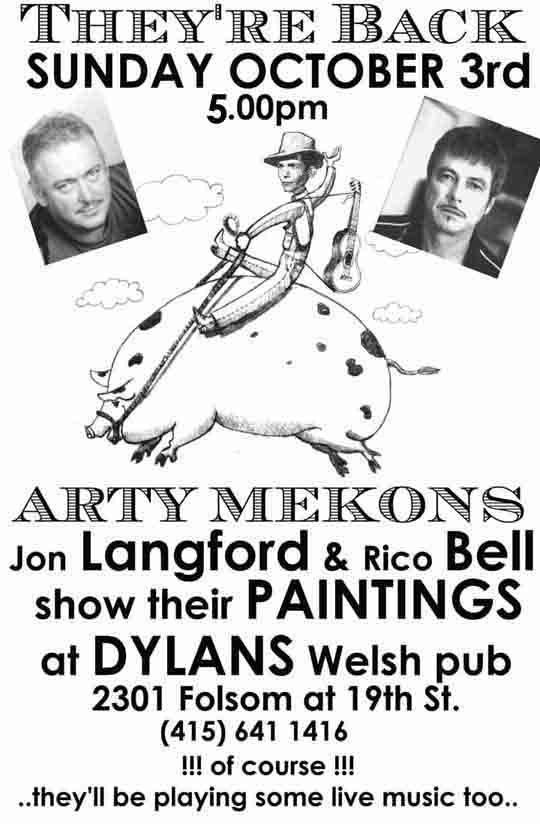 Jon & Rico at the Continental
I'd say it was a bit more lively than Jon's last late autumn show here in Austin.
Opening was Darcy Deville, skilled fiddle player for the Meat Purveyors and Ray Wylie Hubbard, doing her solo thing (with occasional backing from an electronically enhanced kazoo Then, Jon, Bill Anderson (Meat Purveyors, Poison 13, etc.), and Randy Franklin (Woodpeckers, Wild Seeds, Yard Dog owner) played a few of Langford's folkier numbers.
Then Rico came up, sang solo a few songs (mostly from Dark Side of the Mersey), then Jon, Bill and Randy joined for the rest of the set, including Bell's "Cold Comfort," and Mekon's "Millionaire" and "Big Zombie."
Jon did his Bruce Springsteen imitation, which was uncanny.
In between sets were the tattoo'd pierced Satan's Cheerleaders, shaking the fringe of their leather hotpants to dusty soul 45s. Cherilyn Dimond, bass whacker for the Meat Purveyors mentioned that, though she had known Jon Langford for over 10,000 years, but had never seen him in such a state of pure bliss as when he watching Satan's Cheerleaders. It was a touching moment.
---
Sally Timms - Johnny Dowd - Tour November 2004

from: http://www.philly.com/mld/philly/entertainment/nightlife/10183026.htm
Posted on Mon, Nov. 15, 2004
Music Review
Sally Timms shares Five Spot spotlight
By Dan DeLuca
Inquirer Music Critic
Sally Timms was the headliner at the Five Spot on Friday, but it was Johnny Dowd who made the most profound impression.
That's no slight to Timms, the glorious, soulful British singer who's been a calm presence alongside the boisterous Jon Langford in agit-punk band the Mekons over a two-decade career.
Her new solo album, In the World of Him, was coproduced by Dowd (who opened the show), and is made up almost entirely of songs written by men, including the twisted cabaret of Dowd's "139 Hernalser Gürtel."
Timms sang beautifully on a buzzing, deconstructed version of Langford's "Sentimental Marching Song," and Mark Eitzel's "God's Eternal Love," but she's by nature a complementary, rather than leading, performer, and her brief set in front of a sparse crowd on a rainy night was extremely ra.gged.
Dowd was equally loose, but the Ithaca, N.Y., moving man (he runs a trucking company) radiated such demented charisma that it hardly mattered that he was liable to stop and roll a cigarette in the middle of one song, or stroll into the crowd to waltz with a male member of the audience during another.
In a leather jacket and with a shock of gray hair, Dowd came off like a mysterious stranger from a 1950s pulp-noir movie directed by David Lynch.
You never knew whether he was going to lead his fabulously dexterous three-piece band through a cover of Miles Davis' "In a Silent Way" or a sing-along cover of Ritchie Valens' "Donna."
Dowd's a funny guy, as well as a scary one: His slowed, haunted take on Chuck Berry's "Johnny B. Goode" - with Timms singing harmony - gave the song an air of gothic menace. But the droll way he delivered such poesy as "the things you did with good intentions / Are experienced by your loved ones as horrible afflictions," made you wonder if he was joking, or not.
---
from: http://www.charlotte.com/mld/charlotte/entertainment/music/10156437.htm

Posted on Thu, Nov. 11, 2004

Sally Timms is not your average outside agitator

MARK KEMP
The Charlotte Obsever

It's nice to be able to use this column as an opportunity to brag on some obscure artist whose music I find extraordinary.
Like Sally Timms.

You may not know her name, but Timms is the longtime female vocalist for the Mekons. The Mekons were an original British punk act which, over time, evolved into a cockeyed, British-style Americana band in the vein of the Canadian-style Americana band, the Band.

Confused? Don't worry, just go to the Evening Muse Tuesday night at 8 and let Sally speak for herself.

When I worked at the alternative music magazine Option in the early '90s, we ran a regular column called "Mekons Watch," in which we reported on the band's activities as if they were teen idols: What was Sally up to? Was Jon forming another side band? Would there be another Mekons album?

The Mekons are hardly teen idols, they are a 28-year-old, politically charged rock band which -- I'm happy to report -- remain very active. The band's latest disc is "Punk Rock," out on Quarterstick Records. And yes, Jon still puts out music as a member of various other rock 'n' roll agitators.

Sally's sixth solo disc, "In the World of Him" (just out on Touch & Go Records), is a Brecht/Weill-like feast of odd melodic combinations and woozy folk-electronica.

Her voice sounds as ancient as the best British folksingers, like Sandy Denny, but modern as the breathy vocals of faceless house-music divas. In the past, she's turned the classic Americana of "Long Black Veil" and "Tennessee Waltz" into sweet laments for the anguished alt-rock crowd. On the new CD, Timms explores the male psyche from a female perspective, injecting her own sense of irony and sadness into the words of male brooders such as Mark Eitzel and Ryan Adams.