Reviews from 1986-1992, Reviews of 1997, Reviews of 1998, Reviews of 1999, Reviews of 2000, Reviews of 2001, Reviews of 2002, Reviews of 2003, Reviews from 2004, Reviews from 2005, Reviews from 2006, Reviews from 2007 Reviews from 2008
---
*** Jon Langford: ***
Jon Langford and his Shrunken 6 play a selection of greatest misses from down the solo/Waco/Mekon years at:
Maxwell's Hoboken on Sat'day 5th of Jan.
Pete's Candystore in W'burg (6.30pm) on Sunday 6th
and back at Maxwell's for intimate pleasures and arrrttt openings on Monday 7th

LANGFORDATHON '02 DIARY
A report from Neil deMause to Club Mekon:
Got to Maxwell's stupidly early for Saturday's show (note to self: when a Saturday-night show at Maxwell's says "9:30", get there at 11). While we waited for the place to fill up, I chatted with Dennis & Lois, the uberMekonfans, who were staffing the merchandise table. The merchandise in question was one small sad box of Skull Orchard CDs, but according to D&L, that could change soon:
* In addition to the new Mekons CD (basically done) and new Wacos CD (very close), Jon has pretty much completed work on a solo CD, with Alan and Steve and various other people. Presumably this will include "Green Valleys," "Verdun," and some of the other unrecorded stuff Jon's been playing live the last couple of years.
* Plans are afoot for a Mekons 25th anniversary celebration in September, and some plans they are. Three shows, at CBGBs, Knitting Factory, and Mercury Lounge, each focusing on a different era of Mekondom: the early years at CBs, middle years at Knitting Factory, and decrepit old art-punk gods stage at the Merc. Lois said something about them doing similar shows in Chicago and L.A. as well, though I'm not sure how far along this is in the planning stage - it sounded like they were having enough trouble just finding all the Mekons to see if they're available. ("They think Tom's in Hong Kong, but nobody's sure.")
As for the show, which didn't kick off until almost midnight: While not quite as tight as they've been in the past - understandable for the first night of the "tour" - there was a lot of rollicking good energy as usual. Similar mix of material to when they played as the Six Proud Walkers here in 2000. The setlist:
Tubby Brothers
Deep Sea Diver
Joshua Gone Barbados
The Seeds Are Sown aka Little Bit of Help Now (new song)
Green Valleys
I Love The Apple
Pill Sailor
Walking on Hell's Roof
Anything Can Happen
Verdun
Millionaire
Nashville Radio
See Willy Fly By
Sentimental Marching Song
I'm Stopping This Train
Death of the European
Big River
Wild and Blue
Death on the Highway

The set was a bit truncated, it later turned out, because Steve had just thrown his back out playing squash and was incredible pain the entire evening. (He drummed for one of the opening bands, Burn Barrel, as well - can you say "trouper"?) But that didn't stop him from delivering the unarguable high point of the evening, upon audience request: A rendition of George Harrison's "Blue Jay Way," in the persona of Peter Sellers doing an impression of Noel Coward. And to think I had assumed Penn Jillette and Gilbert Gottfried doing the "Who's On First" routine was going to be the strangest thing I ever saw on the Maxwell's stage...
- - - - - - - -

Got home at 2:30 am, went to sleep at 5, got up at noon and headed out in the afternoon for the early show at Pete's Candy Store. None of us had watches, and it took longer to trudge through the rain in Williamsburg than we expected, so we missed the first couple songs of Jon's set. Pete's, a former numbers-running parlor, has a back room for music that's about the size and shape of a subway car - maybe a dwarf subway car. The room itself being filled to capacity by about 40 people, a bunch of us were out the door in a sort of alcove by the restrooms, where we got a great view of Jon, Alan, and Steve at the end of a long tube, but had to dodge both swinging restroom doors and the loud conversations of the people behind us. (Note to concertgoers: Just because you're not listening to the show doesn't mean other people aren't. Yeesh.)
Sandra's husband Paul said he thought the sound was better than expected for such a small venue. Maybe, but it was fairly uneven - where we were standing, at least, we got a pile of bass and very little guitar. (I also got a pile of bass the last time I was at the Fulton Fish Market - but I digress.) The band was in good form, though, and charged through a brief hour-long set that ended when the venue had to set up for the real bands who were going afterward. Apparently Jon and the boys had belatedly squoze into the only available timeslot, which explains the 6:30 pm start time.
No setlist, as I wasn't keeping track, but it was most of the songs from the first night, plus "Old Flames."
(Personal brush with greatness moment: Mindful of the previous night, I shouted out "Let Steve sing one!" during a lull, and despite me standing at the end of a train tunnel, for the first time ever Jon actually heard me. "Let Steve sing one? Okay, Steve's going to recite some Dylan Thomas for you," he said, and handed his mike to Steve, who promptly intoned: "Do not go gentle into that. Good night!")
- - - - - - - -

Arrived at Maxwell's the next night right when I thought the art opening would be in full swing - of course, no one was there yet, and Alan and Jon were just sitting down to order food. Jon's artwork was mounted around the bar/dining area, and seemed to be selling well, judging from the number of items marked "SOLD" on the price list. I ogled a small Johnny Cash print that was only $250 - some of the big-ticket items were going for close to $2,000 - but I fear my days as an art collector are going to have to await my days as an economically secure adult. Any day now, really.
Steve stayed home to rest his aching back, which left Jon and Alan as a power duo. (We'd been promised a "quiet acoustic set" back on Saturday, but either they had a change of heart or no one thought to bring an acoustic guitar, because the set was all-electric.) Since they were playing in the bar area, we were a bit worried about the sound, but it turned out to work extremely well - the improvized P.A. sounded fine, and whether Jon wants to hear this or not, his music works really well in a quiet, sit-down setting. Not that it wasn't hard not to get up and dance at times...

Setlist:
Tubby Brothers
Anything Can Happen
The Seeds Are Sown
Nashville Radio
Pill Sailor
I Love The Apple
Millionaire
Verdun
Dollar Dress
It's Not Enough
Death of the European
It was sort of an exhausting weekend - though I should note I'm feeling easily exhausted these days - but as always when the Mekons or Wacos or Jon's Sibilant Six or whoever comes to town, it's like a great big family reunion, even down to feeling when it's over that while you love them all dearly, it'll be okay if you don't see them all again for a few months. (Okay, weeks.) It makes me wonder what people do whose favorite bands never play in bars before just a couple dozen people, and don't hang out after shows chatting with their fans about square dance calls and mixology. It must be a sad, dismal existence. I'm glad that's not us.
Finally, I should note that the ticket cost for this entire Jonstravaganza was a grand total of eight bucks - less than I paid in train fare getting to and from the shows. Eat that, Fugazi!
And, oh yeah: Jon, Alan and Steve went by WFMU on Monday afternoon to record some stuff, as well. If Hova doesn't post about it when it's airing, I'll be sure to.
And now, to bed.
Neil

HONKY TONK SHADOWS (new paintings and prints) by Jon Langford at Maxwell's from Jan 7th


---
Toronto at the Horseshoe on February 2nd:


COUNTRY CAPER
JON LANGFORD'S ART HISTORY
BY TIM PERLICH

Jon Langford AND THE SADIES with Bob Egan and Precious Little at the Horseshoe (370 Queen West), Saturday (February 2). $8.
according to jon langford's bestrecollection, there've been at least four occasions when the Horseshoe pencilled in a gig by one of his various combos -- the Mekons, Waco Brothers, Pine Valley Cosmonauts -- that would later be cancelled under mysterious circumstances. So even though the show Saturday (February 2) is confirmed and a contract has been signed in his Welsh blood, people are still skeptical about whether the Chicago alt-country linchpin will actually appear.
The Sadies are certainly counting on it, since besides working as Langford's backing band for the night they're also planning to record a collaborative album while he's in town. As for Langford, he swears what happened in the past won't happen again. And what was that, then?
"Each time I've made plans to play a show in Toronto, somebody's gotten themselves into trouble," explains Langford without getting into the details. "The best way around that was to come by myself, so that's what's happening this time."
He's not coming alone. Langford is bringing a set of reproductions of his now famous, politically incisive portraits of country music stars of the golden era, which will be on display in the Horseshoe's front bar.
Langford gave up art studies at university when punk rock beckoned. His heavily glazed paintings of popular entertainers like Johnny Cash, Hank Williams and Loretta Lynn are based on publicity photographs, but, according to Langford, the compromising contexts in which they're often depicted are drawn from personal record-biz experience.
He was doing portraits of country artists as gifts for friends when someone with gallery connections in Chicago offered him a show.
"It seemed like a good way for me to use art to comment on the mu
sic industry. A lot of early paintings like Hank Williams signing a contract were really autobiographical. Some of the most pivotal moments in my life came around signing contracts. As soon as you get involved with people who are thinking about what you're doing for their own reasons, that's when things begin to fall apart.
"I've had a few disastrous run-ins with major labels, but I'm not bitter, OK? I am not fucking bitter, and you can print that!"

A report from Hugh Hardy on Club Mekon:
Suffice it to say the show was monstrous. The Sadies lit into every song with a rabid enthusiasm only true blue, dyed-in-the-wool Jonboy fans could muster. Sorta like the Judas Priest cover band singer joining Judas Priest, only in reverse. The Sadies were in their five man configuration with Critter on the vibes for the whole night which really enhanced the reggae "Joshua Gone Barbados" and the new "Watch Johnny Run". Bob Egan of Wilco and Blue Rodeo sat in for the whole night on ped-steel. Adding in the guest performers, there were more often than not eight musicians onstage. A veritable honky-tonk orchestra...
Jonboy? Well, he was three sheets to the wind and obviously having a grand time. He was a complete savage all night, playing and singing his heart out.

Anyway, the set-list, sort of in order:
Nashville Radio (uptempo)
I Love Apple
It's Not Enough
Little Ol' Wine Drinker Me (w/Basil Donavan of Blue Rodeo on guitar/lead vocals)
At the Drugstore (new song)
Cocaine Blues (Travis Good of the Sadies on lead vocals)
Watch Johnny Run (new song)
Joshua Gone Barbados
(two songs that escape me right now...)
Pill Sailor
Sentimental Marching Song
Death Of Country Music
Memphis, Egypt
encore 1 (Travis on bass, Jonboy on guitars)
Walking On Hell's Roof
Anything Can Happen
encore 2 (whole band)
To Love Somebody (Bee Gees cover w/Greg Keelor of Blue Rodeo on lead vocals)
Loved On Look (Sadies cover of an Elvis tune with Greg Keelor on lead vocals)
Stay A Little Longer
Wreck On The Highway
Big River

In short:
The new material is fantastic. Country-reggae is the closest I can come to summing it up succinctly.
"Memphis, Egypt" was the best version I've ever heard. The Sadies were obviously dying to play it and the crowd went absolutely nuts.
Jon was hilarious as usual. Travis forgot a verse of "Cocaine Blues" which fractured the song's crime and punishment story irreparably. Jon and the band were laughing so hard, they barely finished the tune. Jon summed it up saying: "Well, at least it was better than last night when we had the guy in the gallows before he even commited a crime." He introduced "Anything Can Happen" as a tune he did with Sally Timms. The mention of Sally elicited quite a bit of applause. Jon's timing was perfect. He let the applause die out and deadpanned "I didn't know she had family in Toronto!" Big laughs. He added: "She's home minding the ranch tonight."
The crowd went wild for the Blue Rodeo guest appearances. For all you folks south of the border or in Europe, Blue Rodeo has been one of the best country bands in the world for the past 16 years. They're huge here in the Great White North but little known elsewhere. "Five Days In July" from 1995 is one of the best country albums you'll ever hear. Basil Donavan, the band's bassist, took up a six string Gretsch and sang "Wine Drinker" which had Jonboy grinning from ear to ear and chiming in on the refrain.
Blue Rodeo's leader, Greg Keelor put up the Sadies at his farm to record the recent "Tremendous Efforts" album and sings the insane "Loved On Look" from that record. "To Love Somebody" is the lead track on the just released Blue Rodeo Greatest Hits. Keelor joined the Sadies onstage for these when I saw them last year. He's a great raspy soul singer and threw absolutely everything he had into both tunes tonight. Seeing Jon Langford singing gleeful back ups on a Bee Gees and an Elvis tune was a new one.
Bought a stunning Langford painting of Johnny Cash. My friend Dan bought a Hank Williams. I spoke briefly to Jon who complimented me on the Welshness of my name and thanked me for buying the piece: "It justifies these extended absences to my wife!"
A great night. The only drag was that the mini-disc player I brought was too sensitive and the recording I made came out overmodulated. I'll try, but I don't think it's salvageable. Too bad.


---
JON LANGFORD:
Thu Feb 21 Berkeley Starry Plough



RICO BELL
Thu Feb 21 Berkeley Starry Plough w/ Jon Langford



Just returned from SF. All I have to say is Jonboy and Rico are true Gods. Absolutely great weekend, old fellow Mekons fans, new friends, great beer, great music, and thanks go to the guys for being a highlight of the weekend. Ultra thanks to Jon for Death of the European at Foley's! Caught the whole show there (setlist possibly to follow) and purchased a piece of art from each of them over at Dylan's but was pretty much burnt out and didn't stick around for the music and partying there.
Can't wait for September and the Mekons down here in LA.
Oh yeah, love Rico's new CD, especially Working Class Hero!
Greg

Greg you poor bastard, what an amazing night of music you missed. For me, it was the most fun I've had at a show since seeing the Wacos at the Bloodshot BBQ at SXSW two years ago.
I'll just throw out some of the highlights, and leave it to Neo or someone else to fill in the gaps.
Rico and Jon each played sets not terribly different from the previous two evenings, though they each threw in a couple of new wrinkles, and you could certainly call it ragged but right. Then the fun really began. Rico did a second set that ended with a great version of If I Could Stay Drunk. By that point there was nary a person in Dylan's who wasn't drunk. Jon's second set began with a raucous version of 20th Century Boy, followed by an amazing version of Baba O'Reilly (with Jason from Rico's band on fiddle) that just tore the roof off the place. Then, just when it seemed it couldn't get any better, Jon invited Dylan's wee Welshman of an owner, Titch Jones, do recite some Dylan Thomas. He was as drunk as everyone else, and he got up on the bar, the band played a kind of funk instrumental, and Titch danced his ass off. My god, the old guy can shake it. Then Jon and the boys played Hey Big Spender, and Titch kept shaking it, with lascivious help from the young woman sitting below him. He finally did recite a bit of Dylan Thomas (shout is more like it) with punk-noise backing from Jon, Alan and Steve.
I've never seen Little Willy so drunk. Either just before, or just after Titch, my memory fails, Steve did his now legendary version of Blue Jay Way, complete with hilarious body language.
At some point Jon invited Rico up (Rico has a squeeze box, Mindy never sleeps at night was the intro), they did Millionaire and TINA, and eventually the night ended with a rollicking Big River.
I can't wait until next year and the 3rd annual art show at Dylan's.
Rick

I found my little scrap of paper with my bad shorthand on it so here's the set list for Foley's, there was more at the end but unfortunately everything was a blur after Death of the European:
Little Bit of Help
Nashville Radio
Pill Sailor
Hell's Roof
Anything Can Happen
?
Youghal
I Am the Law
Tubby Brothers
Sentimental Marching Song
?
Deep Sea Diver
Neglect
Millionaire
I'm Stopping This Train
Death of Country Music
Death of the European
TINA
Big River
Hell's Roof, Neglect and Death of the European were the highlights for me. I don't know if Rick can fill in but I wouldn't mind a memory refresher.
Greg


---
WACO BROTHERS:
Sun Feb 10 Chicago Life's Too Short MS Benefit
Fri Mar 1 Cleveland Beachland Ballroom

Sally Timms: Feb 25th: Alverno College, Wehr Hall, 7:30PM Monday night $22.50 adv,$24.50 d.o.s. Advance tix available locally at Atomic Records on Locust St in Milw (w./Richard Thompson)
March 8th: Abbey in Chicago

---
02-17: Chicago, IL - Old Town School of Folk Music:
Jon Langford, Jeff Tweedy and Red Red Meat alumnus Tim Rutili

They played from noon to 3:00 p.m. as part of the venue's "Wiggleworm Dads" series, which are intended for toddlers and their parents.

I attended both yesterday's shows. My son came with me to the second show, as he slept late and didn't get ready in time to attend the first one.
Both shows were sold out affairs and were attended mostly by entire families with small, toddler-age children. As my son is 11, he was older than nearly all the other kids, but he still had a good time.
The performers all worked together as a band. The three main singers/guitarists were Tim Rutili (Califone), Jeff Tweedy (Wilco), and Jon Langford (Mekons, Wacos, etc.) who were backed by additional musicians from Califone playing banjo and guitar.
This was a rather loose affair, as the singers took turns on a variety of covers and even a few original tunes. I'll try posting a setlist later. The second show had a somewhat different setlist. They performed tunes like Yellow Submarine, We Are the Champions (complete with incongruous Tweedy vocal), Oranges and Lemons, Big Rock Candy Mountain, Wild Thing, etc.
"Monkey Mess," the song Tweedy wrote with his son Spencer, only got played at the first show. At the second show Tweedy played "Something Good," a tune he said they listen to a lot at home.

Lead singers in (parenthesis)
12:00 show
1. Intro
2. The Fox is in the Town-o (Langford) - Burl Ives tune
3. Mama's Stew Surprise (Rutili)
4. Three is a Magic Number (Tweedy) - School House Rock tune
5. There Was an Old Lady Who Swallowed a Fly (Langford)
6. Big (Rutili)
7. It's Alright to Cry (Tweedy) - from "Free To Be You and Me"
8. When You Talk With Your Mouth Full of Food (Langford) - poem by Shel Silverstein
9. Can I Sleep in Your Bed? (Langford) new song
10. This is How They Talk (Rutili)
11. Oranges and Lemons (Langford)
12. Monkey Mess (Tweedy)
13. Esme is a Deer with No Idea (Tweedy) song improvised using suggestions from the audience
14. Them Bones (Langford)
15. Yellow Submarine (Tweedy) - Beatles
16. Rockin' Robin (Rutili) - Bobby Day
17. Wild Thing (Langford) prefaced tune with reading from "Where the Wild Things Are"
18. We Will Rock You (Tweedy) Queen cover

3:00 show
1. Intro
2. The Fox is in the Town-o (Langford) - Burl Ives tune
3. Big Rock Candy Mountain (Rutili/Langford/Tweedy) - Burl Ives tune
4. It's Alright to Cry (Tweedy) - from "Free To Be You and Me"
5. A Little Bitty Tear Let Me Down (Langford) - Burl Ives tune
6. Three is a Magic Number (Tweedy) - School House Rock tune
7. There Was an Old Lady Who Swallowed a Fly (Langford)
8. Big (Rutili)
9. When You Talk With Your Mouth Full of Food (Langford) - poem by Shel Silverstein
10. Can I Sleep in Your Bed? (Langford) new song
11. This is How They Talk (Rutili)
11. Oranges and Lemons (Langford)
12. I'm Into Something Good (Tweedy) - Herman's Hermits song
13. Yellow Submarine (Tweedy) - Beatl
12. I'm Into Something Good (Tweedy) - Herman's Hermits song
13. Yellow Submarine (Tweedy) - Beatles
14. Rockin' Robin (Langford) - Bobby Day
15. Them Bones (Langford)
16. Wild Thing (Langford) prefaced tune with reading from "Where the Wild Things Are"
18. We Will Rock You (Tweedy) Queen cover
David Sadowski


---
March 4th MEKONS at Fitzgerald's 7.30pm


Several short reviews:

It was only my second Mekons show, so .... But what depravity, what barbarousness, what pleasure. The two covers with Escovedo playing guitar, Jessica B. (it sounded like Beely; anyone?) on electric fiddle, the new guy Eric (or Erik; maybe he was a bit Norse) on bass, and Hector Munoz on drums were outstanding. Tom, Jon, and Steve wore gold shimmering shirts, glam look for the glam rock song, "All the Young Dudes." The whole show really came together for me during "Dudes." And the final 3 songs were intense and fun. There were a lot of moments: Sally Tom Rico and Steve almost getting knocked out by a flying microphone (maybe I'm exaggerating a little)--they were all up front singing and clowning around-- and Sally almost falling off the stage, laughing, and was it Steve finally pulling Sally's skirt off after much banter about getting Alejandro out to do the job?
Escovedo's set was fantastic (first time I've seen him--well, my daughter's finally a preteen so now I can get out more), though one of my friends thought it wasn't her cup of tea. But he did "Sometimes" to start off and somewhere in there was "I Wanna Be Your Dog." In a way it was a bit like the Latin Playboys, lots of rock and mescaline. The Mekons were drinking margueritas.
Jay

A quick, concise review of the Alejandro Escovedo/ Mekon show from this past Monday. Escovedo and his band of merry men were an ideal choice to open and were in fine form. Alejandro has evolved in uncountable ways since i first saw him with Rank 'n' File (@ the late, lamented Tuts) in the early 80's. Escovedo alternated feedback/distortion laden smacks to the forehead with folky hymns that quieted the expectant crowd. Senor Escovedo plays around here often and I highly recommend attending any of his shows. My show highlight was the perfectly logical (and supremely loving) cover of the Ramone's "I wanna be your boyfriend" that flowed into his (in)famous take on the Stooge's classic "I wanna be your dog". In many respects, the same sentiment. (just kidding dear).
By the time our Mekons hit the smallish stage, the crowd was lubed and ready. As in previous shows, the amount of familiar faces attests to the strange (morbid?) attraction we MekonFans have to our heroes. Langford, Greenhalgh, Goulding resplendant in gold shirts of some hideous man-made material....Ms. Timms and Rico abstaining from the glam look for the evening. Mekon neo-phyte bassist Eric (Carlson?), whom Sally claimed would "washing himself over and over" after his exposure to the band, acquitted himself nicely as did Jessica (still don't know her last name) on fiddle. She's been w/Mekons last couple of times I saw 'em and fits in nicely...and as Sally reminds us, "keeps two sets of breasts on the stage."
Sally began taunting Alejandro Escovedo early, daring/begging him to tear her skirt off....Escovedo would have none of it. The boys and girls tore through some newer material...some unreleased/some from Journey to the End of the Night...as well as standards (Orpheus,Now we Have the Bomb,I Love a Millionaire,et al.) with gusto and the usual inter-Mekon banter and abuse. Greenhalgh seemed somewhat more detached than usual (Flu, bad day...who knows) but Langford and Timms appeared to be enjoying themselves as usual . Encores, which are always interesting (sometimes terrifying! lol) chapters in any Mekon performance, were borderline spectacular. At one point, Escovedo's band crowded onto the stage and joined in a rousing, sometimes mumbling rendition of "All the Young Dudes" which gave way to the "immortal" "Hot Legs" by Rod the Mod...which Escovedo simply tore up and reconstructed as his own. Finally, the combi-band waltzed through "Neglect" which ended with Langford/Timms/Greenhalgh/Bell voicing the request "gimme 10,000 pounds...pleeeeeaase until their voices gave out. Great way to spend a snowy Monday evening in Chicago (Berwyn actually).

Setlist:
Tina
Last Weeks of the War
I (heart) Apple
Abernant
Chivalry
Hard To Be Human
Dangerous Bibles (new song sung by Sally)
Lone Pilgrim (new song sung by Tom)
Millionaire
Fantastic Voyage
Oblivion
Bastard
Orpheus
Now We Have the Bomb
Curse
Memphis Egypt

encores with Alejandro Escovedo and Hector Munoz: All the Young Dudes
Hot Legs

more encores:
Last Dance
Neglect
Lost Highway


---
Saturday, March 23rd

Corgan, Earle, Spector 'Waltz' In Chicago
by Matt Carmichael, Chicago

An eclectic array of artists shared the stage Saturday at Chicago's Metro for the fourth annual Waltz benefit, which organizers said raised $40,000 for Heartland Alliance's Neon Street, a local charity for homeless teens. Performers included former Smashing Pumpkins members Billy Corgan and Jimmy Chamberlin, Steve Earle, Ronnie Spector, Graham Parker, and a cast of notable local musicians.
The Waltz, which takes its name from the famous final concert by the Band, was conceived by Chicago native Nicholas Tremulis, and his orchestra proved its versatility as the house band for the performance with an extensive horn section, guitars, and percussion. Members of the Chicago-based gospel-rock collective Sonia Dada added backing vocals.
The highlights were as diverse as the artists themselves. The Mekons' Jon Langford teamed up with Chamberlin on a medley of Ramones' tunes, while a youthful Spector took the crowd "back to 1963" for her signature number, the Ronettes' "Be My Baby." Ken Nordine performed his free-form spoken word jazz to a rapt audience, while jazz veteran and Beat poet-collaborator David Amram dusted off music from his original score for "The Manchurian Candidate" for the first time in 40 years, as scenes from the film were projected behind him.
Blondie Chaplin, who has worked with everyone from the Rolling Stones to the Beach Boys, let loose a soulful rendition of Sam Cooke's "Change Is Gonna Come." Sonia Dada baritone Paris Delane, whose mother had passed away earlier in the day, fought his own tears as he sung an emotional "Amazing Grace."
Michael Scott teamed up with Corgan and Chamberlin for Deep Purple's "I'm Going Down." In only his second hometown performance since the Pumpkins' demise (the first being last year's Waltz III), Corgan offered some blistering guitar work in and around Scott's soaring vocals. Shawn Christopher pulled out all her diva stops with her club hit, a house version of "Never Knew Love."
The show concluded with the full ensemble, minus Corgan, crammed on stage for the obligatory all-star jam: Bob Dylan's "Like a Rolling Stone." Langford shared a mic with Ivan Neville and Alejandro Escovedo, who had played earlier with Tremulis and also with the Metro owner Joe Shanahan. Spector, Earle, and Chaplin took center stage, helping lead the ensemble and the crowd through the classic track.
Spector said she got involved because she feels that while many charities concern themselves with young children, teenagers are often overlooked despite their vulnerability. "Teenagers are the most important because they're the ones who will carry the rock and roll forward for all the rest of us," said the mother of two teenagers, adding, "Besides, it's really the hardest age."
Parker plays very few benefits, but accepted the invitation to perform because he would "rather have kids in a place, you know, than out on the streets f***ing around." He said he relished the chance to work with musicians like Earle that he respected from a distance but hadn't yet seen perform. Some, like Chamberlin were just proud to be a part of a great night. "It was an honor," he said succinctly.

---
The Pine Valley Cosmonauts and Friends
The Executioner's Last Songs Live
Abbey Pub, Chicago, 5-31-02

Tom Brennan - piano
Drew Carson - mandolin
Steve Goulding - drums
Jon Langford - guitar
Tom Ray - bass
John Rice - guitar
Dean Schlabowske - guitar Rick Sherry - washboard (on some songs)
Lead vocalists as noted

Intro (3:02)
Gary Gilmore's Eyes (2:55) Dean Schlabowske
The Green, Green Grass of Home (5:55) Kelly Hogan
Great State of Texas (2:52) Jon Langford
Horses (4:34) Chris Mills
The Hangman's Song (5:08) Puerto Muerto
I'll Never Get Out of This World Alive (3:37) Edith Frost
Long Black Veil (4:06) Sally Timms
Oh Death (5:38) Diane Izzo
99 Years (3:24) Jon Langford
Love's Gonna Live Here Again (2:49) Jon Langford
Intro (1:00)
Knoxville Girl (4:58) Dean Schlabowske
Trouble in Mind (3:55) Jon Langford
The Plans We Made (7:04) Jon Langford, Sally Timms
The Snakes Crawl at Night (3:12) Janet Bean
Nashville Radio (4:34) Jon Langford
Miss Otis Regrets (5:36) Puerto Muerto
Hanged Man (5:05) Rick Sherry
I Wanna Be Free (3:25) David Yow
Sing Me Back Home (4:24) Edith Frost
Tom Dooley (7:19) Jon Langford, Rick Sherry
Delilah (3:32) Jon Langford
Folsom Prison Blues (7:42) Jon Langford


PVC @ Wells Park Chicago, July 13 2002
"Death disco, that's what we're playing tonight." With that, Jon Langford and friends played an excellent set that ran just over 70 minutes, before an appreciative crowd of thousands in Welles Park. Fortunately, my son Brian and I were there front and center to catch it all for posterity.
This was a somewhat different set than I'd heard in May at the Abbey Pub. This was a shorter set, the instruments were balanced better in the mix (John Rice's lead vs. Drew Carson's mandolin, for example), there were some new tunes, different guests, more pairing up of guest vocalists, and, if anything, less jamming. To a degree, soloing was kept to a minimum as everything had to fit into a prescribed schedule.
The shorter format resulted in a lot less Langford vocals than the May show at Abbey Pub. Had to accomodate all the guest vocalists who came from all over the country (Washington DC, Nashville, etc. etc.) ya know.
The main reason we didn't get a full 75 minute set was the long-winded announcements from festival organizers and a guy running for Congress that preceded their set... but most likely, only one tune probably got cut anywho.
All in all, a really special performance, and what better way to spend a Saturday afternoon on a beautiful day in Chicago? And for only five dollars admission, too (one dollar for Brian)... and I bought him a balloon, too. Later on, Brian said this had been "the best day ever." Not far off the mark.
As Jon put it, "No death on the radio these days... just the loss of virginity... sad, innit?"


The Pine Valley Cosmonauts and Friends Play The Executioner's Last Songs Live
Welles Park, Chicago, 7-13-02 (The Old Town Folk and Roots Festival)



Knoxville Girl - Paul Burch, Dean Schlabowske
Long Black Veil - Sally Timms, Edith Frost
Hanged Man - Rick Sherry
Goodbye Mary Ann - Rebecca Gates (a Charlie Rich cover, at least I think that's the name of the tune)
The Great State of Texas - Jon Langford
The Hangman's Song - Puerto Muerto
The Green, Green Grass of Home - Kelly Hogan
Dying Breed - Lonesome Bob
Miss Otis Regrets - Jenny Toomey
Horses - Sally Timms
Sing Me Back Home - Edith Frost
Oh Death - Diane Izzo
The Snakes Crawl at Night - Janet Bean
I Wanna Be Free - David Yow
I'll Never Get Out of This World Alive - Rosie Flores
Walls of Time - Paul Burch
Gary Gilmore's Eyes - Dean Schlabowske and All

David Sadowski



Waco Brothers @ Double Door, 12-07-02


The Double Door show started at 10 and quit at 1:30. I'm not sure how long WB played but they played with hardly a bit of banter. JL said that they had to play "economically," since they had gone on for a good while with the pick-up group before. So, no fucking around, just music. Which was fine. They opened with "Geronimo" and closed with "Do You Think about Me?" (still don't like that song), "Plenty Tuff That Union Made" and "White Lightning."
Highlight: Tracy Dear and JL body slamming Lonesome Bob. TD went high, JL went low. They bounced off LB like water on a hot griddle.
Jenny Toomey opened with just a fiddle player, a friend from DC, who stayed on for much of the show-- "the mystery fiddler," said JL. Then JL and Rice and SG and (ach, sorry, what was his name?) the bass player came on and various vocalists came on and off, and Carson came on at one point, and they all did songs from Executioner's Last Song, and others as well. Johnny Dowd was supposed to be there but ... well... JL intro'd "Tom Dooley" by saying that Steve Earle sang this one on the cd, but he couldn't be there tonight. He was on a double date with Dowd at a Chinese restaurant. I can't remember all the songs they played (just got back from a car trip to Befuckinmedji Minnesota--Note: last weekend, in case you missed it, in Walker Minnesota, Journey, Blondie, Deep Purple, the Gin Blossoms, and others were playing a 3-day outdoor festival. Plus Nazareth played the Barron County (wisconsin) Fair that same weekend AND Herman's Hermits were at the Turtle Lake (Wisconsin) Casino (though it looked like they were playing without Herman)).....
but Dean and Sally and Jon did "GG's Eyes" and Lonesome Bob did "Pardon Me (I've Got Someone to Kill)" and Sally did "Long Black Veil" (which JL said would be on vol. 2 of Executioner's Last Songs) and Jon and Sally did "The Plans We Made" and JL did "Tom Dooley" and Jenny Toomey did a couple of songs (one of which may have been "Miss Otis Regrets") and JL did "Hanged Man" and "Knoxville Girl." And Paul Burch came on too at some point and played about four songs, one of which was a killer version of "Brown-Eyed Handsome Man."
And a keyboardist ("all the way from Leeds") played, too, and you could hear him, too, he was good, but, well, ok, I can't remember his name either.
I think JL was onstage the whole time. It was a great great night.
jay



Langford - Timms - Escovedo @ Abbey Pub, 19-07-02


I passed up Janet Reno's Dance Party last night to see Jon Langford, Sally Timms, and Alejandro Escovedo. I can tell ya that the spirit of rock'n'roll is alive and well here in Chic-a-go-go.
My evening started at Quimby's Queerstore in the Wicker Park neighborhood, just around the corner from the storefront used as Championship Vinyl in the film High Fidelity. (Which never was an actual record store... the entire building is empty at present and is being converted to condos. It's on the corner of Honore and Milwaukee.)
Quimby's is a punk/anarchist book and magazine emporium specializing in obscure 'zines and carries a good selection of Bukowski, Phillip K. Dick and anarchist porno, whatever that is. It's easy to imagine such a place here for us Sheep in the Big City, harder to imagine it transported down to, say, Arkansas nor Indianapolis, except maybe in an alternative universe. Perhaps it was dreamed up by the empaths in Minority Report... let's put the Queerstore down the road a piece from the Wal-Mart, shall we?
Last night they were celebrating fifty issues of Punk Planet magazine, and the founder opined that they started out not knowing what they were doing, if they had known, maybe they wouldn't have done it... it only worked out by accident, and if it continues, that'll be happenstance too. In other words, my life story and probably yers.
Jon Langford and Sally Timms were interviewed in Punk Planet #50 to celebrate the 25th anniversary of The Mekons. Further, Langford contributed a cover illustration of Mayor Richard M. Daley. It's a good mag and a good interview, pick it up if you can. The dynamic duo played about four Mekons tunes before packing up for their opening slot at the Abbey Pub, where they played just under 45 minutes.
A couple years ago Jon and Sally put out an eight-song EP on Bloodshot (Songs of False Hope and High Values) that ranks with the best work they've ever done. Unfortunately, it's currently out of print, but Sally said it's about to be reissued in Australia. Most of what they did was drawn from that, but there was a new song Jon said was about Tom Jones. Jon has a jones for Mr. Tom Jones but sad to say, no one threw their knickers onstage, not even me.
Last night's set was notable for Sally's GUITAR PLAYING, yes, it was pretty basic, but she did strum away on her Danelectro on a few tunes, including one she sang. During one "hard rock" number Jon cued her to SOLO, in fact, and some of the chords she played may even have been correct, if a few seconds too late... finally, she gave up and just continued playing one chord over and over. If you make a mistake, do it again, and it becomes jazz.
Sally may be a self-proclaimed "rude bitch" but I love her.
Jon played a beat-up Squire Stratocaster... same kinda guitar that a repair tech called a "toy" when I bought a Mexican Strat the other day, but I sure wish I could play it like Jon does.
Next up were Alejandro Escovedo and band, five other guys besides him. He called it a "new" band and said this was their second gig together. You'd never have known that, they were very tight and complemented each other perfectly. He has a new drummer, his regular mainstay is off on maternity leave.
His lead guitar player had lots of troubles with his effects pedals and for a coupla numbers tried frantically rearranging the patch cords before giving up and doing without them. This did result in Alejandro playing some leads himself though.
Material ran the gamut of Al's various solo records, which have been reissued and were on sale at the Bloodshot table. They were also selling the kid's CD "The Bottle Let Me Down" which will be reprised at The Hideout on Sunday afternoon.
They started with a new track called "13 Days Theme" that he said was written by his cellist. Al's contribution to "Bottle" was another standout- "The Big 1-0," which he also played at FitzGerald's last summer.
At encore time, they played Neil Young's "Powderfinger," which would be a perfect choice to jam on with the Drive By Truckers tonight. Neil wrote that song for Lynyrd Skynyrd just prior to the plane crash.
Finally, they closed with a fantastic "All the Young Dudes" with Jon Langford guesting on vocals. I'm a dude man, hope to see y'all at tonight's show, which may not yet be sold out.
David Sadowski

Just a couple added notes on the Abbey show:
- Jon and Sally did a reworked version of "Closing Time" from his Skull Orchard LP that was very cool
- They played two Mekes songs: Last Weeks of the War and Hard to Be Human. Both were great.
War", like much of the show was diminished by the fucking Al Escovedo fans not keeping their mouths shut (no offense to Al, but his fans are borderline Black 47 fans)....
"Human" was an unqualified joy right down to Sally's ramones-esque guitar (three chords and out!).
... I asked Jon later what the line about "I saw a man hold a chicken to his head" was in reference to and he said "I'm sure it was something very, very important at the time it was written, but now it just means that a man held a chicken up to about here (motioning to his head)."
I decided after than not to ask why he was waiting for Spider-Man to catch a plane and fly in "Honeymoon In Hell".
Na na na naaaa...
A.N.


---
Forgive me if I've got some of the titles wrong.


Jon Langford (electric guitar, vocals) and Sally Timms (vocals) Quimby's Queerstore, Chicago, 7-19-02 (Celebrating 50 issues of Punk Planet magazine)


I Love a Millionaire
Hard To Be Human
The Last Weeks of the War
Mekons Rock and Roll



Jon Langford (acoustic and electric guitar, vocals) and Sally Timms (vocals, electric guitar) Abbey Pub, Chicago, 7-19-02
(opening set for Alejandro Escovedo)


Dark Sun
Horses
Anything Can Happen
Randwick Bells (Paul Kelly cover)
Walking on Hell's Roof Looking at the Flowers
The Last Weeks of the War
Closing Time
I Picked Up the Pieces
Tom Jones Conversion (?)
Down From Dover
Hard To Be Human (Sally Timms on "lead" guitar!)
Blow the Man Down
Later that same evening, Jon joined Alejandro Escovedo on lead vocals for All the Young Dudes (David Bowie/Mott the Hoople cover)


Jon Langford (electric guitar, vocals) Hideout, Chicago, 7-21-02
(Kid's show for Bloodshot Records' CD release The Bottle Let Me Down)



Them Bones
Oranges and Lemons
There Was an Old Lady
The Fox
A Little Bitty Tear Let Me Down
Jon also sang background vocals during some of Alejandro's songs that afternoon.
D.S.


---
25th anniversary tour: North America
Friday, 30 August: Annex, Madison, Wi.,
I was lucky enough to be in the front row Friday night for the most awesome debut of their 25th anniversary tour. They didn't waste time with their revelry, but I do want to point out that they are missing Susie on fiddle. Don't let that disuade anyone from going though as her replacement has sat in with the band before. I didn't remember her name, but I believe she's from Chicago and is very talented. The band also let her stretch out on a number of songs. Here's the setlist from the stage:

Tina
Last Dance
Millionaire
Abernant
Jerusalem*
Hate is the new love
Rosanne
Teeth
Lone Pilgrim
Fantastic Voyage
Bastard
Oblivion
Orpheus
Apple
Hard to be Human
Curse**

Encores:
Lonely & Wet
Dan Dare
Riot
Corporal Chalkie
Ghosts***
Memphis****
-------------
* This song will leave you wanting to roadtrip to their next gig, even if its across the pond
** One of my favs, but it is so much better live
*** Sally got me all choked up singing this one
**** This brought down the house as usual
The setlist may not be perfect since I took it from the stage, but it is pretty damn close. Hopefully a live recording surfaces. I'll be sure see some of you in Chicago.
kent

---
Monday, 2 September: Seattle, WA Bumbershoot Festival (Seattle Center)

Human
Tina
Millionaire
Rosanne
Abernant
Jerusalem
Corporal Chalkie
Bastard
Fantastic Voyage
Last Dance
Orpheus
Now we have the bomb
Apple
Dan Dare
Curse
Memphis
Encore:
Where were you
---
Tuesday, 3 September: Portland, OR Berbati's Pan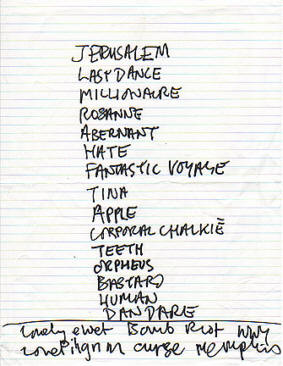 Waycross opened in Portland

Jerusalem
Last Dance
Millionaire
Rosanne
Abernant
Hate
Fantastic Voyage
Tina (also performed at Powell's)
Apple
Corporal Chalkie
Teeth
Orpheus (also performed at Powell's)
Bastard
Human
Dan Dare
-----
Lonely and Wet
Bomb
Riot
Where Were You?
Lone Pilgrim
Curse
Memphis

---
Thursday, 5 September: Berkeley, CA Starry Plough

Last night at the Starry Plough was sold-out, packed and singing along. It sounded like a football match, we weren't singing along as much as shouting along.
They covered the years 77-85, thru Fear & Whisky. Tom was introduced as being 5 years old when he joined the band.

Favourite cover : Gang of Four "Armalite Rifle"
Favourite Clash slagging: "Never Been In A Jaguar"

Encores were new and recent material.
just another great night of traditional folk-rock at my local, will be levitating for days.
Kevin

---
Friday, 6 September: San Francisco, CA Slim's (evening)

---
Saturday, 7 September: Hollywood, CA Troubadour

From LA Weekly: Mekons at the Troubadour.
You can't say Tom Greenhalgh, one of the Mekons' triumvirate of moody singer-prophets, didn't warn us a long time ago: "Magic, fear and superstition/This is the Curse of the Mekons . . . On your stone heads and leaky hearts/we'll leave our mark." Of course, they've had a quarter-century to leave that mark, wandering all over the musical and literal map, from their eccentric early-'80s British post-punk digressions and sea chanteys to more recent Chicago-based plunges into countryish Americana. Even at their loveliest and most melodic, for instance on the languid reverie "Brutal," the Mekons are always subversive, as Sally Timms lulls with sinuous imprecations about the CIA. On rambunctious pub brawlers "Bastard" and "Blue Arse," Jon Langford (the Waco Brothers, the Three Johns) contrasts with radiant bonhomie, although some of that could be the booze. Anyway, tonight's show is a mandatory family get-together for orphans, a 25th anniversary for dropouts, romantic curmudgeons and crackpot revolutionaries.
(Falling James)


---
I think they played everything tonight that they've played so far on the west coast except for Armalite Rifle. Highlights for me were Fantastic Voyage, Teeth, I (heart) Apple, Dan Dare (Rico just belted it out), Rock 'n' Roll, and the rest of the 40 minutes of encores.
Simply fucking amazing.
Greg

I'll see your fucking amazing & raise you a doublefucking transcendent. They were completely on fire! One of those rock moments when you lose track of time & feel all mekonized instead of exhausted afterwards.
My personal fave was Rosanne, 'cause I so damn love Mekons Story. & Hard to be Human Again, 'cause it's the best song written by humans.
Sally-to-audience insult report: "Where were you all the other times we've been here?"
Merch report: Laugh's on me for waiting to buy OOOH direct from the band, as they had run out of it & the soundtrack "Singing Heads" disc. In fact Sal seemed kind of annoyed that anyone knew about Singing Heads. Prezoomably they'll restock the merch van in Chicago. OOOH! work shirts are dead cool, if you can find one in your size. Or even if you can't.
Sally sounded so 'Merican away from the stage. It freaked me out.
There you have it.
I'll behave as I should,
Patrick

What was it did Jon say: "the first time we played here in 1977 there were 3 people and a dog"?
I should have waited in line for a shirt, I really wanted the "singing heads" disc (which I hope gets treed) and a work shirt. Everyone loves the Bloodshot work shirt so I figgered the Mekons one would be just as admirable.
We'll behave as we should.
Greg

& may I just add that in general LA audiences are total losers. Only a small percentage of us were bopping noticeably, & were prob thought insane by the upstairs-seating crowd. & this for the rockinest band in rock? I ax you!
Patrick

My sentiments exactly. I was bopping hard but really wanted to bust loose even more and create a huge sweaty Mekons-induced orgy at the foot of the stage. Since I'm a big guy and was a little unsteady last night I didn't want to offend any delicate LA sensibilities. And on that not I seem to always have WAY more fun up in the Bay Area for Mekons-related shows. I wish I had been a little more motivated and gone up to see the Starry Plough and Slim's shows.
Eagerly anticipating the next Wacos shows or another Jon-Rico-Sally thing on the west coast.
Greg


---
Thursday, 12 September: Chicago, IL Fireside Bowl

Setlist
Sadies:
Where Were You? • Fight the Cuts • Dan Dare • American Pageant • Polaroid (I Don't Own I Only Dote) • 32 Weeks • Dance & Drink the Mekons • Letter's in the Post • What Are We Going to Do Tonight • Amnesia

Mekons:
Teeth • 32 Weeks • Rosanne • Corporal Chalkie • After 6 • The Building • Silver & Gold • I'm So Happy • Trevira Trousers • Lonely and Wet • Armalite Rifle • Last Dance • Never Been a Riot • Where Were You? • Dan Dare
encore:
I Don't Care

Maybe time heals all wounds... or, as Nick Lowe put it, time wounds all heels. Anniversaries have a way of doing that.
In 1938, the last few survivors of Pickett's Charge, all in their 90s, reenacted it at Gettysburg, 75 years on. Instead of firing guns though, the blue and the grey embraced each other.
When the lucky ones celebrate the 75th anniversary of punk, will they gob some spit at each other? Or will they just say "fuck you" or "up your ass" in a loving spirit? I wonder.
Well, the Mekons' 25th anniversary bash, the first of four local gigs this week, was quite a love fest. The spirit of punk lives on, yes, and good fun was had by all. Not a gob in sight, perhaps because, as Langford said, we may be lacking in teeth nowadays.
The Sadies opened as a Mekons cover band playing late-70s/early 80s material just like the headliners. There was, I think, one song (Where Were You) that both bands played. They called themselves Eaglebauer, although they had been billed as The Melons. At other times, I think they're calling themselves Nelson.
Whatever you call it, it was still punk... three or four chords and loud fast rules. As you'd expect, the Sadies (still one of the tallest bands in Canada) are very good at this punk thing.
After their enjoyable 40-minute set, the real thing took the stage. This year's Mekons are an 8-piece and sound tighter than you'd expect for a band that prides itself on playing drunken, shambolic sets. They sounded like they actually had worked on these tunes (I guess they'd have to, dipping way back to the beginning of their back catalog) and with eight musicians onstage including a fiddle and accordion, they have a rich, full sound on just about every number.
Real punk rock energy came near the end of their 65 minute set, when they played Where Were You? and followed that with several other numbers of similar ilk. All this had the packed crowd pogoing and slam dancing with abandon.
The head of Touch and Go records won the contest for most authentic punk outfit... a Siouxsie and the Banshees t-shirt and dog collar. He then stage dove into the audience and lived to tell the tale.
By set's end they left the audience crying out for more.

The Fireside Bowl looks like a place that will be condemned and torn down by the city pretty soon. It's run down and seedy, although the neighborhood is certainly ok. Several lanes are roped off (sorry, no chicken wire) and they've built a stage in the corner... it looks like the roof's leaking in places.
I think on some other nights, you might actually be able to bowl there. Tonight, it was a just a lot of hot, sweaty, rock'n'roll fun. Punk rock don't belong in no museum... it belongs in a place like the Fireside Bowl.
David Sadowski


---
David Sadowski wrote:
> > The Sadies opened as a Mekons cover band playing late-70s/early 80s material
> just like the headliners. There was, I think, one song (Where Were You)
> that both bands played.
I think they both played "Dan Dare." And The Sadies offered a preview of tonight's show by playing "Amnesia."
> After their enjoyable 40-minute set, the real thing took the stage. This
> year's Mekons are an 8-piece
Rico (nice open shirt), Tom (nice suit), Sally (nice hot pants) and Jon (looking warm in that leather jacket) in front; Lu, Steve, Sarah (very blonde) and Jessica Billey (sp?) in back.
Jon: This is the under-utilized Sally Timms.
Sally: What do you want me to do, I wasn't around for these songs.
Jon: Jump around some more, pogo!
Sally: You'll have to get me excited to make me pogo.
> Real punk rock energy came near the end of their 65 minute set, when they
> played Where Were You? and followed that with several other numbers of
> similar ilk.
Including Gang of Four's "Armalite Rifle" and the Ramones' "I Don't Care." Only one song ("Last Dance") last night from _Fear and Whiskey_.
> All this had the packed crowd pogoing and slam dancing with
> abandon.
Including a rather inebriated Tracey Waco knocking into people. Saw Deano Waco farther back in the crowd.
Sally warned the crowd that they should get permission from their doctors before jumping around at their advanced age.
> > The Fireside Bowl looks like a place that will be condemned and torn down by
> the city pretty soon.
I saw a Starbucks a couple blocks away, so yeah, they'll be making room for more condos for the yuppies any day now.
It was pretty amusing when the kid at the door to the bar carded (requested identification proving he was 21) Jonboy.
They had a pile of merchandise for sale, including books (Mekons United marked down to $25), cd's (got the "singing spinning head" for $10) t-shirts, posters.
TWM


---
It started out with Jon saying something like, Let's take a trip down memory lane, twenty-five years ago, we looked like this--pointing to Rico wearing a black suit jacket, bare chested, with a piece of yellow construction tape around his neck. Except older. Sally: Not that much older. Then Lu starts up, and Jon says, "Is it safe? Is it safe?"
It seemed like there was a small group dancing off to the side (until Tracey Dear tornadoed through the crowd), and the rest of the crowd nodding and shuffling or standing still. Early on, one of the Sadies said from the stage that it was the quietest Mekons crowd he's ever seen, so then people kind of woke up. It got a little wilder at the end.
Sadies played, among other things, What Are We Going to Do Tonight, Where Were You, 32 Weeks, Fight the Cuts (which was excellent), Letter's in the Post.
Rico and Tom sang 32 Weeks from a piece of notebook paper. It was great. They played, yah, Where Were You? Never Been in a Riot, Dan Dare as the closer (if I remember correctly), Jon played drums at one point while Steve Sally and Tom played guitar. The highlight for me was Jon singing The Building, dedicated to Mark White.
Like David S. said, they were tight (for the most part) with a full, big sound. For a closed up, decrepit bowling alley, the sound was extraordinary. There's a tarp tacked up on the ceiling to keep tiles from hitting people (or exposing aesbestos). Maybe it helped with the sound.
Jay Williams


---
---
Friday, 13 September: Chicago, IL Chicago Cultural Center [acoustic/lunchtime]
Friday, 13 September: Chicago, IL Abbey Pub

Setlist (CCC):
Last Dance • Rosanne • Millionaire • Lone Pilgrim • Thee Olde Trip to Jerusalem • Corporal Chalkie • Lost Highway • Tom reads The Curse • Fantastic Voyage • Orpheus • Wild & Blue • Neglect

Setlist (Abbey Pub):
Sadies:
Where Were You? • Memphis, Egypt • Blow Your Tuneless Trumpet • Ballad of Sally • Amnesia • What Are We Going to Do Tonight • Funeral • The Curse • Polaroid (I Don't Own I Only Dote) • Blue Arse • Fight the Cuts [with the Mekons]

Mekons:
Hard to Be Human Again • Chivalry • Oblivion • Lost Highway • Big Zombie • Wild & Blue • Fantastic Voyage • Abernant • (Sometimes I Feel Like) Fletcher Christian • Bastard • Flitcraft • Prince of Darkness • The Curse • Memphis, Egypt
encore:
Ghosts of American Astronauts • Shanty • Beaten & Broken • Hey! Susan • Sweet Dreams

I agree. That Fitz show Sat. night was better in some ways than the spring Fitz Glam Rock Show and in all other ways just as good. Lots and lots of audience participation. They handed out lyric sheets for Take His Name and then got twenty or so people from the audience up on stage. THey were really on from the beginning, but that new song broke the ice. People handed out money, probably too much money, while they sang, much later, "give me 10000 pounds." Then the closer, Gin & It, with choreographed hand gestures, both maxi and mini. (Did they do that during the ME tour?) One by one they left the stage, until only Sally was left, and then she was gone too. I don't know how long everyone in the audience, at least it sounded like everyone, then sang "Belly to belly, back to back, dancing, dancing round the square," still doing the gestures, maybe five minutes, maybe ten, but then the band came back and did the first set of encores: Fight the Cuts (with the Sadies), ?, Dan Dare (who in LA said Rico really dug singing this? yah, he got into it, almost into the audience), ?, and Memphis Egypt. Then gone and back with two more songs: ? and Lonely and Wet. Then JL held his guitar up and looking up saw a metal hook at the top of the stage, maybe for a stage curtain. He hung up his guitar by one of its tuning keys and left. Tom did the same. They were gone and two guitars, chords hanging, dangled in the red dark, a piercing feedback filling the room. People stood with their hands over their ears.
Here's as much of the set list as I got. I'm sure others have the complete list.
see above) The Powers and Horror (Men only; Greg Kott called it a barbershop quartet styled song in his MOnday morning review, but he must have been drunk when he wrote that. The guys stood up fron in a row and sang a capella.)
The Abbey Pub show, by comparison, was terrible, but at the time I thought it was pretty fucking great, but not as good as the Fireside Bowl show (which now seems really really great). They opened on top of things, really solid, Hard To be Human, and then, in no particular order, only as I remember it:
see above
They started out so strong and juiced that Sally said, "Hey, we can't peak too early." And she whacked Jon on the head with a copy of "hello cruel world." Which only, one hopes, further increased sales. They dressed country and JL reminisced about Chicago in 1986 (?) when the audience was punk and they just wanted to play music from Edge of the World. At some point JL recited Shakespeare and railed against Bush, Cheney, et al. while he and Sarah handed out roses to the audience for the encores. Money was handed out to Sally, who stuck it in her bra. It was fun and all, but the band seemed to be fighting itself and some individual songs were great, but, as a whole, not really.
The Chicago Cultural Center show was a little gem. They played in the Randolph Street lobby, in front of the main staircase, which I guess is now an eating area. (I used to go their back in the seventies when it was the main public library.)

All I can say is, Watch out New York.
Jay the Freshman
---
Saturday, 14 September: CHICAGO, IL Eastwick Gallery (Art Opening 4pm)
Saturday, 14 September: Berwyn, IL FitzGerald's

Setlist (Eastwick):
Sally reads Sympathy for the Mekons • Tom leads group sing for Stonehead • Sarah reads Never Work • Steve reads I Can't Find My Money • Sally sings Hate Is the New Love • Jon reads (A Dancing Master Such as) Mr. Confess • Rico reads Poxy Lips • group sing for Orpheus
accompaniment: accordion and saz

Sadies (Berwyn):
Where Were You? • I Love Apple • Blow Your Tuneless Trumpet • The Curse • Wicked Midnight • Ballad of Sally • Funeral • Point of No Return • Amnesia • Memphis, Egypt

Mekons:
Thee Olde Trip to Jerusalem • Last Weeks of the War • Tina • Lone Pilgrim • Insignificance • Powers & Horror • Hate Is the New Love • Take His Name in Vain [audience stage participation] • Millionaire • Stonehead • The Bomb • Orpheus • Neglect • Gin & It
encore 1:
[with the Sadies] Fight the Cuts • 32 Weeks • [without the Sadies] Teeth • Dan Dare
encore 2:
Beaten & Broken • The Curse • Memphis, Egypt
encore 3:
Trevira Trousers • Lonely & Wet


---
Okay, this is the first pass, and I haven't finished uploading all the photos (haven't put up the ones from FitzGerald's yet, but the setlist is there), but here are the others -- start here (nav bar at the top and bottom of each page):
http://www-personal.umich.edu/~mhuey/mekons/25fireside/
I may be changing the navigation and maybe the layouts in the next couple of days, but thought I'd share these now.
If you have a slower connection, be warned that these pages are between 1-2M each.
A few notes: Susie's moving house, so we won't be seeing her this tour around... Lu's just left for Scandinavia and Germany touring with Billy Bragg and the Blokes. Mitch, as it appears, got turned into the mummy doll you see in the Abbey photos because his visa was denied.
It was stated that the Chicago Cultural Center lunch crowd was the largest they've had, and many in the audience were unfamiliar with the Mekons.
There may be an art exhibition at... somewhere in London (Barbican?) on 18 December.
Something about a recorded program (is it an in-studio?) on WRXT (Chicago) on Tuesday, 10pm-midnight?
Highlights for me? A couple include the acoustic group-sing of "Stonehead" at the Thomas Masters Gallery (formerly the Eastwick), the group sing for "Take His Name in Vain" at FitzGerald's, the Abbey show, the Sadies' version of "Letter's in the Post"...
Oh, and don't forget that the incomparable jazz sax player Lol Coxhill turns 70 tomorrow. Tell him happy birthday if you see him... or even if you don't.
Mary Huey


---
Music review, The Mekons at FitzGerald's
By Greg Kot
Nostalgia does not become the Mekons.
"Bless my soul, what's wrong with me? I forgot to forget to remember," they blared Saturday at FitzGerald's, closing a three-day Chicago residency that marked the British art-punk band's 25th anniversary.
But if the memories were a bit bleary, the music was sharp and immediate. The octet is at its best when it teeters between irreverence and incoherence, the sublime and the slapdash, and Saturday was one of those nights when the blend of musicianship and mayhem was exactly right. As many as six voices at a time rose up in defiance, the vocalists sharing microphones, howling as if they had just stumbled into the room and were hearing the song for the first time over a couple of pints. The band members are in a remarkable place, seasoned enough that they fire off each other's instruments without thinking, yet still hungry to make the music stomp and soar.
The performance focused on the band's '90s material, during its tenure with Chicago-based Quarterstick Records through the current "Oooh!' album, but the music encompassed a half-century of influences. The band morphed into a barbershop quintet, backed by accordion, enumerating the "Powers & Horror"; they became Middle Eastern vagabonds, dancing and howling amid the ruins of "Thee Olde Trip to Jerusalem"; they evoked a Lee Perry jam session in Jamaica on "Tina" and 19th Century balladeers on "Lone Pilgrim"; and they were disco dandies, complete with synchronized hand movements, on "Belly to Belly." For the encore, they shot back to their '70s roots in Leeds, England, scratching out two-chord agit-punk rants that mocked the cycles of grown-up ambition: "Get a job, get a car, get a band, get drunk!"
To a Mekons newcomer, the show must have been a bit bewildering, a merger of contradictions: Sally Timms' bell-like voice, suggesting what Julie Andrews might sound like if she were a dominatrix; Tom Greenhalgh's broken wail, the sound of a man who has just fallen down a flight of stairs; Jon Langford's bleary howl, defiance incarnate. With Rico's Bell mournful accordion and Lu Edmonds' saz, a droning Middle-Eastern stringed instrument, the Mekons at times resembled a Salvation Army outfit busking on a street corner. Yet Steve Goulding's drumming and Sara Corina's bass kept the music centered, the serve-the-song propulsion of Goulding's snare and cymbal work suggesting a cross between the Wailers' Carlton Barrett and the Rolling Stones' Charlie Watts.
The band's versatility enables it to shoot in a dozen directions during the course of a two-hour set, and balances the sense of dread and exhaustion that pervades the lyrics. Even the Mekons' considerable humor is tinged by darkness. Their song lyrics deserve a book unto themselves (in fact, the Mekons have just published one) for the way they turn world-weariness into a comic art form. Even better is between-songs banter that would be self-defeating in the hands of a less resilient bunch, so brutal is the band on itself and its marginal role in the pop pantheon.
That humor has served the band well, because the road to 25 years has not been paved in record-company gold. Yet, the band's insistence on forging ahead should not be taken lightly. "Every day is a battle, how we still love the war," Timms sang with stately beauty. It's a line that could apply to the politics of a chaotic world, or it could sum up the Mekons' career. The Mekons don't write love songs, at least of the traditional sort. But their music must be seen as an act of love in the face of indifference, and it is transforming. Here's hoping they're in it for at least another 25 years.


---
Let me chime in to say that Saturday's show at FitzGerald's was one of those truly great, almost transcendant Mekons concerts, like I haven't seen in a while. And the other two nights were pretty darn good, too. Since the set lists had barely any overlap (only the encore songs from the final night repeated songs from the other shows), it almost fe;t like a single concert stretched over three days... What an experience!
"Thee Olde Trip to Jerusalem" sounded strong as an opener, with lots of a cappella (or almost a cappella) singing and clapping, so that when the guitars kicked in, it seemed all the more powerful.
It's amazing to think that even with three days of live music, the Mekons still left out a number of songs I wished they'd played ("Sorcerer," more stuff from "Rock 'n' Roll" and "Me"). But I guess that just proves how rich their catalog of music is.
It was cool to see the Sadies get up on stage with the Mekons for one of the encore songs. If those guys don't watch out, they might end up being actual members of the Mekons in a future lineup.
The audience participation on "Gin & It/Back to Back" was great. The audience never really did applaud for an encore because it was so caught up in the singing the chorus over and over and clapping to the beat, and then the band -- starting with Goulding -- just came back and stage and played more of the song. I still keep thinking that if I went down to Berwyn right now and popped into FitzGerald's, there'd be a crowd of people inside the bar chanting "Belly to belly, back to back..."
I do recall something similar happening (I believe the Mekons did the same dance moves on stage) when they did the "Me" tour at Metro in Chicago. Does my memory serve me correct?
For those of you seeing the Mekons later on this tour, the bad news is that Saturday was apparently Lu Edmonds' last show before returning to England to play with Billy Bragg. They gave him considerable shit about this on stage, all in good humor of course.
Robert Loerzel


---
---
Monday, 16 September: Toronto, ON Horseshoe Tavern
Eye Magazine Toronto
BY MICHAEL BARCLAY

On 1989's The Mekons Rock'n'Roll album, the band sang, "I forgot to forget to remember." Now celebrating their 25th year with a new album, OOOH! (Touch and Go), the veteran British band are singing, "I've forgotten more than I care to remember."
When asked what significance that latter line has for him, Mekons guitarist/vocalist and founding member Jon Langford says, "I think of [Mekons vocalist] Sally Timms. She can't remember most of the 1980s. She has a great memory for telephone numbers, but no memory for any details of her life: where she lived, where she went or who with." So she won't be writing the Mekons biography? "She'd be the perfect person to write it," Langford counters. "Lots of fantasy and myth."
While other British punk bands were singing about anarchy and white riots in 1977, The Mekons debuted with a single entitled "Never Been in a Riot" and they've been contrarians ever since. Take, for example, their first American tour in 1986, when Langford and co-founder Tom Greenhalgh debuted a new lineup playing songs from the country-influenced Fear and Whiskey (reissued this year on Touch and Go).
"I remember there was a certain polarization in the audience," Langford recalls. "What was thought of as The Mekons sound, we weren't really doing anymore. It was more volatile than things are these days. There was a lot of screaming and abuse from the audience, and even more from the band back at them. Things got more genteel from there. But we're going to change that on this tour by making a point of insulting the audience. We'll spit on them and scream things like, 'Kick Jimmy Carter out of the White House!' 'Smash the system!' Stuff like that."
Toronto audiences haven't seen The Mekons since, well, since Langford can remember. Because this tour is celebrating their silver anniversary, he promises the set list will "span the decades" -- though his syllabic pronunciation on "decades" places the emphasis on "decay," which would suit Langford's sense of humour. "We're playing songs from the first single right up to the latest album. Having said that, we don't overburden ourselves with trying to play it correctly."
OOOH! is another return to form after the many experiments of the '90s ended with 2000's Journey to the End of the Night. At the time, Sally Timms joked that she really wanted the band to make a "good" album for a change.
"Sometimes we feel like that, making something tighter as opposed to flying off in all directions. This time we decided to make a great album," Langford states, with only a hint of self-importance. "These songs are definitely up there with the best of The Mekons output, I'd say. Sometimes our stuff is hard work for people, and that's fine. Some people are rigorous and like to be put through some hoops, but this is a pretty listenable album."
OOOH! is an acronym for Out of Our Heads, the name of a British art project the band was involved with last year. "A lot of the song ideas came about as a response to that," says Langford. "The art show was about heads: shrunken heads, severed heads, losing your head. A lot of ancient myths talk about the head that keeps singing after it's been chopped off. It's a funny notion, and sometimes I think The Mekons are like that. We've been decapitated numerous times. It's a nice idea about the immortality of song."
Most of The Mekons are also visual artists, and during our conversation they can be heard hammering while setting up an art show at a tour stop in San Francisco. One of them lives there, one in New York, three in Chicago, three in London, and one in their hometown of Leeds. Langford has lived in Chicago for 10 years now, and says the indie mecca is a perfect home for his "geographically challenged" band, who have always prioritized art over commerce. "It's definitely been a good town for us; it was from the first time we were there," he says. "There's a lot of things about Chicago that fit into the way The Mekons like to work."
The mother country is another story. "We make a bit of an effort to play in England every time we put out a record. The last time we went it was great, so I can't knock it, but over the years it hasn't been much fun playing in England. It's definitely improved lately. I think a lot of people in England have decided we're Americans now, so suddenly we're cool."
Although there have been minor changes, The Mekons have had a fairly consistent lineup since 1985. The band is a part-time enterprise: most of The Mekons have solo projects, and Langford has five projects on the go at any given time, including an upcoming collaboration with The Sadies.
While no one's leaving the band anytime soon, Langford admits, "It'd be nice if we had some young blood. I'm training my son right now to take over for me. He's five, so I have a while to go. I'd like it if we could replace the entire Mekons over the years. I think it's time I moved up to coaching."


---
Ferocious. Hilarious. Not only the best mekons gig I've seen, but one of the best shows I've ever seen, period.
Sally and Jon were hysterical as usual, baiting the shit out of each other. Many jokes about the subtleties of Canadian humour lost on our neighbours to the south and group sex with the late Queen Mother. Great aerobics to Now We Have The Bomb.
Line of the night from Jon: "This is a song about shrinking Raquel Welch and shoving her up your ass...Fantastic Voyage!"

The set, in no particular order at all:
Thee Old Trip to Jerusalem
Big Zombie
Millionaire
Take His Name In Vain
Memphis, Egypt
Dan Dare
Fantastic Voyage
Bastard
Heaven & Back
Rosanne
Hard To Be Human
Now we Have The Bomb
Orpheus
I Love Apple
Tina
Powers & Horror
The Building
Never Been In A Riot
Curse Of The Mekons
Where Were You?
???
???
???
(I'm missing two songs from OOOH! and one from Mercy. Too beat to dig them up to confirm.)
Hugh Hardy

---
Tuesday 17 September: Montreal, QC Cabaret
---
Wednesday, 18 September: Cambridge, MA Middle East

Thee Olde Trip to Jerusalem
Tina
Millionaire
Big Zombie
Hate Is the New Love
Fantastic Voyage
Take His Name in Vain
Teeth
Corporal Chalkie
Bastard
Rosanne
Stonehead
Orpheus
I love apple
Hard to be human again
Curse
Lonely and wet
Never been in a riot
Dan dare
Where were you
Drum solo
Powers and horrors
Neglect
Bomb
Memphis egypt

---
Thursday, 19 September: New York City, NY CBGB

The Ugly Band (Sadies as Mekons Tribute Band):
Roger Troutman
Where Were You?
Never Been In a Riot
Dan Dare
Stay Cool
32 Weeks
Letter's in the Post
Dance and Drink the Mekons
What Are We Gonna Do Tonight
Fight the Cuts (w/Jon)
Mekons: Teeth
32 Weeks
Rosanne
Colonel Chalkie
After 6
The Building
? Like Spoons No More
I'm So Happy
with Kevin Lycett
Trevira Trousers
Lonely and Wet
Armalite Rifle
Last Dance
Never Been In a Riot
Where Were You?
Dan Dare
with Sadies:
Fight The Cuts
Dance and Drink the Mekons
only Mekons:
I Don't Care


---
Friday, 20 September: New York City, NY art opening: Galapagos Art Space 7pm
Friday, 20 September: Hoboken, NJ Maxwell's


Friday, 20 September: Hoboken, NJ Maxwell's
Thee old trip to jerusalem • Corporal Chalkie • Beaten and broken • Tina • Teeth • Powers and horrors • The funeral (reading) • Trouble down south (reading) • Take his name in vain • Hate is the new love • The building (reading) • Never want to work (reading) • City of London (reading) • Silver and gold • Stonehead • Dan Dare • (A dancing master such as) Mr. Confess (reading) • Come and have a go (reading)• Lone pilgrim • Neglect • Rosanne • Apple

Galapagos Art Space, Brooklyn NY Sept. 20, 2002 / Art show opening, reading & acoustic performance
1.. Powers & Horror
2.. Amnesia (read by Kevin)
3.. Beaten & Broken
4.. Never Work (Sarah)
5.. The Curse (Tom)
6.. Thee Olde Trip to Jerusalem
7.. 100% Song (Steve)
8.. The Building
9.. Stonehead
10.. Poxy Lips (Rico)
11.. I'm Not Here (1967) (Jon)
12.. Outer Space
13.. The Letter (Sally)
14.. Q&A session w/audience
15.. Silver & Gold
16.. I Love Apple (Steve as Neville Chamberlain)

---
Village Voice on Maxwell show
Hey, the Mekons Are in Town
"You know where Mitch is," sneered Sally Timms at Maxwell's on Friday, after a catcall for the Mekons' trickster roadie. (Mitch's visa was lost in the Court of St. James's.) "You were all at the show last night."
Only a band this confident in our devotion would propose an idea as bad as the Mekons' current tour, in which the far-flung fellowship survey their 25-year career over three nights (art exhibit and lyric-reading included). For a few minutes Thursday at CBGB, we convinced ourselves it was a put-on. But alas—just like my 15-year-old mix tape, they opened with their very first single, the anti-consumerist "32 Weeks" (which sometime cover band the Sadies had walloped an hour before).
Here's to a band that has it all: tunes, creativity, humor, politics, brains, reliability, sex appeal (well, Sally and Tom Greenhalgh, anyway). But their charm is predicated on their celebration of their limits, commercial and technical. And despite legendary banter (Jon Langford on gentrification: "CBGB has toilet paper now? I'd brought my own leaves."), they seemed (at least on the first two nights) uninspired by becoming a human box set. It's not like they've disowned previous incarnations, though; as their musicianship has deepened, they've only made the old stuff sound better.
That fighting spirit was evident at Galapagos before the Maxwell's show. Jon's impassioned take on the 1982 rant "The Building"; the beloved "Beaten and Broken," powered by Steve Goulding drumming a barstool with rolled-up Onions; a hot-rod "Jerusalem," from the new one: Now that's exhibition! A rambunctious tot cheered. "Can I see your ID, mate?" Jon asked. "I thought this gig was over-forties only." A classic Mekon quip for their first new fan in years.
—Josh Goldfein

---
Saturday, 21 September: New York City, NY Mercury Lounge


early show 6pm

Neil deMause wrote for Club.Mekon - the mailing list:
THURSDAY: CBGB's is past its prime. Despite Jon's quip that "even CBGB's has been gentrified - there's toilet paper in the bathroom," it's still a hole, and not even a charming hole at that since all the energy drained out of it about 20 years back. The one saving grace: there's ample room up front, while in the back you're likely to get stuck sitting on top of the pool table.
After a brief set of early Mekons tunes by the Sadies - er, I mean "Eagle Bower" - the Mekons (Jon, Sally, Tom, Rico, Steve, Jessica this night) took the stage in a reasonable facsimile of 1977 drag: Jon and Sally both sported black CBGB's t-shirts, while Rico wore a black suit jacket over no shirt, with gaffer's tape for a collar. It was immediately apparent that this was not just a Mekons show by an Event: in just my vicinity near the stage, I spotted two people scribbling in notebooks, two with still cameras, and one videotaping. The Mekons have been the subject of an unprecedented media blitz in New York the last few weeks - the New Yorker ran a cartoon of the band last week, and the New York Post, of all places, ran two separate stories previewing the shows - and it was clear that a lot of people were there to document the shows, either because they were being paid to or not.
I'm the worst person to give recaps of the music they played this night, because while I've listened to most of the early Mekons stuff, I don't know song titles for shit. Also, they put a new spin on a lot of the material, with Sally's rendition of "Corporal Chalkie" especially nice. It was a fairly short set - about an hour and 15 minutes - but given the limited amount of songs to draw on and the fact that we were all saving our stamina for the next two nights, that was about right.
Oh, yes - and Kevin Lycett showed up, and played and sang on several songs. He looked simultaneously sheepish and having a ball.

HIGHLIGHTS:
* "Cast your minds back to the time when the Mekons were just a bunch of shambling inept drunks who'd get up on the stage and didn't know what they were doing."
* Jon: "Fuck Paul McCartney!" Sally: "I already did."
* "Kevin Lycett, on lead guitar! HE WROTE THIS SONG!"
* Jon's drum solo.
* "Outer space is a really nice place. DAN DARE! OH YEAH!" (And Sally's blissful expression during.)
* "Where's Mitch?"
* And, of course, meeting Lynn John and Jesse from this list at last.

FRIDAY: When I asked a friend about Galapagos, the Williamsburg art space where the Mekons were to hold their art show/acoustic performance, she said, "It's actually very nice: First you walk in across this moat..." Sure, enough, there was a moat, over which was projected video of the ill-fated spinning head from the OOOH! exhibit. Beyond this, in the bar area, were the surviving pieces of artwork from the exhibit (various noted heads of famous headless people - Jayne Mansfield, St. Denis, etc. - surrounded by snippets of Mekon lyric), along with original artwork and photos that appear in the lyric book "Hello Cruel World."
Beyond *that* was a small auditorium, where a sea of folding chairs had been set up, which were completely inadequate to hold the throngs that pressed their way in. (Overcrowding was to be a theme of the Mekons' visit to NYC.) As per the setlist Nobby posted, the band alternated between performing songs (accompanied by Jon's electric guitar, Rico's accordion, Jessica's fiddle, and Steve playing an upholstered chair with two rolled-up copies of The Onion) and doing readings of lyrics from the book, in often hilarious fashion. (You can tell Jon's been getting a lot of practice doing bedtime readings.)
This may actually have been my favorite show of all: the band was loose and funny, the songs sounded great in stripped-down form, and the readings were consistently entertaining. (Listening to the recording later, Mindy remarked, "You know, 100% Song really works better as poetry.") And best of all, as befits all us aging camp followers, we got to sit down and rest our aching bodies for the long night ahead.

HIGHLIGHTS:
* A mostly a-cappella "Thee Olde Trip to Jerusalem," with "ooohs" courtesy of Steve and handclaps from Sally and Tom.
* Steve's oratory might on "100% Song" and "I Love The Apple."
* "Yay!" says the Youngest Mekons Fan. Jon: "Can I see your ID, mate?"
* Rico: "I'm getting paid to kill time." Sally: "We're getting paid to kill you!" Rico: "Not enough, apparently!"
* The Mekon scrum to decide what lyric to read next.
* "Where's Mitch?"
* Sally videotaping much of the action from the stage, including what must have been a lovely closeup of Tom screwing up the lyrics to "Beaten and Broken."

LATER THAT SAME NIGHT: The Galapagos set ended at 8:45; the Maxwell's show was set to begin with the Sadies going on at 10. That is not, to put it mildly, a leisurely pace to get from Williamsburg across Manhattan and through the tunnel to Hoboken. By the time we got into Maxwell's, the Sadies had just launched into their first song - I think it might have been "Blow Your Tuneless Trumpet" - and the place was already mobbed.
(A word on the Sadies: though they got better as the shows wore on, I've gotta say that some of their renditions, while faithful enough, were sort of lacking in, shall we say, panache. Their cover of "The Ballad of Sally," which sounded like they learned it from a 45 record they'd mistakenly played at 33, was especially unintentionally funny - or maybe it was some kind of Canadian "humour" with which I am unfamiliar.)
This, it was clear, was the show not to be missed: you could tell from the way the median age in the crowd was about 10 years above what it had been at CBGB's, reflecting who bought their tickets early and often. I didn't take a poll, but I'd be willing to bet that a fair percentage of those in attendance had been there for much of the original 1985-91 period, including possibly the Mekons' very first New York show, at Maxwell's in 1986.
With the room so jammed, I was relegated to the riser at the back, which actually turned out okay - after years of pressing up against the Maxwell's stage and hearing nothing but monitor backwash, I was surprised at how great the mix sounded from the back of the room. And the song selection... what can I say? As much as I love "OOOH!", these were the songs that made me fall in love with the Mekons, and there's nothing like reexperiencing first love:
Hard to be Human
Chivalry
Oblivion
Lost Highway
Big Zombie
Wild and Blue
Fantastic Voyage
Abernant 1984/85
Fletcher Christian
Bastard
Flitcraft
Prince of Darkness
The Curse
Memphis, Egypt
(encore:)
Sweet Dreams
Shanty
Beaten and Broken
Ghosts of American Astronauts
Heaven and Back

Sure, there were omissions - no "Blue Arse," no "Sorcerer," not a thing from "Rock n Roll" except for "Memphis, Egypt" ("Club Mekon" was on Jon's written setlist for the encore, but never actually got played) and nothing at all from "Honky Tonkin" - but it's really impossible to complain. The band was as tight as I'd ever heard them, the stage patter was hilarious without distracting too much from the flow of the music (Jon in particular walked the fine line between drunk-funny and drunk-immature with style and grace), and the crowd was lovingly soaking it all up, catching each other to keep from falling as we danced stumbling atop the risers. I didn't sleep that long after finally arriving home in Brooklyn close to 3 am, but I slept well.

HIGHLIGHTS:
* Jon's "time spectacles": "I can see Ronald Reagan! He's in the White House, breast-feeding Colonel Khadafi!"
* "It's 1989: We're signing to A&M Records. There's a contract, and a lot of food. Here's the contract; there's the food. What's this in my hand? A lobster claw. I'm signing our contract in lobster's blood!"
* "Dennis and Lois are off following the Strokes? I like the Strokes. I really like their early stuff."
* Jessica Billey playing a fart of a violin stroke during the quiet bit of "Prince of Darkness," and Sally laughing so hard I thought she'd pee her pants.
* "Beaten and Broken" for the second time in one night, in two different states.
* "Where's Mitch?"
* Standing on the riser at the back of Maxwell's, swaying along with a row of strangers to "Shanty," wondering why anyone would want to be anyplace else.

SATURDAY: A word of warning: what I am about to attempt to describe is, in fact, untranslatable into words. Some moments just have to be experienced to be ... well, let me try.
I skipped the early show at the Mercury Lounge, figuring five shows in three nights would be a bit much even for me. According to Dennis and Lois - who, it turned out, had actually been off selling merchandise for the Doves, another favorite band of theirs - five shows in three nights was a bit much for some Mekons as well, and the early show ended up a mix of the songs from the various nights, with some readings from the book thrown in as well.
For the late show, again the place was packed, and again the band was in fine form. Sleep deprivation was clearly taking its toll, though, as the setlist began fraying at the seams almost instantly, with the stretches between songs getting longer and longer... and then Susie showed up.
There had been sporadic Susie sightings earlier in the week, so it wasn't a total surprise when she and a friend shoved their way through the crowd and set camp right in front of Sally, about three feet to the left of yours truly. This, clearly, was the moment the night was waiting for so that all shambles could break loose. One moment Sally was making vegetable faces (don't ask - remember "untranslatable into words"?) and getting mad at Susie for giving away the answers to what they represented, the next Tom was stopping mid-"Stone Head" to announce that he no longer liked singing it and would only consent to singing the chorus, the next Susie was up on stage, dancing with Tom and mussing Steve's hair while he tried, laughing, to play drums, and laughing uproariously at every one of Sally's pointed barbs about her. ("How can you be embarrassing us? You're not playing your instrument.") Did I mention it was a full moon?
Jessica Billey turned over her violin to Susie for the encore (prompting another Sally story of how Susie always complains about her violin levels then realizes she's forgotten to turn her amp on; more peals of laughter from Susie), and the Mekons finally broke with the rigid time-period constraints, playing "Last Dance," "Heaven and Back," "Where Were You," "Curse," and "Memphis, Egypt." (Most of us thought at the time this was a concession to Susie, but in fact all these were on Jon's written list.) Finally, what must have been more than two hours later, we slowly filed out, past some extremely bedraggled looking band members sitting drinking at the Mercury Lounge bar, with Sally especially looking all too aware that they'd have to get up in the morning, drive to D.C., and do it all over again. And yet they stayed, happily signing copies of the lyric book and chatting with those who remained.

SETLIST:
Thee Olde Trip to Jerusalem
Last Weeks of the War
Tina
Lone Pilgrim
Insignificance
Powers and Horrors
Hate Is the New Love
Take His Name In Vain
Millionaire
Stone Head (bits of)
The Bomb
Orpheus
Neglect
I Love The Apple
(encore:)
Last Dance
Heaven and Back
Where Were You
Curse
Memphis, Egypt

HIGHLIGHTS:
* Jon and Steve demonstrating how the hero of "Blue's Clues" can locomote about just by pumping his arms and letting the scenery scroll by behind him, while grinning maniacally. (It's not actually clear if grinning maniacally is an important element of this, but Steve sure thought it was.)
* Sally (to Jon): "What kind of animal are you now? A yam?"
* "Where's Mitch?" Another audience member: "In London!" Sally: "THANK YOU."
* Jon signing my book with a cartoon of a flaming skull head, explaining, "I made you an odd little drawing."
Neil


---
Sunday, 22 September: Washington, DC Black Cat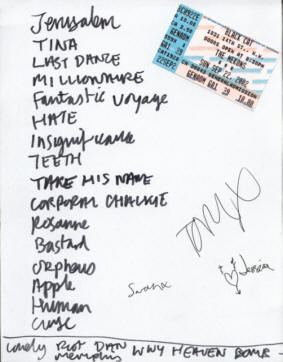 Thee Olde Trip to Jerusalem
Tina
Last Dance
Millionaire
Fantastic Voyage
Hate is the New Love
Insignificance
Teeth
Take His Name In Vain
Corporal Chalkie
Rosanne
Bastard
Orpheus
I love Apple
Hard To Be Human Again
The Curse of the Mekons
:: Encore 1 ::
Powers & Horrors
Ghosts of American Astronauts
Lone Pilgrim
Memphis, Egypt
:: Encore 2 ::
Lonely and Wet
Dan Dare

---
Monday, 23 September: Cleveland, OH Beachland Ballroom

Sadies:
Where Were You? • I Love Apple • Blow Your Tuneless Trumpet • What Are We Going to Do Tonight • Dan Dare • (read) Never Been a Riot • (read) Roger Troutman • (read) Polaroid (I Don't Own I Only Dote) • Blue Arse • Ballad of Sally • Funeral • Amnesia • [with Jon] Looking Good for Radio • Memphis, Egypt

Mekons:
Thee Olde Trip to Jerusalem • Tina • Millionaire • Insignificance • Hate Is the New Love • Fantastic Voyage • Take His Name in Vain • Teeth • Corporal Chalkie • Beaten & Broken • Rosanne • Orpheus • I Love Apple • Hard to Be Human • The Curse
encore:
Powers & Horror • Wild & Blue • [with the Sadies] Fight the Cuts • Dance & Drink the Mekons • Dan Dare


---
Jon, Rico and the Johnsons at the Mercury Lounge, Oct 6, 2002

Dear me - just when you think you've heard all the possible permutations of Jon Langford's oeuvre, out pops another one, like so much whack-a-mole. I'd never heard the Johnsons Big Band except on some live CDs I'd got from Nobby, so I didn't know what to expect from this show, especially when, at the last Mekons show, Steve said something about "we'll be playing with a horn section and I'm not sure who else." I figured at worst it'd be entertaining mayhem.
I missed most of the Johnsons' opening set thanks to the ever-transmogrifying Q train*, but was front and center for the start of Rico's solo set. (It was easy to be front and center, as the show was far from sold out - did everyone blow their Mekons allowance last month, perhaps?) As when he opened for Christy McWilson back in April, Rico eschewed the accordion for acoustic guitar and harmonica, playing mostly songs off his recent Bloodshot EP and material that presumably will end up on his next full-length album. (Rico noted at one point that The Onion wrote he "had two solo CDs that are sadly overlooked - but what they didn't realize is I have three, so they overlooked that one...")
Then, after a few songs, Rico brought out the Johnsons Big Band - the aptly named Johnsons Big Band, with something like nine or ten members, counting the horn section and the tympany player - up on stage for "Working Class Hero," and *wow*. I've noted before that while I like Rico solo, I like him exponentially more with a backing band, and this was quite a backing band: guitar, upright bass, the horns, harmonica, organ, two backing vocalists. They did several songs in this lineup, and sounded absolutely great. The setlist:
Cold Comfort
The Ballad of Allan O'Brien
5000 Miles
River Runs Dry
Calling Me Back
Big River II
Working Class Hero
Travelling on the Dark Side
On The Streets
Merseysong

Next up was Jon, backed by the ever-present Little Willy (I shouted "Yay!" when he was introduced but no one heard me) and the Johnsons' bass player.
Setlist:
Tubby Brothers
Anything Can Happen
Tom Jones Levitation
Little Bit of Help ("This is a new song, but you've probably all heard it before, 'cause my new songs stay new for like five years")
Verdun
Pill Sailor
Death of Country Music
Millionaire
Tina
Blink of an Eye (new Wacos song - major "chinka-chinka-yeehah" action)
Joshua Gone Barbados
A Rose From Your Garden (Rico)
Deep Sea Diver
It's Not Enough
Nashville Radio
(encore:)
Walking on Hell's Roof
Wicked Midnite
Big River
The full allotment of Johnsons came up on stage starting around "Death of Country Music," and stayed on through the encore (with Rico wandering on and offstage, and Steve taking on tympany duty at one point), and completely rocked the house. No offense to the Sadies, but the Johnsons are the best Fake Mekons I've yet to hear.
An added bonus was converting two Mekons virgins who'd joined me for the occasion. ("Are you going to the Jonathan Langford show?" was how my friend put it when she called on Friday.) They had a great old time being introduced to our odd little subculture, one asking me in the cab back to Brooklyn, "Are the other Mekons as filled with charisma as Jon Langford?" That, I assured her, was an impossible task - but damned if some of them don't come close.
Another happy convert, then. Just you wait - another 25 years, and the Mekons will be ready to bust out *huge*...
Neil

---
25th anniversary tour: Europe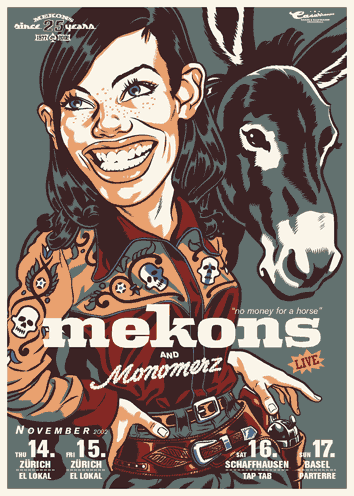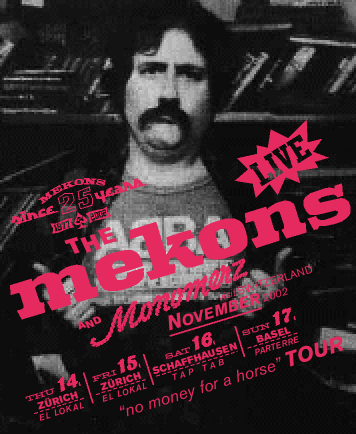 fri nov 8 Crossing Border Amsterdam
fri 8 Crossing Border Holland (book reading)

Crossing Border Festival announces 2 shows on Friday:
Mekons are performing on friday Melkweg Oude zaal 23:45 - 0:45 and
Jon Langford is performing on friday Melkweg Filmzaal 21:00 - 21:30

From CLUB.MEKON:

europe has them back - for a while. First in a row was the Amsterdam show at the Melkweg yesterday.
I'll write more tomorrow about the show, about really new stuff on the website etc. (now wacobrothers address you see below.)
So for know you have to be satisfied with just the setlist of the show.
they did a very loose reading and unplugged session plus a very tight show. And what's more important for the next day: the classic line-up incl. Susie and Lu, though classic doesn't mean to be good, as jonny pointed out.
Thee olde trip to Jerusalem
Tina
Millionaire
Big Zombie
Fantastic Voyage
Take his name in vain
Teeth
Corporal Chalkie
Beaten and broken
Now we have the bomb
Opheus
Gin and it
Hard to be human again
The Curse
Powers and horrors
Memphis Egypt
Dan dare
---
so the Mekons played in Amsterdam last night. apparently, they're also doing some sort of reading there today, but i did not stay around for that. instead, i decided to drive back home after the gig ended at about 1am, so i got home at 4am this morning. well, as you.the Mekons appearance was part of the "crossing border"-festival, which meant that lots of stuff was happening at once. not sure what was going on while the band did their "reading"-thing in the cinema upstairs, but too much it seems, as there wasn't very many people there. but it was fun enough, some lyrics read from the book (including a short dispute between sally and jon as to whether "the ballad of sally" is in the book and what they opening lines would have to be), some songs, "the building", "last dance", some others. rather bizarre, but actually very entertaining - absolutely unlike
Heather Nova's attempt at "poetry" a few buildings down the street. Bermuda's finest (ahem) also read some of her "poems" in a rather nice setting (old theatre) as part of the same festival, but god, that was schoolgirl-writing at its worst, made even worse (if that's possible) by the seriousness with which la Nova presented her banalities. yeah, whatever.the Mekons returned to the stage a bit later, this time in a different part of the same building as before, and played a great set - but again to a rather small, if enthusiastic audience. _Doves_ were playing in another part of the building, that might not have helped. but the show was great, if somewhat lacking in the audience-interaction-department. the dutch apparently like the music, but they're not that keen on the jokes. or something. if there was any dutch people there, that is - it's Amsterdam, after all. how many Mekons songs are there that mention the city of Sheffield, anyway ? only two ? well, both were played, then. and some others, including the two with the dance routines. if you only get to see them every 2 years or so, it's not that bad. and they played "memphis, egypt", which positively rocked.apparently it was broadcasted on the radio, i only have my audience recording.Mark
---
Here's the setlist for the Amsterdam reading:
Hard to be human (Tom)
Can't find my money (Jon)
Never work (Sarah)
Jerusalem
100% song (Steve)
Orpheus
Keep on hoppin (Sally)
Stonehead (Lu)
Building (Jon)
Fantastic Voyage (Rico)
Last dance
Prince of darkness (Susie)
Curse (Tom)
Powers and horrors
Dan Dare my comment to the show:
It was a great one. Mark said, it was not bad. I disagree: imo it was really good. Waoit a week and you can download it (see other mail) I had to work till 5pm and then drove toam,sterdam along witgh my daughter Sarah, it should be here first Mekons show. Almost immediately i met Ferl from Vienna an we went along through the whole enenin, whic was fine from my side. The poor visited reading led Jonny to say: Greetings to you both. Before we went to the filmzaal, where the reading was, I had seen David Thomas of pere UBu running around - with no aim or purpose it seemed. His purpose was the Mekons, as was ours. So there weren't many, but huge ones <g>. The reading was funny, wrecked and most entertaining. They completely wrecked Dan Dare, Rico being the only one to be alert. The rest was more or less fooling, which was ok with me. Sally didn't what to read, so she asked for wishes - which brought up: Wild and blue (no mekons song) and Ballad of sally (which isn't in the book.) They didn't know that and were unable to read the book, which has an alphabetic index in the beginning and is in alphabetical rder anyway. so they started to look for thwe first-line-index. Jonny found a song which started: People say I'm happy, but saly didn't agree and said: People say I'm frightening, which is the first line for Ballad of Sally. The other song being Can't find my money, which Jon had already read. Next turn was that she search a song for random (if you can
say so) and she found 'Keep on hoppin'. They thought that was ok and on went the show.
as I said: quite entertaining. If you ever hear the recording, it's my daughter giggling all the way. I'm grunting and Ferl is mumbling. The seats in the locatipn were fine too, so it was really comfortable.Nobby




thur nov 14 Zuerich Switzerland

El Lokal & Monomerz
fri 15 Zurich, Switzerland
El Lokal & Monomerz
sat nov 16 Schaffhausen, Switzerland
Taptab
sun nov 17 Basel, Switzerland
Parterre Setlists:
Schaffhausen Switz., Nov 16th
Thee Olde Trip to Jerusalem / Tina / Millionaire / Big Zombie / Last Dance / Take His Name in Vain / Bastard / Corporal Chalkie / Beaten & Broken / Now We Have the Bomb / Rosanne / Orpheus / Neglect / Hard to Be Human / Curse (feat. Mitch) / / Encores: / / Powers & the Horror / Memphis, Egypt / Dan Dare / Where Were You

Basel, Switz., Nov 17th
Thee Olde Trip to Jerusalem / Tina / Millionaire / Last Dance / Bis Zombie / Bastard / Corporal Chalkie / Beaten & Broken / Now We have the Bomb / Lonely & Wet / Orpheus / I (Heart) Apple / Hard to be Human / Curse (feat. Mitch) / / Encores: / Tom Reading Out in the Night from the Mekons-Book / Wild & Blue / Memphis, Egypt

From Swiss papers:

© Tages-Anzeiger; 2002-11-16; Seite 51
KulturLegendenSaloon, Pub und Dancehall, alles vereint: Die Altpunker The Mekons gastierten im El Lokal.
Von Philippe Amrein
Wenn sich Punkangestellte zwischen Johnny Rotten und Jon Langford entscheiden müssten, sollten sie Letzteren zum Vorgesetzten wählen. Denn der Mann mit dem Schnurrbart und der gelichteten Silberfrisur verfügt auch nach einem Vierteljahrhundert als Leader der Band The Mekons noch über alle Attribute, die ein Mann in seiner Position benötigt: harte Gitarrenfinger, lockeres Mundwerk und eine gesunde Trinkfreudigkeit. Zudem trägt er hinter seinem Bierbauch ein verdammt grosses Herz.Diese Grossherzigkeit ist es denn auch, was die Mekons so einzigartig macht.
Hier finden fast sämtliche Stilrichtungen ihren Ehrenplatz, man baut verhallten Reggae mit Bratpfannen-Punk zusammen, vereint Stadionrock mit Gospel und greift zwischendurch flink in die Country-Kiste. Die sechs Stilbrecher aus Leeds und Chicago verteilen die Songs aus ihrer langen Bandgeschichte mal pfeilschnell, dann wieder wundervoll wankend in die Ohren der zahlreich aufmarschierten Fans, gestützt von Schlagzeug, Bass, Gitarren, Akkordeon und von Gesangsstimmen, die jede Leber zum Schmelzen bringen. Die Party purzelt ihnen aus den Händen, und wenn Sängerin Sally Timms mit selbst gestrickter Laszivität und ökonomisch eingesetzter Gestik ans Mikrofon tritt, beginnt der Raum unverzüglich zu wackeln.Kassettenware für BulldozerfahrtenSchalk und Punk der frühen Jahre sind den Mekons im Verlauf ihrer ausgedehnten Karriere nie abhanden gekommen, und so folgen sie auch im neuen Jahrtausend der alten Devise: gut klingen, swingen, Witze reissen. Jeder Song hat Hymnencharakter, noch immer macht die Truppe eine Musik, die man gerne im Kassettengerät mitnimmt, wenn man mit einem Bulldozer die Appalachen überquert. Und als sie zum Abschluss ihres grandiosen Auftritts
noch einmal loslegen wie die Kesselflicker, gibt es keine Fragen mehr.
Verschleisserscheinungen? Keine.

© Wochenzeitung; 2002-11-14; Seite 27, szene 14. bis 20. November

The Mekons auf Tournee in der Schweiz
Von rabauziger Schönheit
Gelb auf schwarz geschrieben sind die Begrüssungsworte der Mekons-Website
www.ellipsis.com/mekons/ : «Tony Blair is Evil».
25 Jahre alt sind sie jetzt
geworden, die Mekons, und noch kein bisschen weniger böse.Die neueste CD «Oooh! (Out of Our Heads)» der Mekons beweist auf freudvolle
Art, dass die Band weiterhin imstande ist, dreckigen alten Folk 'n' Roll mit
einer Frische zu präsentieren, als hätten sie ihn erst gestern erfunden. Wer die Band in einer ihrer mannigfachen Formen jemals live gesehen hat, hegt keinen Zweifel daran, dass sie ihren einzigartigen Swing auch diesmal wieder in seiner ganzen rabauzigen Schönheit auf die Bühne bringen wird.Politmusik fällt, grob gesagt, in zwei Lager. Auf der einen Seite stehen die pathosgetriebenen Männer und Frauen aus der Folk-Tradition, die Humor für Volksopium halten und Rock 'n' Roll erst recht. Auf der anderen Seite finden sich die furiosen Rocker, die mit ihren radikalen Refrains die goldenen Kälber der bürgerlichen Nation reihenweise abschiessen, aber ins Rotieren geraten, wenn sie ein Liebeslied kredenzen sollen oder eine schlichte Ode ans Bier. Die Mekons waren immer anders. Wenn die Kunststudenten aus dem> nordenglischen Leeds am Anfang auch noch kaum einen graden Ton aus den Instrumenten brachten, so sahen sie bereits damals kein Problem darin, Politpointen mit Pints, Zartheit mit Partys und «Frisch-von-der-Leber-weg» mit Weltperspektive zu vereinen. Schon ihr erster Streich kam einer Nestbesudelung gleich. Wagten es Tom Greenhalgh und Jon Langford doch, das weitherum zum punkschen Kirchenlied erhobene «White Riot» von The Clash mit der Single «Never Been in a Riot» zu kontern. Dem liessen sie noch im gleichen Jahr 1978 das tragisch-trashige Liebeslied «Where Were You?» folgen - nicht nur in den Annalen des John Peel ein essenzielles Stück Punkemotion.
Sofort winkte natürlich ein Plattenvertrag, natürlich bei Virgin Records. Greenhalgh/Langford zogen Verstärkung herbei, um das Debütalbum «The Quality of Mercy Is Not Strnen» einzuspielen. Die verfrühte Karambolage mit professionellem Aufnahmestudio samt Edelkoch und Silberbesteck sowie mit einer Plattenfirma, die sich bald nicht mehr für die Band interessierte, brachte ein eher verklemmtes Album hervor und lehrte die Kombo, dass die Do-it-yourself-Methode ihren Neigungen und Fähigkeiten besser entsprechen würde. Ein zweites Album nahmen sie in einem Studio bei Halifax auf, das sie nur wegen seines Billigpreises aus dem Verzeichnis gefischt hatten. Es war ein Zufall, der die Weichen für eine der aufregendsten Bandgeschichten Britanniens stellen sollte. Denn das Studio gehörte Bill Leader, einem führenden Produzenten und Plattenfirmenkapitän der englisch-traditionellen Folkszene. Er vermochte die Band davon zu überzeugen, dass ihre spontan musikalische Anschauungsweise und ihre melodischen Neigungen einen Bogen schlugen weit zurück in die Geschichte der britischen Folkmusik. Jahre bevor die Pogues Ähnliches kreierten, warfen die Mekons nun allerhand folkigen Pfeffer auf den Braten. Ihre Auftritte platzierten sie oft im Rahmen von Benefizveranstaltungen für Antirassismus-Organisationen und streikende Bergwerksarbeiter.Der Zuzug von Sängerinnen, Geigerinnen und Exmitgliedern von Bands wie Magazine, Pretty Things und Rumour erweiterte die Möglichkeiten dermassen, dass es - als sich Greenhalgh und Langford in den mittleren achtziger Jahren in Johnny Cash, Gram Parsons und Hank Williams verliebten - keine Schwierigkeiten bereitete, auch die Stimmung amerikanischer Traditionen einzuverleiben. Die gloriosen Albumresultate hatten Titel wie «Fear and Whiskey» (1985), «The Mekons Honky Tonkin'» (1987) und «So Good It Hurts» (1988). Der brachiale politische Erfolg von Margaret Thatcher und den Tories zeitigte einen kuriosen Effekt auf den britischen Zeitgeist: Auf einmal wollte man von allen KünstlerInnen, die sich gegen die Tories gewehrt hatten, nichts mehr wissen, gerade so, als wäre mit ihnen ein Albtraum verbunden, der den Spass am neuen Konsumboom thatcherscher Prägung vergraulen könnte. So machten die amüsanten, permabesoffenen Pogues Karriere, während die Mekons ihr Publikum auf einmal vornehmlich in den USA fanden, wo Greil Marcus sie für eine der wichtigsten Rockbands der Neuzeit hielt. Jon Langford und Sally Timms zogen später nach Chicago, Tom Greenhalgh blieb in London, Kevin Lycett in Leeds. Nach einigen weiteren unangenehmen Erfahrungen mit Plattenfirmen hat die Kombo seit geraumer Weile beim Chicagoer Label Quarterstick ein solides Daheim gefunden. Von hier aus hat sie seither eine Reihe von immer wieder überraschenden Alben veröffentlicht - darunter eines mit der Schriftstellerin Kathy Acker - und mehrere multimediale Kunstinstallationen zusammengestellt. Die Entstehungsgeschichte ihres neuesten CD-Wurfes «Oooh! (Out of Our Heads)» hat ihre Wurzeln in einer solchen Installation. Hierfür taten sich die Mekons mit der im englischen Sheffield beheimateten Gruppe Redundant Technology Initiative zusammen, die mit Recycling-Computern arbeitet. Diese konstruierte einen sich drehenden Riesenkopf, aus dem ein von den Mekons eingespielter Soundtrack erklang. Die Ausstellung wurde von Hooligans zertrümmert, als sie in Manchester gezeigt wurde. Auf der CD finden sich die liedhaftesten Stücke, die daraus hervorgegangen sind. Sie drehen sich - wie die Ausstellung - um Themen, welche die Mekons schon von jeher interessieren: Geschichte, Mythen, unkonventioneller Widerstand, Lieder, die noch gesungen werden, lange nachdem der Kopf, aus dem sie zuerst kamen, gerollt ist ...
Hanspeter Künzler

St. Galler Tagblatt; 2002-11-15 KulturHauptblatt
Stets ein paar Ideen voraus
The Mekons, Rock- und Künstlerkollektiv aus Leeds, feiern ihre silberne HochzeitVon Punk bis Country, von Malerei bis Literatur und Oper gibt es nichts, was die Mekons[100] nicht gemacht hätten. An diesem Wochenende spielen sie unter der Flagge«Since 25 Years» in Schweizer Klubs. Marcel elsenerLegendenbildung am guten Beispiel. Es muss 1991 gewesen sein. Vor der populären Sommerbühne im New Yorker Central Park summten gut zwanzigtausend mit Suzanne Vega die Melodie ihres Welthits «Tom's Diner». Vor allem den Eingeborenen unter ihnen tat das wohlige Erschauern gut, es stimmte so harmonisch. Einige Stunden zuvor hatten irrwitzige Briten den Park erschüttert; nicht gewalttätig, aber doch für amerikanische Verhältnisse auf eine Art provokant, dass man froh war um die nette Frau Vega aus der Nachbarschaft.Die Mekons[100], als künstlerisch ambitionierte Altpunks angekündigt, brachten an diesem schwülen Sonntag all das mit, was man knapp Grunge zugetraut hätte: aufrichtige Rock'n'Roll-Energie, Lärm, Melodien und garament Sex-Appeal. Gepaart, und das war wohl der Schock, mit Intellekt, Witz und linkspolitischem Bewusstsein. Die Band spielte ihre Folkpunk-Hymnen in den Gruselmasken amerikanischer Präsidenten, machte aufrührerische Ansagen und liess im Fall ihres Gitarristen gar die Zunge über die Saiten fahren - wie einst Jimi Hendrix.Mittlerweile sind ein paar Jahre ins Land gegangen und die Mitglieder jenseits der vierzig - doch von Nachlassen keine Spur. Trotz transatlantisch verstreuter Wohnsitze hat sich der lockere Band-Verbund um Jon Langford, Sally Timms und Tom Greenhalgh gehalten. Das Geheimnis ist die Freundschaft, aber auch die Ausdauer des Widerstands: «The battles we fought were long and hard, just not to be consumed by Rock'n'Roll», heisst es bekenntnishaft im Song «Memphis, Egypt» auf ihrem besten Album «Rock'n'Roll».
Mekons-Geschichten zu erzählen gäbe es unzählige, beginnend mit der Gründung 1977 an der brodelnden Universität Leeds, wo auch die Gang of Four zusammenfindet und der Situationisten-Professor Tim Clark lehrt, vorläufig endend mit den ausufernden Umtrieben ihrer Mitglieder, allen voran Langford, einst Produzent von The Ex und (Böse Bub) Eugen, der seit 1992 in Chicago mit den Waco Brothers grossartigen Country spielt und jüngst mit den Pine Valley Cosmonauts eine feine Platte gegen die Todesstrafe aufgenommen hat.
Der Heldenstatus ist besiegelt, die Stellung im Markt-Offside auch. Koryphäen der Rockkritik wie Lester Bangs und Greil Marcus, beides erklärte Fans, haben seitenweise über das Phänomen eines verschworenen Haufens geschrieben, der «immer ein paar Ideen mehr» hatte. In einem Herbst, in dem sich bald jeder Newcomer auf die Buzzcocks und Joy Division beruft, die originalen Fehlfarben mit neuer Platte touren und sich gar die Könige des Art-Punk, Wire, live zurückmelden, kommen die Mekons gerade recht. Im Jubiläums-Rucksack Dutzende geheimer Hits sowie das Album «Oooh», thematisch diesmal William Blake und obskuren Sekten wie den Muggletonians verschrieben. Der Auftritt wird wie gewohnt der einer fröhlich-polternden, unberechenbaren Heilsarmee sein.Mekons, «Oooh», Quarterstick/Trost.

| | |
| --- | --- |
| Pictures from Schaffhausen / thanks to Dieter | |
| | |
| | |
mon 18 nov Innsbruck, Treibhaus
tue 19 nov Wien, Chelsea Club

thur nov 21 Leeds - Irish Centre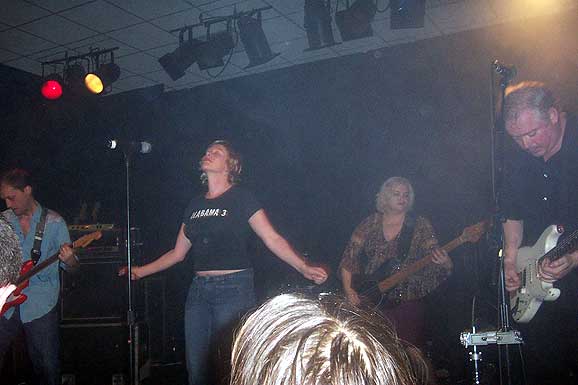 > How's Leeds doing these days, everybody's sleeping??

Recovering!
The first shock was that the Irish Centre was packed - I expected the normal Leeds/Mekons crowdlet down in the lower hall bu the whole place was opened up and heaving (not literally - we can hold our drink now). The sound-board owners were resistant to wiring my minidisc in unless I found the 'manager' - needless to say I didn't find him so I resorted to microphone. What was annoying was that halfway through the Mekons set it was announced that the sound man was a now bald Walter Jaquiss (son of Rico) who used to go to the school I teach at so I could have button-holed him. Ah well.
The Three Johns were relentless with singer John wailing like a dervish. Finished with a cover of Twentieth Century Boy (T.Rex) Chumbawumba were boppable in their cartoon agit-prop way. They started their set by pretending to be the Mekons and covered Memphis. They Tubthumped (only the third time I've heard a top ten single at a concert - following Ride a white swan and Radar Love) The Mekons (minus Susie and Lu) but featuring Ken Lycett reading Trouble Down South and singing Never been in a Riot.
Much fun was had and many a stage light glinted off a balding head.

and yeah, the three johns were great, though i wish they'd played more - saw them several times in the early eighties and they've been sorely missed in the meantime... more would be great, but talking to john at brighton seem unlikely - though he did enjoy it. (and hyatt's another bloody academic too by the way!)
brighton show was great - better than leeds in my opinion, the band seemed more relaxed, more chat between songs, and they did two sets... did anyone get a recording?
russ down south

THE MEKONS/ CHUMBAWAMBA / THE THREE JOHNS
Leeds, Irish Centre
21.11.02

A nice irony: your reviewer's spent most of the day travelling here from County Cork, just to make a beeline directly for a venue featuring the Claddagh Bar and the Avoca lounge amongst other notables. Go figure, I guess.

Still, Yorkshire's biggest (and coolest) working man's club (forgive my anti-PC sins) is as good as any place for the wonderful MEKONS 25th anniversary, with the original sextet taking the UK boards for the first time in donkey's years.

Much more about THE MEKONS later, but – lest we forget – Jon Langford was also a crucial component of 80s art-rockers THE THREE JOHNS, who are doing their first show for 11 years tonight.

And it's a mixed blessing, frankly. Although they open with a razor sharp "AWOL", their abrasive, drum-machine infused sound hasn't weathered the nostalgia squall too well and the caustic, Lydon-esque vocal whine grates rapidly. An effective "Death Of the European" raises the pulse rate, but although I'd desperately wanted them to be great, for most of their 40 minutes they sound like they look: ageing blokes who should've knocked it on the head 11 years back. "See you in 11 years," they cry as a parting shot. Hmmm…don't ring us, guys.

CHUMBAWAMBA, by comparison, have never ceased to be relevant, and this year's "Readymades" album is another triumph – albeit a slightly quieter one than usual. With crazy cozzy changes aplenty and a disciplined tag team approach to vocal duties, they're in party mood tonight, pretending they're The Mekons throughout and casually knocking out a set with nods to both their new album and their (yikes!) greatest hits.

Highlights are many and varied. "I'm With Stupid" is punchy and no-nonsense; "Jacob's Ladder" sounds especially resonant in the current worldwide crisis situation, with Danbert singing the "and they sent him to the war to be slain" sample live; an acoustic'n'gentle take of "Don't Try This At Home" brings Lou stagefront and the inevitable "Tubthumping" and (hurrah!) "Enough Is Enough" provoke the expected moshpit mania.

Typically, though, CHUMBAWAMBA have strength in reserve and even the less obvious material – the Gary Rhodes-bashing "Passenger List"; Boff's surprisingly tender C&W lullaby "Wild And Blue" and the clergy-bashing "Big Mouth Strikes Again" with Alice and Danbert in clerical garb – sound like deranged successes in this euphoric atmosphere.






Following this was never gonna be easy and considering the way the THREE JOHNS had floundered earlier, this reviewer was harbouring doubts as to whether Jon Langford could still cut the Colmans with THE MEKONS.

However, opening with the folky, vocally-inclined jamboree of "The Olde Trip To Jerusalem", it soon became apparent that after a wayward quarter-century, THE MEKONS (back to original strength) – remain crankily inventive.

Indeed, virtually all of this is taut, tight and distinctive. The accordion adds an occasional Cajun flavour and Langford and Tom Greenhalgh's guitars are joined at the hip.

It's a joy, also, too see Sally Timms back at the mic. She does little physically, but still exudes an indefinable cool and contributes viciously good vocal lines to one of the most underestimated back catalogues in pop.

Loads of great stuff whizzes past. I'd forgotten how neat "I Love A Millionaire" was, while "The Last Dance" reinforces the positive impression and a moving AND defiant "Insignificance" – delivered by a nostril-flaring Langford – completely banished the early Three Johns blemishes.

All celebrations and the party atmosphere notwithstanding, though, tonight proved beyond all reasonable that at least two of Leeds' most enduring and uncompromising cornerstones are still in rude health. Admittedly, the Three Johns' legacy might be better preserved in aspic at this stage, but both Chumbawamba and The Mekons clearly have much to offer in the big, bad 21st Century.

(TIM PEACOCK)

fri nov 22 Brighton - Dome (pictures: thanks to: Simon Buxton)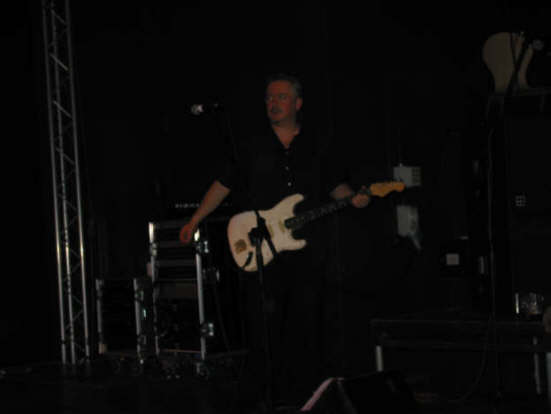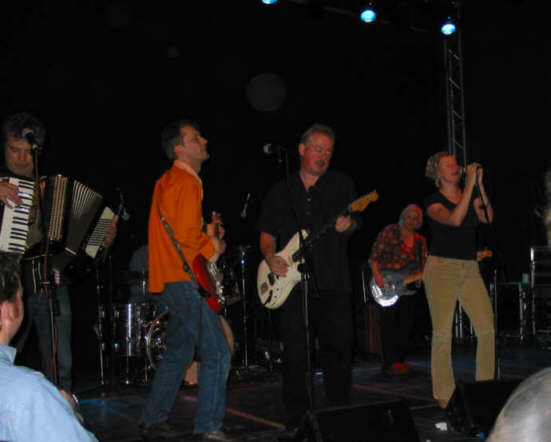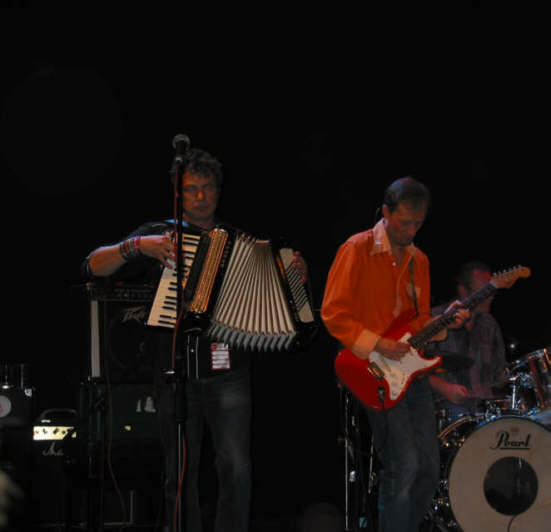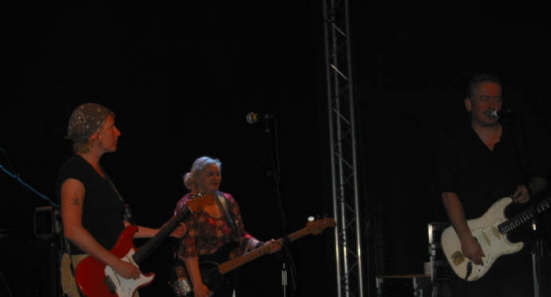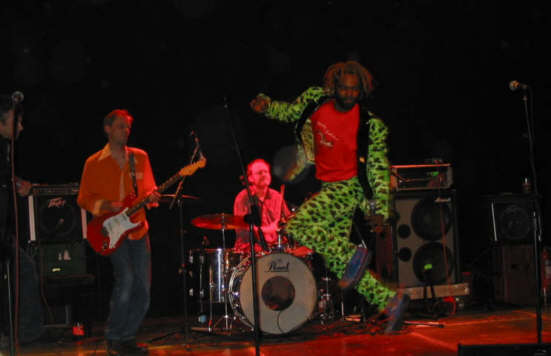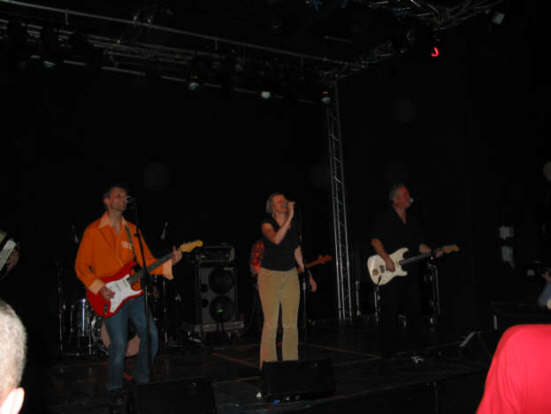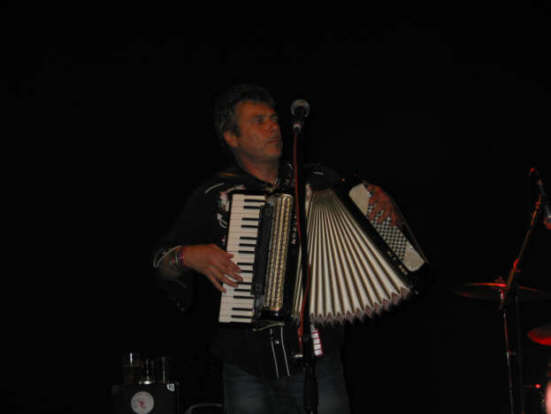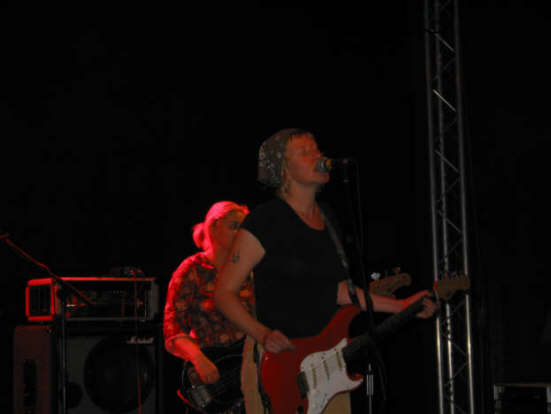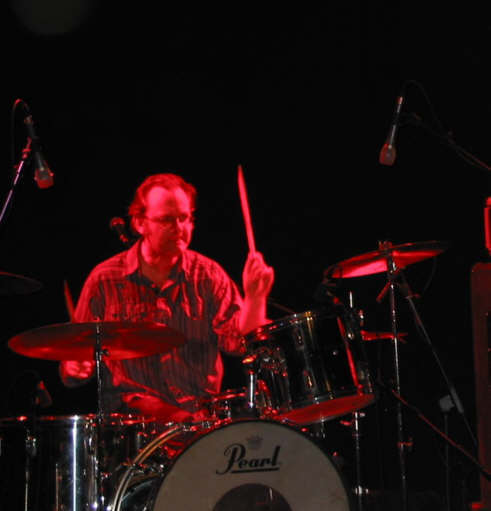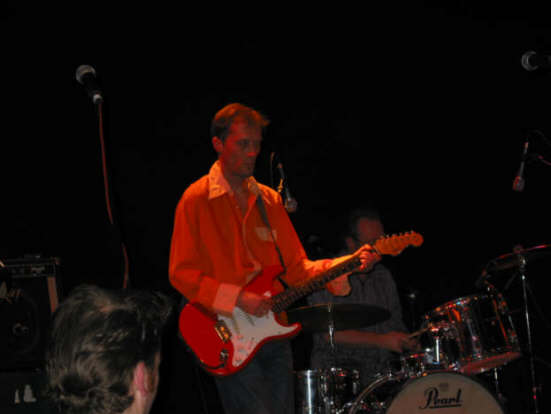 sat nov 23 London - Borderline



So, the lost Mekons weekend in Leeds, Brighton and London....
Fragmented recollections and disjointed thoughts dart elusively out from the black abyss of alcohol-induced memory loss like shards of glass glinting pretentiously in a sun-dappled council tip ....
Good to re-meet Oliver, Nobby, Jim and Ferl and to meet Michael, Sally, Dave, Julia, Judith, Ruth, Russ, Tim and Boocock, albeit for a brief exchange through a thick fog in some cases. Do get in touch if you're ever planning to visit the badlands of the Midlands.
All 3 nights were fine ones and I couldn't choose between them. I'd agree that Brighton was the most relaxed Mekons performance. Leeds saw the most impassioned Langford performance...to the extent of almost drowning out the rest of the band at times. Plenty of band banter in London as well as Brighton but more spiky (hopefully a sign of close rather than deteriorating relations !). Musically excellent all 3 nights, if duly laced with the odd bit of chaos.
Three Johns in Leeds were better than anyone could have dared hope after a decade on the shelf and seemed to convince those not familiar with their work. Chumbawumba cracked a few good jokes but were then OK-ish in an unmemorable sort of way. Did anyone arrive in time to see The Bastard Sons of Johnny Cash in London?....good name, ludicrously early time to perform.
Leeds was big, full and vibrant (800?), Brighton was smallish, fairly full and lively (100?), London was a small to medium-sized can of seething sardines (seemed like 400 in a venue designed for 275).
I couldn't attempt set lists, even if I wanted to, as many detailed memories have disappeared into the chemically-created void, but the songs from "Oooh!" and "Journey" fitted in well, as did the resurrection of a few late 70s classics ("Dan Dare" is a better encore than "Where were you?", I reckon). Maybe "Honkytonkin" and "So good it hurts" are a little under-used, but so what? Fantastic voyage, indeed.
If you're thinking of buying the new book, I'd recommend it - a lovely little commodity (to be bought like a rock not sold like a roll). Nicely blurs the distinction between high and low culture. Mr Lycett's reading in Leeds worked well too, the high art to Mr Mitch's high camp....what was Jon saying in London about a bad reaction to Mr Mitch in Leeds?; I didn't notice anything untoward but then I don't notice many things. Lycett seems to wear fewer signs of decay than most...is that the fresh air and sunshine of West Yorks or the lack of a rock'n'roll lifestyle in Americay? As for Mr Boocock mounting the stage for his solo performance of "I am the walrus"...well, I just can't believe that really happened...
Enough guff. I reckon my mind and body could handle a weekend like that maybe once a year....perhaps there should be a Euro-Mekonian invasion of Chicago, San Francisco & New York next time... But for now, a period of calm and silence is called for on my part.
Paul



---
Jon Langford: Sunday, Dec. 8 at the Cactus Cafe in Austin.

Langford went with just Bill Anderson (TMP) on guitar and Randy Franklin (Woodpeckers, Wild Seeds) on mandolin for his low-key gig at the Cactus before a maybe fifty people who braved the rain and cold (cold is relative - this is Texas). His two sets included most of the usual (Skull Orchard, Anything Can Happen, Millionaire), with a couple of tunes from New Deal (Blink of an Eye). I don't remember hearing him do Tom Jones Levitation before, but I could be mistaken.
Jo Walston (TMP) joined in on Wild and Blue, Tom Dooley, and (of course) Hangman. I almost didn't recognize her in just jeans and flannel. I really wanted Pete (the Meat's mandolin man, seated with his intimidating posse a table across from me) to snatch it from Randy. Randy's good, but plays it like a lead guitar.

Here's the set list from the show Sunday -
I've heard him do the song "A Little Bit of Help Wouldn't Hurt," but can't find the official title. Am I right in thinking it is part of his extensive unreleased ouevre?
First Set
Not Enough
Anything Can Happen
Death of Country Music
A Little Bit of Help Wouldn't Hurt
Pill Sailor
Walking on Hell's Roof Looking at the Flowers
Joshua Gone Barbados
Millionaire
Delilah
Wild and Blue
Second Set
Tubby Brothers
When I Get My Rewards
Nashville Radio
Sentimental Marching Song
Blink of an Eye
Long Black Veil
Hangman
Tom Dooley
Tom Jones Levitation
Big River
Encore
Old Flames
Alone and Forsaken

---
Kevin Coyne & Jon Langford with Sally Timms, John Rice & Pat Brennan of the Pine Valley Cosmonauts CONCERT
Chicago Tribune
Kevin Coyne's uninhibited set is blueprint of unconventional
By Rick Reger
Recognition can be slow in coming to deserving artists. In fact, it sometimes seems that the better the artist is, the longer it takes to arrive.
For legendary British singer-songwriter Kevin Coyne, fame apparently booked passage on a leaky barge with a crippled motor and has been drifting haplessly in some distant ocean for years. Yet that hasn't stopped Coyne from forging an impressive 30-year career that's encompassed music, poetry and visual art.
To a degree, Coyne's eclectic spirit has contributed to his obscurity. His early records were rooted in earthy folk-blues music, yet for all their robust energy and homespun lyricism, Coyne's penchant for depicting socially marginalized characters using unorthodox song forms kept him from being embraced by some.
Coyne's subsequent records were even more daring and unpredictable, exploring hard rock, free improvisation, jazz-accented pop and more. Yet regardless of its orientation, Coyne's music was often as compelling as it was impossible to pigeonhole.
So the measure of respect accorded Coyne during his Sunday night appearance at the Old Town School of Folk music was long overdue. For the first time since he began returning to Chicago several years ago, Coyne had an opportunity to perform in one of the city's premier venues supported by a large, able band that included his son Robert (guitar, drums) and local luminaries Jon Langford (guitar), John Rice (guitar), Pat Brennan (organ) and Sally Timms (vocals).
Coyne responded with his most uninhibited--and sometimes hilariously unhinged--set in recent years. From the prickly blues riffing of set opener "Saviour" to the bruising hard-rock of the encore finale "Room Full of Fools," Coyne was in peak form, belting out lyrics with the fervor of a backwoods preacher shouting down a legion of demons.
Coyne isn't a singer in the conventional sense; he's closer to a jazz artist in his fondness for tossing improvised lyrics, odd inflections and quirky non-sequiturs into his songs. But rather than sounding disjointed, Coyne's stream of consciousness rants and asides on the barroom blues-rocker "Money Like Water" and the steamy R&B workout "Precious" imbued them with the unique, spontaneous dazzle of Zen sketches.
As good as Coyne's backing band was, he was often most riveting during his solo acoustic numbers. "Blame It on the Night" and "Karate King" mixed rough, aggressive, unorthodox strumming with wild, untethered singing to produce music that was simultaneously primal and almost avant-garde.
Coyne used the same elements to particularly chilling effect on "Lunatic," which drew on his youthful experience of working in a mental hospital. The blend of Coyne's manic barre chords and harrowing lyrical imagery evoked a searing pathos that left the audience in a discomfited silence. It's exactly that type of unvarnished, almost brutal honesty that's kept Coyne a cult artist for so long. But it's also what will keep anyone who witnessed the concert from forgetting it anytime soon.
Copyright © 2002, Chicago Tribune
---
Chicago Tribune:
Waco Brothers: Sat Dec 28 Chicago Schubas
Lined up shoulder to shoulder on the tiny stage at Schubas Tavern Friday night, cradling their instruments as if they were rifles, the members of the Waco Brothers looked like the Wild Bunch marching toward their final battle.Like the outlaws in the classic Sam Peckinpah western, the Chicago country-punk band fits neither the times nor the place in which they live, operate instead by their own defiant code of honor and are prone to wreaking mayhem when their backs are against the wall.Fortunately the Waco Brothers do their damage with guitars, not guns, although Steve Goulding's drum fusillades often made it hard to tell the difference during the first of two weekend shows. Combining concussive force with hard-swinging musicianship, Goulding led the charge. Alan Doughty, coiled like a cobra in his sleeveless T-shirt and black cowboy hat, kept pace with his supple, plunging bass lines.Bouncing along on these grooves, the Waco Brothers rode the songs as much as they played them, the razor-wire shimmer of Tracey Dear's mandolin mixing with Jon Langford's and Dean Schlabowske's churning guitars as the three men took turns belting out their pub-bleared anthems. Seated in a shadowy corner, his face obscured by the long curled brim of his hat, Mark Durante again was the band's secret weapon, as his sighing, crying and spiraling steel guitar lines alternately rained down on the music and slashed it to pieces.Nearly half the music came from the band's new sixth CD, "New Deal," a reminder that for what started out in the mid-'90s as an excuse for Langford and Schlabowske to play country cover songs for beer, the Waco Brothers have produced a remarkably prolific body of substantial, well-crafted songs.For all the alcohol-soaked recklessness of past performances, the Waco Brothers were sharp and cohesive as they played with loose, relaxed assurance. Doughty, Dear, Langford and Schlabowske casually sidled up to their microphones to bellow the barroom choruses of their songs in perfect unison. The band built a tidal-wave crescendo at the beginning of "Walking on Hell's Roof Looking at the Flowers," and they frequently ended songs with thrilling train-wreck jams.Most of the band is made up of British expatriates, but the Waco Brothers' connection to country music has more to do with punk rock and country's common roots in working class struggles and barroom relief. "History is written by the winners, this is a loser's song," Langford snarled at the beginning of one song, and the Waco Brothers repeatedly championed the underdog.They celebrated organized labor ("Plenty Tuff Union Made"), lamented big business squeezing out the little guy ("New Deal Blues"), and sang about being left out of the now-faded economic boom ("No Heart"). There was romanticism amid the social criticism, too, as a just-married couple danced onstage with the band during the tender-hearted "North Woods." When they began their encore with the Clash's arrangement of "I Fought the Law," it was a tribute not only to Joe Strummer, but to every outsider, iconoclast and hard-pressed working stiff. If the words declared the system's victory, the music proclaimed the triumph of the Waco Brothers succeeding on their own riotous, contrarian terms.
---
norbert.knape (at) ewetel.net