Reviews from 1986-1992, Reviews of 1997, Reviews of 1998, Reviews of 1999, Reviews of 2000, Reviews of 2001, Reviews of 2002, Reviews of 2003, Reviews from 2004, Reviews from 2005, Reviews from 2006, Reviews from 2007 Reviews from 2008
---
Wacos: New Year's eve
Reading: Langford/Steve Earle
Wiggleworm
Wacos/Kelly Hogan/Sally Timms: UK tour
Pictures from Leicester
Sally Timms touring to promote Twilight Laments
Mekons-March-Tour
plus: Pictures from Cambridge, Buffalo (3/7) and Fitzgeralds (3/25)
The Executioner's Last Songs
Mekons accoustic gigs (July) with photos
Langford/Timms - Tour
Wacos at Brownies, Oct 21st
Mekons in England

---
New Years Eve!
The Waco Brothers, Robbie Fulks Band & Anna Fermin's Trigger Gospel

Without review - yet
January 6 -- Jon Langford and the Six Proud Walkers, Diane Izzo, at the Hideout

January 13 -- Jon Langford and the Six Proud Walkers, Handsome Family, at the Hideout
January 27 -- Jon Langford and the Six Proud Walkers, Kelly Kessler, at the Hideout

And this:
Doug Sahm Tribute with Robbie Fulks, Kelly Hogan, Jay Bennett, John Stiratt, Frisbee, Cowlilly, Jon Langford, at Lounge Ax


---
Old Town School (Chicago) on Sunday the 16th
Musicality of Poetry Series IX featuring
Fiction readings by STEVE EARLE
Poetry readings by TONY FITZPATRICK
and musical accompaniment by the WACO BROTHERS
7pm
CO-PRESENTED with THE GUILD COMPLEX BENEFIT for THE ILLINOIS MORATORIUM PROJECT


---
Wacos:
20th Jan NASHVILLE 12th& Porter
21st ATLANTA Star Bar
22nd MEMPHIS Hi-tone
23rd CHAMPAIGN Hi-dive


"Robbie Fulks! I'm gonna kick your ass!" Jonboy screams toward the stage as he descends into the center of the crowd from a hole in Fitzgerald's ceiling just after 12 a.m. Central Standard Time on January 1, 2000. Robbie Fulks had just finished Auld Lang Syne and was making his way off stage when the impromptu curtain (a white bed sheet with various band names and signatures on it) flew up and the Wacos (minus Jon) took the stage and launched into an apocalyptic sounding instrumental to presage Jonboy's stunt.
In deciding among the possibilities of where to spend the last night of 1999, two choices in particular seemed attractive: Wilco/Steve Earle/Chris Mills at the Riveria or Waco Brothers/Robbie Fulks/Anna Fermin at Fitzgerald's. Both events were the same price (~$80); however, the price of admission to Waco Brothers included, a among other goodies, an Open Bar.
Arriving at Fitzgerald's just before doors open at 8 p.m. we notice that Fitzgerald's has a temporary tent set up outside the bar. Once inside, we find that the temporary tent is where the all we can eat Lalo's Mexican Buffet is. Before indulging in the all night long Mexican buffet, we go in search of the night's feature attraction: an open bar. We decide to test the limits of Fitzgerald's open bar: between the two of us, our first drink order:
2 shots of Jager
1 Tanqueray and Tonic
1 Long Island Ice Tea
2 "of the darkest beers you have that aren't that watered down, too cold Guinness"
All of which we are given without a flinch from the bartender. A handsome tip later we're off to secure a table and to stand in line at the Mexican buffet. All while we're eating, waitresses are taking and delivering drink orders as fast as we and everyone else can place them. Several plates of tamales, rice, kabobs and chips and salsa later, we kill the last of what drinks are left on our table and head back to the bar to make darn sure we get our eighty bucks worth.
The crowd at Fitzgerald's is a surprisingly homogeneous bunch: white males and females between 25 and 40 make up the lion's share of those in attendance. Overheard snippets of conversation among the single people make it clear that finding someone to share new year's 2K with would be about as difficult as falling off a horse: no one wants to go home alone tonight.
Standing at the bar ordering something like the 5th round of the evening I hear the loudest, most powerful female voice I've ever heard start to sing: I whip around half expecting to see Aretha Franklin on stage and instead find a five-foot-nothing woman who can't weigh over 100 pounds standing on stage singing. Anna Fermin and her Trigger Gospel are the first of three bands and they play like headliners. Fermin's Broadway caliber vocals are backed up by an excellent guitar player and a bass player who plays stand up bass like he's just smoked a bowl of crack. Fermin's set runs well past her allotted time and the crowd claps and stomps until she returns for an encore.
By now, the waitresses have moved in from the buffet tent and are walking around the dance floor taking and delivering drinks: it doesn't get any better than this. Wait, it does:
A brief changeover between bands and somewhere between 10:30 and 11:00 Robbie Fulks and his band storm the stage and begin ripping through fast honky tonk song after fast honky tonk song:
Goodbye Good Looking
Every Kind of Music But Country
Wedding of the Bugs
Call of the Wrecking Ball
You Shouldn't Have
Forgotten But Not Gone
Rock Bottom, Pop. 1
Mr. In-Between
Let's Kill Saturday Night
Sleepin' On the Job of Love
Little King
The Buck Starts Here
Busy Not Crying
Dirty Mouthed Flo
Turn of the Century
A 15 Minute History of 20th Century Country and Western
She Took A Lot of Pills and Died
I Told Her Lies

Fulks' set is high energy and gets the crowd dancing. Well, Fulks music AND the 3+ hours of an open bar and very efficient waitresses who take and deliver drink orders as though they have a portable bar with them.
The highlight of Fulks set is his "15 Minute History of 20th Century Country and Western." For this tribute to country music, Fulks has a woman holding placards (like in some bob dylan video) depicting some musical act from a bygone era (e.g., 1905 with a picture and a brief description of the music at that time) Wish I could remember all the pictures and words on those cards, but, fuck, I'm surprised I remember anything after, oh, 9 p.m. After the tribute, Fulks handed the cards out to various audience members.
During the 1920's (maybe it's the teens?), Fulks dons a black ski-mask (in lieu of black face-paint) and plays a tune in a style depicted in films of the era. For the 1980's, Fulks turns the stage over to someone I don't recognize and this other guy and Fulks' band play a complete, raucous version of Alabama's "Roll On." I'm thinking that the card for the1980's depicted the members of Alabama as black males and read: "1980's: Goofy Ass Shit."
When the 1990's roll around, we quickly find out why Fulks' left the stage during the 1980's: "Shania Robbie Twain Fulks" busts back onto stage in full drag looking like something from Rocky Horror: heels, fishnets, leopard bustier, long black gloves, a wig, and make up. And Robbie, er, Shania sings, no guitar, just Shania-esque gyrations and poses, "Man! I feel like a woman!" as a tribute to '90's country music.
Shania finishes with a few last blown kisses and then the curtain drops on her song. Fulks is joined on stage by a very pretty woman I presume to be his wife and she joins Robbie/Shania on vocals for a song. She even drew a little moustache and goatee on herself, in the evening's spirit of gender bending. Fulks returns having thrown a shirt and jeans over his shania gear and plays a few more songs leading up to midnight, including "Dancing Queen." Everyone counts down to midnight, drinks champagne and kisses anyone in their vicinity. Fulks plays a quick version of Auld Lang Syne (all the while the curtain is down) and then, before Fulks can get off the stage, the Waco Brothers knock the crowd back five steps with an overpowering instrumental, the crowd turns to the stage and then someone points to the center of the bar and there's a guy in a red jump suit descending from the ceiling...Jonboy has arrived.

Next thing I knew, I woke up, naked, sore all over and sweating, in my hotel room, clutching a copy of the Waco Brother's January 1, 2000 set list (it's like 50 degrees in Chicago on Jan 1--phew, for a moment, I though maybe the world had ended and I was in hell):


Rico Bell does a few shows in February: Sunday 6th Feb. The Makeout Room. 24th and Mission, SF
Friday 18th or Sat. 19th Crocadree, North Beach, SF (awaiting confirmation)
Saturday 26th Starry Plough, Berkley.


20th Century Boy
White Lightning
Baba O'Reilly
Too Sweet To Die
You Got Me Running
Tiger
Pigsville
Red Brick Wall
Do What I Say
Harm's Way
See Willy
Do You Think About Me
Take Me To the Fires
Plenty Tuff
---------------------------------
Out There Aways/Rev.Blues
Out in The Light/Cowboy in Flames
-----------------------------------
OOO Las Vegas/Wreck/Wanted Man
Big River/9LB Hammer/Folsom

I also vaguely recall :

Jonboy making "just one" prediction for the next century: "more trade unions."
Dancing. Not just me. Not just those up front. Everyone in the place couldn't help but dance to the Wacos. Two Indian girls (not Native American Indian, India Indian) jumping on stage and serving as go-go dancers for the Wacos. Finding it impossible to stand right at the front of the stage during the Wacos set: the band's on stage antics constantly spill over into the audience.
It's been over 2 days since the Wacos show and I'm still recovering. Not sure what they were talking about, but these words were inscribed on the Wacos' set list with which I woke up:
"Sorry!" Deano
"Sue! It's America!!" Alan Doughty
Maybe I can get a psychiatrist to recover the rest of my memories from that night. But first, I have to go see a chiropractor.
-Daryl
---
Reading by Jon Langford and Steve Earle:
Excerpt from an email to p2:
<>
Well, I don't think it's a book tour per se, but they both read as part of the KGB Non-Fiction Reading Series along with Marshall Berman whose works include "All that is Solid Melts into Air."
I wasn't familiar with Berman so when I heard "Marxist" I braced for the worst, but the piece he read really gave me a nice insight into what he calls "Marxist Humanism." If you're into that sort of thing I highly recommend picking it up.
Langford read from a collection of his comic strips, which sounds sketchy at first but he really carried it off well, very funny. Then he read a collection of letters sent from the daughter of a woman who funded one of the Mekons' records with money she got from her divorce settlement. The letter started out funny and sweet from a girl fresh off to college and as they went along we followed the girl through 10 years of her life as she tried to figure out what the hell was up with her mother, hanging out with punk rockers and throwing her money away. Favorite line from the whole series of letters, "There's a whole in your boat and it's Jesus shaped."
Earle read 3 stories that will be included in his upcoming book of short fiction, the first an excerpt from the first story he worte about a man with a god-given talent for hitchhikng. Earle said he decided toinclude it because it was his first story and there fore a good way to get things started.
The next story was very affecting. Basically the tale of a drug dealer/addict who slides downhill as the narrator watches and realizes the extent of his own addiction. Steve alluded to the fact that there wasn't much fiction to this piece of fiction and that made it all the more vivid.
The last story was again an excerpt called "The Red Suitcase," about that guy who exsists in every small- to medium-sized town. The fixture on the town square who has his little routine and carries out out daily to the letter. In my hometown we had the Soap-Bottle Man who would daily wash the bridge with water that he carried from his house in a Downy bottle. The main character in "The Red Suitcase" carried 2 suitcases, one red, one blue. In the blue suitcase he carried his lunch and other things, but Steve stopped short of telling us what was in the red suitcase; for that he said we'd have to buy the book.
I didn't quite know what to expect from this reading but both Langford and Earle really told some great stories and are great story tellers. I got a look into the breadth of their talent that I hadn't seen before. A good night all around.
Jason Lewis


---
Old Town School (Chicago) on Jan. 30. Wiggleworm Dads!
Family Concert with Jeff Tweedy, Jon Langford and Tim Rutilli.
Dads have other games to watch besides football
By Mark Guarino
Daily Herald Music Critic
Let it be known some Chicago area fathers weren't chomping Tostitos and glued to Super Bowl pre-game reports all Sunday afternoon. At the Old Town School of Folk Music, several fathers reserved the afternoon for music at two Wiggleworms concerts for dads and their children.
The fathers performing were among Chicago's rock royalty: Wilco's Jeff Tweedy, The Waco Brothers' Jon Langford and Red Red Meat's Nick Rutili. Over two sold-out shows, the trio updated all those Burl Ives and Pete Seeger classics children have been listening to for decades as well as bringing a bit of rock modernity to the children's musical canon.
Wiggleworms is the name of the Chicago music school's children's programming arm. But Tweedy, Langford and Rutili were not your typical kiddie instructors. That explains an observation made all afternoon: Like fables from the Brothers Grimm and Aesop, many traditional children's folk songs are simply "songs of blood and slaughter," joked Langford.
That didn't stop them from taking a, er, stab at them. "The Fox," "I Know an Old Lady" and "Chicken Lips" all featured some form of prime gross-out material the children ate up.
Even the traditional Scottish children's song, "Oranges and Lemons" featured a chorus replicating the sound that'll make every child get to sleep early: a human head chopped off. "Chip Chop," Langford roused the crowd to sing.
Tweedy assured the crowd he was interested in more upbeat kiddie fare. He chimed in with classics "Froggie Went a Courtin'," "It's a Small World (After All)," "I've Been Working on the Railroad," and "Hoodoo Voodoo," a loopy children's lyric written by Woody Guthrie that Tweedy's band Wilco recently added the music to. Rutili led a noisy sing-along that featured two percussionists hitting and playing everything from a bedpan to a wood block to a kazoo.
Langford introduced the gospel favorite, "Them Bones," but added his own lyric of interconnection: the Chicago el lines. Instruments were passed out so the children could play along to songs not often heard during playtime: Buck Owens' "Love's Gonna Live Here Again" and Elvis Presley's "Mystery Train." Langford ended the afternoon reading a passage from Maurice Sendak's "Where the Wild Things Are." From that, the band launched into - what else? - the Troggs' classic, "Wild Thing," accompanied by children banging tambourines and clapping.
Super Bowl Sunday was never so hip.

Here is my take on the Wiggleworms Dad concert Sunday.
Jeff Tweedy (Wilco), Jon Langford (Mekons, Waco Brothers, Skull Orchard, Proud Walkers), and Tim Rutilli (of Chicago's Red Red Meat), plus two backup players put on two shows Sunday afternoon (superbowl Sunday) at the Old Town School of Folk Music. I caught the second show. It was a great crowd, lots of moms and dads and young kids. Before the show, Jeff was walking around the front of the stage, cradling his month old son. He sat down and kids were talking to him. It was cool to see him in a laid back mood, interacting with them. Sue Miller was sitting up front with a camcorder and Spencer was behind her. I think Langford's daughter and wife were sitting there also. It was a real family affair. Jon cracked "You can tell we're all fathers. I put this shirt on thinking it looked cool and noticed the stain on the shoulder".
I thought it was going to be all kids tunes (which would have been fun enough), but it was a really interesting mix of material. Among the kids tunes, Jeff Tweedy did "It's a Small World After All" warning, "If you don't smile and sway side to side, security will eject you from our concert. I'm not kidding." Jon Langford did "There was an old lady who swallowed a fly...", Tim Rutilli did a song where they put the back up singers through their paces "My mother's a ____and my father's a ____/you should hear them talk..." and making them run to get whatever instruments they called out (drums, kazoos, pianos, wood, harmonica, a jar that went "moo").
What is amazing, and I think gets lost in this age of the V Chip and rap, is how ultraviolent kids songs are. Tweedy proved this by pulling out the deceptively bouncy "King Kong Kitchie" from the Anthology of American Folk Music. Kids were bouncing and laughing because it's a catchy song. "I get all the happy songs" Tweedy joked. Tim Rutilli said, "Yeah, except for the lyrics!" Listen close and you find out Mr. Frog goes courting for Miss Mouse, finds out she has four other suitors (owl, bat, bumblebee). He's in the midst of proposing, when they com in the door. "They grabbed Mr. Frog and began to fight/in the hollow tree twas a terrible night/Mr. Frog hurled the suitors to the floor/with his sword and his pistol he killed all four". They end up getting married and having children ,or as Tweedy said "They lived happily ever after." Man.
Langford mined some of the additional darkness on the old song "Oranges and Lemons" (which the Mekons covered on "I Have to Been to Heaven..Vol 1"). "Here comes a candle to light you to bed/here comes the chopper to chop off your head!" with the audience divided in half yelling "Chip---Chop". Brr.
Part of the point of the Wiggleworms program is to teach kids how to interact with music and movement. Helpers handed out maracas and tambourines to the kids in the audience for a foot stomping version of Buck Owens' "Love's Gonna Live Here" (which Uncle Tupelo covered) with Spencer Tweedy on kiddy keyboards (hey the kid can keep time, he wasn't just smacking on the keyboard!) Langford exhorted the crowd to get into that "Bakersfield backbeat".
Most of the material was fairly traditional . Langford recrafted "Them Bones", echoing phrases from the Waco's "The Death of Country Music" ("Picking the flesh off the bones..") and twisting the lyrics to Chicago's locale: "Oh, the Red line's connected to the Brown line/ the Orange line's connected to the Purple line/ the Blue line's connected to the Green line/so ride the CTA." (these are lines on the Chicago El train lines, CTA is the Chicago Transit Authority.
Trains were a persistent theme with back to back full band versions of "I've Been Working on the Railroad" (which Tupelo also covered) which led into a rip roaring version of Elvis Presley's "Mystery Train".
Jon Langford did a great reading of "Where the Wild Things Are", stopping at the passage that ends " 'And now', cried Max, 'let the wild rumpus start!' " as everybody jumped into a giddy version of the Troggs' "Wild Thing". (Degrees of separation - Chip Taylor of the Troggs who did the original Wild Thing is the uncle of Angelina Jolie who is in "Girl Interrupted" which features Wilco's "How to Fight Loneliness".)
For the closer, Jeff did "Twinkle Twinkle Little Star", doing the verses for "ABCD.." and "Ba Ba Black sheep." He tried to get Spencer to sing, but he wasn't in the mood. "Okay, one more verse and we can go home..". He rushed through the last verse and that was it. Pretty neat for a Sunday afternoon. And for once, we got to sit for a Tweedy show, not have to breathe smoke, or stay up til 1:30 in the morning. Not too shabby.
Later all,
Jon Calderas
Definitely a hand clapping, foot stomping, sing along good time! The Old Town School of Folk Music concert hall is a really lovely place to see a concert, very intimate and cozy, perfect for this show. Tim Ruili (Red Red Meat), Jeff and Jon Langford were all sitting on chairs, a very laid back vibe. Swarms of children all over, wandering the aisles, crawling on their parents, playing and dancing next to the stage, peeking up against the stage at the Dads and towards the end even wandering up on the stage! There were 2 other guys playing various other instrumental accompaniment- bells, tambourine, piano, drums, cow :), etc. At one point Jeff called Spencer up to play keyboards, and he came up carrying his Little Tikes keyboards, sat down (they put a mic down so we could hear) and started to plink away. They also gave out tambourines and maracas so all the children who wanted to could play along, quite a racket! Those of us who didn't bring children (my son stayed home to watch the Superbowl) were told to go up in the balcony but it sure made me wish I could be down there dancing with the children.
Some of the songs I can remember are "There Was An Old Women (who swallowed a fly)", Jeff did the froggy come a courting song, Jon did a scary English folk song about going to bed and a bad man coming and chopping off your head and another one about a fox eating chickens. Jeff did all the "nice" songs :) They also did a wonderful version of "Mystery Train" and with an intro from Sendak's "Where The Wild Things Are" they did the Trogg's "Wild Thing". To end it Jeff sang "Twinkle Twinkle Little Star" with Spencer on his lap. Jon Langford brought up his child (about 4 yrs old) who was totally ZONKED out. He said that his was the best child in the universe at that moment, it was hilarious!
Would love to hear a review from Jon C. he's better at this kind of thing than I am. This show reminded me how much fun it is to have small children AND also how you can't take them anywhere at that age too (and potty training isn't much fun either!)
Cheers! Sandy

Chicago Tribune: Rockin' dads roll with rowdy kids
Jon Langford, Jeff Tweedy and Tim Rutili play as Wiggleworm Dads
By Monica Eng
Some in the audience threw tantrums, a few soiled their pants and others had to be escorted out of the auditorium. But it was still probably one of the most civilized crowds Jon Langford, Jeff Tweedy and Tim Rutili have ever played for.
Although the three have performed with their fair share of bands around the world, Sunday afternoon was the first time the trio joined forces under the moniker Wiggleworms Dads to perform children's songs for infants, toddlers and their parents. And if the Old Town School of Folk Music audience is any barometer, this kid-friendly supergroup may just give Barney a run for his money.
All three guys (who are better known for fronting The Waco Brothers, Wilco and Red Red Meat) have kids who have taken the school's Wiggleworms music classes and thus are fairly familiar with entertaining children. Each, however, approached it in his own way: Rutili with fun, Langford with a little wickedness and Tweedy with a dose of sunshine.
Fellow Red Meaters Brian Deck and Ben Massarella fleshed out the tunes with terrific sound effects, percussion and piano behind the guitar-strumming dads. Rutili served up the first dish with "Mama's Soup Surprise," about a concoction that includes "chicken lips, lizard hips, alligator eyes and toe-nail pies." The gross-outs kept coming with a number he led about things children saw that day, which included big dogs, dirty diapers and yellow snow.
Langford's repertoire included a few Burl Ives tunes as well as couple of cheery Scotch-English selections with lyrics like "you shouldn't throw your granny off the bus," and "here comes the chopper to chop off your head." The Welsh singer encouraged the audience to add sound effects to the last tune.
Tweedy added a note of sweetness with "It's A Small World After All," Woody Guthrie's nonsense lyrics on "Hoodoo Voodoo" (from "Mermaid Avenue") and the pretty "There's Gold in the Mountains," a love ballad that quieted the whole room. "That was for your parents," he told the tots.
As entertaining as these fellas were, after about a dozen songs, the tiny natives started getting restless. But help was forthcoming as school volunteers passed out maracas and jingle bells to little outstretched hands.
These added a whole new percussive dimension to tunes like Buck Owens' "Love's Gonna Live Here Again" and "I've Been Working on the Railroad."
By the time the trio launched into Elvis' "Mystery Train," the sound had blossomed into a virtual gospel jubilee with folks dancing in the aisles and Tweedy's 4-year-old son Spencer joining in on the xylophone.
As the set closed with "Wild Thing" (introduced by Langford's recitations from "Where the Wild Things Are") it was hard to tell who was having a better time.

---
The Waco Brothers The Attic, Edinburgh
The COSMIC AMERICAN MUSIC CLUB in conjunction with BLOODSHOT RECORDS presents some evenings of country insurgency throughout the UK...
THE WACO BROTHERS/SALLY TIMMS/KELLY HOGAN
(with special guest CHRIS MILLS)

Lineup has been:
Jon Langford, Alan Doughty, Deano, Tracy, Jon Rauhause and Glen Kotche (dr.).
Sally has played her sets with Jon Rauhause and Chris Mills and Kelly Hogan has played with everyone in the Waco's lineup except for Deano and Tracy. Chris Mills has played solo.

Feb 2nd Manchester, ENG - Night & Day 0116 2361822
Feb 3rd Glsagow, SCO - The 13th Note 0141 9426041
Feb 4th Aberdeen, SCO - The Blue Lamp 01224 647472
Feb 5th Edinburgh, SCO - (venue TBC)
Feb 6th Newcastle, ENG - "Get Rhythm" @ The Live Theatre 0191 2321232
Feb 9th Newport, WAL - TJ's (Venue TBC)
Feb 10th Nottingham, ENG - The Maze 0115 9475650
Feb 11th Sheffield, ENG - The Pheasant
Feb 12th Leicester, ENG - The Shed 0116 2622255


ON THE very evening that Channel 4 is running through another catalogued retrospective of punk, one of the more obscure veterans of those days, Jon Langford of The Mekons, is playing to a tiny crowd in an upstairs room and showing that his watch didn't stop in 1977. Perversely, it began running backwards as The Mekons began, with amateurish gusto, to explore country and English folk, defying the punters who wanted them to play punk forever.
It was the start of a long journey which led to the band relocating in Chicago and Langford letting his sincere but irreverent love for country surface in such projects as a CD tribute to western swing giant Bob Wills and this American/English group, The Waco Brothers, playing loud rootsy music with little heed for the consequences.
Their first song, The Death Of Country Music, is the perfect meeting place of Woody Guthrie and The Clash, a ramshackle, tooth-rattling locomotive of a song. A few stops down the line and Do What I Do, Don't Do What I Say is summoning up the spirit of The Clash once more, this time at their rockabilliest.
Throughout this assault, mandolinist Tracy Dear and slide player Mark Durante are frequently drowned out, but it never seems to matter. For this is rock'n'roll as she is still played in an alternate universe - enthusiastically, recklessly and touching base with all its great practitioners. They slip in a cover of Neil Young's Revolution Blues powered by drumming so explosive it should be classified as a NATO bombardment, summon up the wired vibe of Dylan's Highway 61 Revisited and travel down Route 66 with The Rolling Stones on Do You Think About Me.
The fact that they're racing against the clock to play their full set before a 10:30pm curfew gives an extra kick to the proceedings. But you can tell that they'd do just fine without it.
ALASTAIR MABBOTT
The Scotsman
Edinburgh Scotland UK
7th February 2000


---
From Club Mekon:
A day out at paradise with a win for visitors The Hertz was not the best way to spend a Satdi afternoon, but the company was pleasant and the lager flowed like wine.
We had intended to do all of the Scottish dates on this tour, but circs mitigated against. Instead myself and a pal trouped down to the Attic early doors. It's not a bad venue in a Duchess kinda stylee and I was chuffed to buggery when things kicked off quickly with a short set by Chris Miller, resplendent in a Lounge Ax tee shirt and sadly in need of a style consultant. He has a very powerful voice, a sort of cross between Ron Sexsmith and Dave Crossland. Great start to the night.
The posse had arrived back from the tea rooms by then and Kelly Hogan took to the stage with Jonboy and the band. Replete with enormous "look at me I'm an American backpacker in Edinburgh" rucsac she was tremendous. Her material drawn from the likes of Willie Nelson and Merle Haggard was just the gift wrapped bunch of thistles up the kilt that Scotland's so-called country musicians need (with their reliance on MOR country standards and mawk). The small but appreciative audience obviously knew what to expect and responded positively to Kelly and her amazing "band". Suggestions for a band name? Kelly Hogan and her band of High Pressure across the Azores springs to mind.
There were a fair smattering of women in this audience (gender watchers please note) and yon one that was with me was gob smacked by events on the stage so far. She knows nowt about Wild West Yorkshire or Sin or the days of yore so her fresh eyed view was welcome. As the night wore on we both agreed that the show should have been put on in a packed WMC.
Sally climbed on stage with Chris Miller and the ever present Jon Rauhouse. The lass from Wharfedale may make announcements that make her sound like a bingo caller from Pudsey or a checkout lady from Grandways but she had everyone spellbound. I had tried earlier to explian to my pal, Fiona, about The She Hees and their version of Lionel Ritchie's "Hello". During a spot of trouble with mandolin hum she slipped into her Shee Hee alter ego and crystal clear memories of The Phoenix, The Astoria and The Trades Club hit me like cut glass.
She treated us to a beautiful version of Robbie Fulks' "In Bristol Town One day" and the Handsome family's "The Sad Milkman" was a treat. These short sets were delightful and led to more fun with the Waco Bros. Jonboy's headmaster moustache really made me laugh, as did his choreography - I have never ever seen such a fabulous performance of "The Death Of Country Music" - aficionados of the beautiful game may wish to refer to The Voice of Football's "Deat of Football" at this point.
Great neet out. Good to see Jonboy and Sally after so long. Support the tour, buy the merchandise and keep the faith
Boocock


---
Feb 7th Leeds, ENG - The Duchess Of York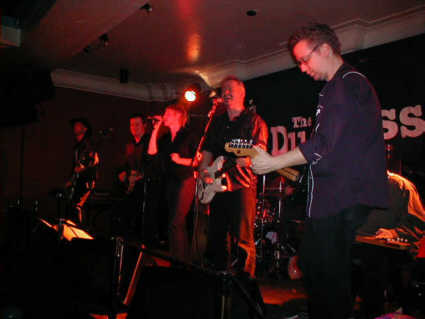 I saw Wacos and Sally Timms on Monday (photo attached), they were excellent, particularly the Wacos. Their set was only 45 minutes - started with "The Death Of Country Music", ended with "White Lightning". They were joined for one song each by Kelly Hogan and Sally
D.H.

Feb 8th London, ENG - "Nashville Babylon" @ Camden Underworld It's never perfect, the first time, is it..? I mean, hell, you're having fun and all, but you can't help but find some of the smells and sounds a tad unusual, and you just KNOW you're going to end up mouthing the wrong thing at the wrong time... Thus it was last night, at m'first ever Wacos gig... maybe I should have been wearing white popsox and a t-shirt marked 'VIRGIN', I don't know, but it was certainly a night of revelations, of sweaty flesh and vigorous pelvic convulsions... Revelation no.1 : None of them - and let's be fucking blunt, here - can really sing. Revelation no.2 : It doesn't really matter. According to m'colleague Maria (also a Wacovirgin... rather a drunk Wacovirgin by the end of the night...), the boy Langford has the 'Ready-Brek glow' of 'a true star'... I'd probably settle for the boy Langford being 'a big lad' with 'an abundance of stage presence'... who seems to get bigger, stockier and more grizzled with every passing year ...with more than a passing facial resemblence to Terry-Thomas, these days (or is that just me..?) ...actually, the last time we saw him was at his 'Dying For A Song' appearance at the 12-Bar Club on the Tottenham Court Road last year... M'colleague Andy (a notorious rabble-rouser at the best of times, and a man famously intolerant of any gig which doesn't include at least 4 or 5 Pet Shop Boys covers... he's a bugger for his synth-pop, and will quite frequently mount the bar to demand that Suzanne Vega or Leo Sayer play him a version of 'Domino Dancing' or 'Paninero' as a "crowd-pleasing encore") was even heard to murmur 'He's a big fucker, isn't he..? You wouldn't mess...' into his stout before attempting to bully a group of retiring bank-clerk-types at the next table into singing him an a capella version of 'It's A Sin' (bizarrely, they obliged). Anyway, anyway... last night, at the Underworld in Camden, was a similar affair... in its occasionally (and wonderfully) necrophiliac spirit, anyway... and had Andy been there (which he wasn't... arch Pudsey ironist that he is, he was probably at a Pet Shop Boys gig gamely attempting to goad Chris and Neil into an improvised Suzanne Vega medley... 'Oi, you..! Tennant..! "Tom's Diner", NOW..!'), he most certainly Wouldn't Have Messed... since the whole Waco experience screamed the words 'big fuckers', 'know a big fat chord when they hear it' and 'four guitars are better than one' at you... scary. Having said all that, however, the evening's Moment Of Purest Transcendent Beauty had been and gone a good hour or so before the Wacos took to the stage... Kelly Hogan - who, gawd bless me, I'd never even HEARD of before last night - was absolutely fucking fantastic... as was Mistress Timms, of course ('ooooh, she's got the voice of an angel, hasn't she..?' - Maria), who looked happier than ever I've seen her at a Mekons gig... where she has the occasional tendency to seem a bit under-employed... hey-ho. Red faces last night, however, when Her Timmsness managed to use the word 'wanker' three times in front of her auntie (lurking, auntily, in the audience...). Kids, eh..? You do your best for them, you try to bring them up proper, then they stand up in front of 200 people and start obsessively repeating the word 'wanker' at you. Well... you know. Sort of. Mmm. I kind of thought that the size and general snugness of the venue possibly suited the Hogan/Timms shtick more than Full Frontal Wacosity... although the latter HAS rather pleasingly got my (normally latent) tinnitus currently screaming the word 'Wheeeeeeee..!' at me from some point (thro' a thick fug of hangover) half an inch behind my right eardrum... always the sign of having had a Fine Night Out. Crying shame about the 11 o'clock bar, mind... to which I returned (having shimmied off to the toilet), post-Wacos, to find m'colleague Maria deep in coversation with Chris Mills, who'd done sterling service at the show's opening (and nobly withstood much unprovoked goading from Mistress Timms, while he'd made the guitar-y jangling and twangling for her solo spotteth)... the poor sod had foolishly sought out an apres-gig lager, bless 'im, only to find himself the subject of severe interrogation from Maria regarding his choice of knitwear (North London folk are painfully style-conscious, you know, and will simply REFUSE to idolise anyone who takes to the stage toting a brown piped cardigan... or a shiny black satin shirt, Jon, d'y'hear..?!) ...tho' she eventually allowed him free passage away from the venue due to his lean years (a spritely 25..! so much heartbreak for one so young..! we felt like his mum and dad...). But a fine, fine evening... oh, yes, and speaking of Fine Evenings, we (Mekonwhores that we are) saw 'Deejay' Tom at the Foundry last week, too... he span a lot of early Beefheart, you know... and dubby stuffage... Mekonfanz..! Go buy Beefheart..! Go buy 'im now..! Hunt 'im down..! Actually, it was an okay night, and on the way to the toilets there were these test-tubes dangling from fishing... stuff... that stuff that fisherpersons catch fish on... wire-y stuff... with test-tubes... and in the test-tubes were, like, you know, freaky personal ads... from non-existent people... or, like, WERE they..? Ah, well, that's art, we thought... and consolidated our outrage at the impotence of contemporary aesthetic expression with ANOTHER COUPLE OF PINTS OF GUINNESS... 'ha ha ha..!', we cackled to ourselves, 'we're smarter than your average artfag dilletante..!', thus playing straight into the hands of all the postmoderno artful dodgers responsible... bah..! Nah, nah, actually it was okay, and m'colleague Maria got to chat with His Tomness for a bit and thank him for making her early 20's bearable due to the timely provision of songeths such as 'Sophie' and so on... for m'self, well, I opted not to encroach upon the lad's Innate Deejay Cool (ie., "I was too drunk to communicate verbally with a relative stranger") and simply gave him a respectful, mano-a-mano nod of the head instead (which may, given my degree of steaming drunkness - see above - have been interpreted as an invitation to step outside for a fight... I'm bloody crap at body language, me...). But it was all rather fine and funky, regardless. Right..! That's all..! Goodnight..!

Huw


---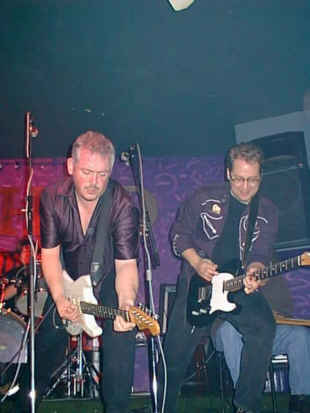 Leicester, 12-02-2000:
Made by Brian Bullock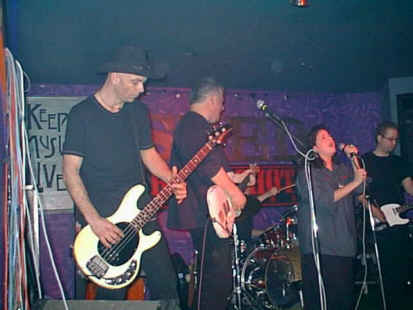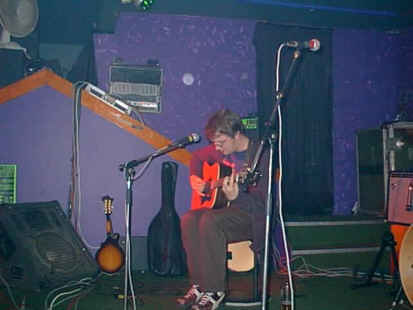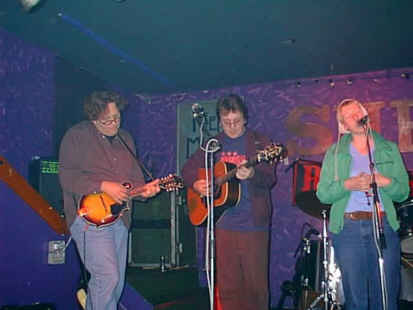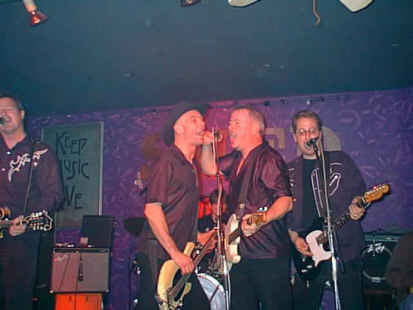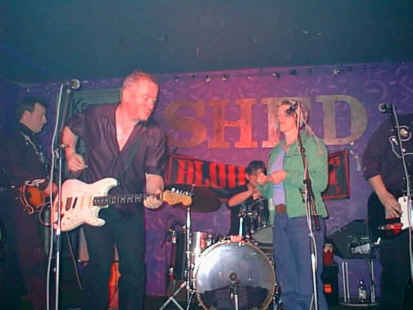 ---
>From the Edinburgh Evening News

Trip to the old country visits some new sights

The Waco Brothers, Bloodshot Records Evening, The Attic

CHICAGO'S Bloodshot records has a proud sense of Country and Western music's heritage, but happily isn't above throw- ing a few new ingredients into the mix.
Chris Mill's solo set neatly essayed a few snapshots of misery that could have passed for a trailer trash version of Grant Lee Buffalo's more mournful moments.
The best voice of the evening belonged to Kelly Hogan, backed by The Pine Valley cosmonauts. Her superb clas- sic country voice effortlessly incorporated blues and jazz influences to torchy effect.
Sally Timms, formerly of The Mekons, took a rather more low-key approach. Her soft, haunting voice was well suited to her dark subtle songs of loneliness, teenage pregnancy and abandonment.
John Rauhouse ably supported the headliners. The Waco Brothers, promoted as "Johnny Cash meets The Clash." Boast- ing more ex-Mekons in the presence of Jon Langford and Steve Goulding, the Waco Brothers ripped through a cover of Neil Young's Revolution Blues that obliterated the original.
Rory Ford


---
3/3: Sally Timms, Kelly Hogan and the Pine Valley Cosmonauts at The Hideout

Saw Sally last night at the Hideout in Chicago. She did a very good but somewhat brief set, opening for Kelly Hogan. Some comments...
I swear, after Sally threatened the crowd that she would take the rhinestones off her outfit and hurl them at people who talked too much, it got noticeably quieter. I've seen Sally five times in various settings around Chicago, and she seems to perform much better when she has the audience's attention.
She did five Dolly Parton songs. Two Handsome Family songs.
She told a disgusting story about sending a postcard to a music writer who had panned one of her records. She had coated the postcard with a certain bodily fluid... And she introduced "Horses" with a story about another writer who said that she had taken the Patti Smith song and revised it beyond all recognition...
Chris Mills did a very good job as guitarist / backup vocals / target for Sally's abuse. The mandolin / fiddle player, whose name I forget, was playing his first show with Sally and was also very good.
Jonboy was in the audience for Sally's set, and he joined Kelly Hogan on stage for one song. Kelly's set was good but her band was a bit loud. And when did her band (guitarist and drummer I did not know, and Tom Ray on bass) appropriate the name "Pine Valley Cosmonauts"?
And a couple comments on the Hideout -- which I seem to recall was a big favorite among the Chicagoans over on P2 -- I was expecting more than two short sets (both Sally and Kelly played less than an hour) for my ten buck cover charge, and $2.75 for a beer is what they charge at those big yuppie clubs -- I thought this was a good old blue collar place.
TWM
---
Mekons-March-Tour
MON 3/6 CLEVELAND, OH Grog Shop

> Any reports from the Cleveland show last night? What songs did they

Okay. First band appeared to be local Cleveland. Tongue-in-cheek gospel rockabilly, good lead player, excellent bass, hipster lead singer a little full of himself.
Act # 2: I think his name was will dowd. Very slow, heroinesque, with lyrics that make me think of Bukowski. Surface similarity to Tom Waits, but more southern. Great vocals from him and the cowbell player.
About 12:10 or so, they mount the stage, with the normal complement of instruments. Rico: accordion, Jon and Tom: Guitars, Sally: Microphone, Sarah: Bass, Steve:Gorgeous woodgrain drumkit.
There were no instruments out of the ordinary that I noticed. Jon encouraged Tom to remove his guitar and expose "a large guitar-shaped sexual organ,"--and he did take off the guitar to sing an awesome version of "I have Been to Heaven and Back" but his pants remained quite closed for the duration.
You need to ask someone else bout the song order. Lovely version of "When Darkness Falls", last encore was a hank williams cover, which nobody had told Sarah about, and she had to watch Jon's chords for a bit to get it straight.
The house was not packed, and someone coming in mid-show still could have gotten an excellent view, but it was 2/3 full, at least. They did one song with a gentleman roadie, who has got a lot of power, and evoked memories of Bad Brains.
At some point Sally commented on the fact that although they only practiced twice--someone (tom?) interrupted and said that it was only once, but Sally said that she was counting soundcheck as a practice--at least they got dressed up. Sarah was wearing an AC-DC t-shirt, Jon had jeans and a short-sleeved button shirt of an orange nature. Steve had a similar outfit to jon, but with a vest, I think. Rico wore black jeans, white shirt, vest. Sally had a nice brown shirt of some fuzzy material and a black blazer. Tom had a purple or maroon shirt with jeans that leaned in the same direction, colorwise. These were my hurried comments without access to email:
michael

Setlist:
(I'm not here) 1967
Tina
Heaven And Back
Last Weeks Of The War
Gin Palace
The Flood
Myth

Cast No Shadows
The Ballad Of Sally
Orpheus
Poxy Lips
Powers And Horror
Fancy
When Darkness Falls
Where Were You?

TUE 3/7 BUFFALO, NY Mohawk Place
Mohawk Place, Buffalo set list:


More really great pictures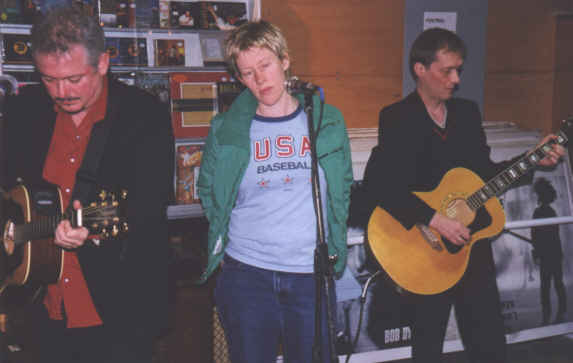 Tina
I Have Been To Heaven And Back
Last Weeks Of The War
Gin Palace
The Flood
Myth
Cast No Shadows
The Ballad Of Sally
Orpheus
Powers & Horror
Poxy Lips
Neglect
(encore 1)
Memphis Egypt
Fancy
When Darkness Falls
Lost Highway
(encore 2)
Where Were You?
No melodian or autoharp. Rico on accordian which is just fine by me. A very sloppy gig, subdued for the most part as you can gather from the set list, but a fine time nonetheless.
Lots of hilarious sniping between Sally and Jon including a list of things the Mekons have pulled out of Jon's ass over the years: condoms, dead hamsters...
Sally forgot the words on a couple of occasions despite having lyric sheets on a music stand. During an otherwise flawless and intense "Orpheus" Sally stepped to the mic, blanked, and blurted out "Oh God! I've forgotten the words!" at which point Jon, laughing, grabbed the lyric sheets and started throwing them at her. Sally stalked sheepishly offstage and Jon kicked the music stand over. That drew a big laugh from the band and the crowd. At one point Sally mentioned that Rico had a cord in his back which if you pulled it made Rico squawk "I want a drink!" Jon piped in saying "Rico's also got a cord up front but you wouldn't want to pull that one." That also got a big laugh from the band and crowd.
They wound up the show with an sloppy but intense "Lost Highway" (Tom's voice was unbelieveable) and a wonderfully vicious "Where Were You?" A good show, not the greatest, but definitely a lot of fun. I'll definitely take after having not seen them since November 4th, 1993, the last time they played here in Toronto. Oh yeah: Great $1 posters of the cover of the new album, too.
Have fun in Cambridge!
(One minor point: Would the assholes who want to blither on about their work day or how much they know about the band WHILE THE SHOW IS IN PROGRESS kindly down your drink, pick up your coat and FUCK OFF HOME!!! The rest of us did not pay to listen to your crap.)

I don't know about Cleveland, but the Buffalo show was awesome. Here's the set list:
I'm Not Here (Introduced as being called Brian?)
Tina
Heavan+Back
Last Weeks of the War
Gin Palace
The Flood
Myth
Cast No Shadows
Ballad of Sally
Powers+Horrors
Orpheus
Poxy Lips
Neglect
*****
(encore)
Memphis, Egypt
Fancy
When Darkness Falls
Where Were You
Also, they played Lost Highway, but I can't remember where. Somewhere towards the end. Some of the highlights of the show were: Rico, Jon, Tom, and Steve struggling to stick together and struggling equally hard to hit the low notes on Powers + horrors. It was fun to listen to though. Actually playing Memphis, Egypt after consistently turning down the request for the entire evening. Tom dissapearing at the beggining of Orpheus only to return just as his verse started. Beautiful timing. Numerous jokes about hampsters, anal condoms and Al Gore. Sally struggling to find the chords on Orpheus, and Tom's surprised expression that any one but himself could struggle to figure out the chords to a Mekons song. And last but not least, Mitch giving an energetic rendition of Where were you including vicious leg kicks despite the small stage, and rather intimidating I might add since a couple of those kicks were only a couple of centimeters away from a boot in my teeth. The show was great as you could expect. Emphasis was definitely on the new album and the two Hen's teeth material as you can see by the set list. Also, someone was recording the show with a seemingly professional set up. I didn't talk to them, but if they're on the list I'd love to get a tape.
> Yes, yes, please divulge. And are they actually playing autoharp and
> melodian on stage? They sound soooo cool on the album.
>
sorry. so autoharp or melodian. Also, I didn't think of it till afterwards, but I think a great tradition would be for fans in the front to offer dollar bills to the band while they're singing the ending to Neglect. It seems like a nice image in my head, but maybe it wouldn't be that cool. Don't miss the tour if you can. I drove five hours, but it was more than worth it.
Brad

> I must have been standing pretty much right next to you during "Where Were
> You?". Too bad we did not get to say hello.
>
> Hugh
Did you almost get booted in the head as well? I was staring at closeup boot treads a couple times. And mitch almost hit my friend with the mike stand. It was worth it for the energy though. I wish the stage was bigger so there could have been leg kickin even with everyone on stage. Question for the Buffalo folks. did me and my friend have really bad luck, or is it normal to have aggresive homeless guys accost you outside the Mohawk? On our way from the car to the club, and then later on our way leaving the club going to our car we had guys asking for money and then getting really threatening about it before being yelled at by the door guy. As it was my first visit to the city of the Sabres, it gave a strange first impression.
"welcome to buffalo . . . now gimme your cash dammit!"
Brad

WED 3/8 CAMBRIDGE, MA Middle East


Dropdown Menü for some pics

i'm still waiting for the new album to light a fire under my ass; but the subdued dub grooves are percolating. it's a concept album for insomniacs. it starts out slowly with the wandering wonder of 'myth' and 'out in the night'. 'last weeks of the war' is tragically beautiful. 'city of london' is given a real push by the three way likki likki. 'tina' is one of the great ones, full of that horny optimism and nostalgia. 'the flood' is fluvial apocalyptic yummyness swirling in new directions. 'cast no shadows' revels in the darkness. 'ordinary night' bubbles with a somnambulist reggae rhythm. 'powers & horror' has a german beer hall feel to it, especially when they sing it live. the good-timey toe-tapping feel of 'neglect' lowers your defenses and then smacks you upside the head with capitalist yearning and makes you like it. a nice lead into the eery self doubt of 'something to be afraid of'. 'last night on earth' is part resignation and part resolution. the album leaves me with a long sigh. there is a sense of loss throughout; but even more powerful is the idea that whatever doesn't kill you only makes you stronger.
there's something about the energy and enthusiasm of the mekons live that breathes extra life into the songs. when rico, tom, sally, and jon are all singing together, you think it can't get any better. and then they lay down some killer groove to prove you wrong. their stage antics are hilarious. jon kicked sally while he was jumping around during 'heaven and back' and then pissed her off by smacking her in the back of the head. she was none too pleased. i kept expecting rico and tom to trip over their wires as they were dancing around. rico "tottering" bell was stumbling around someone took the set list so i don't have the exact order of songs; but the set was very similar to the one posted for buffalo. is 'fancy' the kinks' tune? i can think of about thirty songs i would've like to have heard; but the glaring omission was 'last night on earth' from the new album. as it is, the show was cut short again. the middle east needs to be taught a lesson. we were forced to leave well before one. luckily, mod night was going on 'til two at the common ground.
"ken's up too late again..."
1967
Tina
I Have Been To Heaven And Back
Last Weeks Of The War
Gin Palace
The Flood
Myth
Cast No Shadows
The Ballad Of Sally
Orpheus
Poxy Lips
Neglect
encore
Powers & Horror
Fancy
When Darkness Falls
Where Were You?

I haven't seen a New York Mekons show in a while, but this is my opinion of the current tour too. The Cambridge show was very good, and a lot of fun; they're almost never less than that. But the current set and the new disc seem almost a step backward for a band that's been challenging themselves a lot over the last several years. Except for Orpheus and the Kinks cover all the songs in the set that aren't from the new LP date from the late 80s, which is kind of odd. And while it was great to hear Gin Palace, there almost seems to be an element of pleasing-the-fans with nothing from Me or Pussy being played. I think Far Sub Dominant or Gin and It or My Song at Night would have sounded great.
I like the new disc, especially The Flood, but I don't think it will end up in my Mekons top ten. and I could really do without the power-lunged guest vocals.
davep

like most all musicians, this tour is meant to promote the artists' most recent releases. because 2 of the Mekons' last 3 releases were collections of odds and sods, primarily from the 80's, thus their set lists are populated with many songs from those 2 albums, as well as the new one.
-jed, getting ready to head down to d.c.

I also think that since rico rejoined the band in 96/97, its really given them the lineup to play some of the older songs. rico knows them and I find it great to hear his accordion in the band again. and the fact that they've incorparated it into the new album to recapture some of the flavor of the old.
lynn john
count me in too as disappointed that they didn't play "last night on earth." such an amazing song...which I don't what others think, but it sounds, to me, like an outtake from the skull orchard album. perhaps its the same affected throaty delivery of the lyrics, but it sounds like a close relative of the songs on the solo album.

gotta jump in here- Rico never really left. look at the albums and his name is there- he just stopped touring. and I completely agree- that last song sounds like it should have been on skull orchard and seems woefully misplaced on Journey
hochi min

THU 3/9 NEW YORK, NY Bowery Ballroom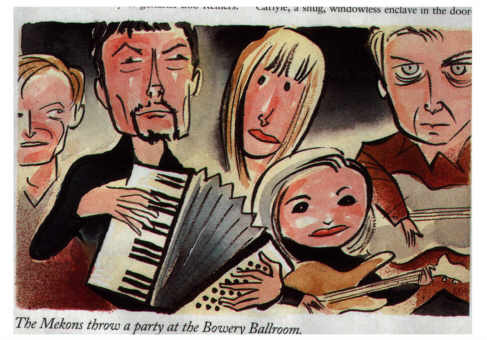 just time for a some quick facts for now...sure others will write soon. sally lost her stomach right before the show last night and had to leave stage several times throughout the night. as it was, she only stayed for about half the show and none of the encores. still, she's quite the trooper as she really seemed to be in a lot of discomfort. and she swears that it wasn't alcohol related. here's hoping she's feeling better for tonight.
the set list was fairly much the same as the previous nights, with a few exceptions...since sally ran off they skipped "ballad of sally and came back to it after for one of the last encores, with john singing, while mitch held up the lyric sheet, illuminating them with a pen light. afterwards, to feed our never ending hunger for more, the band came together for a chat and then came out with a night ending "prince of darkness."
some of the highlights of the night. rico's orange with while polka dots shirt...john ripping him for it (after three hours of sleep I can't remember the bust other than he had to wear it for something he did or didn't do last night...but john's shirt was equally cheesy and when I shouted out what's the story behind his, he said there was a story but sheepishly wouldn't say) john ripped someone in the audience, right beside me, who shouted out that he and john had slept together. john threw out "notice that I slept."
john pushing mitch out into the audience after finishing "where were you". people in the audience tried to lift him back onto stage, but they crashed under his weight.
tom playing so much guitar...it was really great to see him so active again.
some touching moments between sally and john every time she had to exit stage left. he grabbed her hand pretty much each time and really seemed concerned. at one point, john said that this was "the final tour of the mekons". does anybody else remember that? did he say something to contradict that afterwards, cause I don't remember any?
that's all thats coming to mind now.
set list
1967 (or "brian" as it says on the set list)
tina
heaven and back
last weeks of the war
gin palace
the flood
myth
cast no shadows
ordinary night
orpheus
poxy lips
neglect
encores
power and horror/fancy/only darkness has the power
lost highway/where were you/memphis, egypt v ballad of sally (john singing)/prince of darkness
lynn john

1st day : flew to new york, arrived early afternoon. checked in at the hotel. went out in search of new mekons album. found new mekons album. listened to new mekons album. fell asleep. (presumably caused by jetlag, not by the album)
2nd day : woke up early. realized i was not at home. listened to the album again. liked it and wondered which songs they would play. noted that i forgot 2nd pair of trousers at home. bought new pair of trousers. went to the bowery ballroom. bought t-shirt. bought another t-shirt for Nobby ("A guy from the mailing list went to New York to see the mekons and all i got was this lousy t-shirt" it says on the front) saw mekons perform. liked it, except for the fact that there were absolutely no songs from 'me' (after all, we did practice that "belly to belly, back to back" -dance before leaving for ny). went back to hotel. noted mitch"s footprint on my trousers. good thing i bought another pair this morning.
3rd day : woke up. went to internet cafe for breakfast. spent the rest of the morning working through through 70 club-mekon- mails. noted that i missed the chance to get free beer at the show just because i didn't access my mailbox yesterday wondered what to do the next 2 days, now that the essential stuff is over...
oliver

Have to run in a sec, but first a brief report on last night's NYC show at the Bowery Ballroom:
Band resplendent in jackets and slacks, Rico garish in orange polka-dot shirt. New songs sound great onstage, even better than on record (though I've only had time to listen to it once through this morning, so I expect it to grow on me). Set list much the same as that posted for Buffalo, slight order variations.
Band was in fine form -- Tom even playing guitar with chords and everything! -- but Sally suffering from stomach flu, looked obviously weakened, and had to depart the stage a couple of times to throw up. Trouper that she is, she kept coming back, and tastefully ignored Jon's suggestion to vomit on the front row. ("Vials of Mekons vomit! The perfect souvenir!") Finally departed for good just before the encores, leaving Jon to sing "The Ballad of Sally" himself. Where's Gibby Haynes when you need him?
Three separate encores, including a blistering "Memphis, Egypt," a sizzling "Where Were You" (in which Mitch slipped in beer while attempting a stage dive, soaking us in the front rows and falling flat on his butt), and a searing "Lost Highway." I'd forgotten how wonderful it can be to jump up and down and shout real loud, but thanks to the Mekons, my eyes have been reopened.
Bye now,
Neil

In a message dated 3/10/00 11:00:58 AM Eastern Standard Time, lcunningham@crs.loc.gov writes:
> at one point, john said that this was "the final tour of the mekons". does anybody else remember that? did he say something to contradict that afterwards, cause I don't remember any?

Yes, I heard that comment with trepidation and heard no other reference to its being a final tour. Hope that was just a playful Langfordian tweak at showbiz self perpetuation. Fun show. Met some east coast Mekon fans. The crowd seemed relatively sedate, perhaps in keeping with the mid-tempo tune selections.--Jhon
My 2 cents:
Last night's was a good show, though not as good as the last time they played Bowery Ballroom--that show, the first time I saw 'em live, stands as one of my all time favorites. They were bouncing off the walls that night. Did anyone record that show (we're talking fall '98)? Besides the more subdued new material (I'm loving the album as I listen to it for the first time) I'd say Sally's illness had something to do with it--her energy and hilarious onstage commentary were missed almost as much as her singing.
The encores (three!!!) pretty much saved the show for me. I do think that performing "The Ballad of Sally" sans Ms. Timms was one of the most perfectly Mekon-esque things I've ever seen.
la-la-la la-la la-laaaaa, nothing, nothing, nothing..
. j

FRI 3/10 WASHINGTON, DC 9:30 Club/Black Cat
From Washington Post
The Mekons Rock And Roll At The Black Cat
By Joe Heim
Wednesday, March 8, 2000
Most bands that formed in the 1970s are now either defunct or only get together for an occasional reunion/rehash tour. Not so the Mekons. The underground rock band, which performs Friday at the Black Cat, has achieved a near legendary-or at least mythical- status that has as much to do with its longevity as it does with its music.
Begun in 1977 at Leeds University in England, the Mekons have made several lineup changes over the years, performing in musical styles ranging from Clash-fueled punk and reggae to traditional country and trippy electronica, but they have never quit playing or even taken a significant amount of time off.
The band newest release, the beautiful and melancholy "Journey to the End of the Night," (Quarterstick), is their 21st album–and that doesn't include compilations or the vast number of side projects the individual Mekons are constantly working on. The group's remarkable productivity was not something they could have envisioned when they first met up at Leeds.
"When we started out, we were just a bunch of angry kids who wanted to start a band," said singer/guitarist and founding member Jon Langford in a recent phone interview from his Chicago home. Much of the anger was political. From the beginning, the Mekons were against things: against the conservative Tory party, against capitalism, against the recording industry that tried to mold bands rather than let them evolve.
Far from mellowing over the years, the band is still active and engaged both musically and politically and the two often intertwine. Langford has been working on efforts to abolish the death penalty and the group has performed benefits with musician Steve Earle to aid anti-capital punishment causes.
Because he now lives in the United States, Langford says he is paying close attention to the American presidential campaign, a process he views with a mixture of fascination and dismay. He is characteristically outspoken when it comes to Texas governor George W. Bush whom he holds responsible for the number of inmates on Texas's death row and the number of executions in the state.
"I hope Gore wins," Langford says. "Bush is such a murderous bastard. If Bush wins I may have to think about moving somewhere else. They say Gore is stiff and boring, but for now, maybe that's all right."
Though the Mekons put out several albums in the late 70s and early 80s, they didn't begin producing their more highly regarded recordings until the mid-1980s. By then original Mekons Langford and Tom Greenhalgh had added such key members as vocalists Sally Timms and Rico Bell, drummer Steve Goulding, bassist Sarah Corina and violinist Susie Honeyman–all of whom are still with the band today. The group released a string of excellent albums, including "Fear and Whiskey," in 1985, "Edge of the World," in 1986 and the "The Mekons Rock 'n' Roll," in 1989.
But despite overwhelming critical acclaim and a rabidly devoted following, the band has achieved only limited commercial success. Ironically that may have ensured its survival. Asked how the band has been able to stay together so long, Langford laughs and immediately answers, "our absolute lack of success."
"I'm being completely serious," he adds. "Record companies are squeezing the artistic vision out of bands. The walls are just closing in." Without the pressure of having to make a financial killing for a major label, Langford says the Mekons have been able to concentrate on creating music they enjoy.
In addition to praise for its recordings, the Mekons also gained a widespread reputation for manic live performances that defied both expectations and categorization.
"On tour, we're sort of predictably unpredictable," Langford says with a laugh. "The records are thoughtful and intense, but on tour we just break free of everything. Anything goes. Touring becomes our social life and we don't just want to do the same thing every night."
© Copyright 2000 The Washington Post Company

Journeying All Over the Map
By Mark Jenkins
Wednesday, March 15, 2000
"We're only going to play new songs," vowed Mekons singer Sally Timms Saturday at the Black Cat, rebuffing a fan's request. Like most of the onstage remarks uttered by Timms and cohort Jon Langford, however, that was not true. The Mekons played several songs from their mostly low-key latest album, "Journey to the End of the Night," but before the show was over the Anglo-American band had turned to such venerable crowd-pleasers as "Trevira Trousers" (from the 1979 debut album that Langford called "completely unlistenable except for this song") and "Memphis, Egypt" (from the 1989 A&M album that's out of print, Langford explained, because Herb Alpert has done something unprintable with the master tapes).
Langford's mocking commentary is an integral part of a Mekons show, but so is his guitar, which interjects glitter-rock riffs into the group's raucous country-folk-reggae-rock sound. Such eclecticism could be overreaching, but the Mekons' playful spirit and scruffy style renders it endearing instead. Just during the encores, the band hastened from a hard-rock reading of the Kinks' "Fancy" to an accordion-driven rendition of Hank Williams's "Lost Highway" to an exuberant version of its own impeccably punky 1978 single, "Where Were You"--sung by the band's longtime roadie. As always, the Mekons were democracy in action.
© Copyright 2000 The Washington Post Company

SAT 3/11 CARRBORO, NC Cat's Cradle
A couple things as I try to reintegrate into society (DC to New York to Carrboro NC to DC...2:30 Friday to 4:30 Sunday...three shows. We didn't stop for gas much, but boy did we get to talk about it in the car!
The show in DC was one of the best I've seen, just stunning I thought. A bunch of friends of friends were there, including a guy and his daughter, both huge mekons fans who jumped up and down when they announced songs like "Gin Palace." Other friends who know the band through us but hadn't seen them were there and blown away. A real deal-sealer, just raging until curfew.
In North Carolina, their customs are strange. Or maybe it was just that we drove all the way across Virginia to get there. Jon had a (mock, I think) shouting match with someone from Quarterstick, and Tom (behind sunglasses with a fringy cowboy shirt in DC and NC) told the crowd they were sleeping standing up, like horses. Jon: "they told us that if you like us, you'll just stare at us. If you dance, you hate us."
No liquor or coffee at the club, just beer, which really affected the timing of our peak.
Laura from Superchunk was there, and I think one of the women from Fetchin Bones, although the latter might be a figment of my ill-timed peak.
"After Six" in both shows!
Full travelogue later from our friend Charlie Fetter, along for the ride as always, although he seemed to be both preoccupied with biscuits and generally unaware of his surroundings.
Greg

SUN 3/12 day off
MON 3/13 ATLANTA, GA Echo Lounge
I certainly wasn't a lone fan tonight at the Echo Lounge in Atlanta, either. Couldn 't say it was packed but the band was even pleasantly surprised at the 40 or 50 people there. Barry K. Mills was there shooting video of the show. Y'all might remember him, the Yank on tour with them in 1994 or thereabouts. He's been documenting them since the late eighties. The idea has always been to create the end all and be all of Mekons documentary. Well, ten years later, he still is adding to his library but nothing official has come out. Much of the local music press folks were there and were even having fun. Mekons shows in Atlanta are ususally poorly attended, but for a Monday, I'd say it was a great turnout, esspecially considering all of the dinosaurs (including me) out and about.
Johnny Dowd, who opened, was pretty fuckin' good. Very eerie stuff, and kept a jaded crowd transfixed for the whole set. Jon, Tom and Rico joined in for the last song. Dowd and his band were out in the audience rocking out, too. Nice to see that the openers are still excited for the band that they're touring with. But then of course, how can they NOT be?
So it was a mellow kind of Monday night thing. The new material sounds so dreamy live, like custard rock & roll. The set didn't aberate from what's has been being reported, although it seemed to be cut a bit short. Some noise curfew. Lots of witty repartee, but no promised nudity or simulated sex. Bummer. For me it was a treat to hear '1967' live with accordion. Tonight was the first time I've ever seen Rico Bell perform. I liked even better my friend Webster's line about seeing Rico: "He looks like Charles Bronson of the accordion." Beautiful, huh? Then there was the heckler who was asking Jon how much it cost to play guitar for the Mekons. "The worse you are, the more you get. So are you bad?" One encore that ended with "Rock & Roll." That got the crowd shaking booty, but alas, darn, dang and shazaam, it was over.
After the show, it was nice to hear that they liked the story that I had written for the Creative Loafing. I had interviewed Sally while drunk off my ass. Things got silly. I had been porch sitting all day enjoying the first pretty day with a pitcher of the most wonderful Bloody Mary. I guess I was holding out on y'all cuz not too sure how good it was. Got the thumbs up from Sally and Jon, so maybe I'll share it. Geez, can't believe that they read their own press! Not too many touring performers have the constitution to do that.
So I am extra psyched about going to Austin. Jon was telling me that the Mekons will also be playing a freebie show on Saturday afternoon at some place called the Poke Me or whatever. I dunno. It's obscenely late. I have a van to pack tomorrow, and my recollections are fading into a drowsy fog.
G'night and don't let the bed bugs bite,
Gretchen

saw them tonight at this place out on Flat Shoals. they were great, but the crowd was pitiful. even for a monday night, they shoulda had more people.
i think the opening act, johnny dowd, drove some people off. plus at the moment its cold as hell here. the Mekons were funny, jon was jovial, sally seemed a bit down, but she warmed up some at the end when the diehard handful of fans stomped for the encore. why in the world has tom not become a mega rock star. it's beyond me. i've now fallen in love with rico too. they mostly played songs off the new record and the hens teeth collections (memphis egypt, heaven and back, i'm not here) plus poxy lips. fiddle lady lacking but they were still great. the 4 men quartet on powers & horror was nice. i hope kansas city houston and st. louis give them a better reception. they shouldn't have played in this stupid club, which sold out "the donnas" this weekend but obviously no promotion was happening, the only way i knew about it was from the mekons homepage.

TUE 3/14 NEW ORLEANS, LA Howlin' Wolf / HoB

---
SXWS: Thursday 16 March

Bloodshot Records presents @ Saengerrunde Hall (next to the Scholz)
Rex Hobart and the Misery Boys (Kansas City, MO) 9:00 p.m.
Sally Timms (Chicago, IL) 10:00 p.m.
Split Lip Rayfield (Wichita, KS) 11:00 p.m.
The Blacks (Chicago, IL) 12:00 a.m.
Bloodshot Records presents @ Scholz Beer Garden:
The Riptones (Chicago, IL) 8:30 p.m.
Devil in a Woodpile (Chicago, IL) 9:30 p.m
Kelly Hogan and the Pine Valley Cosmonauts (Chicago, IL) 10:30 p.m.
Rico Bell (San Francisco, CA) 11:30 p.m
Waco Brothers (Chicago, IL) 12:45 a.m

SXWS: Saturday 18 March

The Billions Corporation presents @ Antone's (213 W. 5th St.)
Anna Fermin's Trigger Gospel (Chicago, IL) 9:00 p.m.
B-Side Players (San Diego, CA) 10:00 p.m.
Neko Case (Seattle, WA) 11:00 p.m.
Calexico (Tucson, AZ) 12:00 a.m.
The Mekons (Leeds, UK) 1:00 a.m.

Mekons -Thurs evening @ Yard Dog Schuba's Party.
Waco Bros- Thurs night (around 1 AM) @ Scholtz beer Garden. cut short due to downpour.
Mekons - After hours party (4:30-5:30 ish) @ Millenium (set ending with "The Nighttime Is The Right Time"
Waco Bros- Fri 5:00 @ Yard Dog Bloodshot Party
Langford, Doughty, Hogan and Gurf Morlix - Sat afternoon @ Hideout Party (Pok-E-Joe's)
Mekons- 1AM @ Antone's (finally changed the setlist..a little) adding an inspired Poxy Lips (after a fan shouted the request) Did an almost tender version of Last Weeks Of The War....ended with a wild Where Were You.
Did any one actually find the rumored after hours party???
I ate Gospel Brunch with the band and Johnny Dowd and co. Sunday morning/afternoon, but never heard mention of it...the band looked exhausted...hmmmmnnn I wonder why?
Quote in one of the papers...
"there are over 1,000 bands at SxSW, and Langford's not in about 800 of them.."
an incredible week........
Did anyone see the riveting Johnny Dowd performance at the Ritz Sat night at 12 midnight? God, he's amazing.
-Bill


---
excerpt from NOW, March 23-29, 2000, 47. [courtesy Hugh Hardy]

The next day, there are almost as many people talking about [Patti] Smith as SXSW buzz-belle Neko Case. In restaurants, at gas stations and in used-car lots, everywhere in Austin, I hear people on cellphones planning meetings, interviews, and barbecue runs around Case's Saturday gig. So it's no surprise that when the CMJ cover cutie hits the stage, the line at Antone's door stretches from 5th Street right down Lavaca to 4th.

The best way I've found to avoid the obscene lineups is by staking out at outlaw events like the Bloodshot label party at Yard Dog Gallery. It's consistently one of the festival's most enjoyable get-togethers, where artists, journalists, label reps and fans can chill with a road-weary Sally Timms over some great music and a brew.

Maybe it's time SXSW organizers started looking at unsanctioned events as assets rather than competition.
---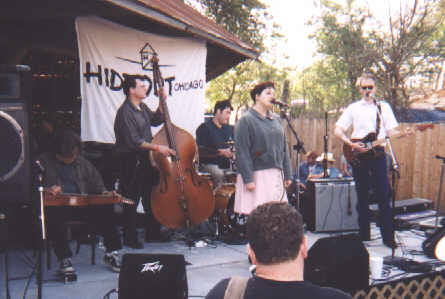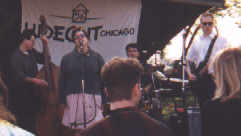 the afterhours gig on Thursday night was a lot of fun, if not the perfect end to a very long long day. by the end I'd been up for over 24 hours and had been pissed on from the rain and a bit pissed myself from the consumption taking place. the sagruende hall show with sally was short but sweet, with her forgetting the words to a song I can't remember now. the beer hall shows right next door were wonderful, again, if not too short. the rain really put a damper on things, but didn't stop the dedicated from standing out there like complete idiots (myself included).
kelly's set was about seven songs long and she blew me away. it was the first time I'd seen her in ten years, her jody grind days. she did a lot off the new album, which bloodshot did not have on Thursday night but did at the bloodshot showcase at the yard dog the next day.
set list something like:
between love and hate/still can't believe you're gone/don't believe in you/papa was a rodeo/wild mountain berries
she did another which I can't remember and the order is probably off, but she did end with what I think was a burt bacharach tune.
rico's set next was seven or eight songs long, very well played. I kept shouting out for born to run or something else off the first album, but they stuck only to the new album.
the waco's came on last and put on a great, but shortened performance. the rain that had let up started to come down again about three songs in. things started off with a blistering revolution blues and followed with a variety off all four records. to my mind comes if you don't change your mind/do what I do/plenty tough and union made/wreck on the highway and a few more. possibly red brick wall, but definitely another deano song or two.
when the rain started to come down too hard, they shut it down and jon mentioned the afterhours gig at the millenium. I'd been hanging our with eric babcock, who started up bloodshot, went to checkered past several years ago and now formed his own label last year. before the waco's came on, I thought I'd be asleep by three or so, but he told me about the secret gig and I knew there'd be little sleep for me that night.
the place was full of free booze, but the time I got there the free food was all gone. it was a strange crowd, but it probably just seemed strange cause this band, called supagroup I think, was playing before the mekons. they;re from new orleans, young and definitely in the "rawk" school of music. and they do it well, if that's your thing. tight leather, spandex, bobbing heads and oozing flesh seemed everywhere around you. at one point between songs, the lead singer went into a monologue somehting to the tune of:
"y'know everyone asks me what the hardest part of being in a rock and roll band is. is it the endless blow jobs everynight? is the drugs? is it....you get the point here. langford was off to the side and I watched him the whole time. he had this bemused look on his face, almost blank...but that may have been the booze. he walked away shaking his head.
the meke's came on around 3:45 and looked absolutely dead beat. I thought they were going to go on without tom, sally or sarah, but they showed up about ten minutes before they took the stage. they played roughly for an hour, with a lot off journey. I have the set list at home and I'll try to post it later. according to the list, they'd planned on a full show with two sets of encores, but they didn't even make it through all of the regular set songs. clearly everyone, including the audience was very tired and it wasn't anywhere near they're best effort, but it still capped off a perfect first night in austin and I kept thinking (like a geek, I know) just how fucking cool it was to be seeing a secret after hours mekons gig. ok, not so secret since langord announced it to everyone at the bloodshort showcase, but the fact that they were playing twice at the festival made the whole trip for me.
more later about yard dog and pokey joe's on Saturday.
lynn john


---
Hey! Just got back from SXSW and I sure got my moneys worth out of my wrist band!
Saw Sally solo, The Wacos and the Mekons along with about 20 other great acts. But I was disappointed that NO "list people" got in touch with me... I thought I set it up pretty easy! OH WELL... I had fun without you... Met Rico( He has COOL facial hair .. rather pirate-like, VERY nice guy ) Sally (she had "FUCK OFF" written on her forehead so I didn't talk to her much) and Jon ( I am hoping to maybe trade some art with him- Nobby please can you get me a mailing address for him) Bought both Mitch(very nice bloke!) and Jon beers- but- the Mekons deserve SO much more..don't you think!
BEST shows of SXSW
Wacos with Lonesome Bob & Sally
Mekons (short but GREAT!)
John Paul Jones
legendary Stardust Cowboy(one weird old man!)
Cornell Hurd Band (EXCELLENT!!!)
the Gourds
Trish Murphy
Giant Sand
THE BEVIS FROND(YES!!!)
Steve Earle
and on and on and on... Didn't see any bad music... EVEN- Hank Williams the III- who walked off the stage after 3 SONGS!!! ("I'm sorry but there just isn't enuff distortin' comin' out of this fuckin' amp!")

BUT I am not a very good critic I like all music! AND I was pretty drunk most of the time!
Mick


---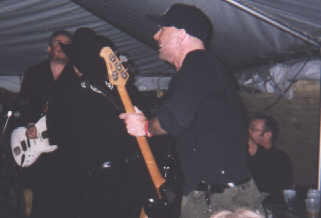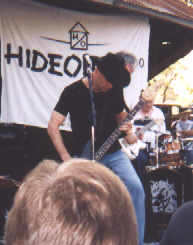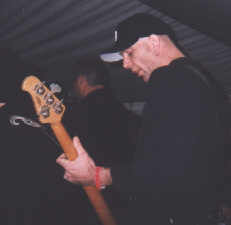 Alan Doughty in 3 incarnations
Matter of fact there was a tornado watch Thursday, and a severe thunderstorm warning Saturday. Neither happened, but it was wet and windy at times. The Wacos had to cut short their outdoor set late Thurs. due to the heavy rain. They more than made up for it the next afternoon at the Bloodshot barbeque at Yard Dog, with an hour or so set that started high energy and never let up. I swear there was enough energy coming from that stage to light NYC for a week. It was a major highlight of my weekend, even more so than the Mekons. When the Mekons ca
me on stage, Jon said, "We're the Mekons and this is our 17th gig today". Apparently they had a busy week, playing a private after hours party late Thursday, an afternoon thing at Yard Dog Thursday, and god knows what else that I never heard about. My point is they seemed a little tired, and played the shortest set I've ever seen them play, a mere 75 or 80 minutes. No second set of encores.
Lovely harmonies from Neko and Kelly on "Cast No Shadows", and "Orpheus" always gives me shivers (the good kind), but not one that will join the ranks of the greatest Mekons shows.
Last word on SXSW, to disagree with an earlier post - The Patti Smith gig at Waterloo Park was for me (a long time fan of Patti) transcendent, inspirational, a real musical and emotional high.
As for new artists, check out Bloodshot's Unholy Trio, alt-country reinvented as the power trio.
Rick


---
>From New City's coverage, written by Mitch Myers:
"...By the time Ms. Case's set was over I was exhausted. So exhausted that I was unable to leave Antone's at all. Standing fast I watched a fantastic set by Tucson's Calexico and hung on until 2:30 in the morning dancing to sounds of The Mekons.
Although Welshman/Chicagoan Jon Langford must be credited for providing this unusual group its guiding light, vocalist Sally Timms and guitarist/singer Tom Greenhalgh rounded out the band's majestic nucleus. Along with other longtime band members drummer Steve Goulding, accordion player Rico Bell and Sara the bassist, the Mekons embrace English and American folk music, white reggae and atmospheric rock with equal skill.
Playing songs from their new album "Journey to the End of the Night," as well as tunes from their illustrious two-decade career, The Mekons were outrageously rude but engagingly musical. Challenging themselves to create great art and provide decent entertainment while completely drunk, the band relentlessly insulted the music industry and used urine jokes to enliven their between-song patter.
Like any Mekons performance, this show was a compelling snapshot of a philosophical band that easily could have called it quits years ago. Personally, I'm glad they didn't but I couldn't last until the end of their set..."


---
Pretty good show, despite nasty sound problems that jammed up the first three or four numbers (the hum "turned bombers into butterflies" overhead.
They never really fixed it, and Jon's guitar was waay down in the mix.) Discussions of appropriate uses of urine (corporate/ clinical/home entertainment) spliced with most of Journey..., including Kelly Hogan and Neko "Head" Case backing on Myth. (Neko's earlier detached performance -distracted by her glass of Maker's Mark Bourbon whiskey- lead Mr. Langford to label her Neko No-ShowCase.) Jon introduced their new song "Feisty Testicle," and let the audience know he was wearing Steve Goulding's underwear. Sally announced that there would be no flash photography after the first 3 songs in the set, and that anyone who disobeyed was a dick. (This was a dig to the Patti Smith show Friday night, the two shows demonstrating the divergent paths of the Generation of '77. Never being the true Patti Smith fan, I hate to say she verged on rock-star fossilization, and urged every one to vote -for who? -twinges of righteous cornballitude. Judging from last night, Mekons are not at risk of these ailments.)
Best bits as I recall -
Neglect
Orpheus
Powers & Horror
Feisty Testicle (a new song)
(Feisty Testicle was their big hit in England in 1978, when they wrote all their songs. Never made it to the States. According to Jon. And who can we believe if not him.)


---
Thursday show ended around 5am. and rico had to be on stage at the yard dog bloodshot show at noon. I'm thinking he came on around 12:30 or so. I can't believe he made it. mekons endurance skills have to be off the scale. I stayed for him and his snakehandlers set, which was pretty good. again..no old songs from the first album and I don't know the second well enough to list all the songs...but the whole thing stinks sticks out in my mind along with mersey song, cold comfort and bar where no one talks.
I know bloodshot has been holding its showcase here for several years now and its gained more notoriety (according to some friends who've been there in past years). the place was packed and the free beer was flowing. they even had free burgers as well.
after rico, I went over to another free performance show, down the street at under the sun. caught roger wallace there. really liked him. a powerful voice and his style ranges from texas swing in some songs to hank williams honkey tonk and all over the country map. very rootsy. and one of my favorites of the trip. (also caught him on Sunday at another free shindig out on the lake/river.
saw some other acts who really didn't register and then went over to the continental club to see dave alvin do several songs in his sound check with tom russell and chris gaffney, labelmates of his on hightone.
by the time I got back to yard dog, kelly and the pvc's were just about to come on. somehow, I missed neko case and I'm still kicking myself for that. kelly and the band were right on. the set list this time was only 5 or 6 songs, minus the burt bacharach cover (anyone who had a heart) from the night before.
she mentioned someone would probably be crashing the stage and, as the night before, langford ran up on stage for the last chorus of "papa was a rodeo." the whole rest of the day "wild mountain berries," off the new album, was running through my head.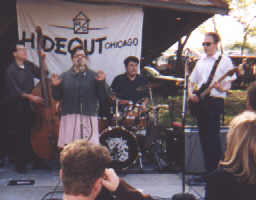 during her setm kelly announced that they did have her cd with them today, which they had not the night before at the beer garden. I also heard somewhere along the way that sally was a bit peeved cause they had forgotten to bring her cd's for sale on Thursday night as well. the waco's came on last and I was expecting a set similar to Thursday night, short and sweet. but they played a full show's worth, 15 or so songs.
lonesome bob came up at one point and joined in on the fun. and later on, when beatle bob came on stage, as he did at the afterhours show as well, jon called up lonesome bob again, along with some guy in the audience he called mad bob. they danced away and threw in backing vocals. jon called for tom to get up on stage, but he preferred to stay on the sidelines.
the show was one of the best wacos gigs I've seen. they really seemed to be having a blast. songs I can remember:
do you think about me/plenty tough/see willy fly by/harms way/red brick wall/do what I say/if you don't change your mind/out there a ways/wreck on the highway/white lightning/revolution blues/seminole wind (w/sally)/red brick wall
not in that order, of course.
there were a few other as well. looking back, and its kind of surprising, they really didn't play too much off waco world. do you think about me really stood out for me, but the whole set seemed quite inspired. too bad sally only came up for one song, but the whole "fuck you" printed on her forehead was hilarious.
on saturday afternoon, there was another free beer hangout party at pokey joes, sponsored by the hideout (in chicago). I got there just as split lip rayfield were coming on stage. I grabbed a beer, chatted with mitch for a bit and then ran into list members julie and rob, who comprise hotel mekon, the philidelphia branch. we'd been seeing each other over the course of the three days and it was really great to finally talk. rico's wife (melissa, I think....???) also came over and talked a bit. we both commented on how well alan seemed to be doing; his spirits were flying high.
kelly came on next and played pretty much the same set from the previous days but did throw in "drunkards blues" from the bob wills tribute.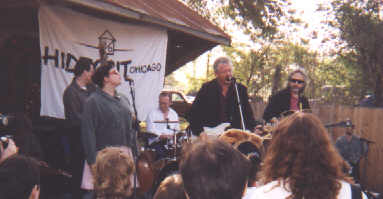 jon came on next with his six proud walkers, which if I remember included gurf morlix (on catamount records) kelly/goulding/alan, who came on after a few songs replacing the stand up bass player from the pine valley cosmonauts.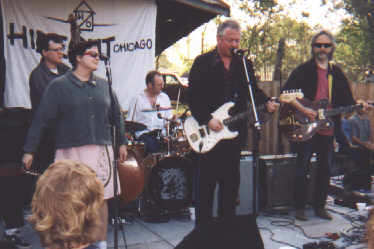 they played a mixture of stuff...nashville radio/pill sailor/sentimental marching song/thing called love...and there my memory fails again. sorry.
from there it was onto the show at antones and several people have written in about that. some other observances on the night. neko was incredible. I heard at the end of the night that she blew off all of her interviews that day, including one with people magazine (thank god!) seems being one of the buzz acts of the festival weirded her out a bit.
on the mekons gig, I agree it wasn't one of there best, but langford had the between songs banter on in full force, more so then I've seen him in quite awhile. at times, he just wouldn't shut up...not that any of us wanted him too.
at the beginning of the show, I noticed that there was an extra mike on stage and immediately thought that neko and kelly would come on stage for a song or two. and they did as someone already said...but they still didn't play cities of london or last night on earth--still my two favorites on journey.
another funny moment came when kelly and neko left the stage and sally made some tongue in cheek comment about their considerable talents. langford immediately countered with "and they've certainly going a lot farther than we ever will."
what they played:
flood/tina/heaven and back/last weeks of the war/brian (i'm not here)/gin palace/myth/cast no shadows/ordinary night/orpheus/fancy/ballad of sally/poxy lips/neglect/
encores:
powers & horror/where were you
that's about all I can remember now.
lynn john
---
Gretchen writes:
> I think I missed like every Mekons related thing at SXSW except for the
> Friday Waco Bros. clusterfuck behind the Yard Dog, and I wasn't long for
> that. How's that for lame?
Pretty lame (g).
And "clusterfuck" is a pretty good name for what goes on at Bloodshot-Yard Dog every year on Friday. Good gawd, it is so much fun and so damned crazed it should be outlawed. I'm late on this as well, but I saw every Mekes-related thang at SXSW excepting the super-late-night deal @ Millennium which I didn't know about and after hearing the reports of how tired everyone was I'm glad I didn't see it. A quick rundown:


Mekons @ Yard Dog on Thurs later afternoon:
I don't remember much as I was just so happy to see this and I think I might have walked in a tad late (my head still spinning from seeing a wondrous Gomez acoustic @ Waterloo). Sally didn't appear to be in a great mood, gently swaying with both hands clasped defiantly over her ears for much of the set (g). I guess her ears just hurt or something. But it was a pretty cool show.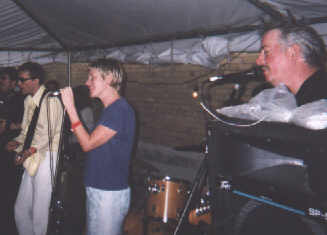 Sally @ Saengerrunde Beer Hall-Thursday 8pm:
I missed the first 15 minutes of this I would guess, and it was quite crowded, but having to stand in the back of this beautiful old German beer hall and lay eyes and ears on the beautiful sounds and vision that Sally put forth in darkened, sparse surroundings was really something else. She played with simple accompaniment from Jon Rauhouse and...someone else, and it was one of the neatest Sally shows I've ever seen.

Wacos @ Scholz Beer Garten-late Thursday night:
Actually, I lied-I did miss this. I was there, but the rain and cold was so threatening I left not long after Sally's set as I saw all the soundboards being covered with tarp and moved. I was convinced nothing was gonna happen (outside anyway) so I went on to see Billy Joe Shaver/Jon Dee Graham (who were excellent). But having missed both Rico shows I really regret doing so now (I knew I could see Wacos again next day).

Wacos @ Yard Dog-Friday:
Good gawd, just awesome. Insanity times ten, even more so than last year. Lonesome Bob going crazy on "Do You Think About Me", Deano screaming out G. Jones' "White Lightning", Jonboy's braggadocio belt on "Plenty Tuff and Union Made". Beatle Bob about to combust w/ the band, several go-go dancers mounting the stage, a front line of Langford, Deano, Tracey, Alan sweating, surging, thrusting their 4-man guitar front within inches of the faces of the first row of fans, at times like that it was tough to see where the stage stopped and the crowd started (I was right at stage-side). I was seriously expecting several women to suddenly disrobe at any given moment-it was that unhinged.
Even non-Waco-fans should try to come down for this next year. Strangely, I was just standing quietly observing it all, which seems bizarre as I usually bob-and weave a bit and sing or something, but it was just too much sensory overload for me, and all I could do was stand back and watch with a silly grin on my face. I told someone that next year someone was just going to have to set that damned tent on fire at the end and blow the place up for a topper.

Poke Joe's BBQ-Saturday afternoon:

This was the Hideout's picnic (bar in Chicago), and was really fun with nice weather, big yard and food (and celebs as well, mega-songwriter ("Wild Thing", "Angel In The Morning". etc. etc.) Chip Taylor-brother of Jon Voight-strolling around. As written here before, Kelly's set was really cool, and Langford did some Jonboy songs and happily some Skull Orchard* songs as well. Nothing incredible, but nice to see and hear. And, I had never seen Gurf Morlix in person, and that was really cool.

Mekons @ Antone's Sat night:
In reading all the other write-ups on SXSW on other listservs I'm on, I'm stunned at how many music-knowin' folks weren't at this show, regardless of how crowded it was early on), and given how slow the slotting was for Saturday night in general. Geeyawd, I wish to hell everyone on this listserv could have been at this show. Imagine if you will, just for once, in the whole sorry hit-and miss, sloppy Mekons history, that for once, finally, your heroes took the stage to joyous cheers from at least a couple hundred people-maybe as high as 500-I can't say for sure), flashbulbs popping, hoots and hollers, damn near deafening cheers....well, that's what happened. I mean how many times does a Mekon have to start threatening folks for popping too many flashes as Sally did??? Not often enough, my friends (g).
Anyway, it did really feel like a redemptive show. "Heaven and Back", "Gin Palace", "Orpheus", "Fancy", "Tina", all of the new stuff just surged and merged into a bloody and sublimely entrancing sound, smiles and sweat everywhere. Riotous interplay between Sally and Jon, Tom lurking all the time like a sort of Ali figure, joyously jumping in here and there to get his shots in. Rico just happy. Best line of the night was Sally's "I'm here at SXSW out of my undying love and gratitude for the music industry". The show was so crazy this aging, slowing 35 year-old even had women hitting on him from 2 sides, one of them married out with her larger-than-I husband. Of course, I was positioned right under Rico so that must have cause them to lose their senses right there. I bop and twang a lot at Mekons shows but I don't swing, so it was no go; I was only there to hear great music. The encores were spirited shouting matches. The closer with Mitch of "Where Were You?" was pretty much insane. And then they were gone, and for me the whole shebang gently faded away into a dizzy stream of happy and fuzzy memories....

So, that was that. Not much to report, eh???(g).
cheers,
dan

p.s. I did enjoy chatting with Rico quite a bit at SXSW, if only to make a very clear point of telling him how very good I think *Dark Side of the Mersey* is (I don't own his 1st yet). He is a bit shy, humble, and retiring (as was Tom when I said the same things to him about his whole career), but I think Rico appreciated my directness; I think it's really important for "under-the-radar" artists of such quality as Rico and Jon and the Mekes in general to hear that very clearly sometimes-that the music they make is very important and means a great deal to those of us who own it.


---
MON 3/20 KANSAS CITY, MO Grand Emporium
From bullshit:
Saw them in KC last night. First off, Sandoval, no relation to anyone, is an alt-country-rockabilly-I-hate-labels band from KC that is simply great (they also understood who the Mekons were and why they were privledged to open for them). Sandoval unfortuantely is breaking up, but reforming into some other stuff. Sold me a good drum set for cheap.
As for the Mekons, I'm a new fan who only owns Original Sin, so i have no idea how they were in comparison to anything. They played about 5 new songs, did Orpheus, made funny banter (mostly Sally and Jon sniping at each other) and a silly cover of A Horse with No Name. They sounded a tad rusty, as if it was one of the first shows on the road, but they admitted as much since they had a day off.
A good crowd for KC, lots of old punk rockers, the balding with the hair tied back look (that was funny, I'm only 26, and was only 4 when they formed anyway).

TUE 3/21 ST. LOUIS, MO Blueberry Hill
I'm late on this but Tom M's stellar review of Chicago's really forced me to do this before it's too late-believe me, the hangover I had the next day will be obstacle enough to any clear-headed remembrances (g).
Ummm...I'd say the Blueberry Hill-Duck Room was 80 folk full-maybe 90??? (Bill-feel free to adjust this if you remember diff.). Enthusiastic crowd and good crowd for a Tuesday night tho. Pretty much same set list if diff order as you've seen recently, but I just hate it when they play Heaven and Back and Gin Palace as early as they did in St. Louis. They did roar out of the gate on the 1st encore w/ Memphis Egypt if memory serves....and it probably doesn't. But they played it and it late I know was incredible.
Seems like Johnny Dowd played a guit solo right in front of stage after Jon ran off stage and forced a guitar on him, and I seem to remember Dowd giving an impassioned testimony for the band towards the end of the show as well I think. (90 minute show maybe-too short alas...and no Beatle Bob in att. dammit)
as an aside, I was pretty polluted at this thing and babbled a bit at the end to Jon (and probably Tom also, seeing as he signed my *Journey* CD like 5 times I'm afraid he might have got his fill of me ), so if any Mekes or confidantes of such are reading this please tell them the drunk bastard from St. Louis apologizes (;-)).
guilty of Mekon-show over-consumption...I'm not the first one am I???(g),
dan


---
From bullshit:
now, on to the meet of the matter, which you say takes pride and place. not exactly sure about the truth of that last statement, but it certainly has made the other shit a bit easier to wade through. it hit a deeply resounding chord with me. i have found it a beautiful thing to listen to, and the songs are lovely. the violin is especially great, although the piano is nice, too ... and tom really seems to hit a mark here. he looked fabulous on stage, too, wearing a vaguely shiny dark purple shirt and someone's cast off mardis gras beads.
st. louis was lucky to have had them. the opening band was the johnny dowd band, wrapping up a couple of weeks (?) of travel with the mekons. the johnny doubts were full of energy, having fun, and fun to listen to. the band seemed to be along to do the johnny dowd show, and most of the songs were about this 'johnny gone bad' fellow-- cross-eyed, maybe drunk, sometimes mean as dirt, and thunderstruck with some kind of love that the rest of us might just never get. but if we did it'd make us cross-eyed too. they connected the dots between tom waits and nick cave, kicking up everything from mambos to wicked heartland tales done with shock-a-billy energy. janet didn't have much patience for it, it was just too boy-o indulgent for her. i kinda liked it. the mekons joined the johnny dowds for their last number. lots of fine mutual appreciation being passed around. a good start to a good evening.
i wrote down the set list because i wanted to write and tell you all about it. i've lost my notes, though. so much for that idea. it was on a card that jon gave me as i was leaving. he wrote his e-mail address on it. i lost that too, but i think i remember it. i gave your regards to both jon and tom and they both send warm words back your way, all that way, away.
if i could remember one line from every song they sang i'd stitch them together. i don't know what i'd be left with, but i can tell you how it would start--those best first words: a velvet glove strokes a hairy thigh. both jon and tom were wearing purple shirts, like the bubble round your lips. rico came to the party dressed as a pirate. everyone looked grand and happy, except sarah, who seemed upset. whether she was or wasn't, there's little going without her. in their sleek and aerodynamically pared down form (no fiddle, no cumbus) sarah and steve laid the carpet for the evening--a nice dubby deep pile with sharp jaggy designs thrown in here and there for texture--a warm embrace for both journey and the older stuff like poxy lips and lost highway, which also made the show.
after i'm not here (1967), i think they went on to the ballad of sally la la la nothing nothing nothing has been rattling around my head since, kinda like a bad cough. can't quite shake it. heaven and back found tom trading his jacket for the beads, and set the mood for me. the rest of the show just fell into place . . . a long stretch of songs from journey to the end of the night interrupted by some rock and roll (fancy, was particularly full of tooth and soul--again tom's shining moments).
before the show i wondered if we'd see any of that great performance stuff that sometimes happens--like that point during the me tour when narrative disintegrated into that snarling pile of band members chasing each other round the stage on all fours, sniffing each others' asses. animals. the kafka-clincher that kinda put 'me' into perspective.
for the most part it seemed like that wouldn't happen, like it was just going to be a night of fine rock and roll and songs. the johnny dowds were on stage for numbers like cast no shadows, fancy, and memphis, egypt. the johnny dowds are a good bit younger and than johnny dowd hisself or any of the mekons. they tumbled across stage on feet and backs (with tom) bringing their revelry with them. sally seemed to have tons of fun sharing her mic with justin (keyboards for jd) during the born in the belly song--he would do the 'rock and roll' part with great abandon, she was smiling and dancing and so was everyone in the place. after a while though, it was time for neglect. they made it through the whole song, and then started asking for money. sally asked and asked while jon and tom moaned please, please. i don't know how long it went on, but it became excruciating. it was weird. people just started throwing up bills, and sally kept asking and jon and tom kept moaning and people kept throwing money. i don't want my dirty money either, but i couldn't stand what was happening. it was sharp and distasteful and brilliant and stupid. then rico and tom and steve and jon were standing at the front of the stage alone and they were singing powers and horrors.
i keep thinking dagmar krause should do that number. she could say it was one of kurt weill's lost songs, and get famous for finding it.
the mekons were on and off stage saying good night over and over and playing more and more songs. we basked in orpheus and where were you and myth and ordinary night, etc.
i really wish you could have been here.

---
WED 3/22 Madison

The lovely Mekons arrived late for their late booking at O'Cayz Corral here in Madison, Wi. without a soundcheck, but still sounded as good as ever. Nearly all the usual suspects (old timers) showed up for the gig which was a last minute addition to the spring tour. It was a packed house anyway. I personally have seen every Madison gig since discovering them back in about '86. I figure that's about 8-10 shows: they seem to like this town, despite both Jon and Sally suffering injuries at past O'Cayz gigs (Jon once being slightly electrocuted by his microphone at one gig, and Sally getting a smashed mouth at the '98 show by a drunken reveller, whom she properly scolded in front of a stunned audience). Anyway, another super-fun performance not soon forgotten by those in attendance.
Set list:
Wild and Blue (aborted version: Sally forgot the words)
I'm Not Here
The Ballad Of Sally
Gin Palace
I Have Been To Heaven And Back
Jolene
Tina
Myth
The Flood Cast No Shadows
Ordinary Night
Orpheus
Fancy
Poxy Lips Neglect. (encore):
Powers & Horror
When Darkness Falls
Lost Highway.

Sal strapped on a guitar for 'Orpheus'...Here's what Jonny said after: "She's got it goin' on, I don't know what it is, but she's got it goin' on.
We're trying to move into a sort of blues guitarist sort of feel 'cuz we realised, you know, if you're an old white guy you can make alot of money playing shit like that, so...young white guys don't mind doin' that as well...
(Tom): Sally's not a guy now, is she?
(Jon): That's our gimmick, that's the twist.
(Sally): No, I am a guy. That's my twist, that I have false breasts, and I have a huge penis, which is concealed...
(Jon): Were you on Sally Jesse Raphael this morning? That was tragic...
(Sal): No, I was in bed.
(Jon): She's never been on a date...
(Sal): Untrue...
(Jon): It was also pretty hard to believe...
(Sal): Shut up you old sod.
(Jon): You might wonder why we bothered to have an accordionist, well, it's not very fashionable, I know...
(Sal): 'Cuz an accordion looks funny, I think that's the main reason...
(Jon): Looks funny? He's actually my boyfriend and if I left him on his own, he'd just be havin' big parties; the tropical fish would all get killed...
(Sal): He doesn't have parties, he pines, he pines...
(Jon): He pines when he's left alone...
(Sal): He soils the carpet...
(Tom): He told me he was my boyfriend...
(Jon): Do you know how expensive a nursing home is in America these days? Very expensive,you can't just leave someone in a nursing home when you go away on tour, so you give them an accordion, and you take them with you. It's alright.
(audience members): "ouch!" "oooohhh" "you're all friends..."
(Sal): We're not actually, you're very wrong there...
(Jon): Very wrong...
(Sal): If you think there's any friendship going on here, you're sorely mistaken...
(Tom): We all hate each other...we detest each other.
(audience): "you're friends..."
(Sal): No we're not. You're living in a fantasy world, and it's time you faced reality....
(audience): "can we all live in a cabin together?"
(Sal): Then we'll want to buy those little sheds...you know , we'll call it Mekonville...I've seen loads of them as you drive by... those little garden sheds...
(Jon): I can't afford a house but I can afford one of those little sheds...
(Sal):A real nice bright...would you build them? We just need one each and we don't need any sanitation...
(audience): "how about an ice shanty?"
(Jon): We're trying to set up an alternative community, you know...
(Sal): Yes, people who hate each other living in wooden cabins with no sanitation, very closely together, I think that might work...
...they then launch into a ripping version of the Kinks' "Fancy", and so it went, with plenty of sniping and ribbing and jovial insults throughout the evening, as we like it.

During "Neglect", Sally begged the crowd for "just one dollar from each of you" since they had already blown their guarantee on dinner. After collecting "six fucking measly bucks" tossed up on stage, she pledged to remember Madison for being so "tight", and they proceeded to toss one or two bucks back and even set one afire.

Such fun...thanks Mekons! We're looking forward to building Mekonville here in Madison real soon...in the parking lot across from O'Cayz with plenty of little garden sheds...
Cheers, Steve from B-Side


---
THU 3/23 recording
FRI 3/24 CHICAGO, IL Metro

I saw nobody's written about the Chicago show, so here's my take:
I did make it to the Mekons at the Metro this weekend. They did kick butt. They opened with "I'm Not Here," which I thought was weird, but I only got Hen's Teeth vol.2 and Journey to the End of Night at the end of the show. (I also picked up Mekons United, which looks great. So far I've just read the Bourbon correspondence.)
They did seem low-key, as though they were starting to get as old as Sally always claims to feel. Not that that hasn't happened to us all.
I liked it -- and even though they didn't do "Hard to Be Human" for the first time I've ever seen, they did do "Where Were You," and that, I thought, made up for it.
I had a lot of mixed feelings at the show. When they were doing songs I knew well i couldn't keep from hopping, but whenever they played one of the new songs that I didn't know I started to go into a deep blue funk thinking all the shows I've seen, and who i saw them with, and the general hideous rut of my life.
I'm working & listening to JttEoN. (Let's just say "Journey.") How could I leave out the brilliant main set closer -- "Neglect" worked like a charm. People started throwing money on stage almost as soon as the song began. Sally had to yell not to throw change. Then she tried to give back a $50 bill that a bartender passed up on stage. Finally, she promised to donate it to charity. I think she said $10 was about as much as she felt comfortable with. But then she kept asking if there were any chiropractors in the audience. (John took it upon himself to warn off anybody just looking to cop a feel off of Sally.) There didn't seem to be any, but maybe she'll be luckier in another town.


---
SAT 3/25 Berwyn, Fitzgerald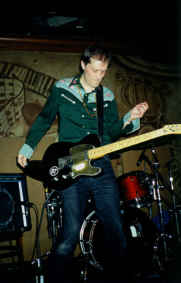 More Great pictures (1 MB) from this gig , done by Mary Huey. Setlist is from Sean Elias, thanks to both of you!

Artiste: Mekons
Venue: The best club in the USA, FitzGerald's in Berwyn, Illinois. Jon: "Where every punk band should end their tour."
Crowd: Almost full, three or four hundred people. Mekons crowds are getting older -- it looked like the average fan was as old as the average band member...
Moron Factor: A few obnoxious drunks.
Sound: Very good, fairly loud. Tom and Rico had trouble staying in tune, perhaps due to, I don't know... they had been drinking?
Our Seats: We stood off to the side, maybe twenty feet from the stage.
Opening Act: Local powerpop legends EIEIO, who were ok. Aging powerpoppers are kind of sad.
The Band: Left to right, Rico (excellent facial hair), Tom (clean shaven), Sally (same sequin/denim as she wore at the Hideout last month), Steve, Sarah, Jon (minimal facial hair).
Setlist:
Gin Palace
Orpheus ("this is a song from our book -- buy our book")
Tina (Jon: "I heard this on the radio today, I don't know what the fuck that's about, must be the fifteen hundred dollar check I wrote to (WXRT dj) Terri Hemmert")
Myth ("no one knows what this song is about, especially us")
Poxy Lips ("a disgusting old song")
The Flood
Lost Highway (Tom: "Does anyone have any marijuana?")
Darkness Falls
Cast No Shadows
Ordinary Night
Ballad of Sally
Heaven and Back
Neglect

encores
I'm Not Here (1967)
Last Weeks of the War (Sally: "We could play quietly, which would be nice but unlikely" -- and the band did a nice, quiet version)
Fancy (Sally, looking at the setlist: "Fanny?")
and
Powers & Horror (great version, with the four guys upfront at the mikes -- Steve, watching Tom lounging at his drum kit: "Ladies and gentlemen, Peter O'Toole" -- Jon: "More like Penis O'Clit")
Memphis Egypt
Where Were You (no Mitch -- Tom: "He's in South Africa") (Jon: "Thank you, we're the Mekons, and you'll not see our like again")

More Mekon Moments:
Jon: "Is it crowded out there? Are people pressing against you? Now you know what it's like to be in this band for three weeks."
It was fundraising night -- during "Neglect", Rico started asking the crowd to throw money, which some did. Sally asked the crowd to stop, saying it would only make the band start fighting.
Sally auctioning off a pair of Steve's shorts, then stuffing them into her shirt -- Jon: "What happened to your breasts?" -- Sally: "They merged. Synergy." -- Tom taking the fabric of Sally's shirt and pulling it out into a giant nipple: "Britney Spears!"
Sarah smoking a joint that someone in the crowd gave her. She played very well all night, she and Steve had a good reggae groove going for much of the show.
About an hour and forty-five minutes total, about a third of which was the band talking/joking between songs.
If I had to guess, I would say that Tom was drunkest, followed by Rico.
And after the show, Sally was outside the front door with a big bag, asking for more donations...
In Summary: One of the better Mekons shows I've seen. They were in a great mood all night, they did a great mix of old and new songs.
TWM


---
Last night, the Mekons climaxed their tour as a band known for their dedication to professionalism. Sally proved her "metal" as a guitar hero with blistering fretwork on "Orpheus". Tom delivered a rapid-fire series of one-liners with clear-headed, well-enunciated wit. Sarah stepped to the fore with a lengthy monologue about the dangers of marijuana abuse ("Just say No!,kids!").
Jon sheepishly stood toward the back, offering his unobtrusive guitar lines.
Eric "Belly" Bellis played his little concertina about as well as an old, eyepatch-wearing, peg-legged pirate could. Anne of the merchandise table filled in on vocals for that old chestnut "Where Were You?" for roadie Mitch, who could not be there due to a headcold. Sally reprised her role as consummate entertainer by personally offering a fond, heartfelt "Good night" to each audience member who passed through the door.
skippy


---
Hey all, a few thoughts on the Mekons show here in Chicago (Berwyn!) last Saturday. I've become a really big Jon Langford fan in the last year and I've always respected the Mekons based on the writing of Greil Marcus and the one Mekons album (Rock N' Roll) that I own. They are living legends, how could I pass them up? Jesus, they are contemporaries of the Gang of Four and the Clash and they are still kicking around. Think of them as the coelacanths of punk rock.
The Mekons take the stage and Jon Langford proclaims it's good to be back in Berwyn ("where all good punk rock bands end their tours") for the last night of the current tour. He eyes the crowd and asks, "Pretty much the same people as last night?".
Sally Timms takes the guitar for an early tune. After playing a simple song, Langford makes her give it back. She strums the guitar and is going to continue playing, but she makes a face and says, "That sounds like shit!". Langford jokes, "Just hit the heavy metal button. We're in the premiere heavy metal establishment in Berwyn". They move on through a couple more songs and I notice on the setlist they've written: "Rest (drink beer,etc..)" and later: "Tease Rico". Sure enough, they stop and Langford claims they need a break because they aren't as young as they used to be.
If they couldn't play instruments, they could tour as a comedy act. I've never laughed harder at a music concert. Here's a sample of the band banter. Sally Timms gets on the subject of feminism and proclaims she is a feminist or, more accurately, a post - feminist.
Langford: "What's that, a woman who works at the post office (and then) gets a gun and kills all her coworkers?" Timms: (wistfully, but still deadpan): "If only." Langford: "Luckily the gun laws extend towards our band..." Timms: (pausing, casting a sour eye to Langford): "They extend TO our band not TOWARDS our band -it's not like they're coming AT us...you illiterate fool. (pause) And that ends the 'etc.' portion of our set."
It would be easy to write the Mekons off as a joke band - auctioning off underpants (Sally holding them up, then putting them between her breasts for a few songs and joking "These have touched the genitalia of four of our band members!"), or begging for pot ("It says 'drink beer, etc.' on the setlist, not 'beg for pot'), or shaking down the crowd for money (singing, "pleeeeasse give us 10,000 pounds", Langford's voice strangling on "pleeeeaasse" so badly that I'm doubled over the sound monitor laughing)- if they didn't have the tunes or chops to back them up. Luckily, they deliver, big time.
Langford, Timms, and Tom Greenhalgh on guitar are the more vocal and visual members, but the MVPs are the sturdy but restrained rhythm section and Rico Bell on accordion. Their relative steadiness helps hold the disparate parts together and provides continuity for the show. Without them, the pieces might fly off into space as they drift from the boozy reggae sway of "Tina" (which Jon Langford said he heard on the radio earlier that day "Must have been that $1500 check I cut to (a local DJ))" or the punchy "I Have Been to Heaven and Back" or the roar of "Memphis, Egypt" or the plaintive country echoes of "Lost Highway" and "When Darkness Falls". It all hangs together. Timms is amazing and adds a much needed female balance to the band. But, an unexpected gem is the new "Powers and Horror" performed acappella by the four men. Sung simply and sincerely, it is starkly powerful. It reminds me of one of those scenes in an old W.W.II movie where soldiers stand up and sing in a bar. Overall, a very cool concert, marred only by a huge percentage of lunkhead fans. One guy takes so many pictures, I joke to my friend that he could staple them together and make a flipbook and recreate the whole concert like a motion picture. Another idiot who (as I stood patiently waiting for a lapse in the conversation to ask Jon Langford to sign a disc) pushes past me and says (drunkenly) "It's your fault Jon." Langford looks at him quizzically. "If you would have done one more song I would have got laid tonight."
Dude, the Mekons could work through their entire back catalog, the Wacos discs, Skull Orchard material, Proud Walkers tunes and the complete Hank Williams Box Set and you STILL wouldn't get laid. By the way, this is the same guy who stole the setlist literally from under my nose. I was going to take it and send it to Nobby for his Mekons page, but I saw that they had another encore coming, so I left it alone. He walked over and swiped it. That's what you get for trying to follow etiquette. So, sorry I can't be much help with titles except the stuff above and "Myth", "Cast No Shadows", "Neglect" (I think), "Poxy Lips", "Gin Place", and "Fancy" (naughtily spelled as "Fanny" on the setlist).
Anyway, when its over, I'm hoping to get my "Rock N' Roll" CD signed by all the Mekons, but the lunkhead factor is just too high. Sally Timms is at the door with a canvas bag, shaking down customers for money: "We'll take any of your spare money, we're not joking, we're broke!" She signs my CD and I go back inside to get my wife and friend and go. Rico Bell is at the bar and he signs the CD saying, "Which one is this? Ah, yeah, I played on this!". Next time for the rest of ya. What a band.
Jon Langford summed it up best as they left the stage:
"We are the Mekons- and you won't see our like again."
Cheers,
Jon Calderas
p.s. Nobby - use this review if you want to.

---
From: Chicago Tribune: Runway fun rampant as Mekons crash-land
Rock review, the Mekons at Fitzgerald's, March 25
By Greg Kot
The world's longest-running punk band was coming undone as it wrapped up a rare three-week tour Saturday, March 25 at FitzGerald's, and it wasn't a pretty sight. Yet even as the good ship Mekons was sinking into a road-weary haze, this crew of pranksters was cracking jokes at its own expense, offering instant critiques of songs badly played and pulling a few late-night epiphanies out of the raggedness.
Still the most entertaining rock 'n' droll band since the Fugs (imagine The Band's "Big Pink" relocated to a pub in England, with the requisite increase in lager consumption and sarcasm) the Mekons on this night were quieter, sloppier and more perverse than ever. The performance was dominated by material from the luminous folk-soul opus "Journey to the End of the Night," and was held together by the wicked banter of Sally Timms and the rhythm section of bassist Sarah Corina and drummer Steve Goulding.
The set began in the mythical gin house of the imagination that could be the setting for practically every Mekons song, the sextet sounding like the world's greatest Salvation Army band with the oom-pah-pah beat, the accordion sway, the sea-chantey harmonies. Then up went the cry, "Loose the Mekons!" that splits "Orpheus," with Timms, Jon Langford, Tom Greenhalgh and Rico Bell bellowing with bleary conviction.
But "Myth" practically skidded to a halt before plodding to the finish and Greenhalgh struggled with Hank Williams' "Lost Highway," his voice so fuzzy and fatigued it verged on desperation. "He's riding his own painted tiger," Langford mocked, but the song hit home in a weird way, the Mekons at their going-down-slow best.
"Huge sections of the band have lost their mind," said Timms quite accurately, not excusing herself after muffing the closing note on the hilariously world-weary "The Ballad of Sally." Greenhalgh again mustered something transcendent out of what little was left of his voice on "I Have Been to Heaven and Back," demonstrating indisputably that the Mekons were the essential bridge between Faces and the Replacements in the chronology of great slop-rock bands. The pleading harmonies of "Neglect" fared far worse, the Mekons straggling off stage like they'd just returned from a Stalingrad winter, circa 1943.
"Last Weeks of the War" and an a cappella "Powers & Horror" gave the encore a strangely moving, elegiac feel--in contrast to the usual rowdiness. Finally the band pleased the punkers with "Memphis, Egypt," though Greenhalgh's rhythm guitar was mixed too low to make much difference. The song's lyric about the Great Lie that is Rock 'n' Roll Inc. is old news for a band that has redefined the punk ethos time and again, consistently rejuvenating itself over a one-of-a-kind 22-year career. Here's a band that keeps making up the rules as it goes along, then toasts the unpredictability of the journey and the occasional Saturday night train wreck at a Berwyn roadhouse.
---
Caught Johnny Dowd's gig at the El Mocambo here in Toronto Friday night. An absolutely brilliant set!
Johnny introduced the last song of the set by mentioning that this gig was the last night in a tour done for the most part with "a band from England, the Mekons", which drew a few whoo!'s from the crowd. (I recognized a few fellow Canucks who had made the trip down to the Buffalo gig.) Johnny then made heartfelt mention that the Mekons had treated his outfit "royally" throughout their exhausting roadtrip.
He dedicated the final song, a searing "No Woman's Flesh But Hers", to "Tommy G. from the Mekons."



Without review - yet
Jon Langford: A new exhibition of paintings called "New Blue Cowboy Paintings" going up (Sat. 29 April) at Maxwell's in Hoboken, NJ.
5/13: Mike Ireland & Holler, Jon Langford, The Original Harmony Ridge Creekdippers at Double Door.

5/20: Tropical Heatwave fest at the Cuban Club, Ybor City, Tampa, with
Buckwheat Zydeco, Alejandro Escovedo, Trailer Bride, The Blue Rags, Kevin Gordon and THE WACO BROTHERS, plus a whole bunch of others.

5/23: Neko Case, Kelly Hogan and their Cosmonaut Boyfriends at Local 506, Chapel Hill

6/10: The Waco Brothers, Dirtball at Schubas

The annual Country Music Festival in Grant Park includes this:
A highlight of the festival is at the Taste Stage (now located at the south end of the Grant Park), which features a tribute to Western Swing and the music of Bob Wills & The Texas Playboys. Paying tribute on July 1 will be local favorites Jon Langford and The Pine Valley Cosmonauts, Hot Club of Cowtown, as well as Big Sandy & his Fly-Rite Boys with their unmistakable combination of swing and rockabilly. As a special treat, the headliners that evening will be the Texas Playboys II (the former Texas Playboys) featuring Leon Rausch.

---
6/3: Doc Watson w/ Sally Timms at Old Town School

Saw Sally last night, opening for Doc Watson's early show at the Old Town School of Folk Music in Chicago, and she was pretty great.

She commented on how quiet the audience was, and said she was on her best behavior out of respect for Doc Watson. She told the audience it was first time playing there, that they hadn't let her in previously because she comes "from a punk rock band."

She played:
Dreaming Cowboy
Sad Milkman
Down From Dover (wow)
In Bristol Town
Cry Cry Cry
"I'd be riding horses..."
When Roses Bloom
Blue Eyes Crying (wow again)
About thirty-five minutes. She went over quite well -- I heard people around me talking about how impressed they were, and I even saw someone ask her to sign her cd (being sold in the lobby) as she took her seat to watch Doc Watson.

Accompanying her were Chris Mills on guitar and backing vocals, and John Rauhouse on mandolin/banjo/etc. I'll repeat my theory on Sally's live shows -- she's at her best in an acoustic setting, with sympathetic accompaniment (both guys were great).
TWM
---
the executioner's last songs
- Jon Langford & The Pine Valley Cosmonauts consign songs of murder, mob-law and cruel cruel punishment to the realm of myth memory and history
8pm Friday June 16th Old Town School Of Folk Music, 4544 Lincoln Ave, Chicago IL (773) 728 6000
intro Jon Langford & Tony Fitzpatrick
Long Black Veil (Sally Timms)
Don't Look At The Hanged Man (Rick Cookin' Sherry)
Oh Death (Dianne Izzo)
Where In The World (Dean Schlabowske)
Ballad Of Billy Joe (Rebecca Gates)
Knoxville Girl (Brett Sparks)
The Plans We Made (Jon & Sally)
One Dyin' & A Buryin' (David Yow)
Sing Me Back Home (Edith Frost)
Great State Of Texas (Chris Ligon)
Horses (Sally Timms)
Mercy Seat (Dean Schlabowske)
The Snakes Crawl At Night (Janet Bean)
25 Minutes To Go (Frankie & Johnny Navin)
Green Green Grass Of Home (Jon Langford)

artists against the death penalty will donate their proceeds to the Illinois Death Penalty Moratorium Project


From: Club Mekon mailinglist:
Well, I've already misplaced my notes from last night, and I haven't had any coffee yet, but here are a few comments on the show...
The show pretty much followed the setlist -- Jon threw in a Buck Owens song in the middle, and Jon and Deano did two songs for an encore.
Overall it was a very good show -- Jon did a great job as MC, with just the right mix of serious and humorous. The performances were somewhat under-rehearsed, but the band (Drew on mandolin, John Rice on guitar/dobro, Bill on standup bass) did good work.
High points -- any time Sally sang. The Navins goofing their way through "25 Minutes To Go." David Yow working the mikestand. Edith Frost. Jonboy introducing "Green Green Grass of Home" as the Welsh national anthem.
Lowish points -- nothing really bad, but Deano didn't quite pull off the Nick Cave cover. And some people tout Diane Izzo as the next big thing from Chicago, but I honestly can't see why...
Kind of a weird crowd -- too many people were what a friend of mine calls "The Usual Suspects", who go to any event for a liberal cause, just to say they were there, and then they talk through the whole show. And I had the sense that some people were offended by songs such as "Knoxville Girl" ("that was a hit in your country, not mine" -- Jonboy).
And if you have to bring little kids to a show like this, then maybe you should skip the next show and save money for a babysitter...
TWM

From the Chicago Tribune:

Beneficial voices

Pine Valley helps Death Penalty Moratorium Project
By Joshua Klein
Since the days of Hammurabi, society has favored capital punishment of some sort. But the death penalty specifically has come under so many guises—justice, revenge, and cold-blooded murder—that its value to society is still being debated. The jury is out on the worth of the modern American model of the death penalty, but there's no question that the practice is losing some die-hard defenders.
In recent months, efforts to review the fairness of the death penalty have steadily gained support from even the most unlikely of candidates. Gov. George Ryan's call for a moratorium on executions is just the latest act to question capital punishment, and with a Presidential election on the way the death penalty (George W. Bush and Al Gore are adamantly pro) does not seem like an issue that's going to go away.
At the Old Town School of Folk Music Friday night, Jon Langford and the Pine Valley Cosmonauts gathered for a performance to benefit the Illinois Death Penalty Moratorium Project. Langford has always convened the Cosmonauts to support a concept, whether it's the music of Johnny Cash and Bob Wills or to back singer Kelly Hogan. Friday was no different, as Langford and a rotating cast of vocalists covered a variety of murder ballads and execution-themed classics. Or, in Langford's words, "hideous songs about death for your enjoyment."
It's a potentially gloomy subject but it can't be denied that death pervades pop music. Johnny Cash dedicates an entire disc of his new "best of" collection to songs about murder. So it was that the Pine Valley Cosmonauts started things out on a particularly somber note with "Long Black Veil," sung by Sally Timms, whose ever-beautiful voice made the song that much sadder.
From singer to singer, the music continued to get darker and darker. Diane Izzo lent the traditional "O Death" an eerie edge to rival renditions by such pioneers as Dock Boggs. Dean Schlabowske of The Waco Brothers contributed his own dark song "Where in the World," while Rebecca Gates offered "Ballad of Billy Joe," Jerry Lee Lewis' Charlie Rich-penned sequel to Cash's "Don't Take Your Guns to Town."
But it was The Handsome Family's Brett Sparks who unleashed the Louvin Brothers classic "Knoxville Girl," a song of spousal murder so vicious it made Eminem seem reasonable. To compensate, Langford had to lead a rendition of Buck Owens' non-death themed "Love's Gonna Live Here."
Part two proved less harrowing. After a short break and an unlikely appearance by David Yow, former frontman for The Jesus Lizard, Edith Frost won over the audience with Merle Haggard's "Sing Me Back Home." Schlabowske's dramatic read-through of Nick Cave's electric chair epic "The Mercy Seat" was balanced by Janet Bean's great delivery of Charley Pride's "Snakes Crawl at Night."
If there was a highlight it was Frank and John Navin's cover of Cash's perverse countdown to execution "25 Minutes to Go." The Aluminum Group pair demonstrated that songs about death don't have to be delivered in a dour tone, and like Cash proved that there's a place for humor amongst the horror. Musically, at least.

A complaint:

Greetings. I am attempting to contact Jon Langford to offer commentary on an Artists Against the Death Penalty concert at the Old Town School of Folk Music in Chicago. I find it ironic that a progressive artist such as Langford would condone the performance of song after song after song about the killing of women - yes, I understand that the songs chosen were to have death as their theme, but while in the audience, I was confronted with primarily the death of only one gender. In addition, the final song that was played as an encore also fit this theme, and Langford found it necessary to add the word "bitch" to the lyrics and to sing that word with great gusto. That word and the sentiment behind it was my last impression upon leaving the concert, and I did not sleep well that night. I am offended in the same way that an African American would be had Langford used the epithet "nigger." I would expect him to be conscious of the current hostility toward women as expressed by rampant white boys at Woodstock '99 and in the Central Park attacks by mobs of men as well.
I am a member of the Chicago Committee to Free Mumia and a death penalty opponent, and as such, I will continue to fight on various fronts to end capital punishment. However, I will not again attend a Jon Langford performance because I can tell from the concert that I am not a welcome presence.
Thank you.
KLS

Plus an answer:

I am so sorry you did not feel welcome at our gruesome little concert. The concert poster read "THE EXCECUTIONER'S LAST SONGS: Jon Langford & The Pine Valley Cosmonauts consign songs of murder, mob-law & cruel, cruel punishment to the realm of myth memory and history." The songs were chosen as examples of popular American country songs that feature capital punishment as part of their narrative plus some more contemporary ones with similar themes. Some tough songs and some very funny ones, all worth hearing, none so vile it should be banned. Especially not at the Old Town School Of Folk Music I would have thought.

Let's run through them for a quick body count:
Long Black Veil sung by Sally Timms – Big hit for Lefty Frizell, Johnny Cash and many others with roots going way back to old English/Celtic ballads in which an innocent man gives his life to protect the good name of his best friend's wife with whom he's been having a sexual liaison. The woman in question would rather see him die on the gallows than 'fess up herself. (Men 1 Women 0)
Don't Look At The Hanged Man sung by Rick Sherry – Written by my pal BillyBob of the recently departed Texas Meat Purveyors in which an image of a hanged man provokes non-gender specific murder and suicide.
Oh Death sung by Dianne Izzo – An old Dock Boggs song in which a non-gender specific narrator tries to persuade the reaper to come back another day.
Where In The World sung by Dean Schlabowske – A new song written by Dean for the forthcoming Waco Brothers album in which a a non-gender specific narrator waits excecution.
Ballad Of Billy Joe sung by Rebecca Gates – An answer to Johnny Cash's Don't Take Your Love To Town written by Charlie Rich for Jerry Lee Lewis in which a jealous fiancé kills Billy Joe (a man) who has moved in on his girlfriend. (Men 1 Women 0)
Knoxville Girl sung by Brett Sparks – A hideously violent, disturbing, and hauntingly beautiful song recorded by The Louvin Brothers in which the narrator savagely beats his true-love the Knoxville Girl to death for no apparent reason and pays the price; in this case imprisonment NOT the death penalty. (Men 0 Women 1)
I included this song very specifically, mentioning its disgusting content and final outcome before and after Brett's brilliant performance. A lot of people seem to oppose the death penalty because innocent people are sometimes killed. I oppose the death penalty because of what it does to our society as a whole. I do not want the state murdering anyone in my name. When Gacy was executed in Illinois just after I first moved to Chicago I was shocked and upset by the lack of any debate in the media and by the number of people I knew (who I thought would oppose the death penalty) that considered this a suitable punishment for such horrible crimes. I felt we should have protested that case more than any other if there was any fire in our bellies about this. Er… that's my excuse for including The Knoxville Girl, which is probably the one that upset you the most (and strangely enough produced the most belly laughs in the house that night). I didn't write it and I certainly don't advocate hitting anyone over the head with a stick and throwing them in the river but I still really love the song.
The Plans We Made sung by me & Sally – Written by Lonesome Bob Cheney a good friend of ours from Nashville this duet tells the story of a man and a woman who bump off their respective spouses so they can be together, but are only together in death. (1-1) tie.
Love's Gonna Live Here Again sung by me & Sally – Never much death in Buck Owens songs. This was served as a sorbet just before the intermission
One Dyin' & A Buryin' sung by David Yow – Man contemplates suicide to free himself from real or imagined incarceration in this grim Roger Miller talkin' song.
Sing Me Back Home sung by Edith Frost – A huge hit for Merle Haggard in which a man on death row wants to hear a certain song before he meets his doom. We are not told the nature of his crime. (Men 1 Women 0)
Great State Of Texas sung by me – Chris Ligon (from Chris & Heather's Record Roundup on Montrose and Damen in Chicago) wrote this very sad & sweet song about a man on death row in Texas who's only regret is that he will never see his wife again. Again we are not told what he did to end up there. (Men 1 Women 0)
Horses sung by Sally Timms – Me & Sally wrote this with Brendan Croker a while ago. It's about dreams of freedom and the lynching of a young black man. (Men 1 Women 0)
Mercy Seat sung by Dean – A wordy epic by Nick Cave about a non-gender specific protaganist in the electric chair.
The Snakes Crawl At Night sung by Janet Bean – In the Charlie Pride original the narrator tops his sneaky wife and snaky her lover. Janet changed the gender but either way it's a tie (1-1)
25 Minutes To Go sung by Frankie & Johnny Navin of the Aluminum Group – Hilarious Shel Silverstein-penned novelty/comedy number made famous by Johnny Cash on his San Quentin album. They did it as a duet but I still think only one guy ends up swinging (Men 1 Women 0)
Green Green Grass Of Home sung by me and the assembled chorus – Death Row inmate dreams of an emotional home-coming in the valleys of Wales (that's my take on it anyway) but is rudely awoken and taken away to be killed by a guard and a sad old padre. Became the Welsh national anthem after Tom Jones' huge hit in 1967. (Men 1 Women 0)
Encores: Lee Harvey Was A Friend Of Mine sung by me – In Texas artist Jay Cotton's heartbreaking attempt to clear the good name of Lee Harvey Oswald two men are killed: The President and Lee Harvey (Men 2 Women 0)
Cocaine Blues sung by me – I resent the accusation that I added the word "bitch" to this song. OK I sang "bitch" but so does Johnny Cash at San Quentin and that's the version I was mangling and "bitch" just happened to be one of the words I didn't manage to forget. I thought about excluding this word when I recorded the song in 1994 and decided it was a cop-out to do so. I decided the lyrics are consistent with the voice of a drug-crazed murderer. I'm sorry this upset you but I'm glad you wrote and told me. I'm not going to make any excuses, I love the song and I think it would be plain silly to try and change the content to make it fluffier and more 80s/90s friendly. I find the idea that I shot someone more problematic than the idea that I called them a "bitch" anyway… but hey! I didn't kill anyone or call them anything bad; I was singing a song. (Men 0 Women 1)

I refer you to the preface to Curt Johnson's excellent The Wicked City (De Capo 1988) "It should be remembered that goats don't have puppies; that is there is a majuscule difference between recording and endorsing. Some passages or language in this book may still cause the PC reader to wince, but to write about 1880-1931 Chicago with an overprint of 1990s-sterilized language would, in my opinion, give offense to the truth of these times."
Likewise, in my opinion, songs about execution and murder don't need to be prettied up or censored. I wasn't really trying to be that controversial with this concert. I was trying to raise some money for The Illinois Moratorium Project and the push for Abolition and put on an edgy, entertaining show with some great (male & female) singers and songs (The concert raised $3700 - not bad). I think it's a good point that no crime deserves the death penalty and that's why I picked some pretty nasty material. I don't think the selection of songs was anti-women; unfortunately the act of murder generally is. I think the body count above proves your comments inaccurate.

I won't pretend I wasn't stung by your accusation that I'm anti-women. I think I'm not but I'm a man so what do I know? All men are wankers has always been my motto and if you can't deal with that you wouldn't enjoy our shows anyway, so don't come. If you do come you will be very welcome and I'll probably apologize cringingly 'cos I am a spineless worm and despise all confrontation.
It's fairly boring to sit down and justify yourself like this but I'm glad of the opportunity to explain my motives (and if we do a CD I'll need some sleeve-notes!) Did an executioner ever have a hit country song? Was there ever a female executioner? Did she write any songs about it? I wish there was; we'll do 'em!
Jon Langford
---
Waco Brothers and Mr Ash's Magic show at the Hideout on July 2nd - 3pm
Waco Brothers at Fitzgerald's sometime in the afternoon early evening of July 3rd

---
Mekons Tour:
Mekons Acoustic show at the Hideout in Chicago July 13th with The Johnsons from Pittsburgh
the hideout was great. it was my first time there and i have to say i was feeling the love. i think the mekons were to. they were all smiles and really seemed to be enjoying themselves. on the other hand, sorry millwaukee you have a good looking city but the vibe at the cactus club was....well i dont know. The Johnsons didnt get paid a red cent so go figure. But the Mekons were fabulous ending in jon and sally singing a drunkin' kum by ya. I love these guys. I think someone might of recorded the performance at The Hideout and he mentioned something about the list and a forthcoming tree.
CC Ps: was disappointed sara did not make the trip.

Fri 7/14 Milwaukee, WI Cactus Club



Songlist:
Last Dance
Tina
Fletcher Christian
Millionaire
Orpheus
Heaven and Back
King Arthur
Flitcraft
Prince of Darkness
Wild & Blue
Hard to be human again
Powers and horrors
Now we have the bomb
Neglect
Curse of the mekons


Old Town School's Folk & Roots Festival, July 15:
An acoustic set by The Mekons
Richard Thompson solo
Patti Smith

---
Dropdown Menü for some pics

From Chicago Tribune:
Folk fest uncommonly free-wheeling
Old Town School opens arms to all sorts of music for the masses
By Joshua Klein

Typically, the term 'folk' refers to traditional music played and passed on through the years. But just as artists from Bob Dylan to Beth Orton have redefined folk for different generations of listeners, so has the Old Town School of Folk Music playfully toyed with the definition of its namesake.
Recent years have seen the venerated venue expand its programming to include music not usually considered part of the folk world. Most conspicuously, the Saturday night headliner of the two-day 3rd annual Chicago Folk & Roots Festival was punk poet Patti Smith, who is about as far from the stereotypical folk image as possible.
Or is she? One of the greatest things about the Old Town's somewhat-risky decision was the way it forced us to reconsider the way we obsessively categorize and thus segregate different kinds of music. Smith's music may not be rife with acoustic guitars and campfire-friendly melodies, but hers is music for the masses, and as such it's as good a candidate as any for being called folk.
Of course, the Folk & Roots Festival had plenty to offer that fit more traditional concepts of folk. Held in Welles Park near the Old Town School on a beautiful Saturday and Sunday, the festival gathered dozens of artists, vendors, and musicians to celebrate at the very least the sense of community implicit in all folk music.

The main stage predictably drew the largest crowd, presenting over the course of the two days everything from country to world music. The Mekons performed a pared-down acoustic set that featured fiddle, banjo, and Rico Bell's accordion. "Folk is where punk rock has come to die" ribbed singer Jon Langford, but in fact the Mekons has spent most of its post-'70s career exploring country, roots-rock, and reggae. Songs such as "(Sometimes I Feel Like) Fletcher Christian," "Wild & Blue," "King Arthur," and "Prince of Darkness" covered topics ranging from miner strikes to mutinies, presented with the band's trademark cynicism and black humor.

Richard Thompson has a similar bleak streak, though his music stems from his roots in English folk instead of punk. An astounding acoustic guitar player, Thompson better fit the folk archetype than many of the day's acts. "I Feel So Good" took sarcasm to a new level, while "Turning of the Tide" and "Walking on a Wire" revealed the delicate nuance of heartbreak, the latter featuring another sublime solo.

Since her comeback Patti Smith has aimed to please, a goal that has made her recent performances both powerful and pleasurable Smith tore into "Glitter in Their Eyes," "Dancing Barefoot," "Summer Cannibals," and "Because the Night" with populist vigor. Her sole concession to folk was a wild rendition of The Byrds' "So You Want to Be a Rock 'n' Roll Star," which even Roger McGuinn may have had trouble recognizing. But like much of what Smith approaches, the song became hers, soaked with her charisma and the love of her audience.


---
From Club Mekon:

Hey kids; I made it up from St. Louis for a happy weekend of good music and food and was able to take in the Mekes fantastic acoustic set on Saturday. T'was a really nifty little fest w/ exceedingly good line-up (besides Mekes and Richard Thompson, Patti Smith, Thomas Mapfumo, others...).
All Mekons present except for Sara (no one played bass I don't think…), Steve G. making do w/ just a tambourine and a few cymbals, and the whole band sporting little red ribbons all over their clothing (???). Also, Jon Rauhouse played banjo for most of the set which worked really, really well in overall I thought. The sound was just great, really clear and full which is rare for outdoor acoustic show.
First song was Waltz (I think), followed roughly by (emphasis on "roughly, my memory can be very suspect on this stuff): Millionaire, Fletcher Christian, Tina, King Arthur, Heaven and Back, Flitcraft, Orpheus, Prince of Darkness, Wild & Blue, Now We Have The Bomb, Ballad of Sally (maybe?), Hard To Be Human, Powers and Horrors (I'm forgetting a bunch here)….Riotous comments by Jonboy thanking Old Town SOFM and claiming "folk music is where all good old punk rockers come to DIE"!, Jon accused Rico of being a "professional accordion player-who would become such a thing???!", and Sally saying she "wanted to pose for Playboy but they'd yet to come up with enough (or any) cash" for such an undertaking.
Saw only about 6 songs of Richard Thompson's set, him playing solo to large crowd, but had to leave after that amount of time due to too much sun and exhaustion. Anybody have any reports on Thursday night show at the Hideout???
cheers,
dan bentele


---
I'll offer a review the lazy way, by just adding comments to Dan's report...
dan wrote:
> All Mekons present except for Sara (no one played bass I don't think…),
> Steve G. making do w/ just a tambourine and a few cymbals, and the whole band
> sporting little red ribbons all over their clothing (???).
'Twas Rico, Tom, Sally and Jon in front, Steve on percussion, Jon Rauhouse on banjo, and Jessica ___ on fiddle.
At one point Sally told the soundman to turn up the banjo and violin, and turn everyone else way down. Jon agreed, saying that once again the Mekons were getting by on the backs of the more talented.

> The sound was just great, really clear and full which is
> rare for outdoor acoustic show.

We were right in front of one speaker bank, and the sound was pretty bad there. It was much better when we moved towards the middle for Patti Smith's set.

> First song was Waltz (I think),
I didn't take notes, but I think the first song was "Last Dance."
> followed roughly by (emphasis on
> "roughly, my memory can be very suspect on this stuff): Millionaire,

Jonboy: This song is, in the polite vernacular, "Who Wants To Make Love To a Millionnaire."

> Fletcher Christian
Great version -- Tom was really in fine voice.
> Tina, King Arthur, Heaven and Back, Flitcraft, Orpheus, Prince of
> Darkness,
I didn't know that "Prince of Darkness" was about the singer from Sisters of Mercy.
> Wild & Blue, Now We Have The Bomb, Ballad of Sally (maybe?)
Don't think they played "Ballad of Sally"...

> Hard To Be Human, Powers and Horrors (I'm forgetting a bunch here)
Ummm... I think you got most of the set. As you mentioned in your other mail, they ended with "Curse." And they did "Neglect", during which a total of two dollars were thrown to the stage.

> Saw only about 6 songs of Richard Thompson's set, him playing solo to large
> crowd, but had to leave after that amount of time due to too much sun and > exhaustion.
Too bad you left -- Richard Thompson was very good, and Patti Smith was just great. They even did one song together.
I didn't make it to the Hideout show -- a 10pm start (with opening act) is just a bit too late on a weeknight for this old white collar dude.
TWM

Isn't her name Jessica Billey? She plays violin on "Twilight Laments for Lost Buckaroos" and also the Handsome Family CD ( I think it's the "Milk & Scissors" one)


---
> Steve G. making do w/ just a tambourine and a few cymbals, and the whole band sporting little red ribbons all over their clothing (???).
I thought Steve's use of just a couple of tamborines was a brilliant concept and wonder if it originated from the Interdependence Day gig the Wacos did @ the Hideout when his bass drum got lost and he made do by putting a shirt (?) over the floor tom.
I was a bit confused by the ribbons until I mentioned it to my wife who's well schooled in the art of folk dancing. She directed me to several Morris Dance sites. Search if you are so inclined. Otherwise "we could get right down to what the morris really is:
A chance to perform in the street, to show off, to be loud or silly or raucous, to violate normal standards of behavior and not only get away with it but be applauded for it."
Nice job guys.
spe


---
Jon Langford and Sally Timms supporting the release of their new cd 'False hopes...'
Without review - yet
Jon Langford / Sally Timms Thu July 20 Winnipeg, MB West End Cultural Center
Fri July 21 Saskatoon, SK Amigo's
Sat July 22 Calgary, AB Calgary Folk Fest
Sun July 23 Calgary AB Calgary Folk Fest
Mon July 24 Edmonton, AB The Rev
Wed July 26 Vancouver, BC Commodore Ballroom w/ Wilco
Thu July 27 Seattle Tractor Tavern
Fri July 28 Portland Berbatis Pan
Sat July 29 Eugene Sam Bonds Garage
Sun July 30 San Francisco Cafe du Nord
Tue Aug 1 Hollywood Knitting Factory
Wed Aug 2 Tempe Arizona Roadhouse
Fri Aug 4 Denver Lion's Lair
Sat Aug 5 Kansas City Pauly's
Sun Aug 6 St Louis Blueberry Hill

---
THE WACO BROTHERS

SAT 8/12 CHICAGO, IL Retro on Roscoe
FRI 8/18 CHICAGO IL Beat Kitchen
SAT 8/26 CHICAGO, IL Goose Island Festival (3 sets!)
WED 8/30 CHICAGO, IL Chicago Fire
SAT 9/9 PALATINE, IL Durty Nellies
TUE 9/12 CHICAGO, IL Chicago Cultural Center possible ??
SAT 9/16 CHICAGO, IL Symphony Center unconfirmed ??



Wed July 19 Minneapolis 7th Street Entry
July 19 Roadrunner Records, 4304 Nicollet Av South, Minneapolis at 6:30
Well, the Sally&Jon in-store and show here yesterday were just swell. Cherilyn (upright bass - Meat Purveyors) and John Rauhouse (mandolin, Hawaiian guitar, banjo) make a wonderful band. Selections were mostly Jon solo stuff and Sally covers (Down from Dover, Blue Eyes Cryin in the Rain, Wild&Blue, Drunk by Noon, that Jill Sobule song, etc), plus wonderful surprises like Mombassa, Alone and Forsaken, and, most remarkably, a brilliant acoustic version of Death of the European! I was wearing an ancient Three Johns t-shirt, which caused Mr Langford no little amusement. We fed them well: my dad and his wife flew up from Key West with a big spread from the smokehouse BBQ restaurant they manage down there, as an enticement for the band to visit the island in the fall. And now they're Canada-bound! Hope you all enjoy the rest of the tour.
---
I was unable to make it from my house in Lyn-Lake down to Roadrunner at 43rd & Nicollet. (It was impossible to get home from work and get the kids fed, and then down to the Nicollet Avenue construction zone by 6:30. How's the roadwork effecting business, Amy?) I did manage to get out the door by 10:15pm with my 13 month-old son konked out and my wife still singing lullabies to our five-year-old daughter. My wife was gracious enough to stay home with the kids. (These late shows during the week make it almost impossible for us to find a babysitter.)
The plan was to meet up with my brother Dave by the bar at the 7th Street Entry. (Dave lives in St. Paul, so this seemed the least difficult.) On my way downtown on Lyndale Avenue, I noticed folks carrying lawn chairs by Loring Park, not odd on a Monday when they show movies in the park, but definitely odd on a Wednesday. Then, I came up to Hennepin Avenue, which the police had blocked off. A little light went on in my head. During my commute home I waited for my bus transfer while sitting on a bench of some temporary stands arranged for the Aquatennial Torchlight Parade. The parade was still on at 10:30 and it was fucking up traffic and parking all through downtown. I cut down Glenwood to 2nd Avenue and got lucky as someone was pulling out of a spot by the New French Cafe, a few blocks from the Entry. I strolled down 1st Avenue, passing many cops, saw floats still rolling down Hennepin, stepped around a barely concious drunk who was about to be hauled off to detox, and walked into the Entry for $8 and was told that Jon Langford had been on stage for about 20 minutes already. Bummer. Better late than never. I headed to the bar. The first face I saw on the way was Sally Timms, who was sitting on the steps against the back wall of the Entry. I got a tap Leinenkugel's for $1 and was going to go back and offer to buy Sally a drink, when I heard John announce that someone special would join them, then I saw Sally heading to the stage. My brother was nowhere in sight. I was sure he'd gotten delayed by the parade.
Sally sang a bit of back up on that one song, which I can't remember, possibly "Mombassa" and then was off backstage. Jon was in fine form. He played "Tubby Brothers" from Skull Orchard and Johnny Cash's "Big River," which I knew Dave would bum on missing since it refers to St. Paul. Jon explained that John Rauhouse and Cherilyn were actually paid by Sally Timms, and they only played along with him during his set in exchange for sexual favors. He noted that Cherilyn was fairly easy to satisfy, but that John was a stern taskmaster between the sheets. Prior to "Big River," he also went on about his ability to embarrass himself by attempting to do Johnny Cash songs and that he wasn't afraid to embarrass himself, but was unable to match "Bongo" from U2 as the biggest embarrassment in rock as Jon couldn't compete with Bongo's Frank Sinatra duet, though he wished he'd thought of having Salman Rushdie write all the lyrics for an album. So, Jon was good with the banter, as usual. My brother showed up, and I had him take a seat where I'd been waiting along the back wall, while I splurged on Leinie's for us. Maybe someone can fill in some of the other songs, but Jon also did "The Death of Country Music" and he finished his set with a brilliant version of Hank Williams' "Alone and Forsaken" followed by an encore of the aforementioned "Death of the European" (noting Amy's Three Johns' t-shirt also).
Sally Timms came out a short while later and did a wonderful set. Last time I had seen her in the Entry she had a cold, though the show was enjoyable, you could tell it was tough on her. This time she seemed to make the most out of having Jon on stage as a comic foil, and her voice was great as usual. She started with "Dreaming Cowboy" and did many of the songs Amy listed earlier, "Down from Dover," "Drunk by Noon," another Handsome Family song, "Horses," a Johnny Cash song and others that I can't remember. She finished with "Blue Eyes Cryin' in the Rain," which was absolutely wonderul, and then came back for an encore of "Wild & Blue" and that Jill Sobule song. It was a great show. Sally & Jon seemed to enjoy themselves. Sally derided Jon's set as a bunch of toe-tapper's as opposed to her sad & slow choices, while Jon accussed her of whining about driving up from Chicago and doing an in-store while folks in the audience had been down working in coal mines all day. (This cracked me up, as my basement office is about as close as any Minneapolis workers get to coal mines.) They also talked about playing in Chicago last Saturday with Richard Thompson, who was apparently cheery and paid attention to Jon, and Patti Smith, who apparently was spacey and ignored Jon. Jon contended he liked Patti better when she was a New York poet pretending to be a rock star and not the other way around (complete with cat paw movements) and Sally said that he should give her a break since she's probably exhausted due to her 26-year-old boyfriend. Jon responded, "Well, you should know." Laughs all around. Sally had also pointed out how before the show they had to participate in the parade, ride on a float and wear costumes, though Jon's was only a towel, all to please the citizens of Minneapolis. More laughs.
John Rauhouse and Cherilyn were excellent on their instruments, though Cherilyn's bass thump was occassionally out thumped by the techno beats from the Mainroom next door. The Entry is not ideal for such subtle music. There was a constant throb of techno beats, and a couple of idiots over by the bar talked loudly through most of Sally's songs. (Though they did seem to quiet down between songs.) If we'd been closer to the stage it probably wouldn't have been so annoying.
Afterwards, I bought one of the new ep cd's for $10 directly from Sally & Jon. Sally also had her latest full-length cd for $12, but I really needed to have a copy of "Blue Eyes Cryin' in the Rains" so it was the ep for me. Someone complemented Jon on the last Wacos Brother show at the Entry, so I chimed in as well since it was a great show, and Jon said the Wacos will have a new cd out in October. He also said the Mekons would likely make it to Minneapolis some time, though when I informed him about receiving the CDR of the Metro show as a poor subsitute for a Minneapolis Mekons show, he asked me about the sound quality but otherwise seemed a bit put off about it. Instead, I should have told him that I had seen him in a towel at the Bumbershoot Festival in Seattle a few years ago. Oh, well. It was a wonderful night of music and entertainment in spite of the parade. And I was home by 1:15am.
Sorry about my lack of brevity. I've got to do something to escape these coal mines.
Steve Petermeier

Thu July 20 Winnipeg, MB West End Cultural Center
Fri July 21 Saskatoon, SK Amigo's
Sat July 22 Calgary, AB Calgary Folk Fest
Sun July 23 Calgary AB Calgary Folk Fest
Mon July 24 Edmonton, AB The Rev
Wed July 26 Vancouver, BC Commodore Ballroom w/ Wilco
Thu July 27 Seattle Tractor Tavern
Fri July 28 Portland Berbatis Pan
well, I wouldn't be surprised if Portland is forever written off the touring schedule of the mekes in their various incarnations, after the reception that J & S got Friday night at Berbati's Pan (a notably crappy music Venue to begin with but it does have decent Greek food . . .) They opened for Wayne Hancock - never heard him but his audience as far as I could tell is about evenly divided between meatheaded frat boys and Stray Cats wanna-bes (occasionally coinciding). When they weren't conversing with each other at the top of their lungs, they were letting loose with piercing whistles and cries of "whoo-whoo" - - particularly annoying when it was while Sally was singing the heartbreaking-if-you-could-have-only-heard-it Down From Dover . . . J&S and company were sorely outnumbered but pereservered. Thier irritation was obvious but they were troopers. The set was great, even if Sally's was the same set she did last year (hell, she could sing the same song over and over for hours and I would be happy . . .) but by the time they got to Drunk By Noon I could tell they were ready to just pack up and go. I hope they come back - but I wouldn't blame them if they didn't . . . so sad.
Cecil Reniche-Smith

Sat July 29 Eugene Sam Bonds Garage
Sun July 30 San Francisco Cafe du Nord
Wonderful show Monday in the basement Cafe Du Nord ($8 at the door). Rico did stuff off his last cd, Jon and Sally did almost all of the new CDlette and songs from Cowboy Sally. Place was packed and reverent. Sally complained of the heat, said she would keep her set short, but in all they played from 9 to way past midnite with short breaks. Jon Rauhouse's hawaiian guitar work was terrific all evening. Nice as all the new material is, the highlight of the evening was Sally's 'Drunk by Noon' by the Handsome Family. The "one Mekons song" was 'Wild and Blue'.
Did anybody tape this?
Sally was out leaning on a parked car having a smoke when we left. Got her to autograph a tape (7-16-98) that Jon and Rico autographed last year at the Hotel Utah. Off to Ebay!
Jim Beller

Tue Aug 1 Hollywood Knitting Factory
Mekons' Sally Timms, Jon Langford Tap Folk Roots
Pair tout new EP, solo projects in L.A. club show.
Correspondent Bliss Bowen reports:
LOS ANGELES — Alt-country fans who anticipated high twang content at Mekons members Jon Langford and Sally Timms' show Tuesday night at Vynyl were in for a surprise.
As Langford joked from the stage, "We're cashing in on the folky/rocky boom."
In truth, the idioms and political consciousness of classic folk have long figured in the music of the Mekons, the punk-influenced band with which Langford and Timms have worked since the 1980s, among numerous other projects. The two fronted a set apiece as they performed songs from their appropriately titled new EP, Songs of False Hope and High Values (Bloodshot).
"I'd say something coarse, but [upright bassist] Cherilyn's mum is here." — Sally Timms, singer Timms, backed by Langford on acoustic guitar, former Meat Purveyors upright bassist Cherilyn DiMond and gifted multi-instrumentalist Jon Rauhouse, also sang several songs from her solo disc Cowboy Sally's Twilight Laments ... for Lost Buckaroos.
Langford's set with DiMond and Rauhouse included some choice selections from the Mekons and Waco Brothers catalogs.
The band played not with reverence but with genuine understanding of country and folk, which kept things interesting, as did Timms and Langford's good-natured bantering. Timms' unassuming manner and warm, languid vocals had a relaxing effect on the audience, who swiftly herded to the front of the stage and nodded, smiling, as the band sashayed through "Dreaming Cowboy" .
The instrumentation and arrangements gave the Handsome Family's "The Sad Milkman" (RealAudio excerpt) and especially Dolly Parton's "Down From Dover" the feel of classic English folk ballads.
Despite Timms' introductory wisecrack — "Go do your folk dancing off in the corner" — audience members stood still and listened attentively to their version of Robbie Fulks' "In Bristol Town One Bright Day." The haunting narrative was enhanced by Rauhouse's plangent banjo and Timms' creamy vocal tones.
Exhibiting superb technical control, she sang Johnny Cash's "Cry Cry Cry" and Jeff Tweedy's "When the Roses Bloom Again" with a sense of personal understanding of the nature of life's disappointments. The band's gently swaying, wistful rendition of the country standard "Blue Eyes Crying in the Rain" breathed more than the somewhat hushed version on the EP and earned loud cheers from the audience.
More non-midtempo songs would have been welcome, but the only real disappointment of Timms' set was the absence of the bawdy stories that are a hallmark of her stage performances. At one point, she joked, "I'd say something coarse, but Cherilyn's mum is here," which may account for her restraint.
She did make one sly jab at Nashville when introducing Cash's song, saying, "You kicked him out of town, didn't you? Oh no, that was Nashville." From somewhere in the vicinity of the soundboard, a voice answered, "Nah, we like Johnny Cash."
Nashville and the enforced standard of mediocrity it has come to represent was a favorite target during Langford's looser, more energetic set. Though it seemed the Los Angeles crowd was tamer and less twang-centric than, say, his hometown Chicago audiences, he received particularly loud cheers for the acidic "Nashville Radio" from his Gravestone EP and the Waco Brothers' "The Death of Country Music." When he sang "The bones of country music/ Lie there in their casket/ Beneath the towers of Nashville/ In a deep black pool of neglect," it sounded like he changed "bones" to "balls."
Langford's sturdy, rough-hewn voice and down-to-earth commentary established a comfortable rapport with the audience. He introduced a bouncy new country song, "A Little Bit of Help Now Wouldn't Hurt," but his strongest moments came during "Sentimental Marching Song" from his Skull Orchard disc, as Rauhouse's slide playing on a Weissenborn guitar conjured eerie atmospherics.
On Eric Von Schmidt's "Joshua Gone Barbados," a protest anthem about a sugarcane strike, Rauhouse's intuitive playing cleanly colored the melody; his work was uniformly excellent throughout the evening. Bristling with energy, DiMond performed with playful but solid style.
Club chatter throughout the night was minimal, which is unusual in Los Angeles. The small but devoted audience — which consisted largely of diehard Mekons fans — enjoyed a full evening of rewarding, well-performed music, but not everyone was smitten with the folk orientation.
Mekons fan Grace Kennelly of Pasadena, Calif., said, "Jon's got that between-song pitter-patter down really well, but the songs didn't do a lot for me, except for 'Sentimental Marching Song,' [which] I really liked. I've seen Sally before, and I really liked her."
Indeed, Timms' entire set was warmly received by the audience, and a number of attendees were overheard commending the entrancing beauty of her voice and humming snatches of her songs as they walked away.

---
I did indeed have the pleasure of watching Jon drink Boddington's from a can as he strummed and sang with Sally en el lay. It was quite a delightful evening. In many regards the sets were much like those described in other cities except that the audience was largely there to see Jon and Sally (and it was much larger than their last visit to Spaceland, or Sally's set at the Troubador).
The only songs others have mentioned that they did not play were 'Wild & Blue' and the duet during Jon's set. What LA got that others did not was the omnipotent Baron von Trumfio playing guitar as Sally sang 'Junk Barge' (this song was sooo good even though the band did not actually 'know' it that a firend bough the 'land of milk and honey' cd just for that song!). I don't know if he played these at other shows, but Jon did a slendid job on 'Verdun', 'Death of the European', 'Alone & Foresaken', 'Big River', and, well, a whole lot more.
I had something of a cold and am actually painfully shy around those that I admire so much that I did not approach either Jon or Sally after the show. So no inside dope on next recordings, tours or whatnot.
All I can say is that if you are anywhere near where they are playing, go see the show. The chemistry onstage was really magical. I am really sorry you missed out Patrick. Despite Vynyl's piss-poor beer selection and outrageous bar prices, it was a lovely evening. I am off shows for a bit just so the memory can linger a bit longer.....
Best,
Stephen
p.s. apparently Jon has a policy of staying in room 123 of the Ramada in every town he plays, and he welcomes all post-gig visitors who fancy a drink or whatnot.

Wed Aug 2 Tempe Arizona Roadhouse
Fri Aug 4 Denver Lion's Lair
Sat Aug 5 Kansas City Pauly's
Sun Aug 6 St Louis Blueberry Hill

---
Jon Langford:Friday Oct 13th in Pittsburgh PA at the Haunted Hillbilly Hoedown backed up by the Johnsons

(solo)
Pillsailor
walking on Hells Roof
Tom Jones's Levitation
Anything Can Happen
Millionaire

(w/The Johnsons)
Bully
It's Not Enough
QWhen I Get My Rewards
Joshua Gone Barbados
Death of Country Music
Big River
Sentimental Marching Song
Nashville Radio
Butter Song

(solo)
Tubby Bros.

Grand Finale(w/The Johnsons):
Wicked Midnight


---
WACO BROTHERS: Sat Oct 21 NYC Brownies CMJ BBQ

Some pictures from that show (done by Chris Cannon, thanks to him)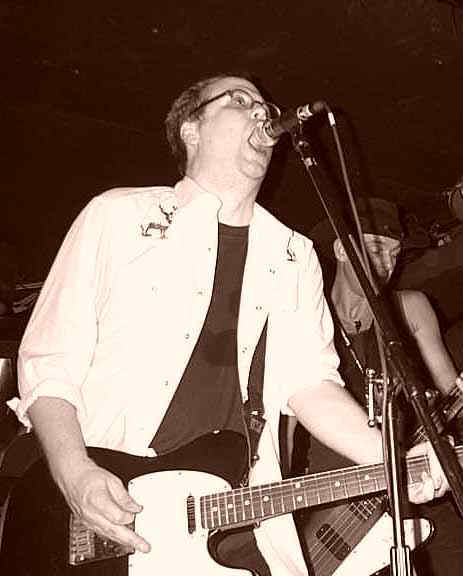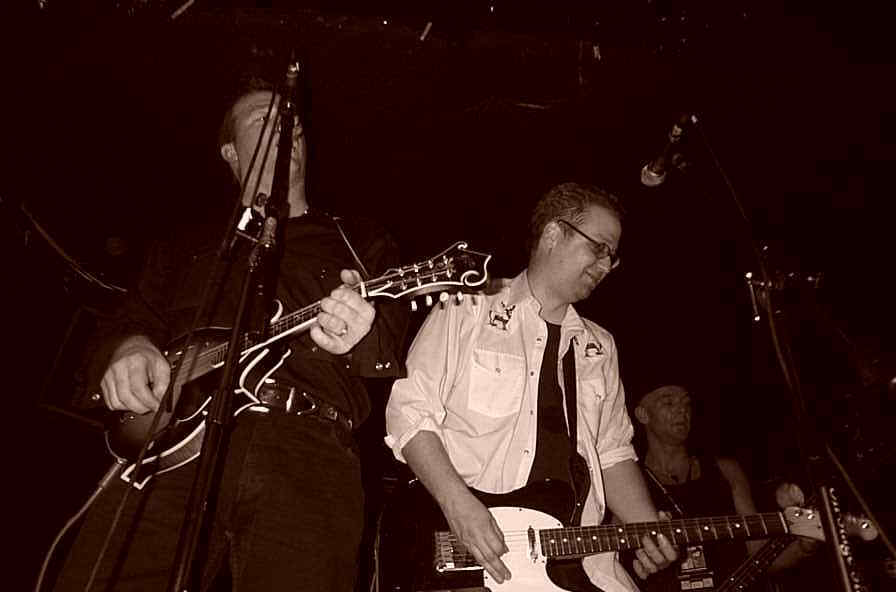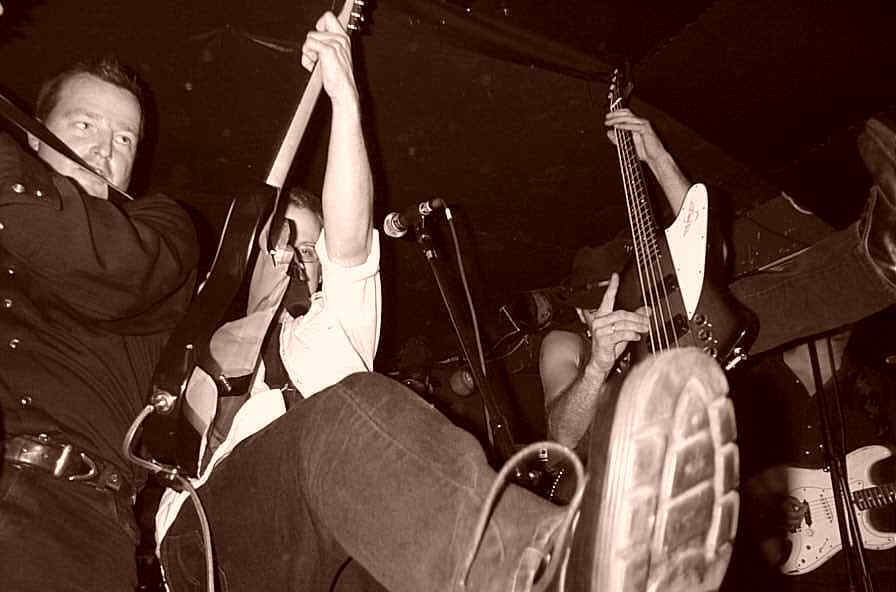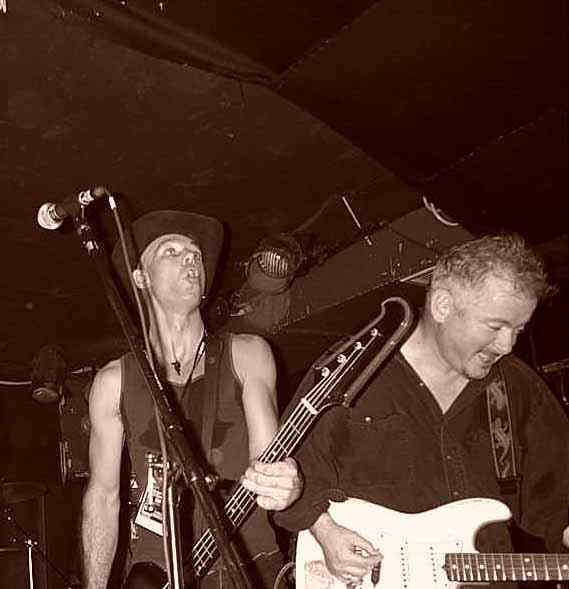 ---
Mekons in England
fri 10th nov - London - The Spitz
Pictures from London and Leicester
not sure whether there were any reports on the london shows yet, having just re-subbed and returned from london (though i did the latter first, of course). didn't get to meet anyone except to say a short hello to german contingent - i'd forgotten where the foundry is and had way too much catching up to do with a friend i visited as well. but you don't wanna hear that anyway.
so, thursday night. solo night. we came in as tom was already playing. i thought the songs sounded promising, but there was too much strumming the guitar going on. better arrangements would make the possible solo-album very interesting. susies violin already helped. great rendition of "last weeks of the war". lu's set was short and weird, not sure whether the various instruments he played very always as perfectly amplified as they should have been. "lost highway" was fun.
i had never heard any of rico's stuff before, but i really liked his set. wish i'd had more money to buy his cds as well, but there was the slight problem of having to buy the 2 sally timms-albums i'd not had before and a tight budget... so that did not happen. then, sally. what can i say. i loved it and so did my uninitated friend who's now been turned into an instant-sally-fan. not 100% happy with the choice of songs, no "horses", no "round up". but "seminole wind", "old flames can't hold a candle...", "drunk by noon", "sad milkman", "dark sun", "cry cry cry", "down from dover" and, best of all, "blue eyes crying in the rain". maybe one or two more.
after that, jon's set was a bit of disappointment, especially seeing how i am not exactly a waco's fan. but so what, a great night's entertainment, even if it'd been nice to see some more people there (and hear a three johns-song).
last night, then - the normal show. not as crowded as i had feared, but definetly sold out. a great run through old and new favourites, inevitably omitting way too many but including enough. not a song from every album (did they really do that in wolverhampton: what, then, did they play from "quality of mercy" and which one from "devils rats & piggies" -or whatever it's called ???). wonderful dancing routines as well. they should have played much longer but this being london, they stopped in time for the last tube. shame, really.
cheers-
mark


Without review - yet
mon 6th nov - Newcastle - The Cluny
with Monomerz [Swiss/Uk]
tues 7th nov - Nottingham - Maze Bar
with Mush
wed 8th nov - Wolverhampton - The Little Civic
thurs 9th nov - London - The Spitz [not the mekons as such but solo nite:
Sally Timms, Rico Bell, Jon Langford/Skull Orchard etc]
sun 12th nov - Leeds - The New Roscoe



Georgie porgie said:-
> Thankfully no tracks from The Quality of Mercy, or Devils Rats
> Piggies.
> why "thankfully" George?
i happen to like those albums - and the mekes story has been an all-time personal favourite ever since it came out...
i would love to see a couple of reworkings from the early period - yes, they did encore with "riot" and (a bit of a messy)"where were you", but don't you think it'd be interesting to hear an update of "dan dare"? or maybe sally singing "byron"?
this isn't so fanciful - sally's reworked "WWY" is wonderful and adds yet another level to the original, and the band have reworked trimden grange and trouble down south etc from those early recordings...
anyhow, i agree with the statement that two good nights were had at the spitz... and i got to meet up with jimbo, nobby, ruth, huw & maria and various other lost souls. actually, i thought the first (solo) night was a better evening - the friday mekons set was good, and it was great to see a sell-out gig, but the sound wasn't fantastic and the band didn't seem to gel quite as much as they can do... a good choice of songs (given the difficulties of selecting from such an extensive back catalogue), and only a few cock-ups here and there where timing was a little askew... which usually adds to the fun, but i thought sally seemed a little subdued...(?)
so, how did the weekend shows go - reports from the northern regions please!!
russ

But what is even more important: I've seen the concert of the mekes on friday at the Spitz, and it was great. It's been my fourth Mekons-Concert (plus one Jon/Sally-Evening some years ago), and for the first time, I've seen all eight guys'n'dolls on one stage. Ok, Suzies fiddle was to quiet, Sally's voice too, and Lu's Cumbus too (or is the problem with my ears?) . But anyway, they're great performers and made the evening a hell of a show. Jon played a fine guitar, Steve is an extraordinary drummer, who proves the old thesis, that good drummers don't need a mega-drumkit (remember Carl Palmer? – playing even gongs in his back? – two bass drums? – how ridiculous!).
Dieter

Russell and Mark already wrote about the music. So here's the setlist:
1st set:
Last dance
heaven and back
tina
millionaire
fletcher christian
hard to be human
last weeks of the war
insignificance
powers and horrors
2nd set:
orpheus
myth
bomb
king arthur
neglect prince of darkness
flitcraft
belly to belly
1st encore:
memphis egypt
curse of the mekons
where were you
2nd encore (only London):
wild and blue
never been in a riot
so it really was a greatest hit show plus new stuff.
Between Curse and WWY Mitch did a piece of art about the pleaures of masturbation (maybe called satan). Is this a mekon original??
Comparing both shows I would says that I enjoyed the spitz show more. Not for reasons of sound mixing or hitting the notes correctly. I had the feeling that audience feedback was really good in London right from the beginning, so they were in good mood and really enjoyed the show themselves a lot. In Leicester there was only a crowd about 80 people and the response was not enthusiastic in the beginning, which was not jim's, paul's, ferl's, oliver's, michael's or my fault. It wsa only during the second set that temper was rising (after jon had complained about to little gas in the Mekons' tank. The crowd got really wild in the end and pogoing was so hard, that Sally and others warned the crowd to be careful. Another not so god point was that the stage was very small so the kicking on heaven and back was quite minimalized. Jon said he had been very tired so that wsa part of the explanation to me. To others Leicester appeared to be better than the spitz. Of course personal feeling (and alcohol consumation) may have been responsible too. In any case it was interesting to see how the Mekons reacted to the audience. When things got wild in Leicester Suzie, Tom and Lu were all staring wondering was happening.
Jon cracked some jokes of course (some fairly old too), made false announcement as a running gag.
Now I have to go back to work.
Ciao
Nobby

arrangements were quickly made and the route encountered to the SPITZ;lamp posts and walls splattered with the bands details added to the urge to get in and listen to one of music/s "black sheep".
the venue quickly flooded with "club mekons";the time to swill a pint saw the motley bunch of mekons come aboard the stage.dan dares' greatest enemy was now slinging out its dadaist form of entertainment;"LAST DANCE" strangely opened up events!."HEAVEN AND BACK"not only took us back to those mute rock 'n' roll years of 89;but definitely to heaven with those trademark mekon-esque jangles .
"FLETCHER CHRISTIAN " was delivered in such a style ,that you'd quite believe those mekons were involved in the famous mutiny .perhaps history has been written incorrectly;perhaps the epic occurred on H.M.S MEKON??.
"ORPHEUS"is undescribeable;a song wrote by the mekon himself??.a song delivered from another world or planet.the second set was well under way now;i was eagerly awaiting the rants and early slices of punk .when would it be delivered ,when would the band explode into a bunch of angry ,loud,lunatics?.
there was an explosion but in the form of "NOW WE HAVE THE BOMB";sallys' vocals gave it a sexy spice girl edge.not to be left out,the mekons staged a little line dancing.in his own words "golf professional" LARRY LONGFORD led the way in athletical style ;and got the crowd sailing,to "BELLY TO BELLY".perhaps BERNARD LANGER LANGFORDS' been watching those STEPS christmas videos??
my arms were line dancing with a pint at the bar;belly to belly with many a middle aged club mekon!!."NEGLECT";another composition talking about capital[what side are you lads and lasses on?].
lyrical content include:-
"give me £10,000";...............only if we can see another bout of larry langfords line dancing.
the crowd new the end was nigh;it was.the ship changed course ;the waves crashed against the bow.out of its wreckage came forth"MEMPHIS",its delivery and lyrical content put it up there in the top five tracks of all time.the crowd went from line dancing to lateral dancing .the swinging giutar,stomping bass,drums hammering,violin screeching delivered its same form of radical rant with "WHERE WERE YOU?".
RAVERS BECAME RANTERS as a deputy mekon announced himself on stage to deliver this timeless classic from 78."NEVER BEEN IN A RIOT";an understatement!!.i think if the band hadn't come back on for an encore they'd of been one.never been in a riot was hammered out;larry langford treated us again to a little radical line dancing.
a great night to be said by all,how can the music industry ignore talent like this??.it proves basically what a bunch of bananas they are.
mark

sat 11th nov - Leicester - The Musician

---
WACO BROTHERS:
Sat Oct 21 NYC Brownies CMJ BBQ
Sat Oct 21 Hoboken Maxwells's

Waco Brothers: 11-22-00, Fitzgerald's
Here's a fairly complete setlist taken from the stage last night...
Set One (done by the opening act - The Sober Waco's)
Fox River
Rewards
Do what I say
It's not enough
Make things happen
Cornered
Red Brick Wall
Hell's Roof
Harm's Way
See willy
Take me to the fires
Cocaine Blues
Out in the Light
Set Two (Done by the Sauced and Stoned Waco's)
If you don't change
Cowboy in Flames
Too sweet to die
Out there aways
Girl at the end of the bar
9 lb Hammer
Got me running
White lightning
Big River
Mighty Fall
Do you think about me?
Wreck
Tiger by the tail
Encore
Wild and Blue
Folsum Prison Blues
Death of Country Music
and a few others I don't remember yet...
anyone else there besides Darryl?
Misc comments:
They couldn't find an opening act that night even though they were offering them $25 to warm up the crowd.
They also played awesome as usual even after getting sauced between sets, and having two shots onstage.
They are playing Friday in Chicago at the Beat Kitchen.
Catch them if at all possible. They were selling red Waco shirts for $12, CD's for $12, and giving away Bloodshot stickers and postcards with Jon's artwork.
Enough said...
Kent

Speaking of drunk Mekons, there was one in Berwyn last night. I've seen Jonboy around twenty times in various formats, and I think last night was his most fuckeduppedest.
Last night's lineup: Sprocket, Tracy, Jonboy, Deano, Durante, and Joe Camarillo on drums. Jonboy: "Secretary Goulding became ill this morning, but he'll still be a fine vice president."
Two sets, maybe two-and-a-half hours total. Lots of stuff from the new album in the first set, lots of covers in the second set. Songs by Hank Williams, Buck Owens, Johnny Cash, Roy Acuff, "Jesus George Dubya Jones". Show ended with a ten-minute demolition of "Folsom Prison Blues."
Opening the second set, Jonboy dismissed the first set as being "The Fake-o Brothers", who had dared to smoke marijuana in their dressing room between sets.
At some point Durante staggered offstage and Jonboy took over playing pedal steel. He spent the rest of the show ridiculing Durante for playing such a simple instrument.
More later -- gotta find some breakfast.
TWM

My recollections, in no particular order include:
Jonboy saying "If George Bush steals this election, there will be blood in the streets of Berwyn" and various derivatives thereof.
Alan's guitar being broken before the final song, requiring the bass to be performed by mouth. I think he swang it against a speaker, and the friend I was with reports it as being pretty busted up.
The very tall and very well built waitress.
And Jonboys repeated jibes at the local radio station which "sponsored" the event ($3 Becks), but would never come close to playing a Waco tune.
CR

---
Saturday December 9th
The WACO BROTHERS play 2 acoustic shows at Chris & Heather's RECORD ROUNDUP
>anyone in chicago able to see the wacos at
> record roundup last night? darn, i couldn't make it. and it's
> literally 10 mintues from my house. so i drove by earlier and saw the
> band crowded in the front of the little store. how fun! anyone?
daryl?
> did you check them out? i need to live vicariously..
I went to the 2nd of the two shows Saturday night.
Had to hang out in the cold with the White Rabbit in the pink dress drinking wine from a paper bag (me, not the rabbit, drinking the wine, not wearing the dress) while waiting for the first show to end and the early show-goers to clear out. Finished off the wine, started on the beer and the lights went on inside (they were dimmed to watch the film clips), the door opened and people slowly left.
After paying the $8 a person cover, we were allowed to go inside and thaw. People were just milling about chatting and browsing the Record Roundup's extensive collection of records and jun- ,er, "vintage collectibles".
The Waco's mandolin player (Tracy Dear, at that moment-greatest living person, English or otherwise) offered us swigs from his & Durante's bottle of Jack to facilitate the warming process--(side note: attending Waco's shows has a become a cheap thing to do: free food at the cd release party a few months ago, free t-shirts last month, free Jack, free beer and a Langford-promoted hat Saturday night).
Around 11, the band, sans Steve and Alan (who was last seen on page 23 of the Culture section of this week's Chicago Reader) but with Joe the drummer, climbed onto the stage in the window. They were joined by Chris (one of the 2 owners of the RR) who launched into a 15 minute introduction of the band that included an Ed Sullivan impersonation and various jokes about Robbie and Donna Fulks' affinity for child-bearing. (I think Robbie and Donna are performing at the RR next Saturday.)
After the other owner of RR (Heather, likely married to Chris) got up on stage and took Chris away, the band was allowed to perform. Playing all acoustic, they started off with 'Rev Blues', played a few Tracy songs (incl. a Hank Williams cover that I don't recall hearing Tracy play before as well as 'Take me to the Fires'), 'You Got Me Runnin (or whatever that song's called)', 'It's Not Enough', 'White Lightning','Fast Train Down', 'Wreck on the Highway', and others before finishing with encores of 'Girl at the End of the Bar' (probably the best sounding song of the night, considering the acoustic format) and 'Do You Think About Me?'. I also recall a few additional covers of Bob Wills and Johnny Cash (both of whom were in the film clips that were shown after the Waco's performance).
After the band finished up its 45 minute set, the lights were turned down and 2 sets of film clips played. The first 30 minute reel was taken almost entirely from Tex Ritter's show (i haven't a clue what that show was called).
The clips were often hilarious in that the people in them were decked out--sincerely, not all ironic like a guy wearing a kenny loggins t-shirt at a Pavement show--in elaborate Cowboy/Cowgirl garb (the kind with Rhinestones everywhere and creases on the pants and sleeves) and talked like people from whatever planet/decade on/in which they lived. The best clips in the first reel were those of early Johnny Cash, Bob Wills and his Texas Playboys and Tex Ritter himself performing various songs (after which the assembled audience watching the films inside the RR would applaud enthusiastically). The second 30 minute reel featured various classic commercials (including one for Quisp) and maybe some music (but, after the wine, whiskey and beer, my recall of that last reel is hazy) and possibly some nudity. Again, the film clips were hilarious, mostly because it's so funny watching people from the 1950's on tv doing commercials and acting so damn sincere and un-ironic. After the film clips (like at 1 a.m.) people still hung around, chatting up the band, buying old records and books. Thax, the guy who read the poem before the Handsome Family show Friday at Schuba's, was at the Waco's show and Stephanie bought his book of poems which are titled after various Chicago-based musicians (Jeff Tweedy, Rick Rizzo, Kelly Hogan, Wilco, etc) and landmarks and are really weird and abstract (i mean REALLY weird: when Ira Glass thinks your poetry is out there aways...it's weird.)
Oh, speaking of Robbie Fulks, he has an excellent article in this week's Chicago Reader recounting the horror of his most recent tax audit...the Chireader's web site (chireader.com) sux, so i don't know if the article's on-line. But it's worth hunting down. Also, somewhere in Chris' rambling intro to the Waco's he mentioned that Robbie and Sally Timms would be playing together(?) at the Chicago Cultural Center this Thursday. These Cultural Center things are usually during the day, but I think he said this dynamic duo would be playing there in the early evening on Thursday?
finally, Tracy Dear and Friends (the waco's) are playing a Christmas show somewhere in Chicago the 22nd of December (sorry i don't have more detail about this show).

*** SALLY TIMMS ***
Thu Dec 7 Chicago Schubas w/Alejandro Escovedo
Sally played Schubas in Chicago on Thursday, opening for Alejandro Escovedo. His backing band -- David Garza on guitars, Eric Heywood on pedal steel -- backed her as well.
She started the evening by apologizing for being hungover. She said she met the band in Madison the previous night so she could teach them her songs, and they got her drunk. And she then took advantage of them.
Heywood added "I'm still sore."
Sally replied "Sore, as in angry, as Eric was last on my list..."
She played eight songs -- let me remember:
Dreaming Cowboy
Sad Milkman
Dark Sun
Horses
Cry Cry Cry
Dover
Blue Eyes Crying
Paper Roses
"I only cover the cream of country," was Sally's introduction of Donny and Marie's "Paper Roses." She tried to sing it straight but Garza kept camping up his parts and cracking her up.
She kept apologizing for not feeling well, at one point asking if there was a gynecologist in the house.
She plays the Chicago Cultural Center this coming Thursday with Robbie Fulks.
TWM
*** JON LANGFORD & 6 PROUD WALKERS *** (W/KIRK RUNDSTRUM)
12/1/00 Fri Austin TX Continental Club

*** SALLY TIMMS ***
1/13/01 Sat Winston-Salem NC McChesney Auditorium w/Wacos
1/19/01 Fri Atlanta GA Variety Playhouse w/Wacos & Mojo Nixon
12/14/00 Thu Chicago IL Chic Cultural Center w/Robbie Fulks

*** WACO BROTHERS ***
1/11/01 Thu Chicago IL Lincoln Park Zoo w/Sally Timms, Gorillas, Snakes, and Elephants
1/13/01 Sat Winston-Salem NC McChesney Auditorium w/Sally Timms
1/19/01 Fri Atlanta GA Variety Playhouse w/Sally Timms & Mojo Nixon


---
Jon Langford exhibition
New Blue Paintings
Yarddog, 1510 S. Congress
Austin TX 78704
512.912.1613
www.yarddog.com
Dec. 2 through Dec 31, 2000
Together with Jad Fair / Rico Bell

PLUS: Jon Langford: New Blue Paintings
Opening & Reception 6pm – 7.30pm Friday December 8th 2000
At the OLD TOWN SCHOOL OF FOLK MUSIC GALLERY
4544 N. Lincoln Ave., Chicago IL 60625 (773) 728 6000

"The night life ain't a good life, but it's my life"
Willie Nelson
Straddling the practices of art and music like some mighty wounded colossus, a can of spray-paint in one hand, a Stratocaster in the other, Jon Langford's world is fast turning blue. In snatches of lyrics, scratched up hopeful smiles and tarnished rhinestone sparkles, these new paintings describe the greatness and greed that underpin not just the Country Music Industry but America itself. Honky-tonk ghosts and Friday night dancers take center stage then fade like showbiz dreams into the shadows of history where real and imagined cowboy singers become lambs to the slaughter, frozen in an instant & floating forever in blue…


---
Friday December 15th
Jon Langford & Skull Orchard
At THE MERCURY LOUNGE, Houston Street, NYC
Some quick notes on last night's Langford and the Six Proud Walkers show at NYC's Mercury Lounge:
After the post to this list a couple weeks ago, I was expecting Jon and a crowd of strangers; instead, who takes the stage but Jon, Steve, and Alan Doughty, alone. "We are the Six Proud Walkers," announced Jon. "Because we each have two proud walkers attached to our bottoms."
So it turned out to be a Skull Orchard show by any other name, which was fine by us. Jon played fiery guitar, Alan's manic bass was in top form, and Little Willy was, as always, the consummate professional. (Goulding's relocated to NYC now; I need to remember to go see him whenever he appears in public for any reason. Like, when he goes out for coffee.) We jumped around and screamed our heads off and made fun of George W. Bush. ("They have me on tape, saying the W is for 'wanker,'" said Jon. "I'm done for now.")
Set list, more or less:
Tubby Brothers
Pill Sailor
Millionaire
Walking on Hell's Roof ("We're half the Waco Brothers, so we're going to play half a Wacos song -- it'll stop halfway through at an awkward moment, because of contractual requirements")
Deep Sea Diver
Death of a European
Old Flames Can't Hold A Candle To You
Joshua Gone Barbados ("Steve used to do this song with Brendan Croker. Who's Brendan Croker, you ask? A bloke! From Leeds!")
See Willy Fly By
Nashville Radio
Tom Jones Levitation
Green Valleys
I'm Stopping This Train
Big River
Anything Can Happen
20th Century Boy
Wreck on the Highway
Death of Country Music
Jon closed off the night by saying, "See you in the spring," which I assume means a Wacos tour. Which is perfect, because my ears will just about have stopped ringing by then.
Neil

---
THREE WEEKENDS - THREE ART SHOWS – THREE GIGS
AUSTIN

Friday December 1st 2000
Jon Langford & the 6 Proud Walkers
At THE CONTINENTAL CLUB, Austin, TX

Jon Langford NEW BLUE PAINTINGS
Opening & Reception 7pm – 9pm Saturday December 2nd 2000
At YARD DOG, 1510 S. Congress, Austin TX (512) 912 1613

CHICAGO

Jon Langford NEW BLUE PAINTINGS
Opening & Reception 6pm – 7.30pm Friday December 8th 2000
At the OLD TOWN SCHOOL OF FOLK MUSIC GALLERY
4544 N. Lincoln Ave., Chicago IL (773) 728 6000

Saturday December 9th
The WACO BROTHERS play 2 acoustic shows at Chris & Heather's RECORD ROUNDUP (just west of Damen on Montrose) starting at 8pm and 10pm

NEW YORK

Friday December 15th
Jon Langford & Skull Orchard
At THE MERCURY LOUNGE, Houston Street, NYC

---

12/1/00 Fri Austin TX Continental Club

*** SALLY TIMMS ***
Thu Dec 7 Chicago Schubas w/Alejandro Escovedo
Thu Dec 14 Chicago Chicago Cultural Center w/ Rob E Fulks