Reviews from 1986-1992, Reviews of 1997, Reviews of 1998, Reviews of 1999, Reviews of 2000, Reviews of 2001, Reviews of 2002, Reviews of 2003, Reviews from 2004, Reviews from 2005, Reviews from 2006, Reviews from 2007 Reviews from 2008
---
You can go directly to:
Jon/Rico at Dylan's, Mekons April tour
---
*** SALLY TIMMS ***
Thu Jan 11 Chicago Lincoln Park Zoo w/ Waco Bros.
Fri Jan 12 Lexington Lynaghs
Sat Jan 13 Winston-Salem McChesney Auditorium w/ Waco Bros.
Sun Jan 14 Jacksonville Jack Rabbits
Mon Jan 15 Orlando Sapphire Supper Club
Tue Jan 16 Key West Green Parrot w/ Waco Bros.
Thu Jan 18 Tampa Skipper's Smokehouse w/ Waco Bros.
Fri Jan 19 Atlanta Variety Playhouse w/ Waco Bros.
Sat Jan 20 Chattanooga Lizard Lounge
Sun Jan 21 Newport KY Southgate House

*** WACO BROTHERS ***
Thu Jan 11 Chicago Peggy Notebart Nat. Museum w/Sally Timms, Gorillas, Snakes, and Elephants
Fri Jan 12 Lexington Lynaghs w/Sally Timms
Sat Jan 13 Winston Salem McChesney Auditorium
Sun Jan 14 Jacksonville Jack Rabbits

Southeastern Center for Contemporary Art (SECCA)
January 13, 2001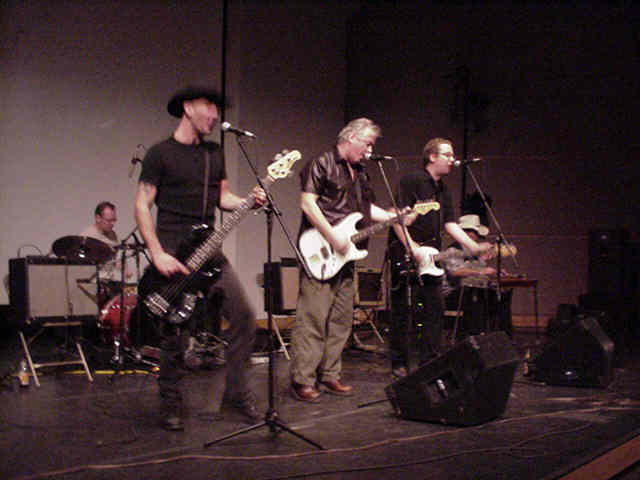 Mon Jan 15 Orlando Sapphire Supper Club
Tue Jan 16 Key West Green Parrot
Thu Jan 18 Tampa Skippers Smokehouse
Fri Jan 19 Atlanta Variety Playhouse w/Sally Timms & Mojo Nixon
Sat Jan 20 Chattanooga Lizard Lounge
Sun Jan 21 Newport, KY Southgate House

---
Sat Feb 3 Chicago Abbey Pub

comments : I saw the Waco Brothers at the Abbey Pub. I ABSOULTELY LOVED THEM! I feel HORRIBLE for not seeing them sooner. My review: It was like hearing a reincarnation of The Jam, - such integrity and purity but this time they bring us not only truth but a steeel geeeee-TAR baby! The Jam kicking The Clashes ass and vice versa - both using a hot western twang as their weapon of choice. I listened with my soul that night and they grabbed it and won't let go. The show was all about seeing guys who perform their passion right in your face, then straight to your guts becasue that is what living in Chicago (NO NOT THE SURROUNDING SUBURBS aka: "Chicagoland") does to you! Send them my Love.,
Miss Patty Vega


plus a discussion from the Club.Mekon mailinglist:
Can someone explain the appeal of the Waco Bros to me?
I went to see them at the Abbey Pub in Chicago on Saturday. I'm a big Mekons fan, but the Wacos did absolutely nothing for me.
With the Mekons, you get a great rapport, energy and tunes. The Wacos seem to be a bunch of, well, musicians. Which is to say they seem to be more interested in playing than they are in the audience.
oh well.
Finally, some one with some country in their soul. If you're ever passing through Bakersfield, let me invite you the to the Crystal Palace for a serious shit kicking, beer drinkin' good time.

--- Jay Jaffe wrote:
> Reply to: RE: [club_mekon] Why Wacos?
> Yikes. Are you sure you were feeling okay that
> night?
> Very well then. Allow me to testify:
> Having seen the Waco Brothers over ten times over the last five years, I've staggered away in awe every single time, feeling that I've witnessed a great show. I would put them among the top three or four live acts I've ever seen. They play their hard country with abandon (think Johnny Cash Live at San Quentin, circa 1969, full of amphetamines), spirit, and soul. They kick ass.
Rapport? Their onstage banter rivals the Mekes for its hilarity, thanks to a certain Mr. Langford. I've never seen a crowd not take to it, have a good laugh or call out a request, and I've never seen the Wakers give anything less than an energetic show, even at 4 PM on a Saturday afternoon, nursing king-hell hangovers from the night before and knowing that they'd be going all out again later that night (CMJ Weekend in NYC, the Bloodshot BBQ at Brownies being an annual afternoon staple). Energy? Perhaps they tied bassist Alan "Jesus George Jones" Doughty to a tree the night you saw them, because his pogo-ing presence brings more energy than most bands. Sweat drips off the walls of every venue they roll through here in NYC.
Tunes? While their music has shifted over the years, less twangy and more rockin', they have strong new material, a first-rate back catalog, and an ace collection of classic covers--Cash, Buck Owens, George Jones, et al---at their disposal. Having three distinctive and capable vocalists--Johnboy, Deano, and Tracy Dear, the World's Greatest Living Englishman (as the band always refers to him)--they never stay in one place for too long, and they always seem to offer something for everyone. And while they're excellent musicians, I've never seen them let virtuosity get in the way of a good, sloppy romp through an audience favorite.
So, I don't know what was missing the night you saw them, but I'd strongly urge you to check them again before you dismiss them.
cheers,
j

Finally, some one with some country in their soul. If you're ever passing through Bakersfield, let me invite you the to the Crystal Palace for a serious shit kicking, beer drinkin' good time.

Wacoworld really didn't pull me in till I heard a couple of the tunes live. It's still sort of a spotty album for me, but not without its gems. If you didn't like them live, the Waco Bros. may not hold too much for you on record. What blew me away about the last few shows I saw at the Beat Kitchen was how much they ROCKED! Maybe it was because they were a bit stripped for both appearances, mabye it was the drummer they've been using while Lil' Willy is away, but I thought the Bros. transcended the weird label of alt. country with their sheer volume and energy. All music heard in a bar should be so good, no matter how you hyphenate it.
Anyways, take heart! Perhaps with all their Bloodshot outlets, the Mekons as a group can keep on making their truly weird, wonderful music that's just alt.fuckin' cool.

The first time I ever saw any mekons, it was the Wacos / Rico show in DC a few years ago. It made me impulse-buy whiskey and buy a cheap guitar the next day. But sometimes when we've seen them, especially with the newer material, they've just kind of stood there and bashed. That's OK, we still love them. But the earth doesn't move for me every time they play. Just 75% of the time.
Greg

I find it hard to believe that any self-respecting Mekons fan would ever consider the Wacos to be a comparable band. The Wacos have some good songs, their live shows are a blast, but they're nowhere near the level of the Meeks.
For one thing, they started as a bar band side project, a country music outlet for a bunch of talented Chicago musicians. Fair enough. The first album is fun, unpretentious, and fulfills its mission admirably. But when did they begin taking themselves seriously "as a band"? By the 2nd & 3rd albums, the tracks have a slicker, more "rock" sound that is vastly inferior to anything recorded by the Mekons. To me, it sounds like they have more in common with a band like the Bottle Rockets than with Johnny Cash.
Then there's the Jonboy problem. Admit it, when you listen to a Wacos album, you're waiting for the next Langford track. There's the occasional gem from Tracy Dear or the other guy, but while those guys are great, we're not talking about Sally Timms or Tom Greenhalgh here.
So they're a bar band that got too serious. A sin in my book. But then we're all "for a life of sin", so all is forgiven.
H.

Maybe their appeal does'nt cross the Atlantic. I grew up in a C&W town, and the Wacos speak to me in their music. While every hip kid says they like country because of Son Volt and Uncle Tuepelo, those bands don't really come close to finding the emotinal core of country. But the Wacos can sing a song like "South Bend" and communicate feeelings of worthlessness far more honestly that the woe is me music of other no depression bands.
I run across Buck Owens occassionally and I've always thought that I should metion that he should play the Wacos on his stations(he practically runs the Media here in Bakersfield), since the are the only No Depression band that I feel can be played along side with Merle & Willie and sound like they fit. He probally still would'nt play them, but I think he would appreciatethem for what they communicate. Who cares if they have no stage rapor, their music is what bonds them to their audience.
As far as the trans-atlantic thing goes, for the life of me, I've never understood the British chill that affect so much of your music. It as if high production gloss is a national trait. Maybe thats why england does'nt produce Pavement or House of Freaks.
It wasn't an off night-- it was a rocking right show beginning to end, one of my all time favorite Waco shows. And I've seen a lot. I left thinking what a great and weird and very Chicago band this is, completely different from the Mekons, but also wholly deserving of my eternal love. (And Steve Goulding was back! For how long, I don't know.)
Jon was uncharacteristically subdued, which considering the recent death in his family was of course understandable. He's a great comedian and the banter is a highlight of any show, so maybe his lack of the funny affected your experience? That or maybe it was the sound, which wasn't great, I don't know.
All I know is I left that show thinking wow, they've got so many great songs now, if they could play for two hours straight and leave me wishing they'd played this or that too. Most of all I left feeling really lucky I live here and now, at this strange historical musical confluence.
Tammy from Chicago

I've only seen the Wacos live once and it was real fun and the songs were real good and I can't think of almost anything else I'd rather do . . . except see the Mekons live.
There's a soulfulness, a core of bone-chilling emotional truth that characterizes the Mekons, live and on memorex. Seeing the Mekons is almost always a cathartic experience for me . . . reaffirming beliefs about life, art, justice, sweat. And the snappy repartee is better . .
.
Not directed at anybody in particular:
Comparing the Mekons and Wacos seems to me to be a rather futile exercise.
At its worst its an egregious act of hair-splitting. I mean: Wow! If you must, direct your gack of bile at someone who really deserves it. I've never seen either the Mekons or the Wacos come remotely close to phoning it in.
At the very least it's a professional's game of apples and oranges. Leave it to know-nothing music writers who get paid to drum up facile rock and roll controversies and make up transparent year-end best of lists at the behest of the marketing department.
For those of us fortunate enough to dig them both: Great. For those who harbour misgivings about one or the other: Oh well. Moving on...
H
P.S.
Do You Think About Me? and Say Hello To Everybody are my two fave Waco raves, and neither features Jonboy on lead vocals. That's not to say I don't love Pigsville or See Willy Fly By or any of Jon's performances. I like pretty much all of it.

The first time I ever saw any mekons, it was the Wacos / Rico show in DC a few years ago. It made me impulse-buy whiskey and buy a cheap guitar the next day. But sometimes when we've seen them, especially with the newer material, they've just kind of stood there and bashed. That's OK, we still love them. But the earth doesn't move for me every time they play. Just 75% of the time.
Greg

Oh, what the hell, I'll say it: Deano does absolutely nothing for me. I don't get any of his stuff - the songs, the lyrics, the fake accent. I program all his songs out. Give all that space to Tracy Dear, I say.
And enough with the Handsome Family already. Same rehearsed jokes every time. Drunk by Noon is great, but just I want to hear Sally sing it, and Tom did more with the autoharp or whatever in the one song he's ever played on it.
And another thing...
Greg
PS I kind of like Johnny Dowd and Lonesome Bob, though.

Amen to Hugh #2 (or are you Hugh #1). I wasn't that thrilled with anything but Jon's stuff on the first album but then....not just Say Hello, but Dry Land, Out in the Light, Fox River, Northwoods. I'd say Deano is at least an equal partner (no offense to Tracy). The missus and I went so far as to name our cat after the mighty Mr. Schlabowske (his name is Deano, not Mr. Schlabowske).
What say we return to picking on Bono instead of the Wacos?
Rick

Me neither. Or either. I'm replying from various replies to the Waco vs. Mekons that cropped up a like a boil. I won't quibble with the Wacos bar band deal, though they are pretty fucking great. The cat that said Mekons have mutated into a bar band that got too serious after Curse? I take umbrage. Deep, sad, udder umbrage. You've been deaf since 1991 I take it. Sorry about your problems, but I'd rather talk about ME.
Three chords, a saz solo, & the bone-chilling emotional truth!

Hugh Hardy wrote:
> Getting downright pissed about the Wacos very existence, as a couple of listees
> seem to be downright baffles me.
That overstates it a bit, sure. There was a time a couple years ago, though, when some of us were compiling the "real new mekons album" from the best songs of the Wu-Tang size crop of side projects and solo things coming out - Langford, Rico, Sally, Wacos, Pine Valley Cosmonauts, theme songs from obscure midwestern children's shows, Pretty Things reissue singles from 1965, Tom's new lyrics to John Lennon's last demos, Anceint Sumerian throat-scraping-and-lute-music performed the deputy mekons originally in Subway Sect, the Sarah Corrina / Malcolm Young tribute EP to Men At Work, The Rumour's now-legendary "Hello, Tempe!" Reunion Stadium Tour bootleg, originally suppressed by Sony but featured in VH1's "Sad and Degrading Stories of People from the Eighties," in which Steve Goulding, "battling his personal demons," bites off Graham Parker's earlobe. (Voice-over) "In one chewy bite, Steve had once again swallowed the Rumour's dream of making the American R&B charts. As Graham Parker waited in the emergency room for his drummer to pass his half-digested appendage, he knew the Rumour was gone forever" (cut to guy from Poi Dog Pondering seated in lawn chair with feet in plastic wading pool) "I called and called, but Steve didn't even recognize my voice any more. 'Poo Dong what'? he kept saying. It...it...broke my heart."
But then _Journey_ came out, and we forgot about all that.
Greg

> But then _Journey_ came out, and we forgot about all that.
>
This is a joke, right? Are there really more than a couple of Mekons fans who only like the most conventional, professional stuff? If this is serious, could you indulge my curiosity and tell me what the last previous "real" Mekons album was? Perhaps you could indulge me even further and explain some of the characteristics that define a real Mekons disc. I don't know of any non-real Mekons discs, since Tom and Jon and most of their usual support cast appear on every Mekons disc I have.

Hey, we're on the same team. I love all their stuff - rock, arty, dub, folk, country, whatever. I'm just saying there were a couple years there when no mekons stuff came out, but a lot of mekons-related stuff did, all of which had patches of mekons energy. And since the mekons are the greatest rock band ever, those patches were head and shoulders above the rest of it. The frustrating thing was that that included "Me" - good all the way through with a few patches that equaled the best the mekons had done, especially live. So we started thinking, what if the energy behind the greatest moments produced by mekons as the mekons and in various other guises over the past year or two had been directed toward an album or two? (For example, Langford rave-ups had stopped appearing on mekons albums, instead being used in the Wacos.)
It was just a bit of daydreaming - of course making music, especially with a bunch of addled commies whose interests and bodies are spread out over the world, isn't like that. And doing all the side projects probably ensures that the band doesn't burn out on itself. And of course, it's always been like that - what if material that ended up in 3 Johns (who are great all the way through in their own right) and the Edward II stuff, etc., would have been brought to the table at the same time?
The fact remains though, that when they started working on Journey, Sally literally said, "why don't we a do a _good_ album this time?" and the others went with it. And that's exactly how I felt with all that other stuff coming out. And Journey is just amazingly great - I don't think there's one moment of just good on it.
It's all subjective anyway. Later tonight (this morning) I'll give a track listing for what the "real mekons album" mix tape would have been.
Greg

It is my ill-considered opinion that you're not comparing like with like. Wacos = speed whereas Mekons = acid. You get a different buzz from each.
Not that I'm a great drug connoisseur, but I figured more people would get the idea than if I said Wacos = Boddingtons wheras Mekons = Ansells.
So what drug exactly would the Mekons be?


---
from: la vida local, jan 21 01;
Rico Bell and the Snake Handlers Feb. 13, Cafe du Nord

Carrying the weight of being a Mekon has to be a fairly graceless task if your name isn't Jon Langford or Sally Timms. In its quarter century of on-again, off-again activity, the group is probably as well known for lineup changes and shitty luck as it is for its many contributions to the exploration of the spectrum of fringe sounds. If you're Rico Bell (a card-carrying member since '85), the Mekon legacy is a particularly thankless one. We reckon it was no small coincidence the accordionist's arrival dovetailed neatly with the band's fertile honky-tonk, Cajun, country swing, and roots rock peak. However, history considers him just another supporting player in the Mekon revolving door, while Langford has become a Pine Valley Cosmonaut and Timms a Drifting Cowgirl. Bell (a local for a half dozen years now), on the other hand, managed to sneak under the radar in 1999 and release the most surprising and pleasing album by any of them, Dark Side of the Mercy (Bloodshot).
While the warm and friendly confines of Cafe du Nord would seem a perfect match for solid songwriting on the drinking tip, the gig looked to have "dud" written all over it when the doors opened to the public. Forty or so graduates of late-'80s college radio milled about asking one another things like "Who recommended this show to you?" One chucklehead grabbed a chair from a nearby table, stuck it flush against stage center, and plopped down and read a paperback. We made for the bar and doubled up on bracers. Singer-songwriter Amy Rigby did a fine job warming up the crowd with songs devoted to getting tossed over the side by self-absorbed creeps. She cracked lots of dumb drummer jokes but played a bit too long, and we got antsy. The Snake Handlers yanked open the velvet curtain around 10:30 p.m. and dove right in with the mid-tempo "Big River II." All cowboy shirts, sideburns, and skinny hips, the five-piece looked like lost wanderers from the Long Ryders Fan Club Convention. The boys built up steam slowly, Bell tentative up in front, although the quality of his music alone can carry a performance. There's no doubt that he has a knack for Americana, but his work has an epic quality that comes from developing across the pond and being exposed to traditional English folk music. His sound is part Tom Russell storytelling and part balls-out Pogues attitude, with liberal dashes of the Sir Douglas Quintet, the Outsiders, Flaco Jimenez, the Blazers, and Parsons-era Byrds. Songs about losing and loneliness take on an added charge when written from the perspective of outsiders looking in at San Francisco. While the majority of the audience had its head too far up its ass to actually take home anything meaningful from this flat-out terrific performance, Bell and the gang plowed forward and hit their stride right about the time he traded his acoustic guitar for the accordion and goosed it up a notch. "Merseysong," "Hear the Sirens Call," and "Traveling on the Dark Side" were standouts, and the one-two punch of John Lennon's "Working Class Hero" and the get-me-the-hell-outta-here ode "Yippee I.O." actually stirred folks into caring about what they had before them: a tremendous performer who deserved a much smarter audience. Rico Bell and Jon Langford play together Thurs/22, Johnny Foley's, 243 O'Farrell, S.F. Call (415) 954-0777 for time and price. An exhibit of their paintings will be shown Sat/24, Dylan's, 2301 Folsom, S.F. For more information call (415) 641-1416. (John O'Neill)
---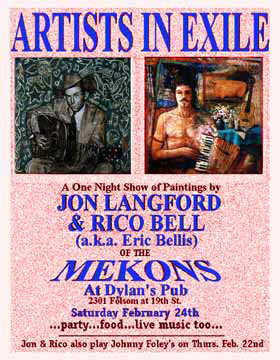 Some thoughts on the evening (at Foley's), in no order:
* If Rico were any more multi-talented, he'd be illegal for export. And his voice was in as fine form as I've ever heard it. Truly beautiful.
* "Working Class Hero" is still a really good song. Especially with fiddle.
* Rico's fiddle player, the guy playing the vegetable crate, is crazy, man. In the best way.
* "Nashville Radio" is one of the best songs Jonboy has ever written.
* I always forget what good lyricists Jon and Rico both are, until I hear them in an acoustic setting. (Cf. "Nashville Radio," et al.)
* Maybe I'm getting old, but sometimes I kinda like this sitting down to hear music stuff.
* Jon Rauhouse's Hawaiian guitar skills are exceeded only by his infectious giggle.
* I never before pictured how "See Willy Fly By" would sound on acoustic guitar and banjo, but now I don't want to hear it any other way.
* I'm still not sure how Jonboy ended up delivering a speech about how David Crosby was the sperm donor for his and Rauhouse's love child, but suffice to say that *it made sense at the time*.
* We need to take up a collection to send Rico and his band on a tour of the U.S.
* Subway systems that shut down at midnight should be illegal.
* So should $30 cab rides from Berkeley to Richmond.
* Not that I wouldn't pay every penny of it to do it again.
Neil

Greil Macus (www.salon.com) writes:

9/10) John Fahey, 1939-2001 (Feb. 22), and Jon Langford at Johnny Foley's (San Francisco, Feb. 22)
An acerbic man who suffered no fools, the experimental guitarist was his own equal as a writer. "It's great," he said of J.P. Nestor's 1927 recording of "Train on the Island." "But what is it?" Recalling Hank Williams' last concert in 1953 -- or, rather, making it up -- he caught what should have happened in "How Bluegrass Music Destroyed My Life," a book of fabulist autobiographical pieces he published last year: "First thing Williams did was curse and swear at us. 'Why dontcha all go home?' he yelled into the mike. 'I hate every damned one of ya.'" In Fahey's story it was just a setup for capturing a song: "At some point in the show he sang 'Alone and Forsaken' and while he did that many of us almost died of grief and fright."
Fahey calls it "the greatest song of despair ever written" and quotes the first line: "We met in the springtime." He makes you pause. "By the fifth word," he says, "you know it's all over."
It was by chance that Jon Langford of the Mekons, accompanied on Hawaiian guitar by Jon Rauhouse, closed a vibrant solo show with a harsh, syncopated version of "Alone and Forsaken." (The posthumously released 1949 original can be found on the recent Williams album "Alone With His Guitar," with cover art by Langford). Langford hadn't read Fahey's book; that song, that night, was chance. Sometimes the right time creates the right place.


| | |
| --- | --- |
| Some pictures from the evening at Dylan's | |
---
Sally Timms: Abbey Pub, April 7:
In the wake of the long lamented loss of Lounge Ax, the Abbey Pub has emerged as a really good place to hear live music. Jeff Tweedy played there in December, and will be back again on May 2 and 4 (tix go on sale Tuesday).
Last night, it was Sally Timms and Chris Mills. Chris is an up-and-coming local folkish singer/songwriter. He mentioned that he'd recently been delivering pizzas to earn some extra money, and that he'd moved back in with his parents for a while to save some. He said, "You know they say you can't go home again. Well, you can, but it sucks." Deanna Varagona joined him for his last number... offhand I don't recall if it was "Last to Know," which they did on the Bloodshot sampler.
I'm in love with Sally, and try not to pass up chances to hear her sing. There was a decent crowd there, but the place was not packed by any means.
Chris performed a solo set before Sally came on, her band consisting of Chris (guitar), Jim Becker (lap steel, banjo, mandolin) and Tim Ray (upright bass). They opened with "Dreaming Cowboy," her signature tune.
They played a variety of tunes from her solo records, including "Horses," "Dark Sun," Down From Dover," "In Bristol Town One Bright Day," "When the Roses Bloom Again," and "Cry Cry Cry." She encored with "Drunk By Noon" and "Blue Eyes Crying in the Rain." Sally begged off further encores, saying they hadn't rehearsed any more tunes.
Her set was punctuated with her hilarious between-song banter. She said that she'd recently heard Syd Straw and David Johansen at the Old Town School. Although she thinks Syd has a fine voice, she thought her set was marred by too much talk between songs, which Sally termed "crap... why bother to play any songs?" She did say that David Johansen is "extremely sexy for a fifty-something guy."
Sally kept asking that the monitor be turned up. Apparently, she was not feeling all that well, although her voice seemed just fine. She mentioned that she took a nap right before her set, and that something was wrong with her diaphragm... which prompted one patron to say, "Maybe it wasn't inserted properly."
At one point, she tried to calm her stomach by chanting, "my dog is dead," which she then changed to "my career is dead."
Later on, she opined "I am a mean bitch. If you could make a fortune being a mean bitch, I'd be very rich by now." (After which, I yelled back, "You're a sweet mean bitch.")
Throughout her set, she insulted Chris, saying that her fans were expecting it, and came for that instead of the tunes. She instructed him to "show your tits," to which her replied, "If anyone's interested, please see me after the show." When he took a break during one number, she said he would be selling sexual favors in the toilet...
Through her set, there were several people making noise up in the balcony, and towards the end of the set, Sally said something about it. (It bothers me too... why do people come to these show if they don't want to hear the music, and instead just get drunk and talk to each other loudly?)
I ran into Tim from the Hideout, standing at the back, taking it all in an enjoying himself immensely. I said to him, "You're in the wrong place!" but he said, "No, I'm very much in the right place... she's great." No long introduction from Tim tonight, though!
All in all, it was a good show. Next time I'll see Sally, it'll be at the Double Door next month with the Mekons. I hope to see you there! One thing I forgot... Chris Mills did a version of Leon Payne's "Psycho," which he'd first heard Robbie Fulks do back in November, at one of Heather McAdams' events. Chris mentioned that his mother doesn't like this song too much.
Chris said that delivering pizzas was "much like touring, except the drives are a lot shorter, and when you get there, people are a lot happier to see you."
David Sadowski


---
*** MEKONS: ***
Wed Apr 18 Cambridge, MA Middle East
Here's some pics from the show last nite at the middle east in boston. Not great pics but did get a soundboard tape of the show (thus why so far back on the pics). Jon was very obliging.
Was a good show, sally could've sang more, could've rocked a little more but seemed to be in unity, especially with such a crowded stage of personnel. Played about 90 minutes, no new songs that I noticed as they were all familiar. Always great to see a mekons show though!
Todd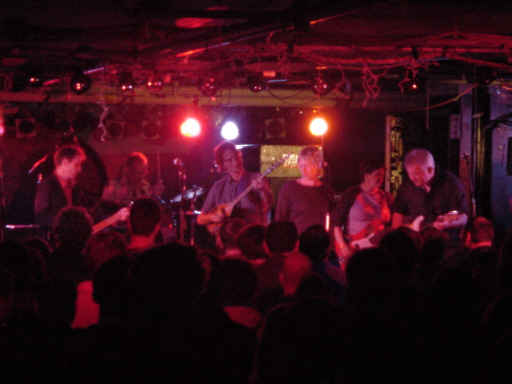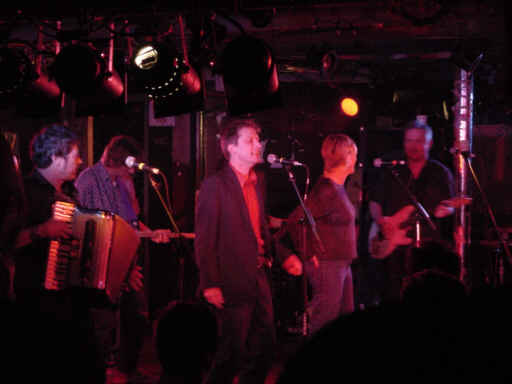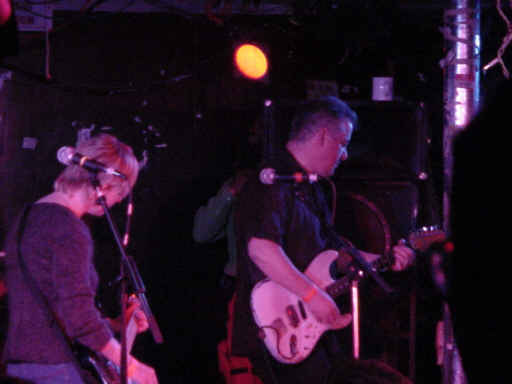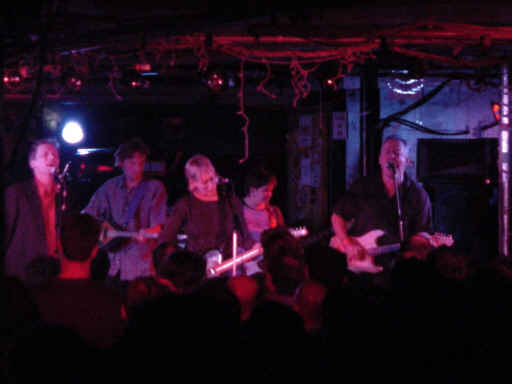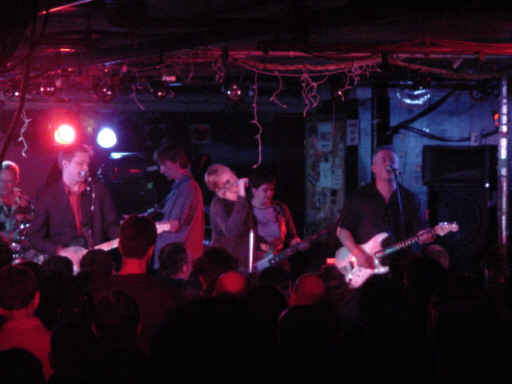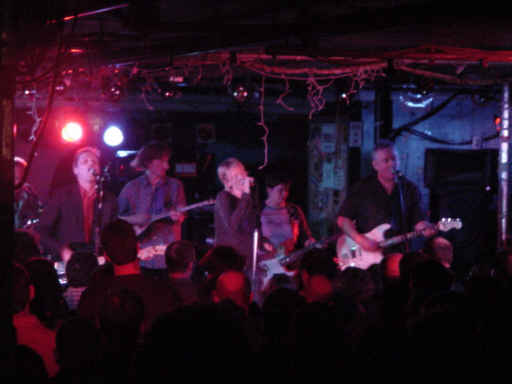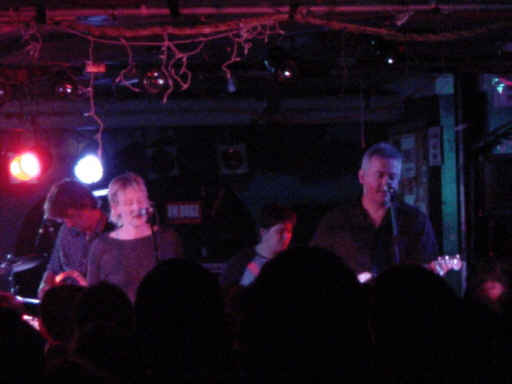 I haven't got time for a real show report right now, but the show spanned their career from "Fear and Whiskey" on up, though concentrating on "Journey." They opened with "Last Dance" and "Heaven and Back," encored with "The Curse" and "Memphis Egypt," and in between did the following, though I didn't keep track of the order: Flitcraft, Hard to Be Human, King Arthur, Prince of Darkness, Fletcher Christian, Insignificance, I Love a Millionaire, Orpheus, Back to Back, Now We Have the Bomb, Myth, Last Weeks of the War, Tina, Neglect, and Powers and Horrors. (I don't think I've forgotten any.) "Back to Back" was the closer for the main part of the show, and featured a dance routine by Jon, Sally, Tom, and Rico, based on the lyrics (rubbing their bellies, pointing to their backs, waving their hands in dancing fashion, drawing squares with their fingers). It turned into a singalong, and the crowd kept singing as the band exited the stage.
Lots of fun; I'll write more if I get a chance.
- Jesse

> I haven't got time for a real show report right now, but the show
> spanned their career from "Fear and Whiskey" on up, though
> concentrating on "Journey." ... (list of songs)
>
> - Jesse
Your memory is amazing! Here they are in order (from Sally's set list):
Last Dance
Heaven and Back
Tina
Millionaire
Fletcher Christian
Hard to Be Human
Last Weeks of the War
Insignificance
Powers and Horrors
Orpheus
Myth
Now We Have the Bomb
King Arthur
Neglect
Prince of Darkness
Flitcraft
Back to Back
Curse
Memphis Egypt
----
Scattered impressions and trivia: Might not have been an all-time great Mekes show. They'd come down from the sexy goofiness of the "Me" tour, but were still hilarious and thrilling. Tom sang better than sometimes-we hadn't heard "Fletch" in a few years. Susie mixed too low, but 'twas ever thus. "Last Dance" sounded funny to me as an opener instead of a closer! Rico says he's working on a new recording and will tour, maybe late this year. Boston always gets to warm them up for New York! We always get the Wednesday or Thursday nights, never the weekends. Jon is showing some paintings at Other Music in Harvard Square.
I'm truly sorry I couldn't look for any list people at the Middle East. I was the worse-for-wear gal in the red shirt, black vest, and front row. Mr. Motofuzz, yes, it is I, your long-lost bass player. How fondly I remember performing your tender tunes at the now-defunct Rat! I was there with (among others) Mr. Paul D., who is still rockin' in Boston. Let's chat off-list.
-Margery

It's great that everyone is so happy with the Mekons performances on this tour. I certainly hope the band retains and grows its fan base and is able to continue as long as they wish. Everyone looks great-- Sally and Susie seem to have completely defied aging, and I thought Tom looked fine on recent tours, as well as this one (though he was noticeably disengaged from some of the group singing. I don't think he knows the words to Gin and It).
That said however, I was extremely disappointed with the Middle East show last week. It was great to see and hear Lu and Susie, but otherwise it was almost the exact same set as last year. It seems like almost instantly the Mekons have become a standard rock band, with a stock set list of the most popular tunes. Nothing wrong with that necessarily, but its a big change from the wonderful live shows on the tours for United and Me, where they played a minimal number of "classics" while concentrating on new material. The only songs that were even slightly surprising were songs that were live staples for many years that had been dropped on the last few tours--Prince of Darkness, Hard to Be Human, Millionaire. Really, do the people on this list who've seen countless Mekons shows still get excited to hear Orpheus or Millionaire or Fletcher Christian or that boring Bomb song? I've seen every Mekons show in Boston, plus a handful in NYC in the early 90s, and this was the first time I felt like if I missed it, I would have missed nothing.
There were at most 200 people in the Middle East, maybe half as many as last year. And apparently they played a smaller venue in New York this time too. Certainly this band knows that most of its audience are repeat customers. After putting on the same show two tours in a row, I have to wonder how many people are going to drag themselves out next year. This die-hard will go, as will most of the list I'm sure, but I imagine we'll be among an even smaller audience.
------

>That said however, I was extremely disappointed with the Middle East >show last week. It was great to see and hear Lu and Susie, but >otherwise it was almost the exact same set as last year. ... The only songs >that were even slightly surprising were songs that were live staples >for many years that had been dropped on the last few tours--Prince of >Darkness, Hard to Be Human, Millionaire. Really, do the people on >this list who've seen countless Mekons shows still get excited to >hear Orpheus or Millionaire or Fletcher Christian or that boring Bomb >song?
Yes. (I especially love "Orpheus"!)
Having said that, though, I did share your feeling that the show was a little more predictable, a little more of a "greatest hits" package, than we've sometimes had in the past. Such are the perils of a long and productive career! I assume some of the revival of older material had to do with Susie's return, since she adds so much to the older, more country-ish tunes.
>After putting on the same show two tours in a >row, I have to wonder how many people are going to drag themselves >out next year. This die-hard will go, as will most of the list I'm >sure, but I imagine we'll be among an even smaller audience.
I'm obviously one of the die-hards, but for me the chief reason the Mekons are always fun to go to is actually the comedy! ("The Mekons: Come for the comedy, stay for the music!") I like bands and performers that aren't excessively sombre or self-serious, despite the darkness of some of their music. It's one reason I'm also a Richard Thompson fan.
- Jesse

It seems like almost instantly the Mekons have become a standard rock band, with a stock set list of the most popular tunes. Nothing wrong with that necessarily, but its a big change from the wonderful live shows on the tours for United and Me, where they played a minimal number of "classics" while concentrating on new material.
You're right that there's nothing wrong with that! Jon and Sally play out pretty frequently here in Chicago. Perhaps they've become more professional musicians. Lord knows that I'm happy to hear them playing the tunes that fans want them to hear. During those "wonderful live shows", there were plenty of the old tunes that I wished that I could hear. Of course, when they have a new album out, you hear a lot more of those tunes and some of the solid oldies get snipped. However, it was great hearing newer versions of some of the old gems. They really flexed their muscles on "Millionaire", turning it into more of a rock tune than a dance one. Them Mekons; they're full of variety.
-----

much of the set in boston was a repeat of the last tour; but i have never heard them play 'millionaire', 'hard to be human', or 'insignificance'. and these are three of my favorites. i have never seen them tour with susie. and i was psyched to be allowed to videotape the entire proceedings. it seemed like tom needed a lyric sheet for some of the songs, which he actually had during the 'me' tour. there was some confusion about the chords as well, especially during 'insig'. i didn't care.
i will continue to see them as they come around and won't mind if it's a tiny place.
those foggies can rock!
ken "animal noise transvestite" the kenster

Thu Apr 19 NYC Mercury Lounge
Oh my mind is a bit battered by the evening's excitements but I believe the Thurs. Mercury set was very similar. We didn't get Prince of Darkness or Flitcraft. Perhaps a more memorious fan can confirm?
Evidently Steve Earle was in attendance. And the redoubtable Caroleen Beatty played a lovely early opening set: she'll be at the Living Room on Monday and the Sidewalk on Thursday if you missed her and you think you deserve it.
Last night's (4/19/01) set list from Mercury Lounge:
Last Dance
Heaven
Tina
Million
Human
Last Weeks
Insig
Morpheus
Myth
Bomb
King Art
Neglect
Belly
_______________
Powers
Prince
Flit
+++++++++++++++++++++++++++++++++++++++++++++++++++
Now my recollection of the encore is this:
Powers
some unrecognizable to these ears song performed by Mitch on lead vocals I Don't Care (a Ramones song tribute to Joey Ramone)
Memphis, Egypt
++++++++++++++++++++++++++++++++++++++++++++++++++++++ Does anyone know which song it was that Mitch performed? Was that Flitcraft?

FYI, Susie was kind enough to give me her copy of the set list after the show was over. She provided one of the more amusing moments of the show (for me at least) when she first came onstage and someone shouted out, "Susie--how are the kids?" and she replied, "Revolting!"
david H.

Fri Apr 20 NYC Mercury Lounge
Prince of Darkness and Flitcraft were both on the setlist for the encore, but got bumped for Curse and Memphis, Egypt, which were not. (And for an impromptu I Don't Care, by request from a friend of the band in honor of Joey.)
Neil
wild and blue came in there, too, during the encores,if my memory can be trusted. can't remember if it was before or after the ramones tribute.
i agree with the review of the middle east show... not their best, but christ what a joy to see susie on stage again with everyone else. and its always good to see lu as well.
for some reason, tom stood out for me. perhaps its cause i was camped right in front of him. but he seemed much healthier, vibrant and played in fine form. (that's not to start any rumors or anything...for some reason, in the mid to late 90's, he always seemed a bit unhealthy to me)
other thoughts...
last dance was an amazing opener, really burning the doors down. heaven and back seemed rather fierce as well. it seems like years since they've played millionaire so that was a treat.
they definitely flexed their rock muscles more than on last years tour. and picked a lovely collection spanning the years.
i'm never one for remembering alot of the stage banter, unfortunately...i still, after all these years, and shows (30+), just get completely lost, at times, at the wonder of seeing them.
can't wait for tonight.
i talked to mitch for a half hour or so after the show ended...had to give him shit for wearing a man united jersey...and for losing to bayern.
i asked mitch about a tour in the fall, once "oooh!" comes out and he said there's a good chance, depending on when the album comes out.
lynn john

It is now Saturday, our heroes are presumably winging their way to American's heartland, I have at last gotten some sleep and my glasses almost fit again, and I have been through disillusionment and redemption.
JUST LIKE THE MEKONS.
First of all, condolences to all those who tried to make it to the Mercury Lounge but were shut out of tickets, which apparently sold out about a week ago. The Merc is a smaller venue (though much, much more pleasant) than the Bowery Ballroom where the Mekons have played the last couple of years, which no doubt led to the ticket crunch; though I suspect other factors as well, about which more later.
Arrived Thursday early, but missed most of Caroline Beatty's set while out at the bar, talking to Steve about where to find cheap food in Greenwich Village. (Steve, incidentally, has now joined Rico in my personal pantheon of Unaccountably Friendly, Approachable Mekons.) Caught Caroline's lovely rendition of "Bully" and one other song, and then it was time for Laura Cantrell. Last time I'd seen her was years ago at a Wacos show, where she played acoustic guitar solo and seemed very tentative; this time she had a full band (including a pedal steel/mandolin player who looked extremely familiar, though I'm still not sure from where) which made an excellent complement to her sweet voice. Give her another chance, Nobby.
After a brief comedic interlude that we won't talk about, out came the Mekons. Huge roar from the crowd for Susie. "Give her a standing ovation!" shouted Jon. "Oh, wait, you already are standing. You're just very small."
For a group that was only on the second night of the tour, they were extremely tight, I thought -- the fiddle and accordion were meshing as wonderfully as ever, and Lu in particular was a madman with the saz and oud. Tom, as previously noted here, was in his best shape in years (not only playing guitar, but also not flubbing a single lyric, much to the amazement of my Mekons-going comrades). And Steve was absolutely *on fire* behind the drumkit; obviously the pad thai at Sammy's Asian Cuisine is agreeing with him.
Unfortunately, the vibe felt kind of off. Sally was obviously tired -- shortly into the encore she said to Jon off-mike, "It's time for us to *go home*" -- and annoyed with Jon, whose stage antics were more drunken and less funny than usual. (Perhaps letting him take that enormous bottle of whiskey onstage wasn't the best idea.) And there was a weird energy from the crowd, too -- someone kept haranguing Sally to "Show us your tattoo!" until she finally stared him down and said, "Okay, you are not to look at me or talk to me the rest of the night. Just turn around and face the other way."
I should also add that my impressions of the show were colored by the fact that during the final encore of "Memphis, Egypt," several people shoved to the front and started a mosh pit, and before I could get out of the way my glasses were knocked off my face and stomped on. (My longtime Mekons-goer friend Pete, who some of you may know as "that skinny guy who's always pogoing and making Satanic hand gestures at Jon," was also knocked to the ground.) If any Mekons list folks were among those who helped me recover my glasses (which are mostly repaired now) and my footing, thanks -- you were all blurs to me at the time. And thanks again Sandra for pouring me into a cab.
* * *
Night Two: We relocated to the left side of the stage, part for a change of pace and part to be closer to Rico and Susie, who were barely audible from Jon's side. (Requests to turn up the fiddle on Thursday night were met with Jon's retort: "If you want to hear the fiddle, go stand over there! I hate fiddle, which is why I'm all the way over here!") Susie was still too low in the mix, though, as were Sally's vocals -- you'd think the sound engineers would learn by now.
First, though, was an interminable opening set by Swag (the "not-that-super supergroup," as my friend Misha called them, featuring members of Cheap Trick and others), who played selections from their CD "Pop Songs Soon To Be Appearing On Hit WB TV Shows." A lot of people in the audience seemed to have come specifically to see them, though, which no doubt contributed both to the ticket shortage and to the length of their set.
The Mekons started where they left off the set list on Thursday, with "Prince of Darkness" and "Flitcraft," which were both worth waiting for. This was followed up with "Fantastic Voyage," apparently in response to the guy who shouted for it incessantly all night Thursday, though I don't think he was there Friday to hear it. Ah, well.
Friday's set list, in not very specific order:
Prince of Darkness
Flitcraft
Fantastic Voyage
Last Dance
Last Weeks of the War
Club Mekon
Memphis, Egypt
Myth
Tina
Orpheus
Millionaire
Powers and the Horror
Belly to Belly
The Bomb
Where Were You
Hard to Be Human
The band was, if anything, in even better form musically than the previous night. Rico sounded great -- I'm only really beginning to appreciate how much his voice brings to the Mekons sound -- and Tom was sharp with both guitar and wit -- I can't do justice to his impression of a cell phone user (back to audience, hand pressed to ear: "Hi, I'm on the stage"), but suffice to say it made me laugh more than the opening comedian, about which again I'll say nothing more. And though Sally still looked tired (at one point she leaned her head in exasperation on the microphone and announced, "I'm having a quiet moment") and Jon still didn't know when to shut up at times, the vibe was much improved, thanks in part to Steve launching into the next song whenever things threatened to bog down.
Or *my* vibe was improved, at least: After complaining loudly after Thursday night's show that I had lost faith in the redemptive powers of punk rock, I got my moment Friday, when an audience for the first time ever managed to nail the tricky delayed timing on the next-to-last chorus of Orpheus, and we all kicked in in perfect unison with the band with "LOOOOSE YOUR HEAD!"
Hey, I'll take my redemption where I can find it these days.
* * *
A Note On The Moshing: First off, let me say that I have nothing against moshing. I enjoy a good mosh as much as the next guy. But I gotta say, my idea of a good mosh is not having large men barrel their way through where I'm standing on route to a preordained spot where they want to be (notwithstanding that someone else is already standing there), followed by being repeatedly slammed against the stage and fellow Mekons-goers because the moshers can't seem to stay in one place and there's no escape. And, needless to say, crawling around on the floor trying to rescue my glasses wasn't exactly how I wanted to spend the duration of Memphis, Egypt on Thursday night.
My friends and I spent a lot of time the last couple days discussing the type of crowds that show up for the Mekons these days -- okay, actually the topic was "Where the fuck did all these assholes come from?" theories: Spillover from more-rowdy Wacos crowds, people drawn to the Mekons' (or just Jon's) reputation for alcohol-fueled craziness, the general trend toward meanness that has gripped Giuliani's New York (not to mention Clinton/Bush's America). It's been noticeable for the last couple of years, though this week might have been the worst. And I know it's just a small minority of the crowd, but it's enough to make a Mekons show feel less like a celebration and more like a battle -- it's at the point where I dread hearing them launch into Curse or Memphis, Egypt, even though they're among my favorite songs, because I know I'm likely to have to spend the whole song girding to be barreled into by large, drunken lummoxes, and strategizing how to keep my SO's surgically-repaired knee from getting knocked out of joint amid all the chaos.
I know there are things we can do to protect ourselves: I can get a strap for my glasses, we can go stand in the back out of the range of the moshers. But the thing is, we didn't used to have to think that way at Mekons shows. And besides, the unpleasant vibe didn't just manifest itself in the careless moshing -- when someone yelled, "Show us your tits!" for the ten millionth time, Mindy (Mindy being my SO) remarked, "It's just so *tired*, you know?" and I got the sense from the look on Sally's face that she thought so, too.
I know this is an issue that has been argued to death in punk circles, and I know that it's one that's always going to be with us. But, you know, I still expect more from a Mekons crowd for some reason. If people could just self-police themselves a bit more -- don't push, grab, or hit anyone who doesn't look like they want to be, is a good rule -- it'd go a long way toward making the whole experience more fun. And maybe then I'd feel compelled to write more about the music after a Mekons show, and less about the crowd.
Neil

Funny...everything you say is true, but for some reason I enjoyed the Thursday night show a lot more. The band felt more engaged with the audience. I guess the people who turn out on a Thursday are more dedicated and enthusiastic fans, whereas a lot of people last night seemed to be there to see the opening band, or just curious newcomers to the scene. Friday it seemed to take the band a while to hit their stride, and in fact Jon made some remarks to that effect ("What's wrong with you all? Are you sober?"), whereas on Thursday as soon as Last Dance started everybody was moving and shouting. Thursday's show peaked early and the audience had a great time; Friday it took a while to get started, so when the band went off it felt like it was too early--the audience was just getting warmed up, and was eager for more.
I agree that Susie being more up front in the mix makes a huge difference. Somebody should make a point of reminding the soundman of that at the upcoming shows.
Paul

I think your problem with the Mekons crowd is a problem with crowds in general these days. Somehow, for some reason, more assholes than ever are finding their way into the most obscure clubs, and getting exited about the kind of bands that you or I might think have not the slightest possibility of connecting with them. I don't know why its happening, unless its because pop music is as abysmal as ever? Hard to say.
Now, I am a recent convert to the Mekons myself (the last year and a half) and I have tickets to the San Fran show on the 28th. I promise I will not mosh, nor make sexist comments at the band. I am going to have a great time seeing my (now) favorite band play for the first time.
Brian

Interesting: There was not a single moshing incident at the Middle East Wednesday night, so far as I can recall - some energetic jumping up and down, but no aggressive sideways motion. Nor can I remember any moshing at Mekons shows I've been at for at least the past 5 years. And I'm damn glad for it: Maybe younger people who grew up with moshing find it enjoyable; I just find its one more ingredient in my personal Murphy's law: "At the concert, the asshole(s) will stand in front of Jesse" (admittedly not true on Wednesday night - unless you count Jonboy, but he was _way_ in front of me...).
But those recent Mekes shows I've seen have been in Boston and Chicago. Perhaps the moshing is a New York thing?
Incidentally, I agree with all who have said that Susie is too low in the mix. And that Tom seems in good form and good health.
By contrast, Lu looked mildly insane Wednesday night (not that that's necessarily a bad thing).
Have the Mekes given up on ribbing Rico about his facial hair (which my female friend found rather attractive, actually)?
- Jesse

--- In club_mekon@y..., Neil deMause wrote:
Just thought I'd comment on the review and diatribe. I thought the Thursday night show was better. Friday's crowd had to be the deadest Mekon crowd I've ever seen in my 15 years of Mekons shows. Maybe I'm wrong but I thought Jon's comments at the end was a sarcastic response to the lame crowd. Unfortunately that is what NYC has been sounding like a Friday nights. One solution is to have the Mekons only play during the week. I remember an exceptionally fun Sunday night Maxwells show a few years back. Of course this was my first Mekons show when we were not right up to the stage. We arrived as they walked on stage, we grabbed a quick drink and headed in, only to be meet with a solid wall of people. We made it about half way through the crowd but that was it. We didn't want to be "those assholes" who push their way up front. Though it was tempting! The crowd in the back was just horrid, no dancing, no movement at all, and talking during the slow songs. I think a lot of them were just there due to the Mekons reputation and weren't real harcore fans of the band. Note the lack of the "satan" chant on Friday. Most of the crowd was clueless. The organized "dancing" was also more boisterous on Thursday. Regardless I enjoyed both nights and it was great to see Suzie again. Lu is always a great addition and adds so much to the sound. Everyone is right Tom looks great, we were a touch worried about him in the early - mid 90's. Some songs like Gin and It were just so tight incredible harmonies, like a well oiled machine. Who thought I'd ever say that about the Mekons, and enjoy it! If they keep it up the shows might even get more crowded ( I know, I know we've been thinking that for years ) Anyway I hope these shows are the start of the more permanent return of Lu and Suzie. See you all at the next one
Steve and Martha

some odds and ends to add (thursday/friday nights)...
>someone kept haranguing Sally to "Show us your tattoo!" until she finally stared him down and said, "Okay, you are not to look at me or talk to me the rest of the night. Just turn around and face the other way."
>This was followed up with "Fantastic Voyage," apparently in response to the guy who shouted for it incessantly all night Thursday, though I don't think he was there Friday to hear it. Ah, well.
this happened to be the same guy screaming both, unfortunately standing just behind my left ear. and i overheard (not that hard at the volume he spoke with) that he didn't have a ticket for Friday.
>Tom was sharp with both guitar and wit -- I can't do justice to his impression of a cell phone user (back to audience, hand pressed to ear: "Hi, I'm on the stage"),
have to agree with neil...a very funny bit by tom, egged on by jon screaming at someone in the audience to turn off their cell phone.
my two cents on the moshing/asshole quotient...
i was a bit further to the left on Friday night, against the stage, halfway between tom and rico and susie and got bashed into and swept off my feet by the massive push to the front. like others, its not the moshing i mind, (though, the mekes never seemed to me a band to mosh/slam to...)
but more the concerted effort by a few to grab a spot up front.
right before the Friday gig started one guy, fairly pissed already, tried to just muscle his way through my friends and i and a couple next to us. we shoved him back. and shortly after the big push, another idiot tried to muscle in and, after we let him know it wasn't happening, he screamed to the woman on my right he wanted to see the set list. when she did so to shut him up, he snatched it out of her hand and went back into the middle of the crowd. this was about two thirds of the way through the main set, leaving tom without a list for the rest of the show. so, i agree that number of assholes seems to be increasing.
>YOU'RE CHAMPIONS!!YOU'RE MAGIC!! WE'RE MAGIC!! YOU'VE MADE THIS BAND WHAT IT IS TODAY!!
have to agree with greg that i thought jon meant this, especially as the band simply took on a head of steam as the show progressed and finished with a fury.
>2nd best show of any kind I've ever seen, after the first time I saw the mekons, same venue. Completely triumphant.
Greg

masterfully triumphant. ranking up there on my list. certainly, its the best i've seen them play since the '92 show at the (now dead and buried) marquee, which had jon ragging on bono and U2 (not that that's a rare occurrence), screaming out that the nazi had lost (a reference to david duke losing his bid for senator) and other general mayhem as the band invited the entire audience on stage to dance with them, staying on long after the last encore ended. was anyone else on list there that night?
>Greg
Reply to: RE: [club_mekon] Re: Mekons NYC (long review, and a diatribe) A few comments to some other comments:
As someone who couldn't afford to go to work with a Mekon-sized hangover on a weekday (remembrances of headaches past), I went on Friday night. I'm a hardcore fan, and there WAS a Satan chant. Where were you?
I thought the biggest problem with the show was the venue. I love Mercury Lounge for smaller shows, but the Mekons are too big for the place. Having seen them at Bowery Ballroom the last two times, I thought that was perfect for them--big stage, good sight lines, good sound, etc. It's also the best venue of its size in the city, miles better than Irving Prison and Roseland and those other places which treat concert-goers like cattle. They can sell out that place for one show just as easily as the Merc for 2. Plus at the Merc it's hard to see the stage from the back, and those of us who are under six feet have to crane our necks around the taller folks.
I'd love to have punched in the face the annoying fan who kept shouting "Drunk By Noon" forty-five times throughout the set. That would be the same idiot who started shouting for Sally to show her tits. Really fucking got on my nerves. On the whole I thought the crowd was pretty decent. Lots of people seemed to know the words to the "hits". The dancing repsonse to Gin and It and/or Now We Have the Bomb wasn't much to report, but this NEVER works in NYC that I've seen, except for the Me show a couple years back.
While I loved the way the band sounded with Susie and (especially) Lu, I did think they spent too much time on stage banter. It's a crucial element to a Mekons show, yes, but it felt like a four minute song would be followed by three or four minutes of chatter and it cost them some momentum.
I also thought Jon's exclamation at the end was a sincere response to the enthusiasm with which the show ended, with the encores and all. I felt like I got my money's worth at least.
Rock and roll,
j

Jumping into the fray a bit late, but just wanted to add my two cents worth... Saw both shows, and had the pleasure of standing next to one drunk who lit my jacket on fire (slightly exagerated, jus the stray bits), so thanks to the two people behind me who quickly patted my shoulders to put the sparks out before the flame... Aide from that one (who made an exit just a bit later after bumping into one guy too many), I thought the show was great... However, Friday blew me away... Perhaps it was because I managed to sneak my little brother into the show (the first time he saw the Mekons) or that my SO was experienceng her first show, but I was wired and having a blast... Only wished it could have gone on longer...
Later

Sat Apr 21 Chicago, IL Double Door
physical well being be damned, I deciced at the last minute to make the trek to Chicago to see the show.
Damn, did they rock. Jon kept his mouth shut almost the entire night. Tommy was sober, drinking water and DANCING!
This evening would have been fantastic with just seeing Susie smiling away all night. Seeing a happy and participating Tom sing and play the entire night... that made it extra special. I was surprised that there was not a single "Langford" solo song that I can recall.
Most noticable difference with Susie playing: Rico dropped the accordian and played harp instead during Memphis & Where were you. I've always felt that his accordian weakened these songs and was proven right last night. Those were the best performances I have seen of those songs with Rico on stage. I wouldn't want him to leave, NEVER! But I think his sound is too high in the mix for those tunes.
Barry B was there taping, with two cameras set up. I also noticed someone else there with a pro camera outfit.
Nobby, do you know if this was for their private archive and will never see the light of day? Or is this part of a master plan?
Please, please, please please please! Somebody cough up soundboard tapes of this show!
Chicagoland denizens: please tell me more about Puerto Muerto (sp).
Finally, before I crawl off to bed to finally get some sleep... I'll pass along a conversation I overheard between two of the waitri as people filed out:
"this was the best crowd I've ever seen here! They drank a lot but there's no broken glass or beer spilled all over the floor."
I'm off to bed to dream of the look on Sally's face when she saw Tom dancing.
-rich

Does anyone have the playlist for the show in Chicago on Saturday? The order seemed a lot different than the Mercury show... I heard Fletcher Christian, and Authority, two songs not in those shows.
Thought i'd make a compilation cd for my friends who couldn't make it. The Ramones song will be a bit hard to replicate. :)
Mike

I think it's okay if people dance about, mosh, act goofy, get loopy, or otherwise just be themselves, or somebody else, at a rock show. Perhaps the assholes you refer to are simply younger versions of ourselves with enough vigor to engage in the aforementioned activities. I welcome them to Mekons shows and don't view their behavior as a problem. Their appearance may mean that the band is reaching a wider audience. Well, maybe. Even though we're all geeked enough on the Mekons to belong to this e-group, we don't have dibs on them.
By the way, I was at the Chicago show on Saturday, and when asked by my wife what I thought, the first thing I said was "Wow!". Great show -- the best I've heard in a few years. Tom was in great form and sang quite a few tunes, which is always a plus for me.
Also, one mystery solved: the Mekons are flying around the country these days. At least a little bit. I spoke with Langford as we stood next to one another at the urinals before the show and he told me they flew in from NY, but nonetheless did not manage to get much shuteye.
As for the mystery of who is bigger, that's not one that I raised when I saw Jon.
Cheers,
Jim

The Korean cab driver that took us to the Double Door asked me if I was part of ìcorporate Americaî, and I had to say yes, I guess I am. He noted that I appeared to be in my forties and warned me that my future was bleak, especially after I turned fifty. Thanks, thanks alot. He reported that most of the Anglo Saxon (he loved the phrase) heíd picked up over the weekend were attending a three-day seminar on how to start up your own telecommunication business from home after being axed by the under forty crowd that runs corporate America. To hear him tell it thousands of Anglo Saxon were attending this circus. He doubted there were enough cabs in the greater Chicago area to handle the onslaught.
ìWeíre here to have funî I replied, ìweíre going to see the Mekons.î He said he was working on his doctorate in psychology and dropped us off a block from the Double Door.
Standing on the corner of North, North Milwaukee, and Damen we were asked by a well-dressed fellow how to interpret the triple-cornered street signs. After informing him we were from out of town too, through some miracle of imagination, I was not only able to decipher the signs, but also could see what turned out to be the Double Doorís back entrance. We got there in time to hear Sally doing a mike check and wandered in. Sally, Tom, Jon, Rico, Sara, and Steve were all onstage. Some cat informed us that the doors didnít open until nine and I told him we just thought weíd listen to the sound check. He didnít reply, and the Mekons went into a lovely version of Prince of Darkness. Tom sounded strong. After the song ended the younger Langford ran by us shouting, ìSteve! Can I play your drums now!? Are you done?î Tom was asking the sound man to tweak the mid-range on his mike, and when I sound man leapt onstage and started making very strange noises into Tomís mike everyone unplugged and left the stage. End of sound check, apparently. We went back to the street in order to meet our nephew and his friends, but he was nowhere in sight. After five minutes of people watching and Mekon discussion my wife and I were approached by a short mutton-chopped Xíer, ìYou wouldnít happen to be Uncle Dan?î Turns out weíd met him before at some wedding or another and that our nephew was around the block at the front door of the Double Door. Yes? Slowly some of it made sense to me.
My wife & I been spending the day trying to regulate our intake of drink and other various sundry items and were now ready for vast amounts quality ale. The children wanted food, and they wanted cheap food. Ended up at El Chino and watched the three of them down copious amounts of bad burritos, tacos, and a pitcher of margaritas. My wife and I opted for our only choices; Tecate & Corona. It was a sad scene while listening to The Andy Griffith Show: The Movie being cast and scripted (possible title: The Mean Streets of Mayberry). We oldsters were after quality beer and Mekons. After much discussion regarding Pete Townsendís admitted bisexuality we finally wandered over to the venue and got in line. The well-dressed out of towner was in line behind us. A Mekonite! Who would have known? I thought he was looking for that convention that Korean cab driver had spoken about so long and hard.

here's the Chicago gig in brief:
The Mekons seemed to be in good form, although, as reported before, no new material premiered (which wasn't what I'd expected, but since when have the Mekons been supposed to do the expected?). They'd lost Mitch in New York (he apparently never woke up to leave with the rest of them).
The audience threw money during "Neglect," although this time the money stayed piled up by Steve's drum, with Sally explaining that this way, the money could be distributed evenly (instead of resulting in band members fighting over it).
There was one setlist on stage (and no, I didn't get it), which ended up pretty soaked and torn. And the songs were about the same as they were from the earlier ones in the tour:
Last Dance
Heaven & Back
Tina
Last Weeks of the War
Fletcher Christian
Millionaire
Myth
Fantastic Voyage
Curse
Hard to Be H
uman
King Arthur Orpheus (again, with Sally on Tom's guitar, but with less fanfare than before)
Neglect
Gin & It (with Lu on ud singing sygyrt before it, and yes, also audience participation dancing)
-encores 1 & 2- (which started with the fans continuing the "Belly to Belly" song/dance)
Powers & the Horror (with all the male Mekons singing)
Now We Have the Bomb
Memphis, Egypt
I Don't Care (the tribute to the Ramones)
Prince of Darkness
Flitcraft (if I can read my own handwriting, which I can't) Where Were You
I noticed that the pick guard on Lu's saz was missing -- he'd taken it off because it's easier to play that way... He also put on a good show on the saz (and ud on "Belly to Belly"/"Gin & It"), despite not feeling too well after a trip to Vietnam.
Anyhow, the crowd was pretty good about participating. Some people were not very pleased about spilled beer during some moshing. I usually am neither pro/against moshing, but this time having people crash into me was rather painful as I'd been immobilized by a back injury (up until late Saturday morning or so, I couldn't even _move_, literally), and the act of getting to the venue was already an ordeal. So if you were at the gig and saw someone painfully lugging a large wooden walking stick, chances are it was me.
Random remarks: the stage was rather small to fit all of them. (Was there a person videotaping?) Suzie and Lu were relegated to the back corners of the stage for most of the gig. And I think it was Steve who was supposed to show his tits this time around.
The opening act Puerto Muerto seemed vocally influenced by Sally Timms and make-up-wise influenced by Joan Jett.
Unfortunately, I was too much in pain to appreciate Fred Arminsen and his conga player.
Anyhow, yes, there will be photos shortly, from myself and possibly Pete Hisey's... Some of mine will have to be redeveloped because while the negatives came out fine, the prints were cut off, and for some reason, the developer decided to turn three of them into panorama prints.
-merve

> It's like I told a friend one day when I was listening to the Stooges Raw Power album: if I ever get tired of this, just kill me, because it will mean that I don't care anymore.
>
>
Yeah, that's what I tell people who ask why I'd go see the Mekons for the 20-something-th time. just disappointing to see such a great band pick the same oldies every time out. If the songs were hits, and the band felt obligated to play certain popular songs, I'd understand better. But since the shows are pretty much filled with repeat customers who know most of the stuff, why not *different* oldies? I'd think Sympathy or Hello Cruel World or Echo (to name three of dozens) would go over as well as Fletcher Christian for the thousandth time. In recent years, they've dug up Gin Palace, Poxy Lips, Ugly Band, When Darkness Falls... each one a great surprise. This year seemed to be the songs that everyone knew and didn't require too much rehearsal. That's the band's perogative, and maybe was done out of some necessity, but it still doesn't give the fans much reason to keep coming back.
----

I agree that the set list wasn't the most creative they could have derived, but I think one reason they've been so tight on this tour has to do with the familiarity of the material. I'll take that for this time around just for the pleasure of seeing them play at the top of their abilities.
It's really been the on stage "banter" that has cooled for me over the last few tours. It has grown to be almost predicatable... in the same way as the "wild & out of control" factor of an Iggy show. To have the banter down to the level of including it on the set list (everyone remember that from last year?) reduced it to the level of playing to expectation instead of a being 'natural'. Jon used to be a funny drunk. I felt he was on the verge of becoming a drunken ass instead. The lack of mandatory banter in Chicago last weekend was just another block in the pyramid of a killer show for me.
Now, then, peoples... I am starting to get worried. I see we have one report of a video tape from the Middle East. Nobody else? Nothing from NYC or Chicago?!?!?! Am I going to have to sit in the middle of the street and pout? Bring forth the recordings for a tree! (btw: I did try to tape the show, but given the short notice I had for going, all I had to bring was a digital dictation device... which got great recordings of all the conversations around me in between the toneless noise of the songs.)
-rich
----

Man you are spoiled! I mean, a "greatest hits" for the mekons? Which ones were those? Possibly you are complimenting them for there are certain ones (Memphis Egypt, etc.) that seem to be concensus favorites among the loyalists.
Somebody here said kill them when they get tired of it because it means they don't care - I'm afraid you are perilously close! Enjoy what they have to offer! I'll drink coca cola like wine and think their stinking breath is like chanel 666 ... For those of us who don't get to see them as frequently as the Chicago-NY crowd and are converting others, I'll be glad to hear the list that has been distributed here. I liked the Me tour, but I wouldn't mind reliving a glimpse of the I Love Mekons era.
Ara
----

I think the Mekon Tours suffer somewhat from the brief nature, the wide choice of repertoire, and the fact that they're spread out across the globe. Going backwards, this tour seems to be a repeat of the last American tour, (Was that really a year ago?), mainly because the band has not worked up the new material. In fact, the tour appears to be structured around their intent to do that very thing. The previous American tour was split between showcasing Hen's Teeth II and introducing Journey. I saw the Sally sick evening at the Bowery, but I felt that they were somewhat more thoroughly rehearsed than this go round, reflecting the recent completion of Journey, (yeah, I know it was probably done for ages) and the tour focused objective to swoop into SXSW and impress the masses. The tour I caught before that passed through Philadelphia. It emphasized Hen's Teeth I which would soon come out and also Me which was about 9 Months old. This was the tour where the Chicago engineer/musician who's name escapes me, (Trumfio?) acted sort of as a surrogate Lu, laying psychedelic guitar and keyboards. This was actually a well rehearsed, good sounding, tour, if slightly tame. But I also felt that that tour really brought the Me material into clear focus, making me appreciate that album much more. They had also hit some midwest shows with a band including Lu right around the time of Me, and a friend's report of those shows made them seem similar. A while before that, I caught a show at Maxwell's. It was the tour on which Rico reappeared. They were not that together and seemed to really be suffering from the lack of a central base. They seemed most solid to me at the shows on the verge of the release of I Love Mekons on Loud Records. This was, I believe, the last American Tour with Susie and they really seemed to be a seasoned touring unit, on the verge of their next BIG BREAK. (Oops!) Then the endless hold ups, the dispersion into the diaspora and they eventually became a part time band. I really think that they have kept remarkable focus in their recorded output only slipping in my mind with "Retreat...". I love the comps, love "Me", love "Pussy" and it's clear that Journey really got across to everyone although it's not generally my specific cup of meat.
Now, did anyone notice the extremely Tom-O-Centric Nature of the second Merc show? It seemed like forever before Sally got to sing alone and the first couple were Journey numbers like Last Days of the War where she shared. So for the first, oooh, I don't know how many numbers, it was Tom or the Mekons choir. (Yeah, Jon did squeeze neglect in there.)
Ugh, what was my point?
Geo
----

We were a bit dead on our feet during Puerto Muerto, what with full stomachs and weary legs, but we managed to find a nice spot about half way between the sound board and the stage near the middle of the floor. Except for the San Pedro tune, PM didn't bring a lot of energy to the room, which is at least something that Fredercito had going for him. Plus he did a nice impersonation of Sally.
All that changed when the Mekons came on stage and started with Last Dance. From where we were the band sounded brilliant. Suzie's fiddle was well placed in the mix as was Rico's accordion. I had a little more difficulty picking out Lu's playing, but that was partially because he was obscured by Jon's girth as it was a pretty small stage for this big band version of the Mekons. Sarah also had an initial problem with her bass, but it was straightened out quickly, plus she looked great in her sparkling blue dress. It was very, very warm in the Double Door. It was as if they had forgotten to turn on the air conditioning, and Sally commented on it right away, and even offered to buy drinks if the bar was worried about liquor sales in a cooler room. She was urged to take off her jean jacket, but she said she didn't want to show off her grey globs. The heat did seem to make things difficult for her. We countered it by drinking lots of beer. The show really took off when they did Millionaire. There was plenty of singing and dancing (no moshing from what I could tell), which carried on right up through the rest of the set. I think the momentum of the tunes and the energy of the crowd made for less banter and more music (and even some legkicks from Jonboy). Though after doing Neglect the tossing of money did seem to slow things down a bit. I really enjoyed getting to hear Fantastic Voyage again. It's been a while since I listened to "So Good It Hurts." I felt the whole band was in really top form, and not having seen them since the "ME" tour played in Minneapolis a few years ago, I was glad to get to hear everything, especially the tunes from Journey (I'd vote for them playing Something to Be Scared Of live someday), but also some of the old "standards." Curse is always a great pleasure as is King Arthur. It was just a fun, fun show, and I felt there was quite a bit of camaraderie in the crowd, just as there usually is in Minneapolis. It was also interesting to see them do Where Were You without Mitch. Two encores!
As for more variety in the setlist, given the short nature of the tour and the plans to work on a new record, I can understand why they've chosen familiar material. I figured these gigs were mainly tuning up for working together on the record. In the bigger scheme of things, I'll take everything they gave us with pleasure, assuming that a record named "Ooooh" will have plenty of surprises and with luck an extensive and more adventurous tour.
After the show, we made a quick exit into the warm night and a cab waiting right out front. We were back to the hotel well before 2am. It was a long wonderful day and night in Chicago. Sunday morning was filled with drizzle and the struggle to get moving to the airport, back to our kids, and jobs, and three inches of rain and 46 degrees. Oh, well, the one amazingly beautiful thing, besides the memories of the Mekons, was that the Twins won again. 4-2 over the Sox. Now, they're 14-3. Onto Boston...
I'm looking forward to seeing the photos, Mary, and I hope you will be feeling better soon. All you folks in San Francisco, Portland and Seattle should prepare yourselves for a good time. I wish I could be in Seattle on May Day!
Steve Petermeier

Once in the Double Door I ordered Goose Neck all around as we got situated at the bar. The kids wanted to do shots of Jack Daniels, and so they did. We opted out and ingested some bakery items I had baked specifically for the trip. A couple more Goose Necks (which I cleverly called Geese -right- as if it that never been done before) and I hit the head. On the way out I ran into Jon. He was struggling with a case of beer that, from the looks of the brand name, could not be bought on site. We exchanged greetings, but Iíve nevr been one to bother the artists, and he grunted off.
Puerto Muerto started off pretty fine with the lead vocalist banging away hard on her drum set while warbling nicely. Three songs in my nephew, Matt, turned to me, ìTheyíve pretty much outlived their usefullness, donít you think? I liked the first song.
He was right. The slow ones were slow, though the vocalist possessed an incredible range, often breaking into a PJ Harvey-like high soprano. The slow ones reminded me of The Cowboy Junkies on seconal. Jon wandered through the crowd drinking his private stock greeting friends, and Tom was cruising through looking quite well-dressed and (yes, worriers) fit as a skinny fiddle. As far as I was concerned the Muertos shut down their set a bit past their prime (three songs hit me though, admittedly, I was geared towards a Mekons greatest hits selection). Drink drink drink. One of the kids, Jan I think loved them and proudly displayed a CD sheís just bought. My wife, Swing, made a special effort to move through the crowd and tell Senorita Muerto how much she liked her voice. I remained seated, saving my energy.
The comedian that is, supposedly, Sallyís ex started his routine slow, but got pretty entertaining towards the end. Anyone remember the punch line to the ìkikeî joke? I canít, but it about made me cough up a lung. Crowd was taken aback. What? Mekons crowd canít take a joke? In cosmopolitan Chicago? Hell, I live in the Mississippi Delta, which is a crude joke all the time.
Mekons hit the stage pretty quick, and it was off the barstool and into the fray. They looked great, and they were all there. There is a reason to put up with Amtrak Nazis and funky hotel rooms, and when they hit the first chords of Last Dance I had finally found it. Though the sound needed some tweaking, things sounded pretty damn fine right then and there. Heaven and Back was next and damn if things werenít going pretty damn perfect. The kids opted for push your way to the very front gig, except nephew Matt. He stuck with us, what a good boy. He stood behind us and shouted out every damn lyric like I never could. After the Mekonís tighter-than-loose greatest hits selection I remembered I had sent him two tapes of Mekons and he had never commented other to say he hadnít really ìingestedî them, or some such shit. Now he knows every lyric!? Keeeps his hands close to his cuffs, evidently.
The only thing to do is play some Rico Bell and rale at the Retreat naysayers; I could have done with Eve Future, Lucky Devil, or any selection(s) from that monster. How about a reprise of Never Want To Work? Not that I was ever unhappy with their selections. Mekons could play all day and all night as far as I'm concerned.
D.L.

-----


Sat Apr 28 San Francisco, CA Great American Music Hall

From: SF Gate:
The Mekons circus sideshow came to town this weekend and left a trail of rock 'n' roll rubble in its wake.
After a two-year absence, the Mekons returned to SF Saturday night to play for a zealous crowd at the Great American Music Hall. The show, seemingly fueled by the essence of beer and whiskey, demonstrated why the band, which has been around in one form or another since 1976, still matters.
Long considered Britain's premier, if not only, art-punk socialist country band -- the Mekons are as notorious for their politics as they are for their drunken rock revelries, rowdy interplay and nonstop bantering. A Mekons show is less a concert than a whole mind-and-body experience. Although the eight-piece band played down its political messages -- at least outside of its songs -- there was no lacking in razor-sharp wit or unbridled goofiness.
Founding member Jon Langford and vocalist Sally Timms (who joined the Mekons in the mid-'80s) have long defined the band's onstage personality with their grumpy verbal sparring. The pair is like an old married couple -- comfortable, familiar and always trading wicked, knowing barbs.
"I'm straight-edge," joked Langford before the band began its set, referring to the punk scene whose members abstain from, among other things, alcohol.

"You were straight-edge for five minutes -- when you got up this morning," retorted Timms. With Langford on guitar and Timms on vocals, the rest of Saturday's lineup included SF transplant Rico Bell and founding member Tom Greenhalgh on both guitar and vocals as well as part-time member Steve Goulding on drums, former Damned guitarist Lu Edmonds on the lute and Sarah Corina on bass. SF resident Cynthia Wiggington filled in for longtime Mekons violinist Susie Honeyman.
The band kicked off the night with a lively rendition of "Last Dance" from 1985's Fear and Whiskey album, followed by "I Have Been to Heaven and Back" from the 1999 album by the same name. The latter song featured Greenhalgh on lead vocals and leg kicks and launched an evening's worth of high-stepping moves and choreographed arm moves on the part of nearly the entire band.
The approximately two-hour set (including two encores) generously spanned the breadth of the Mekons' discography, emphasizing the band's musical shift from straight-ahead punk to a mixture of punk, rock and country. The band played several selections from their last album, the 2000 release Journey to the End of the Night including "Last Weeks of the War," "Tina" and "Neglect." The latter song features the line, "Give me 10,000 pounds," and apparently it's become a concert ritual for audience members to pelt the band with crumpled up dollar bills during their performance. The band reportedly netted $72 during a recent show in Chicago, but Saturday's final pile of cash looked like it was only about half that amount -- a fact that didn't deter Langford from taking the opportunity to roll around in the money onstage like a pig in a mud bath.
The band encored with a handful of songs that demonstrated the Mekons' artistic, emotional and political evolution. On the classic country cover "Wild & Blue," Timms' voice sounded sweet and clear -- reminiscent of a slightly cantankerous Kitty Wells or Jean Shepard -- and the band's take on the song -- gentle with an edge -- proves it can express grace as well as it does fury. Fiery performances of the Ramones' "I Don't Care" and the band's own signature tune "Memphis, Egypt" -- a biting assault on corporate rock with a stirring "rock 'n' roll!" refrain -- confirmed that the Mekons aren't a joke. The band is still capable of delivering a snarling, dangerous intensity.
-- Rachel Leibrock, special to SFGate

And the biggest surprise and treat of all - they ended the show with "Never Been in a Riot", which I'm pretty sure is the first time I've ever heard them play that in the 14 years that I've been going to Mekons shows. Not to mention a fine version of the first verse of "Hey Big Spender" as a serenade to the owner of Dylan's, whose birthday it was. That was preceded by a short version of "Happy Birthday." As previously mentioned, it was a pretty festive evening. I can't recall the last time I saw Sally smile so often. I believe I smiled pretty often myself, even without the usual amount of banter. The music was plenty enough to make for a wonderful night. I had a short chat with Steve, and he said the new album was going to be kind of folky. I still can't believe they've stayed together after all these years and no money. Long live the Mekons. Rick The SF show was great of course. In response to all the complaints of this wee tour being just a tired retrospective - piss off, I don't know what YOU did Saturday night but I saw and heard the Mekons. They could have played Fletcher Christian all night it would have been fine by me. I can't remember the last time I heard them all sing together on so many songs, 4 shouting vocals. We didn't see Susie, but San Francisco's own Cindy sounded great and looked like she was having too much fun. She and Rico played delightfully together.aaahh, to play fiddle with the Mekons. As far as the set list goes, if memory serves me right, they played absolutely everything - in reverse order I believe. The Mekons came to town. kevin >It was the same last night in SF. Great show over-all. Not quite the >quantity >of banter heard at previous shows, but all seemed in good spirits and were >dancing about and smiling throughout the night. There was even a little >coordinated hand choreography to accompany "Belly to Belly". I was disappointed that the audience stopped so quickly though. At the last SF show some 3 years ago, the whole room continued the singing and gestures a good 2 minutes before the band returned and joined in again. Fooey. Maybe if Lu had been able to deliver on the throat-singing front, the crowd would've been driven wild enough to give it their all again, but humph.....A real severe moshing shortage, I thought, though Mindy Bellis and I were moved to pogo fiercely at several points. Well, I will be in Portland tomorrow for my tenth-ever Mekons show...thanks to the people who bought CDs from me last night...paid for my Mekon benefit shirt and cab ride home last night. -Neo Mon Apr 30 Portland, OR Berbati's Pan
Tue May 1 Seattle, WA Graceland


---
Sally Timms, Abbey Pub, May 2nd 2001:

Wednesday, 2 May: Weight unmentionable, Alcohol units 3, Cigarettes 0, Self-help books read 0.
Tired of EMOTIONAL FUCKWITTAGE and not having anything better to do, retired off to Abbey Pub to catch Sally Timms/Jeff Tweedy show. Got there especially early and crashed the soundcheck. Actually bought beer from dazed barkeep who failed to inform me soundcheck not open to the public. Sat nearly alone in pub in favored seat while Jeff Tweedy ran through various tunes. Then was told by ESPECIALLY RUDE PERSON to leave and queue up with everyone else until doors open at 8:00. Is there NO JUSTICE in this world.. just ice?
While waiting in line, related story of COMPLETE ARSEHOLE encountered at Tweedy gig last December (FRIGID night... brrrrrrrr). Forced to stand next to EMOTIONAL FUCKWIT, clearly drunk/stoned/mentally deranged, who made complete spectacle of himself entire evening in competition with act on stage. Arms and elbows flailing everywhere, the poor sod "illustrated" songs being sung using bizarre hand gestures. A performance akin to the chicken dance exhibited by a man in a cage at a carnival, except that here there was NO CAGE and man was standing right next to me. By end of show, Jeff Tweedy was staring icicles at the bounder!
As I related this unbelievable tale, shocks of recognition came over my startled listeners. They KNEW this man, who suddenly bounded past us, as if on cue, and was admitted to the hall ahead of everyone else, to take up his position front row, center. I decided to head for the balcony rather than risk injury from errant pictograms and airborne hieroglyphics.
The audience at the SOLD-OUT show consisted mostly of Singletons, with a smattering of Smug Marrieds. At length, opening act SALLY TIMMS took the stage, backed only by a guitarist named Jeff (that's all the introduction he got). Sweet Sally told us she would play a "very predictable" set, as she is too lazy to learn any new tunes.
Setlist:
Dreaming Cowboy
The Moon She Rises
Dark Sun
Horses
A Good Man Is So Hard To Find (?) (She described the author of this song as "very obscure," so obscure that she failed to mention his name.)
When the Roses Bloom Again (Which she said was written by Jeff Tweedy, partly true as he did the melody... the words having originally been attributed to Woody Guthrie, but later found to have been written by ANON.)
In Bristol Town One Fine Day (Which sounds hundreds of years old but was really written by Robbie Fulks.)
Drunk By Noon (with whistling)
Sally was in good voice and her set sounded really good. She (very correctly) did repeatedly tell the crowd to refrain from talking during her set. When one audience member replied "Fuck you," she replied, "Have you fucked me? How would I know, anyway? At my age, I'm so grateful."
After an interminable delay, JEFF TWEEDY bounded on stage to thunderous applause, and played a solo set consisting of:
Misunderstood
Sunken Treasure
A Shot In the
Hesitating Beauty
Remember the Mountain Bed
She Fell In Love With the Drummer
Red-Eyed and Blue
I Got You
(It's a) War On War
New Madrid
How To Fight Loneliness
Wait Up
Via Chicago
I'm Always In Love
Please Tell My Brother
During his set, JT gave a monologue about his definition of the word "COCK." Apparently, he would like to see it used much like the word "boss" was in 1966, i.e. "That bike is COCK" or "Your mother is really COCK." Something tells me this use of the word will fail to catch on.
At encore time, Jeff was joined by the bass and drum players from his band WILCO, who played a few more tunes, including:
California Stars
Airline To Heaven
She's a Jar
Passenger Side (marvelous singalong)
I'm the Man Who Loves You
For a final encore, the band came back out and did "Unified Theory of Everything" which, like "War On War," "Drummer," and "I'm the Man," will presumably show up on the next Wilco album due out in July (to be called "Yankee Hotel Foxtrot?"... Jeff didn't say, just that they're finishing it up.)
A marvelous time was had by all. Even the Chicken Man was won over and showed a bit of restraint. Returned home ALONE at the end of the evening, ever the SINGLETON.
David Sadowski


---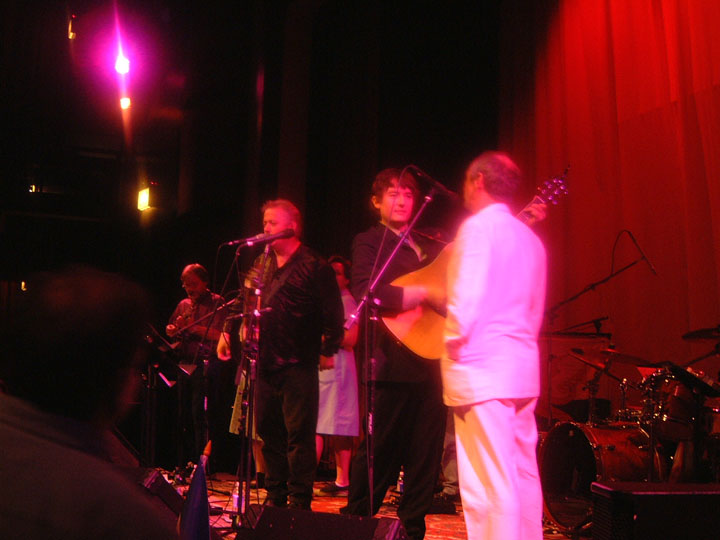 *** Pine Valley Cosmonauts: ***
Las Colinas School Project Benefit Concert
Sunday September 9th at 7pm
At The Old Town Schol Of Folk Music
4544 N. Lincoln Ave, Chicago IL
(773) 728 6000
The Pine Valley Cosmonauts with:
RYAN ADAMS
SALLY TIMMS
JON LANGFORD
RICO BELL
PAUL BURCH
NEIL POLLACK
plus CARLOS ORTEGA
Wales - San Francisco - El Salvador - Chicago
Dylan's Pub is a Welsh bar in San Francisco's Mission District. They've got a soccer team and the coach is from a village in El Salvador called Las Colinas which has 350 children and NO proper school - They're raising money to go there and BUILD ONE!

Last night, a few hundred Chicagoans were treated to one of the best concerts around here in some time. Jon Langford organized a star-studded benefit to help build a school in the impoverished village of Las Colinas, El Salvador. (He's helping the owner of an SF bar called Dylan's... a Welsh bar as it were... by evening's end $5K was raised.)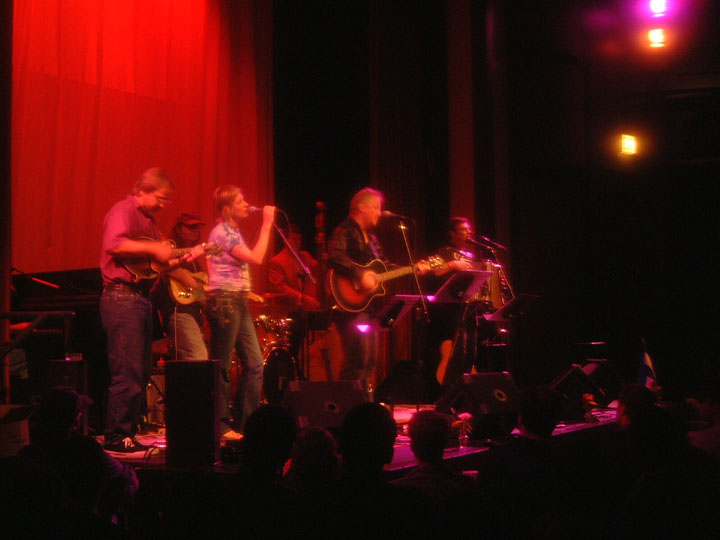 The concert took place at the Old Town School of Folk Music and went on for about three and a half hours. Some artists performed solo, some with their own bands, and many vocalists guested with the Pine Valley Cosmonauts. Langford & co. even did a few tunes as The Mekons. (Why not? Four out of six were there... Langford, Timms, Bell, and Goulding.)
Dylanesque Nashville songwriter Paul Burch impressed everyone... and you should never pass up a chance to hear Sally Timms sing. Not sure what to think about author Neil Pollack's generally crude humor, though. I know it's all a put-on for him but that doesn't change the content. He did get a few laughs when he introduced "Bryan Adams," complete with career details...
The highlight of the evening, however, had to be Ryan Adams' 45 minute solo set. While waiting to go on, he found a piano and wrote a new song, which he performed as his first number.
RA mini-setlist:
1. Oh Charles
2. Friendly Fire
3. Oh My Sweet Carolina
4. To Be Young
5. My Winding Wheel
6. Sweet Lil Gal (23rd/1st)
7. Come Pick Me Up
I had not seen Ryan before, and I can assure you he held the audience spellbound. The man obviously has an immense talent, even if he admitted to being somewhat fried... he'll be back next month to promote "Gold," with full band... not to be missed.
David Sadowski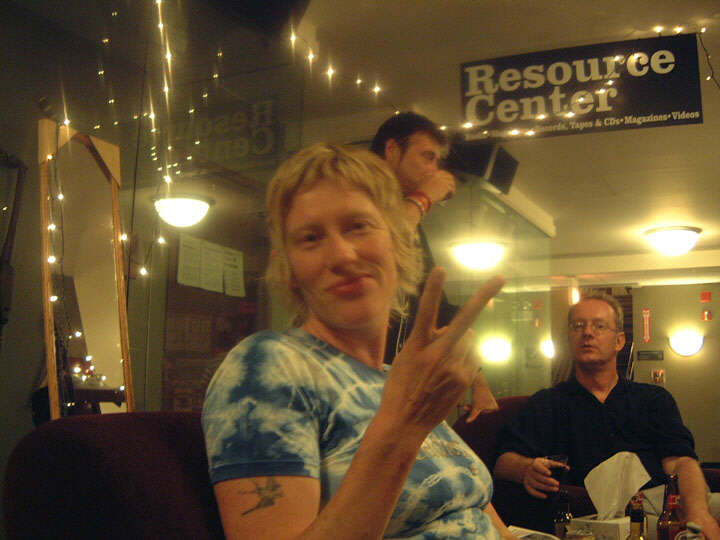 Offering another opinion:
--- In club_mekon@y..., "David Sadowski" wrote:
> Some artists performed solo, some with their
> own bands, and many vocalists guested with the Pine Valley Cosmonauts.
> Langford & co. even did a few tunes as The Mekons. (Why not? Four out of
> six were there... Langford, Timms, Bell, and Goulding.)
>
They played "Millionaire", "Big Zombie" and "Wild and Blue."
> Dylanesque Nashville songwriter Paul Burch impressed everyone... and you
> should never pass up a chance to hear Sally Timms sing. Not sure
what to > think about author Neil Pollack's generally crude humor, though.
Paul Burch was pretty cool, and Sally as usual was pretty great. Even if she couldn't remember the words to "Drunk By Noon."
Neil Pollack was occasionally entertaining, but shouting obscenities wears thin after about ten seconds...
>
> The highlight of the evening, however, had to be Ryan Adams' 45 minute solo
> set.
>
> I had not seen Ryan before, and I can assure you he held the audience
> spellbound. The man obviously has an immense talent, even if he admitted to
> being somewhat fried>
Afraid I'll have to disagree with you on that. Adams was a lowlight - - he was a bit too "toasted" (his word). If his set lasted 45 minutes, then about 20 minutes of it was him stumbling about the stage, lighting another cigarette, dropping his harmonica -- if he has immense talent, he kept it well-hidden last night.
My highpoints -- Kelly Hogan joining Paul Burch and the Cosmonauts for a couple of songs, Rico singing "Working Class Hero", Deano and Tracey bantering with Jonboy as part of that Wacos / Cosmonauts supergroup, Rosie Flores blasting through a Johnny Cash song.
Good show for a good cause. Next time, more Mekons, less Ryan.
TWM

From Steve Schenkenberg
last night's old town benefit for the honduras school-building project was a good time, and long, and a little bizarre. a friendly procession of performers: rosie flores (sp?), who was terrific, but made things a little awkward when asking the crowd, "any one out there been to honduras?" one girl replied w/ a "yes" in the back row, and rosie excitedly asked, "how is it?!," like she was referring to figi. the girl sort of let the silence go, and rosie started talking about how she'd love to go cause they probably have great food. langford does little for me in terms of music, but he was a fun emcee. i'm just going to paste in the notes i did for the ryan listserve. but before that, a word on 'poet' neal pollack. this clown was the physical embodiment of why the mcsweeny weenies frustrate me so much. some bright folks, but w/ wink after wink after wink after wink after wink, there's nothing to show for it. most of this guy's presentation was grounded in loud vulgarity ("I've got a huge cock"; "I'll wipe my ass with your novel") -- a sure sign of talent. i really dug HEARTBREAKING WORK, but i think eggars -- who was a fan of foster wallace as an unknown -- should take a step back and read dfw's words about literature and art being a gift. his anthology that's out has gotten some great praise, and i don't doubt he's more subtle and clever in the pages than on stage. i know it's satire, but the guy bugged me.


---


Waco Brothers go Australia:
Thur 20th Sept The Basement Hotel, Sydney
Fri 21st The Hopetoun Hotel, Sydney
Sat 22nd The Headlands Hotel, Austinmer
Thurs 27th RRR Live At The Laundry
Fri 28th The Corner Hotel, Melbourne
Sat 29th The Cornish Arms Hotel, Melbourne


From Beat Magazine:
Four years and as many albums ago, the Waco Brothers declared the death of country music.
"The bones of country music lie there in their casket / Beneath the towers of Nashville in a black pool of neglect", sings Jon Langford on The Death of Country Music, from the Waco Brothers' second album Cowboys In Flames. "And we spill some blood on the ashes / Of the bones of the Joneses and the Cashes" - a reference to two of the recalcitrant country stars who fuel Langford's ongoing fascination with all things Americana, George Jones and Johnny Cash.
Langford's death-knell for country music may have been a little premature, for the Waco Brothers are still relentlessly purveying their incendiary take on twang, with enough rough-and-tumble rock'n'roll on the side to remind themselves and everyone else of their punk origins.
The posse of scapegrace y'all-ternative rock'n'rollers from Chicago is led by Langford, an expat Welshman and pioneer of the UK punk scene from the 1970s; he co-founded of the Mekons, one of the few punk bands from that era which is yet to crash and burn, and has lived in the US for almost a decade. Langford's songwriting partner- in-crime is Deano Schlabowske, whose former noise-guitar band, Wreck, had a brief stab at major-label fame in the late 1980s. Wreck recorded a couple of albums with noise-guru Steve Albini, then recruited Langford to produce their next one. The record company went bust, the album never eventuated - how very 80s! - but Schlabowske and Langford had bonded, and the Waco Brothers were born.

"I think Jon was aware that our label was willing to pay him quite handsomely, so he agreed to do it", Schlabowske recalls in his wry midwestern accent. "He wasn't living in Chicago at the time, but my wife and I had visited him in Leeds, and it became obvious that we had a lot of similar influences that he would never have known about just from listening to Wreck. We were both going through difficult times with our main bands, and we wanted to enjoy playing music again. I think that still shows. We're a group of people exorcising those horrible music pasts, and just having fun."
The oft-inscrutable American music critic, Greil Marcus, described the Waco Brothers' creative centre thus:
Defeat is the primary condition of their lives, but while for Langford defeat is the only condition of life he trusts, and so in a way he loves it, can trust himself only when he's looking up from the bottom, Schlabowske will never be at home in his misery, even if he's never lived anywhere else. He's Hank Williams, still singing about hope long after he should have learned it'll never knock; Langford is Williams' biographer, saying all those things Williams could never say out loud.
Say what, Deano?
"Obviously, Greil is much more eloquent than I could ever be", Schlabowske replies, laughing. "In certain ways, he's kind of hit on the difference between Jon's and my songwriting - I do tend to come at things from a personal or emotional angle, whereas Jon is the observer of all the details that form the emotional whole. I can't speak for Jon, but for me, the songwriting I admire the most is those who are able to strike that painful chord that everyone can feel. That's what I've always tried to emulate."
Langford's writing tends towards the overtly political - how many country songs have you heard with lines like "yuppies come and gentrify your neighborhood / crusties stay and fight until the end"?, whereas Schlabowske often writes about individual experience. According to Schlabowske, that difference may be a product of nationality, and the defining birthplace experiences of Schlabowske the yankee and Langford the Welshman. "The day to day struggles of rich versus poor have been thrust in the face of people in England", comments Schlabowske, "but I didn't come out of the gate desperate to write about those issues. Definitely there are themes in a lot of the stuff we write, though, that reflect corporate America selling the American public down the river. And for all we know, there could be some magical breakthrough in the era of George W Bush. We used to joke that if it hadn't been for Reagan, there would have been no hardcore punk in the 80s. But Bush is evil in such a dull way; it's hard to get motivated to write songs about a cardboard cutout of a president."
The Waco Brothers have enjoyed a long relationship with independent Chicago-based Bloodshot Records, which calls itself "the home of insurgent country", even though the Wacos don't always fit neatly into the alt.country slot-machine. "We totally confused 'em when we recorded Waco World", Schlabowske remembers. "It was basically a rock record, and when the Bloodshot people were listening to the playbacks, the looks of utter confusion on their faces were something to behold. But we've never felt comfortable saying that we are part of this 'alternative country' scene. We never felt we were part of any movement, although we recognised that the focus that Bloodshot has, the way they've maintained their original spirit, is an advantage that makes them a little smarter than a lot of their independent label counterparts.
"With Bloodshot, it's all friends working together - there's very little 'business', they just facilitate us being able to record. It's all a very friendly arrangement. And I think we've been successful in not irritating the alt.country fans too much, but still being able to find some new people who come from the rock'n'roll side of things. For the most part, what we play doesn't bear much resemblance to country music. Yes, there's steel guitar on most of the songs, and some traditional country and blues chord progressions, and we know that people respond to those basic three-chord country songs. The new record we're recording is kind of going back to those structures, but we've morphed 'em a little bit, and it will still be very twisted."
And when the Wacos promise "twisted", you know they ain't triflin'.
----------------------------------------------------------
It's a sleepy Sally Timms who answers my late-night phone call, Chicago time. Jon Langford of the Waco Brothers, who is also Timms' bandmate in the Mekons, is out celebrating his wedding anniversary with his wife - and Timms is babysitting.
"It's alright, the baby's asleep", she yawns in her plummy English accent - jeez, this woman's diction is perfect, even when she's just woken up. Her lovely English-rose voice, which sounds untainted even after a decade of living in America, is tailor-made for the traditional-style ballads on her latest album, Cowboy Sally's Twilight Laments For Lost Buckaroos. But it seems that many Americans, god bless 'em, can't get their heads around it.
"It's a novelty to Americans when I sing country music with an English accent", the Leeds-born singer comments drily. "It seems odd to them, like a Japanese person singing country. And country is an American format, but I don't think I sing traditional country - what I sing is so traditional that it takes its roots back to England. When I sing country music in England, though, I feel more like a fraud. Because really, American people are more accepting. But it's not something that bothers me unduly."
Timms has a love for traditional folk songs and the roots of the American country songbook, as transplanted from England, Ireland and Scotland. "Those songs really suit my voice", she observes modestly. "I have a traditional-sounding English folk voice, and I like the themes. They're to do with real life and hardship, not just Baby, how much I love you. They're sad, but there's something uplifting in sharing that sadness."
Timms describes herself as an interpreter, rather than a songwriter, although she has several fine co-writes with Langford to her credit. "I write very few songs", she explains, "and I feel they're not up to standard. I don't feel I have to inflict my songs on everyone. I feel I'm good as an interpreter, arranging other people's songs in a way they might not have done themselves."
Twilight Laments features a roster of special guests from the A-list of progressive American music - John Herndon from Tortoise, Jon Rauhaus (Calexico, Neko Case, Old 97s), Andrew Bird (Bowl of Fire) and Tom Ray from Bloodshot band Devil In A Woodpile. Timms was also given some choice cuts by first-class songwriters for the album. There are two songs penned by the quirky but eminently-talented couple Brett and Rennie Sparks, otherwise known as the Handsome Family, and a ditty, In Bristol Town One Bright Day, which sounds as old-timey as they come, but which was actually written for Timms by maverick country-rock genius, Robbie Fulks.
"Robbie wrote that song specifically for my voice", Timms reveals. "He's amazing, he can run them off in ten seconds flat. He's good at absorbing and regurgitating music; he knows a million songs."
Timms is sure to perform a couple of Handsome Family songs on her Australian tour. She shares the Sparks couple's fascination with the gothic side of americana: "The babies dying, the murder, all that stuff; it intrigues me when it's over the top. That's why I love the Handsome Family. They came on a few tours with the Mekons, and that's when I got to know their music more intimately."
It was through the Mekons, the pioneering punk band which Langford formed in 1977, and Timms joined in 1985, that she got to know the United States. In fact, she fell in love with, and married an American; strangely enough, that's what Jon Langford did, too. So was it fate that they should both end up in Chicago, married to Americans?
"Oh, it's not so unusual", Timms retorts, quickly dampening my romantic flights of fancy. "We were both spending so much time here, so we both met Americans, and got married. I lived in New York for five years, then moved to Chicago. It's pretty much impossible to be a musician in New York. So many bands come out of Chicago, but very few of them are homegrown; they move here because it's so cheap, and it's central, and it's a major city with a major airport."
Moving to the States has given Timms a new perspective on American culture. "I had a very simplistic notion of America when I first came", she admits. "It seemed very unpleasant; what I first noticed was the disparity between rich and poor, but that's not all there is. There is a side to America that is fascinating in a way I haven't encountered in any other country. It's brutal and it's beautiful, it's huge, it's very strange.
"The things that bug me about England don't bug me in America, and vice versa. Now I feel like I don't truly belong in either place; you end up feeling quite dislocated, but I kind of like that feeling. In England, the operative word is No; here, the operative word is Yes. I don't dislike the fact that everyone wants to burst your bubble in England, but I don't miss that negativity. When I go back, it irritates me a lot, so maybe I have changed.
"I definitely couldn't do music in England the way I can here. For someone like me, I can carve out a lifestyle and do what I want to do. America is a rich country, even though it doesn't readily share its wealth. There is a class structure here, but the idea has always been that there are supposedly no limits to how high you can go.
"Of course", she clarifies, "there are no safety nets, so there's no limits to how low you can go, either."
I can't let Timms go without asking her about one of the loveliest songs on her new album, When The Roses Bloom Again, which bears the songwriting credit "traditional/ Guthrie/ Tweedy". Hmm, Woody Guthrie... Jeff Tweedy from Wilco... sounds like a Mermaid Avenue outtake?! Well, in fact, that's exactly what it is.
"During the Mermaid Avenue sessions", Timms explains, "they found these words in Woody Guthrie's estate, and assumed he had written them. Then after Jeff Tweedy had written the music to the words and recorded the song (with Billy Bragg and Wilco), they found out that the words were traditional. When you look at the way those old folk songs were structured, they're all stolen from other songs, and Woody Guthrie appropriated plenty of stuff, too! So they didn't include the song on Mermaid Avenue, and Jeff said to me, 'Here you go'. Apparently there is also a version by the Carter Family, and the music is quite similar, which is eerie."
Eerie, indeed. But Sally Timms is ever-so-politely suppressing a yawn, so I let her go back to slumberland, resisting the urge to ask for a few lines of one of her gorgeous lullabies, such as Jill Sobule's Rock Me To Sleep. Ah, that we could all have Sally Timms as a babysitter to rock us to sleep! Surely then, the world would be a kinder, sweeter, sleepier place.
The Waco Brothers play with Sally Timms (also from Chicago), and support Major (Sydney), at the Corner Hotel on Friday night and the Cornish Arms on Saturday night. The Wacos also play live-to-air on Triple R from the Laundry tomorrow (Thursday) from 6.30pm.



---


Jon Langford and Sally Timms performing at the Pittsburgh Filmmakers anniversary, Sat. November 3rd,
suported by the Johnson's big band
"This is a song by John Anderson...not the singer from Yes."
Jon Langford and Sally Timms came to Pittsburgh Saturday night. The occasion was the 30th anniversary of Pittsburgh Filmmakers, the local arts group that produces and showcases independent movies at a handful of movie houses in town. The festivities took place at Filmmakers' Melwood Avenue screening room, featuring three floors of paintings, photographs, video instillations, techno DJs and an adjacent warehouse for live music. Hundreds of people attended the largest local art happening I can recall since the Warhol Museum opened in 1994; bravo to Filmmakers for organizing a marvelous night.
My highlight of the festivities involved a collaboration between local musicians and the two Mekons. Langford and Timms's band for the evening was Pittsburgh stumble-rock ensemble the Johnsons, re-dubbed "Jon's Sons".
Some of you may have heard Jon perform with the Johnsons in Pittsburgh each of the past couple of Octobers, or perhaps once in Chicago, performances that integrated the shambling organ-and-guitar groove of the band with some of the more straight ahead rock songs in Langford's catalog. This performance had a couple of new wrinkles. One was the presence of Timms (allegedly the mother of "Jon's Sons"; no mean feat as lore has it she carried them all at the same time and they were born fully grown!) to sing a handful of Mekons and Cowboy Sally songs, and to engage in the kind of banter with Langford that typifies Mekons performances. (A record of their stage patter would be tremendously entertaining, far from the painful experience of listening to _Having Fun With Elvis Onstage_.) The other new wrinkle had to do with the band's lineup. The Johnsons recently added a four-piece horn section, transforming their sound into something resembling the controlled chaos of Pogues circa 1989. Their approach to horns is unusual for a rock group, sounding like a marching band...a marching band with a THC habit.
I'd never heard the Mekons or Waco Brothers play a show with horns before, and was delighted to hear brass driving "Tina", "It's Not Enough" and covers of "Cry Cry Cry", "Seminole Wind" and "Drunk By Noon". The set list dispensed with boundaries separating the catalogs of the Mekons, Wacos, Timms and Pine Valley Cosmonauts, and even included the Johnsons' "Sanctimonious K". I was struck by how effortlessly the band switched gears between numbers, and how well they handled reggae. (If the set was recorded, the narcotic version of "Tina" deserves release.) The result was tremendous, one of the best Mekon-related shows I've ever seen. I can't believe how tight and powerful the band sounded on just over an hour's rehearsal with Jon and Sally, though I suspect many hours of preparation arranging the horns preceded the actual rehearsal.
Luna followed with a loud, anti-climactic set, and per Sally Timms's request, about twenty folks (including Tom & Miss Stephanie from the Deliberate Strangers, ex-Polish Hillbilly Becky, Jon, Sally, assorted Johnsons and friends) continued the evening at a couple of neighborhood strip clubs. (Sally: "The seedier the better." OK....) I checked out around 2, but for all I know the moveable party continues. The "Jon's Sons" show was intended as a one-off, but it turned out so well that future shows or recording sessions could happen in Chicago or Pittsburgh. Mekons fans within a reasonable commute of any future shows should check out this fruitful collaboration.
Carl Zimring


---
norbert.knape (at) ewetel.net