Reviews from 1986-1992, Reviews of 1997, Reviews of 1998, Reviews of 1999, Reviews of 2000, Reviews of 2001, Reviews of 2002, Reviews of 2003, Reviews from 2004, Reviews from 2005, Reviews from 2006, Reviews from 2007 Reviews from 2008
---

*** Waco Brothers / Jon Langford / Sadies ***
Thu Jan 23 Chicago Abbey Pub:
GALLERY

Fri Jan 24 Detroit Magic Stick, plus Sadies
Sat Jan 25 Cleveland Beachland Ballroom
---
Mon Jan 27 Toronto Horseshoe Tavern
Stupendous! Three-plus hours of rock & roll madness to a sell-out house on a freezing Monday night in Toronto! Hell, people were even dancing, which for a Canadian crowd on a Monday night is pretty amazing. It was also the Horseshoe Tavern's 55th birthday party so the place was decked out with all sorts of streamers, balloons and a big Happy Birthday banner above the stage.
Jonboy and the Sadies tore through pretty much all of Mayors of the Moon, tossing in Joshua Gone Barbados and Death of Country Music for good measure...
The Sadies mini-set included material from all of their albums as well as a guest appearance by Papa Good (of Canadian country legends The Good Brothers, father of Dallas and Travis) coincidentally celebrating his 57th birthday. Together they closed the mini-set with a cover of Bob Wills' "Stay A Little Longer" and "Tiger Tiger" from their new album.
The Wacos took the stage to much fanfare after a reverential intro by one of the owners of Horseshoe. The ripped through pretty much every tune you could possibly hope for at about 900 miles an hour and 3,000,000db. An absolutely crushing assault on the senses...
Highlights (for me) included a particularly vicious "Do You Think About Me?" and a stomping "I Fought The Law" thoughfully, hell almost wistfully, dedicated by Jonboy to Joe Strummer. After the first encore, "Big River", Deano plucked the "Y" from the Happy Birthday sign and held it up to the crowd like some religious symbol and then thoughtfully placed it in his breast pocket. At the end of the second encore the Wacos stretched the end of "Wreck on The Highway", everybody mugging hilariously around stage in extreme slow-motion for well over a minute. The insane look on Jonboy's face was hysterical.
Still left were a double-time hardcore take on "Folsom Prison" and an out of control "Baba O'Reilly" to close out the night...
Have fun down the line folks! This show is a serious shit-kicker. Lotsa records n' stuff on sale as well.
Miss it at your peril...
Hugh Hardy
---

When a bar as renowned as the legendary Horseshoe Tavern is celebrating its 55th birthday party and the powers-that-be introduce the featured act as one they've been: "stalking to please play here," and "one of the greatest live bands in the history of rock and roll" well, you've got to take notice.
Who exactly were they talking about? The Rolling Stones? The Who?
Not quite. For this most auspicious occasion bookers decided a hoedown was in order. Not just any barn dance, but rather a rocking country-punk hoedown courtesy of Chicago's Waco Brothers. Apparently the Horseshoe has been trying to get these guys into Canada for something like seven years.
With an introduction like that lead singer Jon Langford (of Mekons fame) thanked the crowd for its hospitality and explained the band's Toronto debut came so late because the band was terrified of Hogtown. "We were younger and were afraid of commitment," he explained.
Streamers and dreamers decorated the bar and a Happy Birthday sign hung above the stage. The 'shoe was stuffed so tight you would have needed a shoehorn just to squeeze another soul in. The audience was a mixture of young and old, weighing a bit on the thirty-something side of things. Some came decked out in cowboy hats and boots, while others wore moccasins and frayed blue jeans.
Having just released an album (The Mayors of the Moon) with local band and opening act The Sadies, Langford deemed it appropriate to join his pals onstage. Joking through the set about how, "they're my Sadies now!" Langford et al played most songs off the Mayor record (including a catchy number called "Solitaire") before departing to let The Sadies shine on their own.
Langford returned shortly before 11:30 p.m. when the Wacos arrived to lay claim to the Horseshoe's lofty crown. With fingers flying off his white guitar, and strange, oft-fictitious stories flying from the mouth, Langford captivated all with his musical prowess and wit. Driven by drums, bass, mandolin, two guitars, pedal steel guitar and voices fuelled by Guinness, the other "Brothers" – five sharply dressed men in black suits – joined in on the carnage.
Perhaps one wide-eyed observer summed the evening up well, when off the top of the set from the heat of the mosh-pit, he gasped for air and shouted: "Fuck!"
"This song is about alcohol, freedom, and country music … all three are misused and misunderstood terms," said Langford after a quick beer break for the band. While Langford's cryptic pre-ambles were sometimes hard to solve, there was no misunderstanding that the Wacos are an amazing live act. Clearly this band is out to redefine country music – part Clash, part Johnny Cash - while displaying more energy and excitement onstage than a group of kids at a birthday party. But then again that's exactly what the evening was all about.
- David McPherson


---
Wed Jan 29 Montreal Cabaret Music Hall
Welsh out west
Jon Langford of the Waco Brothers captures the American myth
by JOHNSON CUMMINS
Talking to Jon Langford from his art studio in Chicago, you can't help but be slightly taken aback by his thick Welsh accent. With the Waco Brothers, his collaboration with the Sadies or his tribute to bluegrass pioneer Bob Wills with the Pine Valley Cosmonauts, you would think he'd have a slow southern drawl, or at least be "kicking back and whittlin' some." On record he's all about rootin', tootin' guitars, fiddle, pedal steels and mandolins, all brought home with a lyrical stew of arch Americana - guns, trucks, whiskey and honkytonks. Even Langford's own artwork adorning the Waco Brothers' albums is rife with Stetson hats and cowboy lettering.
"In the mid-'80s," says Langford, "I started getting into the mythology of coming to America, that myth of freedom. I really liked the clothes and the music that you couldn't get in Europe. The kind of cowboy gear was like a civilian uniform that sort of meant you were an American. I find that interesting."
If the Waco Brothers don't ring any bells, you might know Langford better as the brains behind left-of-centre indie rockers the Mekons, whom he continues to record and tour with. If that isn't enough irons in the fire, Langford is also getting to be recognized as a major painter and illustrator, which currently has him putting last-minute touches on some pieces slated for a gallery show in Hoboken.
"I try to go in and paint everyday whenever I'm not on tour. I was trained as a visual artist but for a long time my critical muscles were stronger than my creative muscles. When I started thinking of my art in terms of my songwriting, I started getting influenced by the songs and subsequently the paintings have influenced the songs."
The Sadies as the band behind Langford on their recent collaboration Mayors of the Moon is no head-scratcher. Langford hand picked them to be the support act on the Mekons' 25th anniversary tour and Sadies guitarist Travis Good toured as a honorary Waco Brother last year. Initially, Langford had merely offered his services as a contributing lyricist for the next Sadies record. It seems the strapping young Sadies had other plans.
"When they were in Chicago, I just brought them some lyrics in a Jiffy bag. They took the lyrics home and arranged the songs and then they wanted me to sing them. I was flattered but the recording session was a couple of weeks later so I couldn't really back out."
Not only did Langford get to make a record with Canada's ultimate y'all-ternative band but also recorded it at the digs of Blue Rodeo's Greg Keelor in Toronto. "We just set up and it was really casual. They would play me the songs and I would desperately try and learn the arrangements so I wouldn't mess them up with my vocals. I'm really proud of it, it's my Welsh-Canadian record."


---
Thu Jan 30 Boston
Caught the Jon Langford/Sadies/Wacos show last night in Boston at TT The Bears.
Was a very crowded show but a small club in the stage area.
Here's the song list for the Wacos set (not in exact order and not all true song titles).
Harm's way
Cowboy in Flames
Seel Willy fly by
Do what I say
Blink of an eye
Miss Johnson to Mrs Jones
Trying to get thru to u
Punishment
Want to see you, just don't believe you ?
I've seen the light
Think about me
Union made
Fought the Law (homage paid to Joe Strummer before
playing)
Tracy and Jon had fun drinking whiskey and Guinness on stage, playing was spirited although a little short but considering Jon was on stage for multiple bands,
got our fill.
Sadies/Jon did Joshua gone Barbados, which was good to hear
.c ya
Todd
Jon Langford and The Sadies
T.T. the Bear's Place, Cambridge, MA
By Stewart Mason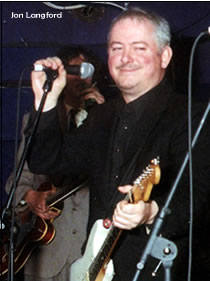 "Well, I'm sure you are on the guest list," the slightly frazzled young lady on the door at TT the Bear's said. "It's just that the Sadies are stuck at the Canadian border and they have the guest list with them."
As it turned out, she was only half-right - unlike Jon Langford and the Waco Brothers, who had sailed through right in front of them (as Langford and the Sadies were getting set to launch into their opening set, the Chicago-based Welshman comically pointed out the startling resemblance between the Waco Brothers' pedal steel player and the just-convicted shoe bomber Richard Reid: "Him they let waltz right through and they detain these poor nice Canadian lads. Cheers, Tom Ridge!"), Toronto's Sadies had indeed been held up for some time at the Quebec border. But about 45 minutes after the first set was supposed to start, the Canadian quintet double-parked their cargo van on Brookline Street and humped their gear onto the tiny TT's stage in record time. So fast, in fact, that one of the Waco Brothers' roadies came up to the stage about halfway through the opening set gesturing wildly to the Sadies' rhythm guitarist, Dallas Good, to report that their van was just about to get towed from its illegal spot and they needed the keys to move it.
Somehow in the midst of all the chaos, Jon Langford and the Sadies came out and did an absolutely top-notch show. Drawing heavily from their just-released collaboration The Mayors of the Moon (Bloodshot), the set also found room for a couple of chestnuts: the closer was a scorching version of Langford's old solo single "Nashville Radio" and, in a nod to Cambridge folk scene history, the centerpiece was a stunning version of local hero Eric Von Schmidt's bitter story song "Joshua Gone Barbados," which Langford covered on a duet album with his Mekons partner Sally Timms a few years ago. The songs from the album sounded uniformly harder-hitting on stage, with the fiery "American Pageant" getting a particularly punky workout and "Solitaire Song" turning into a wild-eyed blend of the deep-toned twang of Johnny Cash's Tennessee Two and a primal Bo Diddley beat. Though the Waco Brothers, who closed the evening with a ramshackle set, have always had a strong rock 'n' roll element in their country-based sound, the ratios are reversed when Langford is playing withthe younger, harder-rocking Sadies - who are almost certainly the most kick-ass band to have a full-time vibraphone player - making Jon Langford and His Sadies, as he prefers to call them, Langford's toughest-sounding group since the Three Johns' '80s heyday.
After the short but satisfying 40-minute set, the Sadies elected to stay on stage after Langford exited, segueing into the evening middle set with barely enough time to adjust the mics. On records like the recent Stories Often Told (Yep Roc), the Sadies sound like a somewhat harder-rocking version of Beachwood Sparks, with a similar cosmic-cowboy feel. On stage, the cadaverous Dallas Good, his more energetic lead guitarist/fiddler brother Travis and the rest of the band beef up their sound intensely, alternating between ballsy (and loud!) instrumentals and mellower, more reflective vocal tracks. The sight of the Good brothers braying into their respective microphones during the otherwise instrumental "A#1" like a pair of deranged howler monkeys in Nudie suits is every bit as entertaining as it sounds, but it was only one highlight out of a solidly enjoyable set.
FROM: COUNTRY STANDARD TIME:
The Wacos, Langford & His Sadies are worth the wait
TT the Bears, Cambridge, Mass., Jan. 30, 2003
By Jeffrey B. Remz
CAMBRIDGE, MASS. - After a long wait at the Canadian border, The Sadies made it down to the States along with their concert partners, the Waco Brothers. So was the wait - the show was delayed more than one hour?
For the most part yes. The Wacos, led by Jon Langford, are at the heart of what alt.-country may be about. There's a country feel to the music at times with a heavy dose of nods to the Rolling Stones thrown into the mix with a loud, jangly guitar sound. The Wacos, touring behind another strong album, "New Deal," are no youngsters. Steady drummer Stephen Goulding, for example, was part of Graham Parker's backing band The Rumour 25 years ago. Lively bassist Alan Doughty was with Jesus Jones ("Right Here Right Now").
Langford, perhaps better known as a member of the long running Mekons, does most of the lead vocals. He may not be the world's greatest singer, but he sings with the right sense of energy, conviction and love of the music.
Dean Schlabowske also takes some lead vocals and probably the same can be said about him as well.
What distinguishes Langford, however, is his keen sense of humor. He is exceedingly funny on stage with a slew of quick witted comments. Some are political, some are merely for fun. Almost all are entirely funny.
That was apparent from the get go when Langford was trying to determine with the help of the packed crowd where the group played last time in town. "Were we any good?" Langford asked.
But ultimately what matters most was whether the music is any good, and the answer was in the affirmative.
When the entire band got cranking on choruses as they did on "Do You Think About Me?" and the closing encore tribute to the late Joe Strummer, "I Fought the Law," they were dead on target.
Langford also handled duties fronting Jon Langford & His Sadies, who just released a disc on Bloodshot. Not exactly as raucous as The Wacos, Langford retained his humor, but the music during their 40-minute set was nowhere near the rock sound of The Wacos. The combination worked just fine.
Less exciting was a short set from The Sadies without Langford. The main problem is that Dallas Good isn't much of a vocalist and possesses no stage presence. Brother Travis Good fared far better.
But aside from that short misstep, an evening of the Wacos and Langford & His Sadies shows the wait was the hardest part.

---

Fri Jan 31 New York Mercury Lounge
Sun Feb 02 Maxwell's

---
THE WALTZ V
Benefit for Neon Street Programs For Homeless Youth
Saturday, March 8
By Anders Smith Lindall

At its core, the annual Waltz benefit concert is all about the kids: Each year, the gig raises tens of thousands of dollars for Neon Street, a Chicago nonprofit group that serves homeless teens. But onstage Saturday night at Metro, the folks who stole the show were quite a few years from youthful.As always, guitarist and local scene shaker Nick Tremulis emceed the event, and in the spirit of "The Last Waltz"--the 1978 concert, album and film featuring the Band with such stars as Bob Dylan and Neil Young--his seven-piece Orchestra backed each guest.The first set gave fans glimpses of Graham Parker and Ian Hunter, a graceful performance by Alejandro Escovedo, an utterly odd and thrilling collaboration between former Voidoids guitarist Ivan Julian and no-wave ringleader James Chance (in pompadour and gold lame jacket, honking an unhinged sax solo) on the James Brown nugget "There Was a Time," and the snarling, sashaying New York Dolls founder David Johansen joined by Julian for the Dolls tune "Looking for a Kiss."But the real highlights of the opening half were provided by a pair of Chicago civic treasures. Looking lithe and dapper in a milk-chocolate suit and hat, 71-year-old Hubert Sumlin was the picture of cool, and with Johansen on vocals, the former Howlin' Wolf sidekick ripped through his boss' standard "Killing Floor" and the Muddy Waters tune "Walking Through the Park." Later, Mavis Staples--who with the Staples Singers appeared on the Band's "Last Waltz"--brought down the house with a smoky, funky take on "Will the Circle Be Unbroken."Jon Langford is a far more recent transplant to the city, but he's on his way to similar landmark status. With his fellow Mekon Sally Timms on vocals and Zwan drummer Jimmy Chamber- lain pounding away behind a five-guitar attack, Langford closed the initial set with an incendiary version of "I Fought the Law" in tribute to Joe Strummer. Starting with a video clip of the Band's Rick Danko performing "It Makes No Difference" at the first Waltz benefit in 1999, the second set was even more packed with memorable moments. There was Mavis Staples blessing the next generation in singing alongside Kelly Hogan and Nora O'Connor on "Somebody Saved Me"--a moving gospel number penned by Pops Staples himself--and later electrifying the room with her signature tune, "I'll Take You There." Graham Parker revived "Passion Is No Ordinary Word," a cut from his classic 1979 disc "Squeezing Out Sparks." Beat and bebop fixture David Amram tinkled piano, tooted French horn and piped through a pair of penny whistles while Kurt Elling scatted out the jazz standard "Blue Monk." And though Billy Corgan struggled against a chatty crowd in playing a pair of solo tunes, he looked positively giddy on lead guitar during the Jimi Hendrix hit "Freedom."Finally, an event that united a half-century's worth of blues, rock and soul stars in the service of troubled teens couldn't have had a more fitting end than this night's encore: Ian Hunter happily leading more than three dozen musicians and organizers on stage--and several hundred pairs of lungs in the crowd--through his 1973 Mott the Hoople anthem "All the Young Dudes."

Anders Smith Lindall is a Chicago free-lance writer.
---
Waco Brothers / Sadies / Jon Langford and his Sadies / Sally Timms in Europe:
March 25th Brighton - The Hanbury Ballroom B/O 01273 325440
March 26th Bristol - The Bonaventure B/O 0870 4444 400
March 27th London - The Borderline B/O 020 739 50777
1st mail I got:
You get best and highly satisfying results if you use some internt translation machine on this:
Natuerlich sollte es umgekehrt sein: "When the Sadies become the Mekons". War ein lustiger Versprecher von Jon Langford gestern waehrend des Waco Brothers Konzerts. Er meinte, dass bald die Sadies alle Mekons Lieder spielen koennten, dann damit einen Riesenerfolg haben wuerden und er auf diese Weise endlich reich werden wuerde.
Es war meine erste Live Begegnung mit den Wacos - und ich muss sagen, ich bin echt begeistert. Ich habe nur eine Waco Bros CD - Wacoworld - und die befand ich bisher immer nur okay. Heute morgen im Auto klang sie zwar schon besser, aber kein Vergleich mit diesem Live Erlebnis.
Eine wichtige Rolle spielte dabei natuerlich auch das Zusammenspiel mit den Sadies und Sally Timms. Unglaublich in welchen Besetzungen die alle miteinander spielen und sich aushelfen und dazu diese Spielfreude. Als ich ankam, lief leider schon das letzte Lied von Jon Langford mit den Sadies. Danach kamen die Sadies allein mit einem kurzweiligen 30 Minuten Set. Auch die habe ich zum ersten Mal live gesehen. Abwechslungsreicher Mix aus Cowpunk, Rockabilly, ein
bisschen Surf, Psychobilly, Western und was weiss ich noch was. Zwischendrin ein Lied mit Sally und als letztes Lied ein Mekon Klassiker, inklusive Jon und einem farbigen mit Rasterlocken, der auch waehrend der Mekons Tour kuerzlich dabei und genau bei dem gleichen Lied auch dazu kam - Nobby kann sicher mit Namen und Hintergrund aushelfen !? Besonders gefallen hat mir auch das Gitarrenspiel des einen der beiden Brueder Travis and Dalls. An einer Stelle standen sie hintereinander und spielten jeweils die Akkorde der Gitarre des anderen. Hinterher habe ich mir gleich die neue plus eine Single gekauft - auf Vinyl, sehr schoen.
Dann kamen die Waco Bros und rockten durch ihren Set. Kein einziges Mal wurde es langsam, zwei Gitarren, eine Mandolin, ein Bassist mit sensationellen Basslaeufen, Steel Guitar - und der Schlagzeuger der Sadies, der damit praktisch den ganzen Abend gespielt hat. Was will man mehr. Jon und alle in bester Laune, diverse Kommentare ueber Bush und Blair, wechselnder Leadgesang, dazu natuerlich Sally Timms bei einem Lied, die sich beschwerte, dass im Bus nur uber "sexual congestion" gesprochen wurde, und bei den letzten Liedern auch noch mal Travis Good von den Sadies. Ein weiterer Hoehepunkt: ein Clash
Tribute "I fought the Law" fuer Joe Strummer.
Alles in allem ein sehr sehr gutes Konzert, laut, rockig, abwechslungsreich und unterhaltsam. Anwesend waren ca. 120 - 150 Leute, wuerde ich mal sagen. Das Borderline ist so in etwa die Groesse des Sinkkasten - zum Glueck ohne die laestigen Kinostuehle dort allerdings. Eintritt war 10 Pfund. Dazu gab es noch einen sehr guten Merchandise Stand in bester Bloodshot Qualitaet - "Hier bedient der Chef noch selbst" - CDs und LPs waren ebenfalls ein Zehner. Es gab alle Wacos, dazu die aktuellen Sampler, Sally Tmms, Sadies und und und.
So schoen kann ein Abend sein.
Bern from London
2nd review:
It was pretty well attended, from what I could see...
It started off with Jon Langford and His Sadies (the note from the venue listing the set times, I'm supposing, listed it as "Cangford") for about 40 minutes. I missed the first couple of songs because the venue told me it started at 8pm, when it actually started at 7:30pm... Anyhow, they played (I could be wrong, so correct this if it's wrong):
What Makes Johnny Run?
American Pageant
Last King of the Road
- w/Sally -
Horses
I Picked up the Pieces
- exit Sally -
Solitaire Song
The Mayor of the Moon
Looking Good for Radio (Jon intro'd it as music by Travis, I believe, to
his "limerick")
Nashville Radio

The Sadies went on next, with a ~50min set. They played a couple more songs at the end because they said that they seemed to have played their
songs at 2x speed:
Cheat
I Tried Not To
The Only Bad One
I Wasn't Born to Follow [the Carole King song]
A #1
Stories Often Told
16 Mile Creek
Wearin' That Loved on Look
William __[? song by Merle Good]
Tell Her Lies and Feed Her Candy
- w/Sally -
?
?
- exit Sally -
Pretty Polly
?
Stay All Night (Stay a Little Longer)
?
?
?
High Tide
?
- w/Jon and Mitch -
Where Were You?

Didn't really take down the Wacos list, but Sally joined for "Seminole Wind" and Travis brought his fiddle to some of the later songs in the list, starting with "Poison," "Harm's Way," and "I Fought the Law." In no particular order, other songs they played included (if I recall correctly, which I may not) "Fox River," "AFC Song," "No Heart," "Johnson to Jones," and "White Lightning."
No Steve, so the Sadies' drummer, "Snake" Belitsky, drummed for all 3 acts.
Jon said that Mr Bloodshot himself was selling merch for the gig.
Also spotted in the audience (but not onstage): London Mekons Lu and Sarah.
Mary H.
http://www-personal.umich.edu/~mhuey/wacobrothers/2003borderline/

March 28th Chester - Telfords Warehouse B/O 01244 390090
March 29th Edinburgh - The Subway B/O 0131 226 7010
March 30th Leeds - The New Roscoe B/O 0113 245 5570
Rock&Roll&
by Robert Christgau
Loser on a Roll
Jon Langford Makes Friends and Influences People
May 19th, 2003 5:30 PM
For those keeping count, Jon Langford revealed May 8 at Galapagos that he hadn't actually released four albums in 2002 and early 2003, as I had previously reported. The correct figure is five. This is also the number of bands he fronted in New York over the same span. The fifth was the Ship & Pilot, featuring longtime bassist to the stars and former Mekon-Killer Shrew Tony Maimone, longtime Mekons-Wacos drummer and new New York immigrant Steve Goulding, and, embodying the spread of Langfordism across the generations, violinist Jean Cook. I'd never heard of Cook, a 27-year-old Korean American who bowed away with astringent verve and infectious delight. Until last year, neither had Langford, although Cook knows his book so well she also sang backup, reading off a cheat sheet when her fearless leader threw in something new. A ruddy, stocky, moonfaced 45, said leader has been completely gray for years—"I look like Teddy Kennedy, feel like Bobby," he noted at 1998's CMJ barbecue—and sports a Dashiell Hammett mustache. But he sure doesn't act grizzled. The only problem with the Ship & Pilot's supple set was the yuks, which since Langford never repeats a bit are always a crapshoot.
The album I'd missed digitizes a vinyl limited edition Langford and Sally Timms put together in 2000 for Bloodshot, also home of the Waco Brothers, the only alt-country band to feature a former member of Jesus Jones, and the Pine Valley Cosmonauts, who have backed Langford and a cast of hundreds on everything from Bob Wills remakes to attacks on capital punishment. Featuring more solo turns than duets, Songs of False Hope and High Values is the spottiest of Langford's recent projects, including number six, The Executioner's Last Songs: Volume 2 & 3, due June 17. But it exhumes both "Joshua Gone Barbados," an Eric Von Schmidt-cum-Joseph Spence genre piece about a strike gone wrong that caught Langford's ear on an old Johnny Cash album, and Timms's metaphysical 1988 cover of Dolly Parton's "Down From Dover." "Joshua Gone Barbados" was a special treat for 60 or so Galapagans, some of whom had also attended the headliner's reading-with-guitar there the previous night and/or his Big Cat Gallery opening on Orchard Street from six to nine. Langford has a busy schedule, devoted fans, and many friends.
Including me, I guess—I'd fed him lunch in my apartment earlier that day, the third meal we'd shared since September. "I like everyone," he'd remarked at dinner after the EMP Pop Conference in Seattle in April, and although I distinctly recall the exception to that rule ("We really like all these people—" he protested too much to a packed house before reading from his scabrous history-of-rock comic Great Pop Things at KGB a few years ago, "except Sting, of course"), there's a lot of truth to it. I rarely socialize with artists, but Langford is a good friend or warm acquaintance of four or five otherwise unconnected friends of mine. He's appeared in a student documentary about me, hired me for liner notes, and blurbed one of my books. So don't believe me when I say I've rarely if ever witnessed an artist on this kind of roll. I dare you.
What's your secret, I asked in Seattle, where he'd delivered a career-memoir variation on a lecture he bent to a Chicago theme for John Hodgman's "Little Gray Book" series at Galapagos, then booked a club gig for good measure. "Two kids," he riposted, and he wasn't just being funny. Langford emigrated to Chicago for love in 1991, following his girlfriend Helen Tsatsos, who'd returned to her hometown from France for graduate school. They married, bought a house in an unhip North Side neighborhood, and had two boys, now five and one; after the second, Helen quit her job as an architect. Thus the postpunk lefty turned breadwinner which rather than forcing him into awkward compromises or tired hackwork sparked a tremendous effulgence. Langford has been a drinker—he's cut down, he says, because kids and hangovers don't mix—but never a slacker. Between his dad, a schoolteacher, and his mom, a coal miner's daughter, he has a worker's instincts. But his current productivity could shame an efficiency expert.
From last summer's Mekons comeback OOOH! and 25th-anniversary tour, from his single foray with his Toronto fans the Sadies and the many with his Chicago pals the Wacos, you'd think Langford was a road dog. But Langford doesn't tour more than a week a month—he'd miss his kids too much. Instead, unlike so many art-school rockers, he exploits his graphic gift. The ace lyricist and sometime lecturer didn't script Great Pop Things, he drew it, and most days he works not in a studio but in the disused room at a Chicago T-shirt factory where he fabricates the paintings that pay his mortgage: drawings of cowboy or country-western photographs that are affixed to plywood, colored in acrylic, pastel, and Sharpie, bedizened with shellac, and distressed with scratches, Wite-Out, skulls, dollar signs, and other subversive messages. They're not big, and mostly go for under a grand, cheap in a unique-object economy otherwise beyond his means. "I can make one," he says, "but I couldn't buy one."
Impressive as all this extracurricular activity is, however, it clearly stems from Langford's music—unless you want to say that like his music it stems from his spirit, which just gets larger as the responsibilities mount and the years roll on. Although his singing gained bravura with 1998's solo-with-backup Skull Orchard—so that his version of fellow Welshman Tom Jones's "Delilah" is a vocal peak of the new death-penalty set, murderous misogynist claptrap and jolly good waltz all at once—he's obviously not much of a musician qua musician. His tunes are as pragmatic as his words are inspired. So in the grand punk tradition of the Leeds miscreants who "yelled" (his word) "Never Been in a Riot" and other early Mekons piss-takes, he continues to trade in mood, energy, worldview, and suchlike intangibles: his appetite for collaboration, his font of laugh lines, his unflagging conviction that democracy and socialism are one and the same, his simple belief that honky tonk is "Never Been in a Riot" grown up, his fusion of cynicism with optimism and purism with Tom Jones. Intellectually and emotionally, these are complex achievements beloved by a brainy rock and roll cult. But, scandalously, few ordinary culturati know he exists, for the usual rock and roll reason: Langford's bedrock assumption that complexity is couched most poetically in forms so crude an ordinary country musician can handle them.
OK, maybe not most poetically—maybe just most politically. With most rock and rollers that's metaphor; with Langford it's fact. The Mekons' communalism and anti-corporatism is fleshed out by lyrics that name ideas (see Mekons: Hello Cruel World: Selected Lyrics, Verse Chorus Press), with depressed co-leader Tom Greenhalgh the real extremist even if he's less literal ideologically. Though Greenhalgh's counterpart Dean Schlabowske understands economic oppression (check the traveling salesman's lament "Circle Tour"), it's the Wacos' populist form that tells. They're a goof that evolved into the toughest, funniest faux honky tonk band in the land, on a label Langford was pleased to learn attracts enough flag-wavers to get flack for The Executioner's Last Song. But he freights the band's form with intimations of mortality Haggard and Jones would never have touched in honky tonk's mythic heyday—Electric Waco Chair, for instance, begins, "You can be the last one standing as the surface of the earth/Melts like a chocolate bar/Just throw me out with the garbage/I'll never get that far." And lately he's brought it up a notch. Entertaining another barbecue crowd back in Edenic October 2000, he demonstrated his surefire method for foiling radio bleepsters by inserting a "Dubya" wherever a cussword belonged, he ended the Wacos' 2002 New Deal with "The Lie," a portrait of Dubya so cold-eyed it could get our president excommunicated from a better religion.
Since November 2000, what's been most moving about the Waco Brothers has been watching their unrehearsed, high-kicking ruckus, complete with jokes beery and unbowed, thrive atop the political misery the joker found as hard to take as the rest of us. And at the Merc in January, with Iraq looming, something broke when Langford interrupted a hilarious birthday celebration for bassist Allan Jones with a long intro: "You shouldn't judge people by what they do at the end of their lives. I'm older now, and I've mellowed. But this is an old Neil Young song, called 'Revolution Blues.' " He paused and pondered. "There really ought to be a revolution now. You ought to march down to D.C. and put their heads on pikes. There's no excuse for what they're doing. Nelson Mandela is right—there's a holocaust, and there's no nation more responsible than America. I mean, I'm an American now, but your politics suck more than ever." After the song, which you can believe rocked, the hijinks resumed.
"History is written by the winners/This is a loser's song," goes another Electric Waco Chair track that's become a signature piece lately. Its almost self-explanatory title (and refrain): "Walking on Hell's Roof Looking at the Flowers." Helen wishes he didn't do so many benefits, and Langford doesn't see much point in playing Iraq rallies where everyone is already antiwar. He'd rather funnel a little money to the quiet, effective death penalty movement. "A bit of me thinks, Well, what can you do, fill your life up with stuff and die. But another part of me thinks you might as well tackle stuff." You probably know about those parts. Keep them working in tandem and you might go on a roll yourself.
---
Mekons, Martyr's Chicago, acoustic show, 11 July 2003
I just returned a few hours ago from Chicago where I saw the Mekons' acoustic set at Martyr's. The lineup for the evening was Jon, Sally, Tom, and Rico; Jessica Billey (who also filled in on their 25th anniversary tour) on violin, and someone named Fred filling in on a very very quiet (inaudible) drum set on a few songs.
The set was fun, goofy, and fairly casual...for almost the entire show the entire band was sitting down. Jon said they originally had planned to stand up, but then realized they couldn't play the songs that way...they played alot of older material from "Quality", and also a few other very old chestnuts--I don't believe I've ever seen them play "This Sporting Life", not even on the 25th Anniversary tour. Other highlights of the show: Rico playing one of those cute little "thumb organ" things on more than a few songs (I don't know what the instrument is actually called, although they mentioned its name); Sally playing what looked like an old suitcase for percussion on "This Sporting Life" (Jon said that yesterday they had all gone out and spent some 'Mekons Money' on new instruments); Sally playfully playing the drumset during "Fletcher Christian"; Tom getting up and disco dancing on a chair during the end of the same song; and the mention
that they're recording a new album!
Following is an unspecific list of the songs played...it's completely out of order, and I may have missed one song as I arrived at 7:45 and (surprise!) the show had actually started promptly at 7:30.
setlist:
Neglect
Respect
What
Corporal Chalkie
Work All Week [w/Fred Armisen]
Orpheus
Lone Pilgrim
Tina [w/Fred]
Beaten & Broken
Cast No Shadows
Bomb
This Sporting Life
Millionaire
Rosanne [w/Fred]
Lonely & Wet [w/Fred]
Hard to Be Human [w/Fred]
The Curse [w/Fred]
encore:
Powers & Horror
Take His Name in Vain
(Sometimes I Feel Like) Fletcher Christian
Wild & Blue
Lost Highway [Sally drums]
Last Dance
Cheers!
Juan
What Sally played appeared to be a Shruti Box (Indian), and yes, Rico did have a small thumb piano (African).
"Fred" was Fred Armisen on the snare drum, whom you'll remember from before -- Sally, SNL, and he opened for the Mekons when they played the Double Door a couple of years ago.
And yes, they did start with a very low-key "Neglect."
I'll upload some photos later today, although they didn't come out too well because of the low lighting + the fact that they were sitting down (obscured by a slew of mic stands and such)...
-m*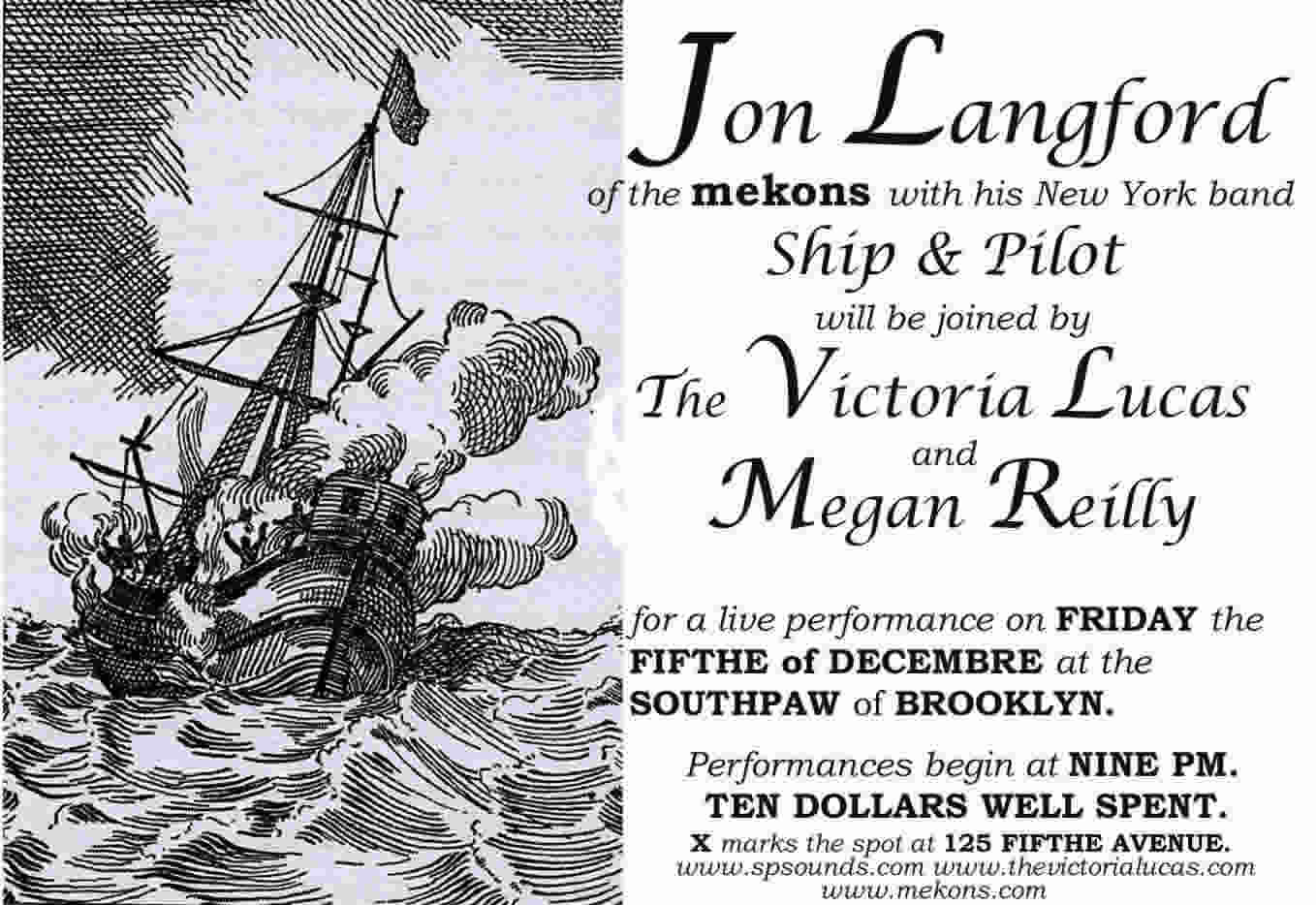 Jon Langford: Dec 5th: Southpaw, Brooklyn w/Ship and Pilot
Show will be/is available online
Fortunately, the snow let up for the evening. It had been snowing huge
sticky flakes all day yesterday, and the forecast was for blizzard
conditions today, but last night there was a break for a few hours,
allowing a small but dedicated crowd to crunch our way to Southpaw in
Brooklyn to see Jon Langford's Ship and Pilot.
Megan Reilly opened - I think I'm on record on this list as not being a big fan of her music (sorry, Steve), so I missed most of her set. Next up, though, was a band I'd made sure to show up to see: the Victoria Lucas, featuring Club Mekon's own Juan on guitar and lead vocals. One song in, I was prepared to write them off as a decent-but-unexciting punky indie-rock band; by the time they got around to their country-punk yodeling cover of a Shakespeare sonnet two songs later, I was won over. They rocked, they were sweetly goofy, they sounded like they'd put in more than their share of time listening to "Abernant 84/85," and they had a song about George W. called "Cowboy of Death" - what's not to like?
I'd never seen Ship and Pilot before - I'd managed to miss their two previous shows here - but all discussion of their set must begin with Jon's facial hair. Chicago's favorite Welshman was sporting a cleanshaven look, which (in the words of sometime Club Mekoner Courtney) "makes him look 10 years younger." Overall, in fact, he was looking remarkably trim for a man of his years and alcoholic intake - I don't know whether it's moving house or a new diet or the kung-fu training the band's been getting from violinist Jean Cook (don't ask), but something obviously agrees with him.
And I don't know whether to credit Jon's fitness or the band (the aforementioned Jean Cook, Little Willy on drums, and Tony Maimone on bass) or the fact that he had a plane to catch in the morning, but they turned in an extraordinarily tight, focused set for a Jon Langford show - 18 songs in 75 minutes, which has got to be some sort of record. There was lots of Skull Orchard material, a smattering of new songs (though no "Verdun" or "Green Valleys" or "Little Bit of Help," some of my favorites of his unreleased stuff), and the welcome appearance of both "Big Eye" and "Big Zombie." Jean's violin and vocals helped bring new life to the songs, Steve was simply out of his head (in the best sense), and Tony Maimone continued to unnerve me with his resemblance to the guy who plays Tony
Shalhoub's psychiatrist on Monk.
Setlist:
The Last Fair Deal
Over the Cliff
The Country Is Young
I Am the Law
Youghal
Anything Can Happen
Tubby Brothers
Homburg
Millionaire
Joshua Gone Barbados
Deep Sea Diver
Tom Jones Levitation
Walking on Hell's Roof
Nashville Radio
Sentimental Marching Song
ENCORE:
Buy It Now
Big Eye
Big Zombie
Ah, rock 'n' roll.
Neil
-------------
First off, thanks for the kind words about my band Neil. It's a little nervous to not only be playing for one of your heroes, but also for your community,
you know? Secondly, I'd love to get your recording of whatever you got of our set...email me of list, if you like. Nice to finally meet such a prominent 'clubber.
Thirdly, Ship & Pilot was on fire last night. When I saw their set at Galapagos a little while ago, they turned a respectable, good, although a little tame,
set. Tame is something you never expect from a Mekon...Having said that, last night they were wild, and, well, like I said--on fire.
Highlights for me:
*Definitely their encore of 'Big Zombie'. Doesn't get more fantastic than that.
*All of the material from Skull Orchard, but especially 'Tubby Brothers'--it hit in a point in the set right where you might have been losing a little interest, but then just slapped you in the face and woke you up. Wish they played 'Butter Song', though.Love that one.

*Definitely, definitely the resurrection of 'Big Eye', probably my favorite Killer Shrews track. I had fun talking to Tony about that project back stage before
hand, and laughed when I heard them play it...
One classic moment I got to see that I wish everyone else had:
The soundman's dog was running around the club during soundcheck, being curious, getting in things, etc When Jon soundchecked 'Over the Cliff', the dog got up
on stage in front of Jon and started looking up at him--so of course he began to serenade rover. Hitting the verse (might've been improvised) when Jon begins
w/ 'Fido' was cute sung to the dog--who then got really into it began howling on the stage on along to the music.
Overall a fantastic night. All of us were very nervous no one would show up due to the snow--we're ALL of us who played that night so grateful to those
who did make it (at 9PM or so the club was EMPTY! Jon was like, "Do you have 50 or so friends you could call?")
Thanks to all, and a big thanks from me to Jon, Tony, Steve, & Jean for having us.
Cheers
Juan
---
norbert.knape (at) ewetel.net