About some Liverpools Scene Members: Adrian Henri
---
1st interview with Adrian Henri, 2nd interview with Adrian Henri, Poems, Paintings
---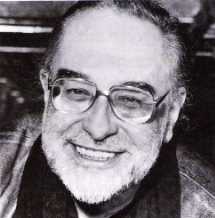 Adrian Henri was born in Birkenhead, Cheshire in 1932.

He studied at Durham University where, in 1955, he received a degree in Fine Arts.
A poet and an artist, he made an important contribution to the dynamic artistic life of Liverpool in the 1960s. He was one of the Liverpool poets, with Brian Patten and Roger McGough. In 1963 he was one of the founding members (with McGough, John Gorman and Mike McCartney) of the musical group that became the Scaffold, which went on to record many singles, several of which were hits.
In 1967, he founded the poetry/rock group Liverpool Scene and, in 1973, he was a founding member of the Grimms which presented a mixture of poetry and songs, recording several albums.

Publications of his poetry include Tonight at Noon (1968) and City (1969). He is also a successful artist and was, from 1972-81, president of the Liverpool Academy of Arts.
He has exhibited paintings both nationally and internationally; his first major London exhibition was held at the Intitute of Contemporary Arts in 1968, and he was awarded the £2000 John Moores prize for painting in 1972.
Two LPs of Henri reading his own work are available from Counterpoint Records.

Adrian Henri died December 21 2000

Books
Tonight at Noon
1968
City
1969
Autobiography
1971
I Want
1972
Environments and Happenings
1974
The Best of Henri
1975 Jonathan Cape


---

Another Biography:
(Birkenhead, 1932) got the nickname `The honorary Dutchman' by C. Buddingh' many years back. Not only because of his frequent participation in Poetry International, but mainly because of the quality of his participations: heartwarming, stimulating and versatile. He studied at Durham University and became a teacher and lecturer at Manchester's and Liverpool's Academies of Visual Arts, a.o.

The Mersey Sound (1967) was the very first collection of poems by himself, Roger McGough and Brian Patten; its total printrun exceeded a quarter million copies. The three poets were part of the 1960s `pop poetry' movement and as such they introduced new forms and styles. They transposed poetry from the bookshelves to the streets. From 1967 to 1970 Adrian Henri was leader of the poetry/rock group `Liverpool Scene'.

Apart from poems he wrote children's books, a novel (with Nell Dunn) and television and stage plays. He also made his mark as a visual artist and combined his writing with his painting. This obviously influenced his poetry - as is evident from the many concrete, virtually tangible images in his poems.

Adrian Henri considers himself an autobiographical poet. In his collection Autobiography (1971) he looks back at the initial 35 years of his life. Love poems took up most of his early work; later on the themes shifted to town and landscapes and the language became more plain. Collected Poems (1986) is a compilation of his first seven collections.

Adrian Henri has always wanted to express himself in present-day idiom. To him the modern poet ought to communicate with as wide an audience as possible while continuing to write real poetry. This also applies to his latest collection so far: Not Fade Away (1994) in which many of his memories are described in a variety of ways. Whether his subject matter is Elvis Presley, André Breton, Debussy or Mies Bouhuys, a teenage mother or the fate of courting couples in Bosnia, his poems remain warm and personal.
---