About some Liverpools Scene Members: Andy Roberts // under constructure
Andy Roberts: Vocal, Guitar, Dulcimer, Bouzouki, Mandolin, Bodhran
Born in Harrow, Middlesex, on 12 June 1946, made his first appearance as a guitarist at the Edinburgh Festival 1965 when he participated in a night revue of the Dublin Trinity College at the Traverse Theatre. That same year he met a number of Liverpudlian poets during the poetry afternoons in the Traverse before commencing his law studies at Liverpool University. He kept in touch with those musicians and poets and instead of entering the legal profession on obtaining his doctorate in 1968, he became a career musician.
At the end of 1973 Adrian Mitchell asked him to rewrite the music for a new staging of his musical Mind Your Head. This triggered off a closer engagement with the theatre and subsequently with television and film. Eventually he joined Pink Floyd as second guitarist and played in their rendering of their `epic' The Wall both in West Germany and at London's Earl's Court.
His skills as a composer were in demand as well; he provided the score of the BBC tv-series Thin Air and of Adrian Henri's new translation of the Wakefield Mystery Plays.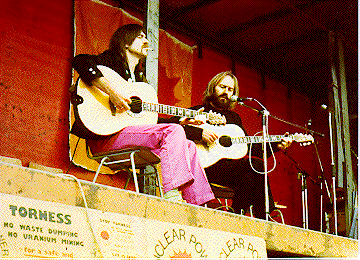 Multi-instrumentalist, Andy has since recorded or performed with Pink Floyd, Cat Stevens, Monty Python, The Bonzo Dog Band, Grimms, Roy Harper, Billy Connolly, The Albion Band, The Hank Wangford Band, Rolf Harris and Twiggy (again!). He has composed for theatre (Cloud Nine, Bent), TV (The Men's Room, Z Cars) and scored numerous films (Priest, Mad Love Face)

(on the left) Andy Roberts with Roy Harper, at The Meadows in Edinburgh, Scotland, on Sept. 15, 1979
The event was an anti-nuclear protest against the construction of a new atomic power station on the coast a few miles to the east
We came;
We protested;
We departed;
They built the power station anyway.
From: The Best of Andy Roberts (by John Tobler 191)
without permission but with apreciation from my side

Andy Roberts has been a professional musician since the late 1960's, and continues to work variously for both incidental and upfront music and as a vocalist and guitarist with a number of acts. For example he composed the music for the headline-grabbing TV series 'The Men's Room', recently toured as a duo with Ian Matthews (ex-Fairport Convention and erstwhile leader of chart-topping Matthews Southern Comfort) and is currently (1991!) engaged in a theatre tour with Neil Innes (ex-Bonzo Dog band and The Rutles etc.), playing, in his own words 'guitar and a little girl', but these are just a few entries in his CV.
This compilation is compiled from three albums which were originally released in 1971 (although Roberts himself is surprised to discover that they came out in such a close proximity), 'Home Grown', 'Everyone' and 'Nina and the Dream Tree'. Among the musicians assisting him on various tracks are, among others, the legendary Zoot Money on keyboards, guitarist Tim Renwick (who has worked with Eric Clapton and Pink Floyd) and the afforementioned Matthews, who at the time spelt his first name with a single 'i'. While this is hardly the place for a complete retrospective on Andy Roberts, the events which led to these albums being recorded should certainly be of interest.
Roberts was born in Hatch End (near Harrow) just after the end of the Second World War, and lived for the early part of his life in Stanmore, Middlesex. His father was a lawyer with the Post Office, while his mother actually worked at No. 10, Downing Street, during Stanley Baldwin's Prime Ministership, and was there during the 1936 abdiction crisis involving the then King Edward V III and Mrs. Simpson.
The young Roberts displayed an interest in music, winning a violin scholarship to Felsted school, and also revealing a talent as a guitarist. back in London after leaving school, and still a teenager (just), he was asked by the brother of a drummer in his school group to write and perform original music for a theatrical production to be staged at the 1965 Edinbourgh Festival - the brother was Max Staffored-Clarke, who later became artistic director at London's celebrated Royal Court Theatre, where Roberts worked on numerous productions during the 1980s. Of more specific interest, the season in Edinbourgh was the first time Roberts mets everal notable Liverpool poets, including Roger McGough and Adrian Henry, with whom he would subsequently continue to work sporadically, and with whom he made his first album in 1967.
Roberts continued his education, opting to go to Liverpool University in preference to several other seats of learning simply because he felt that he would be able to pursue music as well as studying for a law degreee, which he did complete, to become one of the few singer/songwriter/guitarists entitled to use the letters LL.B after his name (although he has never practised as a lawyer). On his first day in Liverpool, he ran into Roger McGough, and was soon the lone accompanist for Scaffolf, the hitmaking trio of McGough, Mike McGear (McCartney) and John Gorman, in mixed media performances of poetry and music. Before long, he was writing musical settings for poems by McGough and Henri, and as a trio, they made an album 'The Incredible New Liverpool Scene', in 1967 for CBS, after which point they became known simply as the Liverpool Scene.
When McGough moved on, the empasis moved closer to music as well as poetry as the group expanded to include a rhythm section and embraced two more writers, one of whom played saxophone. They made three more albums as well as touring the US (quite an achievement for a band which achieved little more than cult status). Liverpool Scene were also championed by John Peel, whom Roberts had met previously after becoming a fan of the disc jockey's 'perfumed garden' pirate radio show. Peel would apparently only accept bookings for personal appearances if one of his favourite acts (at the time including Principal Edwards Magic Theatre, Tyrannosaurus Rex and Liverpool Scene) was also booked. Liverpools Scene's agents were Terry Ellis & Chris Wright, who subsequently lauchned Chrysalis Records, a leading independent label until it was aquired by EMI for a small fortune in late 1991. Roberts recalls that with Peel pushing for them on one side, and the Crysalis founders on the other, getting live work (which was propbably where they excelled more than on record) wsa never a problem for Liverpool Scene, who sometimes played 28 gigs (mainly on the collage circuits) per month.
In 1970, Andy Roberts was invited to make a solo album, an offer he accepted with alacrity as the American tour had called the group's futrther existence into question. This album was 'Home Grown', whose title track was banned by BFBS, a BBC-like broadcasting organisation, who felt it glorified marijuana (which Roberts today denies). The album was produced by Sandy Roberton, who hired the rhythm section from a respected group of the time time, Mighty Baby, plus pedal star Gordon Huntley, as well as Mac & Kathy Kissoon. The 'Home Gronw' album featured a cover version, of American folk/blues revivalist 'Spider' John Koerner's 'Creepy John', as Roberts was a big fan of Koerner, but the other tracks were all his own compositions. The lady referred to in 'Queen of the moonlight world' was a member of female trio Thundethighs, whith whom Roberts visited Lonbdon Zoo, where they saw a building known as Mooonlight world containing nocturnal animals, while 'Moths and lizzrads in Detroit' is a bizarre memory of the US tour by Liverpool Scene (which was still just about functioning as 'Home grown' was recorded).
Soon afterweards, as the group finally fell apart, Roberts moved back to London, where he began workin with bass player David Richards, who had played on some tracks on 'Home Grown', plus drummer John Pearson, Newcastle-based guitarist John Porter and Bob Sargeant, a keyboard player whom Andy never had met before, but who was strongly recommended by one of the other members. This became Andy Roberts & Everyone, although Roberts was certainly the group's leader. However, he recalls (and the 'Everyone'-album confirms) that Sargeant, who contributed three songs to the album which he also sang, was operating in a different musical style from Roberts to the point where Everyone seemed two different bands with the same personel. Of the tracks by Roberts from the album, 'Don't get me wrong' was written about the Kent State student riot during which four students were killed by the National Guard, which had been sent by President Nixon in an ill-judged attempt to restore law and order. Neil Young's somewhat better known 'Ohio' was written about the same occurance... 'Sitting on a rock' was a memory of just that, with a girl he met on a tour of Norway in Liverpool Scene days, and 'Radio Lady' was inspired by a girl from New York who worked for the American label to which Liverpool Scene was signed.
Everyone (the group) fell apart very soon after completing the album, when Paul Scard, one of the band's roadies, was killed in a tragic accident while driving backfrom Southhampton. Roberts, who felt somewhat responsible for the accident as Scard was partly on band's business, decided to stop performing, and was introduced by Paul Samwell-Smith (an original Yardbird and latterly a successful producer for Cat Stevens, Carly Simon etc.) to Ian Matthews. Roberts was invited to contribute to an album Matthews was about to record, 'If you saw thru my eyes', also working on other Matthews projects like 'Tigers will survive' and 'Journeys from gospel oak', while Matthews in return helped on the third Roberts album, 'Nina and the dream tree'. Roberts considers this his best work of the time, especially the 15 minute plus epic, 'Dream Tree sequence', certainly a considerable achievement and an obligatory inclusion on any Roberts collection.
The album, which featured Matthews, Dave Richards, Zoot Koerner song 'Good time Charlie' as well as string of songs written about and for Polly James, one of TV's 'Liver Birds', whom Roberts knew as a friend. 'Keep my children warm', 'I've seen the movie' and the '25 hours' medley all come in this category.
Soon after 'Nina and the dream tree' was released, Roberts returned to live work for a 10 week US tour by Ian Matthews, whose backup band also included Richard Thompson, with whom Roberts shared hotel rooms for the whole tour. He played on a track of Thompson's 'henry the human fly' album, 'Poor ditching boy' and then joined Matthews, Dave Richards and Bob Ronga, an American, in Plainsong, a group which sadly fell apart after a single album, although in 1991, Roberts and Matthews have reformed Plainsong with the addition of bass player Mark Griffiths.
That's a digest of what Andy Roberts did up to about 1972. His musical adventures have taken several new courses subsequently - he was an auxiliary member of Pink Floyd for 13 dates of their tour promoting 'The Wall' (replacing Snowy White, who had joined Thin Lizzy), and wrote the music for a play which flopped on Broadway, closing after only 11 performances despite its cast including Carrie Fisher, with whom Roberts is still on friendly terms, and Glenn Close. For five years, until 1984, he was a member of the Hank Wangford Band, led by singing-gynaecologist Sam Butt - everyone in the band had a pseudonym, and Roberts was re-christianed Brad Breath. Roberts led his own band, the Tex Maniax, in the later 1980s, and was a member of the cast of Eric Idle's comedy TV series, 'Rutland weekend televison' which of course, led to the Rutles, the brilliant spoof TV documentary about a group rather like the Beatles). Roberts also worked with Roy Harper for a couple of critically-appreciated albums, 'Bullinamingvase' and 'Unknown soldier', during the later 1970's, a decade in which he himself made two more solo albums, 'Urban cowboy' and 'Andy Roberts and the Great Stampede'. His latest album 'Loose connections', a film soundtrack, was released on Virgin in 1984, since when he has worked in theatre and televion as well as on numerous recordings by a wide variety of performers. While it would seem logical to label Andy Roberts perhaps the ultimate journeyman musician, such a description suggests that is talent was merely average - this album, despite containing material recorded over 20 years ago, is clear proof that both his talent and his ability are, if anything, extraordinary.
John Tobler, 1991



Discography Andy Roberts:
1) NINA AND THE DREAM TREE (Pegasus PEG 5) 1971 SC
2) Homegrown, RCA Victor 1970 (RCA SF 8086)
3) Everyone 1971
3) URBAN COWBOY (Elektra K 42139) 1973
4).. AND THE GREAT STAMPEDE (Elektra K 42151) 1973
5) ANDY ROBERTS (Charisma CS 6) 1973
6) The best of Andy Roberts, Mooncrest Records 1992 (Crest CD 014)
(NB: (2) also reissued on (B&C; CAS 1034) 1971 SC. (2) also released on Ampex in the USA, but with only eight tracks. There's also a CD, Best Of Andy Roberts (Mooncrest CRESTCD 014) 1992)
45s:
Baby Baby/All Around My Grandmother's Floor (Elektra K 12109) 1973
53 Miles From Spanish Town/Clowns On The Road
GRIMMS: Rockin Duck, Island 1973 (ILPS.9248) (with Andy Roberts, Roger McGough, Mike MCGear, Brian Patten and others)
I know there are more solo LPs by Andy Roberts (and Plainsong), but I just couldn't track them down. There are others, where he played guitar, especially the great Bullinaminghvase by Roy Harper. I saw him perform with Roy in Berlin in 1978. He wore a T-shirt saying Bobby and the Helmets, which you'll understand if you know Bread On The Night.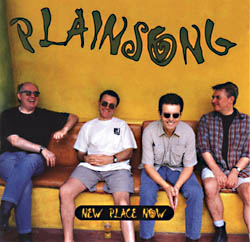 Plainsong
Plainsong was formed in 1971 by Iain Matthews and Andy Roberts. Following the release of their classic LP "In Search Of Amelia Earhart" the group toured extensively and then set about recording a second album. Before these sessions were completed the band disintegrated in less than a year. Plainsong had been born, made an indelible mark on musical history and then disappeared.
Fast forward twenty years: Iain and Andy decide that the time is right to revive Plainsong and recruit Mark Griffiths and Julian Dawson. This quartet released three albums from 1992 to 1996 and whilst touring to promote these recordings, built up a strong following: a combination of devotees of the original line-up, fans of solo projects by group members and people hearing Plainsong for the first time.
As 1996 drew to a close, Julian left the band to concentrate on his solo career. His replacement is Clive Gregson - and so to Plainsong, 1999:
CLIVE GREGSON - Vocal, Guitars, Mandolin
Originally from Manchester, now resident in Nashville. Founder of Stiff Records band Any Trouble, longtime member of the Richard Thompson Band, half of classic folk-rock duo Gregson & Collister and solo singer/songwriter. A multi-instrumentalist, Clive's songs have been recorded by Kim Carnes, Fairport Convention and Smokie.
MARK GRIFFITHS - Vocal, Bass, Guitar
A native of Northampton, Mark was in the original line-up of Matthews Southern Comfort. A virtuoso multi-instrumentalist, Mark has graced recordings and performances by David Essex, Al Stewart, Gallagher & Lyle, The Everly Brothers, The Shadows, Sonny Curtis, Deniece Williams, Dobie Gray, Jeff Lynne, Mark Knopfler and Cliff Richard. He asked us not to mention The Nolans and Twiggy!
IAIN MATTHEWS - Vocal, Guitar
A founder member of Fairport Convention, Iain featured on their first three ground-breaking albums. He then formed Matthews Southern Comfort: three albums and a no. 1 UK hit ("Woodstock") later, Iain embarked on a solo career which has produced over twenty albums, a US Top 20 single ("Shake It") and a catalogue of first rate songs. Iain is one of contemporary music's finest singers.
ANDY ROBERTS
---
DISCOGRAPHY:
In Search Of Amelia Earhart 1972
And That's That (demos from 1972)
Dark side of the room, Line Records 1992 (LICD 9.01247)
Plainsong: Voices Electric, Line Reciords 1994 (LICD 9.01288)
Plainsong: Sister Flute, Line Records 1996 (LICD 9.01329)
Live In Austria (4 song CD) 1997
On Air (BBC Radio sessions from 1972) 1997
New Place Now (Spin Along Records SPACD 001) 1999
Some (but not the) Andy Roberts homepage


Plainsong
And That's That
(The Demos)


Taxim
catalog-no. tx 2002
rock - 1992

lineup
track list
Legendary "lost tapes" of Plainsong's never-completed second album from 1972. Founding members Iain Matthews and Andy Roberts contributed four additional and previously unreleased live tracks, many unpublished photos and a complete band history to this release.
"It's all put together with a welcome degree of care and forethought, the sound reproduction is superb and fans will be delighted."
BUCKETFUL OF BRAINS

---
lineup
Iain Matthews - acoustic guitar, percussion, vocals

David Richards - piano, bass, vocals

Andy Roberts - acoustic guitar, dulcimer, vocals

---
track listing
Home (Matthews) 3:34

Save Your Sorrows (Matthews) 2:20

Nobody's Eats At Linebaugh's Anymore (Hartford) 4:05

Miss The Mississippi And You (Halley) 2:49

Urban Cowboy (Roberts) 3:40

Old Man At The Mill (Trad./Arr. Matthews & Roberts 2:31

Goodnight-Loving Trail (Philips) 4:37

First Girl I Loved (Hartford) 4:01

Bold Marauder (Farina) 4:04

All Around My Grandmother's Floor (Evans/Roberts) 3:08

That's All It Could Amount To (Matthews) 1:18

Nobody Eats At Linebaugh's Anymore (Hartford) 3:57

Home (Matthews) 3:56

Old Man At The Mill/Charlie (Trad./Arr. Matthews & Roberts 4:16)

Bold Marauder (Farina) 5:45