The Liverpool Scene
I just put this on, because LS did 3 VERY good albums in the 60's and it's a pity that they seem forgotten.
---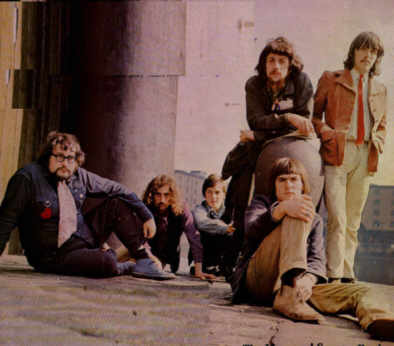 I first heard the Liverpool Scene, when they did poetry readings for John Peel on his weekly show on BFBS in Germany in 1968. They still are one of my favorite bands and in my view one of the best bands rock has ever seen.
In the late 60s/early 70s there were a number of recordings available under the generic title of The Liverpool Scene. Key members were: Adrian Henry, Andy Roberts, Mike Hart and Mike Evans.
The Liverpool Scene was the title of a poetry book in 1967, published in London and bringing to the public the works of Roger McGough, Brian Patten and Adrian Henry (nowadays better known as an artist).
These three poets had gathered a growing following in the early 60's by often reading their poems in places like Steates Coffee Bar, O'Connors' Tavern and the Everyman Theatre. When the nation got aware of the existence of Liverpool (by way of the Beatles) these poets started to sell their books in growing piles, especially since the aformentioned book was released with an LP. Allen Ginsberg had said, the Scene was the conscious center of the human universe.
The record became the link to pop. Much of this new poetry was influenced by popsongs and therefore it was a logical step, when the poets joined the musicians.
The first to do this was Roger McGough along with Scaffold. Next step was a penguin book (The Mersey Sound) featuring Henri, McGough and Patten. Roger McGough saw it this way:The kids didn't see this poetry with a capital p, they understood it as modern entertainment, as part of the pop-movement.
During the summer of love 1967 the nucleus of Liverpool Scene was Mike Evans (sax - formerly with the Clayton Squares), Mike Hart (g), who were without regular bands, Adrian Henry (voc.), who gave lessons at an art school, Brian Patten ( voc) and Andy Roberts (g), another member of the Clayton Squares. They lived just above O'Connor's Tavern, where they held their regular Tuesday-sessions. After an increasing importance of they were joined by Percy Jones (bs) and Brian Dodson (dr).

Liverpool dj John Peel (then with pirate radio station Radio London), became aware of the Liverpool Scene and started to support them. He produced the first LP in 1968, which didn't sell very well despite the promotion through John Peel.
Mike Hart left after this album and started a solo career. In the summer of 1969, during a tour where they opened for Led Zeppelin, they lost Brian Dodson, who had to go to hospital because of tuberculosis. Although they found another good drumer with Pete Clark (formerly Escorts), the inner chemistry of the group was disturbed.

The second LP, still done with Dodson, had the same fate as the first. By the end of 1969 the band went to the USA, but the tour was a financial disaster. They used their impressions of the USA by doing the 3rd lp, called St. Adrian & Co., Broadway and 3rd. The pressure of one night stands and financial problems brought the band to a halt. Now ever often individuals of the band did their own thing.

In summer 1970 Mike Evans and Percy Jones left the Scene, to set up the jazz-rock-band Highly Inflammable. This was the end of Liverpool Scene. Adrian Henri went solo too, joined by Andy Roberts every now and then. With the retreat from the rock circuit they lost contact with the other musicians and with the audience as well. Poetry was written with a capital p again.

In 1972 there was a serious attempt to create something similar with the new band GRIMMS (Gorman-Roberts-Innes-McGough-McGear). Liverpool Scene recorded at least 4 albums. I have 4 of them, the ones I have are:
Discography:
Re-release: Amazing adventures/Bread on the night on: www.bgo-records.com


Incredible New Liverpool Scene
Songs:
Knees Down Mother Brown
I Say, I Say, I Say
For You Everything's Going To Be Alright
My Johny Joined the Army
Let Me Die a Young Man's Death
The New >Oir Times< (poem)
Adrian Henrišs Talking After Christmas Blues
Don't Worry Everything's Going To Be Alright
Classroom Blues
Tonight at Noon
Love Is
In the Midnight Hour
The Day Before Yesterday
Mother Theres a Strange Man
At Linchtime: A Story of Love
Mrs. Albion You:ve Got a Lovley Daughter
Car Crash Blues
Adrian Henrišs Last Will and Testiment

Amazing Adventures of Songs:

Tramcar To Frankenstein

Che Guevara

Gliders and Parks

Burdock River Run

Che Guevara

Universes

Batpoem

Che Guevara

Percy Parslow`s hamster farm

Happy Burial Blues

Palms

Che Guevara

Love Story

RCA Victor LSP-4189

Produced by John Peel

Copyright 1969

Line Up:
Andy Roberts, Vocal Guitar
Adrian Henri, Poet
Mike Evans, Vocal, Guitar
Mike Hart, Vocal, Guitar
Percy Jones, Bass
Brian Dodson, Drums

Material is written by various group members, mainly Adrian Henri

Bread on the night

RCA Victor SF 8057
Songs:
The day we danced at the dole
The Raven
GBS Blues
The entry of Christ into Liverpool
64
Come into the perfumed garden Maud
See the conkering heroine comes
Winter poem
I've got those Fleetwood Mac Chicken Shack John Mayall can't fail blues

Copyright 1969
Line Up:
Adrian Henri Vocals
Andy Roberts Voc, guitars, accordion, harmonica, penny whistle
Mike Evans Vocals, tenor, alto
Brian Dodson Drums
Percy Jones Bass, harmonica

Material is mainly written by Mike, Adrian and Andy.


St. Adrian & Co., Broadway and 3rd
Songs:
Made in UA
Human tapeworm
Night song
Bomb commercials
Colours
Baby

RCA SF8100
Copyright 1970

Line Up:
Andy Roberts, Vocal Guitar
Adrian Henri, Poet
Mike Evans, Vocal, Guitar

Pete Clarke, Drums

Material is written by various group members, mainly Adrian Henri

Side 2 was recorded live at the Airport Lounge, University of Warwickon October 1, 1970
PLUS:
Heirloon, RCA SF8134, 1970
The Official post break-up 'Best of' album, comprising of material already recorded and in the archive. Contains Adrian's beautiful poem 'Love is'.
Recollections, Charisma CS3, 1972
'Recollections' was a later 'Best - of' album on Charisma.
The Liverpool Scene featuring Adrian Henri & Andy Roberts, Polydor 2310055, 1972
A 'Best - of' featuring some of the best of the Liverpool Scene and a couple of Andy's solo songs.
There is also at least one single: Love Is/Woo-Woo
---
MORE LINKS
Scaffold
---
Some newer information I got on March 22, 2000:

Last year, Adrian Henri had a stroke and nearly died. Last night I went to a
benefit concert for him at the Philharmonic Hall in Liverpool.  Andy Roberts
played a brilliant, bluesy, solo version of 64. Neil Innes played some
numbers and Tom Robinson left his sick bed to perform. George Melly sang
three songs (always brilliant). Roger McGough and Brian Patten red poems.
Scaffold  reformed and sang ' Thank U Very Much for Adrian Henri'. Liverpool
playwrights Willy Russell and Alan Bleasedale did readings along with Carol
Ann Duffy and another poet I don't remember the name of.

At the very end, Adrian was wheeled to the front of the audertorium and
slowly, painfully mounted the steps walked onto the stage. He barely managed
to speak but read 'Love Is). He received a standing ovation. We all
remembered the rotund, long haired, bearded poet who gave us such pleasure
whether reading his poems or fronting Liverpool Scene. It was an intensely
moving moment and I was glad to be there.

I am telling you this because I know you have enjoyed Adrian Henri and
Liverpool Scene also. I have not yet been able to locate any of their
records on CD but I will keep looking.

mel bevan
---
Back to my main page.