Artists Unite
By Peter Margasak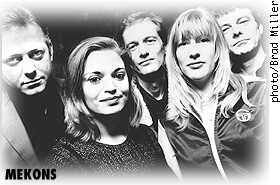 Pushing to a logical extreme the artistic collectivism that marked the Mekons' emergence from the English punk-rock explosion of 1977, Mekons United combines into a single artifact writings, art, and music produced by the group and some of its supporters. Ostensibly the catalog for an exhibition of artwork produced by various band members, curated by and currently showing at the Polk Museum of Art in Lakeland, Florida, the book-and-CD package, which arrives in stores on July 9 carrying a hefty $42.95 list price, nevertheless stands on its own as a testament to the band's prolific and intriguing output over the last two decades.
The lavish 200-page volume includes full-color reproductions of paintings and collages by Jon Langford, Tom Greenhalgh, Rico Bell, and Kevin Lycett,excerpts from Living in Sin, the band's bawdy, collaborative novel-in-progress, and various work related to the band by Greil Marcus, Vito Acconci, Lester Bangs, and Terry Atkinson among others. Similarly, the accompanying CD contains a sprawling 70-minute-plus hodgepodge of unrefined recordings, revealing both the band's pop impulses and more noisy, experimental sides. While the work may be titled United, it's anything but unified. The book is (dis)organized so that academia, art criticism, and pop culture overlap haphazardly. Langford says, "I like that the book flies off in a lot of different directions, because that's what the band has been like over the years." Indeed, the Mekons' strange combination of politics, art, and hedonism often seems disjointed, and as Colin Stewart writes in the book, "The Mekons may like to come over in interviews as all thought out and so on but I think a lot of it is operating on an entirely different level" and "I would call it intuition." Somehow, though, the group's work consistently coheres and takes on substantive meaning in the end. Since moving to Chicago from England five years ago, Langford has shown his distinctive work in local galleries--as part of several group shows at the now-defunct World Tattoo Gallery and at the Eastwick Art Gallery, where earlier this year he had a one-man exhibit. The idea for the Polk Museum retrospective was launched during a gig the band had in Tampa in 1994. The exhibit, which opened April 27 and closes July 28, will travel to Leeds and London next year, and discussions are under way to have it visit several U.S. cities.
While the band's songwriting has always been credited collectively to the Mekons, it's strange to find the art in the exhibit similarly attributed. Langford says, "I think it acknowledges that while it may be the work of one hand on a piece of paper, it's actually the product of a lot of discussion and work produced over a long period of time between the members of the band."
The book represents one of several adventurous projects the Mekons are involved with this year. In September in Seattle--following a pair of rehearsal gigs at Lounge Ax and FitzGerald's in August--the band will perform its provocative collaboration with writer Kathy Acker, Pussy, King of the Pirates, a musical companion piece to Acker's novel of the same name. "It's theatrical like a high school play," says Langford. "We all dress up as lesbian pirates."

Reprinted with permission from the Chicago Reader's Music Section.
Copyright (c) 1996 Chicago Reader, Inc.
---
Review from Mojo 37 (December 1996):

One of only a very small number of explicitly revolutionary coffee table books ever published, this exquisitely-presented assemblage of art, essays and music ( a 70-minute CD nestles inside the book cover) was put together for an exhibition of Mekons doings at Florida Polk museum earlier this year.

From the sublime (a painting titled Authorship - My Son Calls Another Man Daddy) to the ridiculous (an 80-page extract from Living In Sin, the Mekons' 'novel in progress') Leeds' most rambunctious émigrés have created something for everyone who ever wondered what Lester Bangs and Greil Marcus ever saw in them. (by Ben Thompson)
---
From Pathetic Music Reviews":
Mekons United [D] (Quarterstick, 1996)
Okay, let's get one thing straight to start with: I love the Mekons, all right? So the fact that their new album just flat-out sucks really bugs me. It comes in a big book which catalogs their recent art exhibit; there's some interesting bits in the book. The record lasts for about seventy-one minutes and for twenty-three tracks. After I made it through, I felt like I'd accomplished something, which is a pretty cruddy way to feel about a record. There are a couple at least listentable songs buried in here somewhere -- "Now We Have the Bomb" and "Disease" come to mind, partly because they have vocals.
Most of the record doesn't, which I think is a lot of the problem -- there are weird dubby little instrumentals and noise collages and noise-jazz interludes and spoken word bits and crowd noise, but very few actual songs.
And yeah, I know the Mekons have messed about the trad rock format at least as far back as The Mekons Story, which I must admit is not my favorite Mekons record either -- i think this is much less coherent, and has fewer good songs, than "Story," but maybe if that was your fave this one would be worth a go.
I also don't know how much the Mekons consider this a "proper" album and how much they are laughing up their sleeves at well-heeled gallery goers who fork over forty bucks or more to buy the book -- which definitely spends a lot of time laughing up its sleeve.
It doesn't really matter though, 'cause this is one disc that's not going to be doing a lot of time in my player, whether i get the joke or not.
For a typically odd mekons experience in an atypical mekons www format, click here.

---