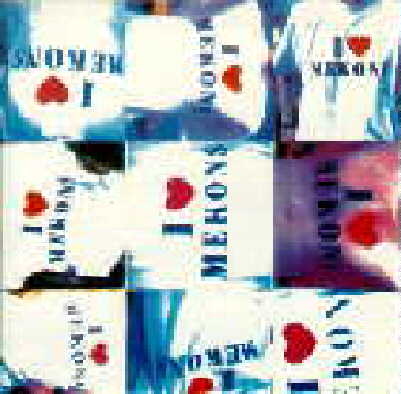 I Love Mekons
The Mekons
Reviews.
SONGS
Notes
1993 - CD on Quarterstick/Touch and Go (USA) (QS19)
1993 - CD on Rough Trade (Germany) (RTD 159.1709.2)

---
LINE-UP:
Producer Tom Greenhalgh

Jon Langford

Bass Sarah "Casanova" Corina

Drums John "Lovely" Langley

Engineer PK

Paul "Toyboy" Tippler

Guy Crackers

Guitar Jon "Don Juan" Langford

Tom "Cat" Greenhalgh

Vocals Sally "Bunny" Timms

Jon "Don Juan" Langford

Tom "Cat" Greenhalgh

Violin Susie "Honeybaby" Honeyman

Background Vocals Eric "Rico" Bellis

Elie Hollingshead

Melodeon John "Lovely Dubbly" Gill
REVIEWS:
Sixteen years after the precocious punk scramble of Never Been In A Riot and Where Were You, the shifting personnel of anarcho pranksters The Mekons are still at it, nagging at the fringes of rock's fraying carpet and creating a wonderful racket in the process. Reuniting The Mekons from their bases in Chicago, New York and London, this album is a grubby, gilded hybrid of shattered spaced out hillbilly (St.Valentine's Day), transcendent pop (Millionaire), back from the dead punk (I Don't Know), gormless grunge (Special) and alcho-remorse country (LOVE LETTER). Flippant, funny and fond of preternaturally infectious melodies, today's Mekons even find time to sound like Bon Jovi on "Honeymoon In Hell," the lyrics finding the protagonist "dancing naked in the car's headlights underneath the harvest moon".
- Paul Davies
Q, Issue #87 (December 1993)
---
A lot of their fans think Leeds, England's Mekons are the best band in the world. Unfortunately for the band, a much larger group has never even heard of them. Rarely has a worthy band been so cursed with bad distribution. Most of the Mekons' early work, evolving from 1977 to the mid-80's from superabrasive punk to country-rock, was available only on imported albums. Their more recent music, veering back to punk with offshoots into fields like reggae, "art rock" and house, has been available on U.S. record labels, but the label changes with every album. In the past three years, the Mekons have been signed and dropped by four record companies.
Recorded in the summer of 1992 and released in October, I (heart) Mekons finds the band returning to what they do best. Musically the Mekons have returned to cowpunk, albeit a higher tech version of what they were doing in 1985, blending fiddles and electric guitars to create a mix more fascinating than anything coming out of Nashville these days. Lyrically, the songs have departed from anti-music industry/political musings for another stab at the Mekons' greatest theme - the fucked-up things we do to each other in the name of love. Constant touring has really tightened up the group's instrumental prowess, and lead chanteuse Sally Timm's vocals keep getting more and more perfect. If Hank Williams had been born 30 years later, he wouldn't sound like Garth Brooks today. He'd be playing guitar with the Mekons. (Pat Anders)
---
From Rolling Stone online:
Unfashionable survivors of England's safety-pin-and-guitars era, the Mekons have turned contrariness into a career despite 15 years fraught with bad timing, bungled record deals and countless personnel changes. When punk was at its apex, they authored "Never Been in a Riot" in response to the Clash's "White Riot." Long before the Garth Age, the Mekons were drenching their mid-'80s albums in fiddles and twisted honky-tonk. Now in this season of AIDS and virtual sex comes "I Love Mekons," a barbed-wire valentine all the more poignant for the way it confronts and finally rises above its jadedness. "Look into my eyes/All the lovely things will fall together this time," promises Jon Langford on "Wicked Midnite." As he finishes the line, another voice squeals in delight - or is that terror?
The 3 a.m. voices of the band's three singers - Sally Timms' stiletto-edged alto, Tom Greenhalgh's bravely uncertain tenor, Langford's bleary howl - are framed by damaged guitar riffs, the drone of Susie Honeyman's violin and a thrift-shop array of hip-hop loops, dub rhythms and assaultive polkas. The Mekons have become first-rate melodists, but they're not much for formula. For every conventionally structured tune like "Millionaire," there's one like "Too Personal," in which the wordless, melancholy chorus is heard at the outset and then not again until the "Waterloo Sunset"-like fade.
"I Love Mekons" is the work of skeptics who refuse to cave in to cynicism. They see the "narrow snake . . . solid and defined" in the grass ("Dear Sausage") and yet plead with a lover to "lead me into temptation" on the album's finale. Like the band itself, the singer in "Point of No Return" has crawled from the wreckage enough times to know the risk of trying again. It's that knowledge that gives "I Love Mekons" its resonance.