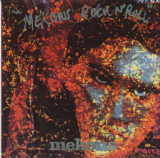 The Mekons:
Rock 'N Roll
Reviews
SONGS
Notes:
1989 - LP on Blast First
1989 - CD on Rough Trade (Germany) (RTDCD 132)
2002 - CD-Rerelase on Collector's choice,
Christgau's linernotes
Produced by The Mekons and Ian Caple. A&M cut "Ring O' Roses", "Heaven and Back" from the U.S. edition; instead, they appear domestically on a pair of promo-only 12"s
"Here's to a band that deals with the facts of life in their 10 short ugly years," carolled The Mekons on 1987's HONKY TONKIN', clocking a decade beginning with the DIY-punk classics "Never Been In A Riot" and "Where Were You" and ending with the third album that showed their mutation into a ragged, renegade country-roots collective who used the emotional and confessional kernel of country music to write eloquent songs of alienation, dispossession and drinking in a Thatcherite society much like The Pogues use Irish folk. THE MEKONS ROCK 'N' ROLL is a typically deceptive title; guitars once again spit and crackle with near-punk aggression, as do Susie Honeyman's violin and Messrs Langford, Greenhalgh and Timms's bucolic voices. But songs like "I Am Crazy," "Amnesia" and "Memphis Egypt" are still country-orientated - only more frayed and frustrated - while beautiful early ballads like "Cocaine Lil" and "Learning To Live On Your Own" sting harder still.
- Martin Aston
Q, Issue #38 (November 1989)
---
Lineup:

Steve Goulding
Tom Greenhalgh
Susie Honeyman
Jon Langford
Sally Timms
Mr. Knee
---