The Mekons:
New York
SONGS
Chicago Introduction
Big Zombie
Trouble Down South
My Body J.F.K. Part One
Slightly South Of The Border
The Story Of Nothing
Tex Rico
Flitcraft At The Iron Horse
Medley:
Moby Dick
Shallow Bourgeois Smile
Dadaist Rhetoric In Boston
Prince Of Darkness
My Body J.F.K. Part 2
Abernant 84/87
Tommy
San Francisco D. J./Audience Participation
I Can't Find My Money
Robert And Steven In The Heartbreak Hotel
Shape I'm In (The Band)
Hard To Be Human
Beaten And Broken At Garage D'Or
Not Long Ago
My Body J.F.K. Part Three
Shanty
My Body In Chicago
Revenge
Sophie
Chivalry
Notes:
1987 - CS on ROIR, US [???]
1990 - CD on ROIR/Important, US [88561-5026-2]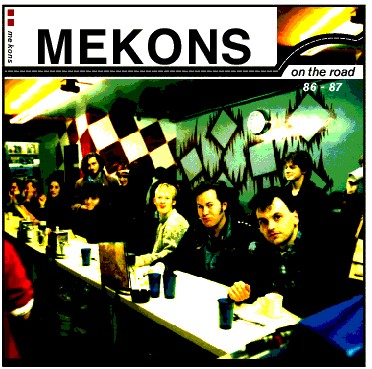 "NEW YORK- ON THE ROAD 86-87"
The Mekons
New ROIR USA CD Release Scheduled for November 30th, 2000
CAT# RUSCD 8269
UPC# 05343-68269-2-8
!The Mekons get more press than the weather! -Mostly from rock critics who love them
But - they do indeed also sell some records!!
Songs & Bits:
1) Chicago Introduction 2) Big Zombie 3) Trouble Down South 4) My Body J.F.K Part I 5) Slightly South of the Border 6) The Story of Nothing 7) Tex Rico 8) Flitcraft at the Iron Horse 9) Moby Dick/Shallow Bourgeois Smile 10) Dadaist Rhetoric in Boston 11) Prince of Darkness W/ MICHELLE SHOCKED 12) My Body J.F.K. Part 2 13) Abernant 84/87 14) Tommy 15) San Francisco D.J./Audience Participation 16) I Can't Find My Money 17) Robert and Steven in The Heartbreak Hotel 18) The Shape I'm In (The Band) 19) Hard To Be Human 20) Beaten and Broken at Garage D'or 21) Not Long Ago (Trad: arranged by Mekons) 22) My Body J.F.K Part 3 23) Shanty 24) My Body in Chicago 25) Revenge 26) Sophie 27) Chivalry
BONUS TRACKS:
28) Where Were You? 29) Never Been In a Riot.
The Players:
Jon Langford: Guitar, Lead Vocals. Tom Green: Guitar, Lead Vocals. Kevin Lycett: Bass, Vocals. Sally Timms: Lead Vocals. Susie Honeyman: Violin. Robert Worby: Casio Keyboards, Vocals. Steven Goulding: Drums. Rico Bell: Accordion, Vocals. Tom Greenhalgh: Vocals, Guitar. Bobby Worby: Little Organ. Ken Lite: Bass, Vocals.
Released by ROIR as cassette-only in 1987 under the title "Mekons New York", this completely remastered CD, with 2 bonus tracks, is a musical sound document of the Mekons 1986 - 1987 road tour of the USA. This recording includes mostly live club date songs, ad libs, vaudeville sound-bytes and back of the van ribaldry and banter. "New York" drew amazing plaudits from the press and fans.
Originally founded in Leeds, UK in 1977 at the same time fellow "townies" Gang Of Four emerged in the punk scene, the Mekons today, after 23 years of trials, tribulations and triumphs have become a prominent cult band with legions of fans and a growing base of international recognition, admiration and commercial attention. They have recorded for Virgin, A & M, Twin Tone, Blast First, CNT, Sin Records, Quarterstick, Rough Trade, Fast and ROIR. It would be hard to find a well-stocked record store that didn't have at least one Mekon record.
Their fans have a community feeling of personal relationship with the band and its members that borders on adoration, a sense of possessiveness and one-to-one bonding. This "cult" is approaching the dimensions of a small but growing loyal army, exponentially expanding, steadily increasing sales of their records!
Lineup:
Jon Langford
Tom Green
Kevin Lycett
Sally Timms
Susie Honeyman
Robert Worby
Steven Goulding
Rico Bell
Michelle Shocked appears on "Prince of Darkness"

>To ROIR From Jon Langford October 5, 2000

"Dear Neil - here are the two tracks we selected (bonus tracks) for the CD re-release. They are noisy, shamblin', drunk 1987 versions of our first two singles back in the dark days of punk rock. Those should be the final tracks on the CD."

(Editors Note: Bonus tracks "Where Were You?" and "Never Been In A Riot" were the bands first singles on Fast Product UK label in 1978. They directly confronted and answered the Clash's "White Riot" and the Sex Pistols "Anarchy In The UK". These tracks are regarded as punk classics by Mekon fans. They are live versions on this CD by the band from 1987.)
---
Here's What The Press Said About The Mekons And/Or ROIR's 1987 Cassette Release.
"Last Spring the band hacked their way through the soft underbelly of the American heartland. They were drunk, they ached, they were beautiful. A unique soundtrack to a life style of unending parody" -SPIN
"More than any band that came out of the late '70's England, the Mekons have perhaps the most devoted fans of any band even remotely connected to punk rock. They have produced some of the best rock-n-roll on the planet. They have done it all with style, grace and a ribald sense of humor. The have continually re-invented themselves - great, great music. There is no good reason not to possess this recording. " - All Music Guide To Rock
"A Minus!" - Robert Christgau, Christgau's Guide 'The 80's Recordings'
"Punk drunk, cockney, folky, Cajun, rockabilly, hippie protest blues music. This tape captures them at their sloppiest most raggedy assed and devil-may-care, which for true fans means at their best." - John Strausbaugh, Baltimore City Paper
"This qualifies as a great live album because it makes you wish you were there." - New Musical Express UK
"The Mekons have grown into one of the most venerable and entertaining post punk institutions." - Trouser Press Guide To Records
"Now this is my kind of roots music - raw, irreverent, loud and rocking." - Alternative Press
"The performances captures the band in fine form and contains some of their most exciting material to date. Jon Langford's wit is at an all time high." - Reflex
"The vital embodiment of just what a touring record should be, with all the smells, pungency a coast-to-coast gig entails. Dignity in the face of complete drunken ineptitude. Nobody does it any better." - Record Mirror UK
"The Mekons Madcap American caravans are caught in a dada documentary collage. Live tracks, studio outtakes, stage blather and road fatigue add up to a lively portrait of life as a Mekon." - Puncture
These lovable Leeds country/punk/rock 'n'rollers have made some inroads in the USA recently and this cassette-only document from their '86 and '87 American tours provides a bonus for ardent fans as well as glimpses into the soft gross underbelly of America. If The Mekons weren't so good and this cassette wasn't littered with some wonderful pumped up C&W like "Revenge," the boys' banter about willies and groins that comes in between would be filed under adolescent indulgence. But The Mekons aren't that young anymore and you can't badmouth them, because they'll beat you to it. NEW YORK MEKONS is like a road movie, a picaresque tale of fear, loathing, alcohol and hecklers and a live record of some very fine songs.
- Lindsay MacRae
Q, Issue #18 (March 1988)