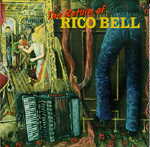 Rico Bell: The return of...
SONGS:
Line Up:
Rico Bell accordion, vocals
Jon Langford guitars, organ, backing vocals
Dave Trumfio bass guitar, double bass, backing vocals
Harry Trumfio drums and percussion
with Mark Durante steel and baritone guitars

Recorded and mixed at King Size Sound Laborartoies, Chicago / Engineered by Mike Hagler and The Baron / Produced by Jon Langford

A Celtic-infused brand of Leeds high lonesome soul from the suave and lady-killing accordionist of the Mekons. Produced by the indefatigable Jon Langford (who lends his fractured guitar work as well), backed by the crack rhythm section of Harry and Dave Trumfio (soon to be famous throughout the land as The Pulsars), and featuring appearances by Waco Brother pedal steel whiz Mark Durante, it's our most romantic release yet. It's big, meaty chunks of heartache, displacement, and resignation underpinned by that moaning accordion, snarling guitars, and that pleasantly ravaged voice...
(OK, not your standard idea of romance, but it's as close as we at Bloodshot can get cloaked in our Bukowskian wariness). Features Rico's whiskey-cured renditions of Merle's "Lonesome Fugitive," The Band's "Acadian Driftwood" (actually done first by Cajun old-timer Belton Richard, but if we'd said that you wouldn't have known what the hell we were talking about), and--talk about incest--The Waco Brothers' "Lake of Vinegar." Sure to magically transform even the coziest living room into a dimly-lit Chicago tavern on a dreary winter day.

"It's a loose, frayed collection that asks the question 'What would happen if the Temptations' tour bus collided with Hank Williams' and they had to make the best of the situation."
Gil Kaufman, Chicago New City

"It's like Mick Jones (of The Clash) fronting Son Volt."
Option

"...suffused with an unfeigned enthusiasm and affection for his material that belie its air of alcoholic tragedy."
Bill MeyerChicago Reader
Reprinted with permission from the Chicago Reader's Music Section.
Copyright (c) 1996 Chicago Reader, Inc.
---