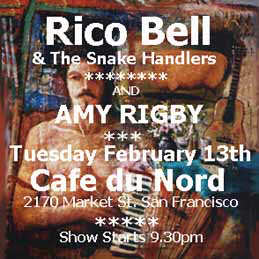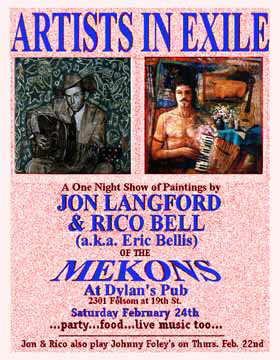 ---
From No Depression #5, September-October, 1996


Rico Bell is a Mekon and you want to collect them all, right? You may also want this record for the trademark space-age victrola raspiness of a David Trumfio production. Or to hear what may be the least known most respected rhythm section in Chicago, David Trumfio on bass and Harry Trumfio on drums and percussion. Or for Mark Durante's pedal steel playing, informed by his stints with, for instance, KMFDM and the Slammin' Watusis.
You'll want to hear what might be the Mekon Welshman Jon Langford's telltale lilt with a lyric in the six co-penned originals - pretty turns of phrase like "cold hard winter put the lid on too tight ... the earth sheds another layer of skin" on "Whirlaway", and "The apple fell and ripened where it lay / A love so beautiful now in decay" on "Devil's Dream".
You have to add this cover of "Dark End of the Street" to your collection, a Gram Parsons-esque arrangement in which Bell's phrasing reflects resignation to the lyric's sordidness where the much younger Parsons sang the pain and Linda Ronstadt the tragedy. Maybe mostly you'll want to have the Cajun meringue-like take on "I Am A Lonesome Fugitive", copped not from Merle Haggard but from the arrangement in French by Belton Richard. Bell's accordion shows the path to a long-overdue alt-country exploration of Cajun music.
The refrain of the opening song "On the Streets" will play on your mind for days: "Shouldn't I be holding you now?" And the Sabalon Glitz-y quote describing the "planet swinging round" is a droll anachronism in "Whirlaway". the story of one of those couples you always see at the run-down neighborhood bar.
Bell's sometimes precarious grip on the melody occasionally gives this record the feel of a Los Lobos song featuring Shane McGowan. But you have to let it grow on you, because now and then it's nice to have a grownup around, even as a cautionary tale.
-LINDA RAY
---
Some additional info, Rico Bell sent to me:
Just thought i'd give you some snippets of information that may or may not already be on your mekons site. Do with it as you will.
I've had a record out with Bloodshot for a couple of years now called 'The Return of Rico Bell' which i did in Chicago with Jon (Langford) and Dave and Harry Trumfio (The Pulsars) it was recently released in Britain through Direct Distribution and is still available on import in Europe.
I'm recording a new album this winter which will also be on Bloodshot, due to be released spring '99, with a band i've recently got together in England called 'Rico Bell and The Snake-handlers'..featuring, among others, x Three Johns bass player Brenny on sexy guitar and Hugh Whittaker x of 'The House Martins' on drums.
I'm also doing a solo show of paintings under my 'real name' Eric Bellis, at Eastwick Art Gallery in Chicago due to open on Oct 16th this autumn (or fall as, they say) this is a follow on from a joint show Jon and i did there last August (97).
Rico Bellxxxx
---
A Mekon Among Us
Rico Bell & the Salvation of Punk Rock
by Derk Richardson
Thursday, November 25, 1999
©1999 SF Gate
URL: http://www.sfgate.com/eguide/music/derk/

Mekons walk among us, and rock 'n' roll is better for it.
For 20 years, the punk-bred band from Leeds, England, has been cranking out protean rock capable of changing people's lives.
Granted, fans who have been irrevocably moved by the group's reeling, rollicking and politically charged music comprise little more than a cult.
But The Mekons are nonetheless one of the only bands from the era of the Sex Pistols and The Clash that has not only survived, but continued to grow.
Rico Bell, a Mekon among us.
>From the seminal single "Never Been In a Riot" -- a sardonic answer to the Clash's "White Riot" -- through such anguished commentaries as "Hard to Be Human" and "Empire of the Senseless" ("They took away our films and tapes and notebooks/ But it's OK 'cos we've self-censored this song") to the recent sexology of "Come and Have a Go If You Think You're Hard Enough," The Mekons have critiqued nearly all aspects of capitalist culture while forging their own raucous community.
Intelligent Aliens
Taking their name from intelligent aliens in an obscure 1950s comic strip, The Mekons make albums that teem with jumbled musical, literary and ideological references -- Hank Williams here, Raymond Chandler there, socialism and populism everywhere else. On 1987's The Mekons Honky Tonkin' they sing about the purgatory of the coal mine ("There's a wheel off my wagon and a tolling bell/ Axle dragging on the road to hell"), memorialize workers killed in "The Trimdon Grange Explosion" and footnote their lyric sheet with bibliographical references to Frederick Engels, Hunter S. Thompson, Dashiell Hammett Balzac, and others.
The songs come on like garbage trucks running red lights, overturning in the intersection and spilling out payloads of books and records and political tracts. Sometimes the albums sound like car wrecks, sometimes like barroom brawls. But the drunk behind the wheel is likely to be spouting Sartre or Adorno, while guitar chords crash and clash in sloppy unison, and an accordion wheezes over slamming drums.
Mekon Invasion
In recent years, Mekons have been cropping up everywhere.
Welsh-born guitarist Jon Langford and Leeds native Sally Timms, who trade lead vocal duties with founding member Tom Greenhalgh, have been especially active with side projects. Langford had a side band in the '80s called Three Johns records with alt-country bands the Waco Brothers and the Pine Valley Cosmonauts. As Cowboy Sally, Timms croons C&W ditties in a soothing velvet voice. Both have internationalized the band by moving to Chicago.
"Yeah, yeah, we're everywhere," says the accordion-playing Mekon Rico Bell, "ineffectually covering the globe."
Bell is the latest Mekon emigre to the states, having recently settled with his new wife in San Francisco. He also has a new solo album, Dark Side of the Mersey, with his evocatively monikered band, The Snake Handlers.
What's That Sound?
Merging the country tinge that has infected The Mekons since 1985's Fear and Whiskey (the band's defining post-punk album) with hard-edged folk-rock approach (like the Byrds crossbred with the Pogues), Dark Side of the Mersey confirms that nearly anything crawling from the wreckage in camp Mekon is worth a serious listen.
In fact, Dark Side is one of 1999's great rock 'n' roll sleepers. For fans, the biggest surprise is that Bell, who performs at the Starry Plough in Berkeley on Friday, Dec. 3, is as an engaging a singer (think John Lennon through Shane MacGowan) and as compelling a songwriter as any of his bandmates.
"It's a weird sort of club," says Bell, who laughs easily and speaks with the soft, melodious Liverpool accent first introduced to American pop music fans by the Beatles.
"There's a definite Mekons approach to everything. It's a collaborative approach. It's different from what we do as individuals, as well. For good or bad, I don't know, but it's unique, I think, and I like being a part of that. When it all comes together it ends up the sort of thing which couldn't possibly have happened if one individual had done it.
"I think we're always trying not to be clichéed and that sometimes can make it sound awkward," Bell adds, noting the band's urge to incorporates new idioms (from C&W to dub, electronica and rap) and instruments (raging electric guitars, subtle synthesizers, keening violin and the plinking Eurasian lute). "But it's an attempt at being Mekons."
Political Rock
Bell joined the band in the mid-1980s, around the time the British miners' strike of 1984 was inspiring a resurgence in political rock.
Although he's been lending his richly rhythmic accordion squeezes to Mekons recordings ever since, Bell doesn't garner the same kind of (sometimes hyper-sexed) fan obsession that's directed toward Langford, Timms or Greenhalgh on the "Mekons.bullshit" discussion list.
That's in part because he signed on later in the game, and partly because he didn't always travel with the band. "I didn't tour for quite a few years, for personal reasons," he says. "It was almost a phobia I had about touring for a bit."
It's not that Bell (born Eric Bellis) dislikes the limelight. "I always wanted to be on stage," he confides, "but I couldn't play anything."
An early baby boomer, Bell grew up in Liverpool -- on the far side of the Mersey, the river immortalized during the British Invasion by such songs as Gerry and the Pacemakers' "Ferry 'Cross the Mersey" and bands like the Merseybeats.
Role Models
The town was rife with role models. "The Beatles used to play lunch time at the Cavern," he recalls. "I used to buck off school and go over there. They'd play around one or two. I also saw the Rolling Stones there. I didn't actually see them play, I just saw them standing about. I stood next to Brian Jones, he was so tiny and he looked ancient."
At 18 Bell finally learned to play guitar, and started performing in folk clubs, "with Elvis Costello before he was Elvis Costello." After living and playing in Bristol for a time, he moved to Leeds, taking a friend's accordion and intending to sell it there.
"Sally Timms was in this band called the Shee Hees," he explains, "and Jon [Langford] was playing drums, and they asked me to play the accordion. I was not an accordion player at all at the time, it just kind of stuck and it progressed into playing accordion with The Mekons."
His guitar-playing limited by the loss of his left index finger in a farming accident, Bell "got a better accordion and tried to play it properly."
A Paintbrush, a Sledgehammer
Farming accident? Bell was putting up fencing and a coworker whacked his hand with a sledgehammer.
It's a token of the day jobs he used to hold down in order to support his music and art habits -- both of which he still pursues today. His paintings grace the cover of Dark Side of the Mersey and hang in a Chicago gallery.
Bell has a painterly way with songwriting as well. Dark Side of the Mersey -- the follow-up to his Bloodshot Records debut The Return of Rico Bell -- bristles with imagery of lost souls and longing lovers, people who "look down faded and used," inhabiting places where "a cold wash of weak sun shines on the flagstones."
"The idea was to kind of get the feel of the dark side of the Mersey sound if you like," Bell explains. "That was the starting point. There was stuff in there that had been going around in my head for years, really. It was quite depressing at times, but it was quite good to actually put it all down."
Universal Language
Despite the Liverpuddlian roots, Dark Side of the Mersey speaks a universal language. San Franciscans, indeed urbanites just about anywhere, should recognize this scenario from "The Whole Thing Stinks": "I saw a sight the other day/ It almost made me cry/ I watched a homeless woman/ Try to cross to the other side/ The light was in her favour but/ She couldn't make the curb/ She fell into the gutter and/ The slimy water there/ Someone came to help here/ I wish it had been me/ But as the cars went gliding by, I walked/ On up Polk Street."
It's an observation that wouldn't sound out of place on a Mekons record, especially in the musical setting of raw, punky folk-rock, heavy beats and sudden rhythmic left turns.
It's a Mekons way of looking at the world and emulating its bittersweet and chaotic qualities in sound, this time channeled through their scout in San Francisco.
Rock 'n' roll is better for it.
Rico Bell will appear Thursday, Dec. 2, on "The Hear & Now" on KPFA radio, 94.1 FM Berkeley (streaming on the Web); Bell and The Snake Handlers perform Friday, Dec. 3, at the Starry Plough in Berkeley and open for the Knitters, Tuesday, Dec. 7, at the Mystic Theater in Petaluma.
Bell will also play selected dates in England in December, and enjoys a showcase at Austin's South By Southwest in March, 2000, along with The Mekons, who have a new album due at that time.


---
---