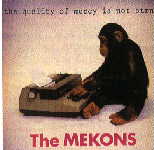 THE QUALITY OF MERCY IS NOT STRNEN
The Mekons
SONGS


Like Spoons No More             02:05
Join Us In The Countryside      02:05
Rosanne                         02:34
Trevira Trousers                04:05
After 6                         04:35
What Are We Going To Do Tonight 01:48
What                            02:08
Watch The Film                  03:18
Beetroot                        04:12
I Saw You Dance                 02:17
Lonely And Wet                  05:03
Dan Dare                        02:32

Notes:
1979 - LP on Virgin, UK [V 2143]
1990 - LP/CD reissue on Virgin, UK and Blue Plate/Caroline, US [CDV 2143]
This unusual title was drawn from the axiom that, if you give a monkey a typewriter and an infinite amount of time, it would eventually produce the complete works of Shakespeare, a wry comment on the group's own musical ability. The rest of the Shakespeare quote appears on the Mekons Story. About Dan Dare in the words of Gary Wilson: Langford once described Dan Dare as "like a Battle of Britain fighter pilot who somehow got into outer space--sort of a British imperialist fantasy."
The Mekons borrowed the Gang of Four's instruments to record this record, which is ironic as Virgin messed up and used a picture of the GoF rather than the 'Kons on the back cover! The final 6 tracks listed here (Virgin-released singles tracks from 1979-1980) are bonus cuts on th=> Virgin/Blue Plate reissue. - Out of print - right now.
Line-up:
Andy Carrigan (vocals)
Mark White (vocals)
Kevin Lycett (guitar)
Tom Greenhalgh (guitar)
Ross Allen (bass)
Jon Langford (drums) Back to my homepage.

Back to my Mekons Discographie.