More stuff about Jon Langford and art
---
(Pictures are bigger, if downloaded)

The Martyrdom Of Saint Hank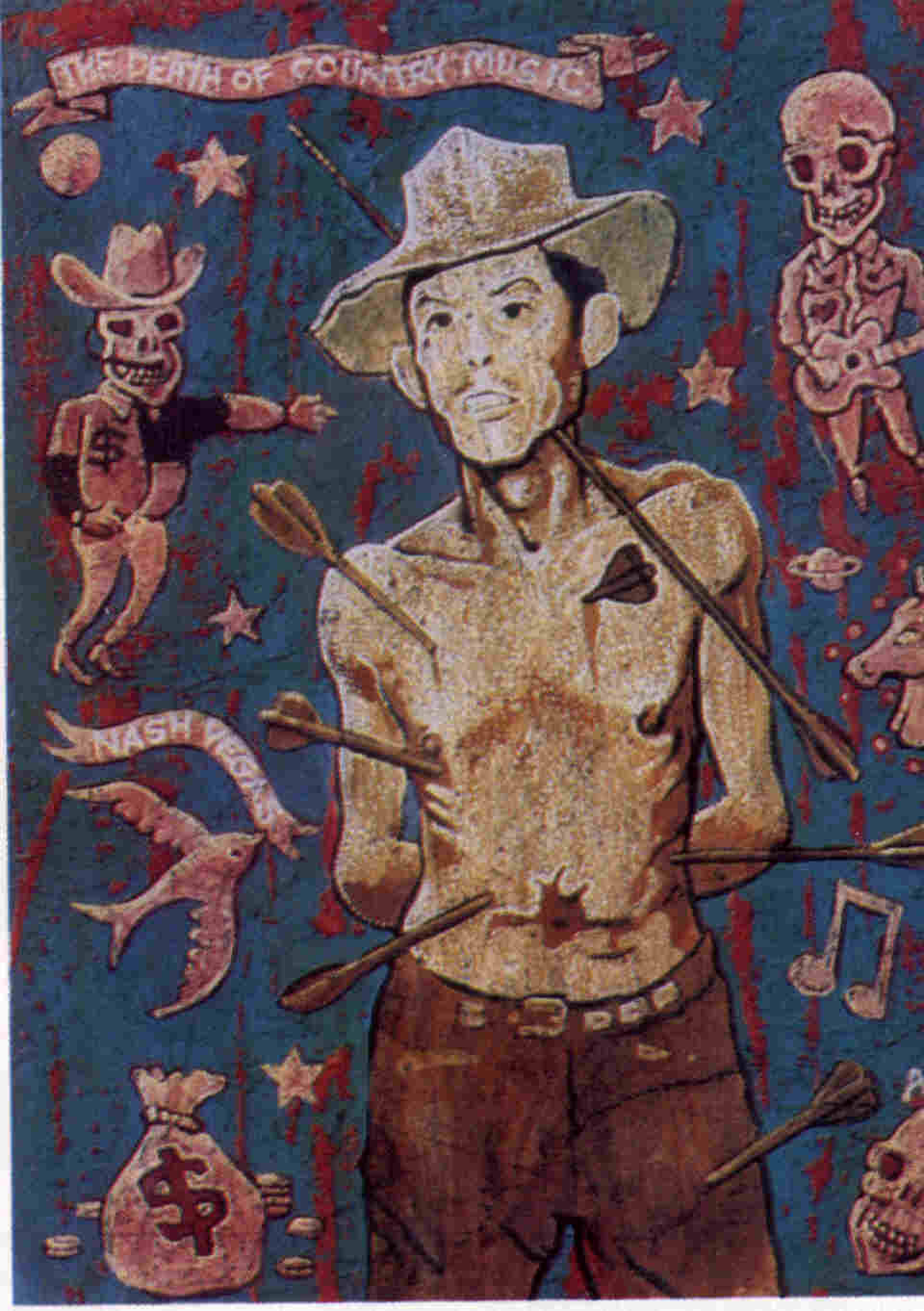 Hank Williams, Bob Wills, and a host of honkytonk heroes: all iconised by one-time Leeds punk Jon Langford. Mark Hagen reports.
It would have been one of the most bizarre things ever seen on Nashville's Music Row. As part of an exhibition of his country and rock'n'roll paintings called The Death Of Country Music, Jon Langford had carved a number of ornate gravestones juxtaposing his trademark images of winged skulls, snakes, Hank Williams and the like with slogans like To The Last Dead Cowboy: "I was hoping we could dump them on MCA and all the other bugger's front lawns in the middle of the night," enthuses the Welsh-born, Chicago-based musician and artist, "and run a bogus coach tour the next morning with unsuspecting tourists I was going to kidnap in the Quality Inn Hall of Fame car-park. Guerilla art..."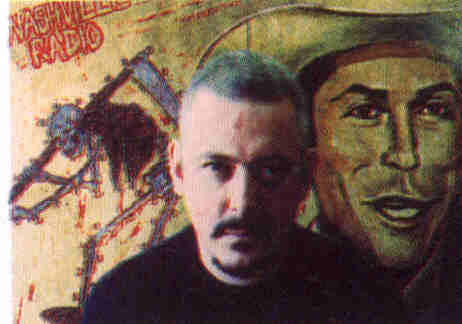 It`s a long way from the art school punkiness of mid - 70`s Leeds to winding up the 90`s country establishment. As a founding member of The Mekons he has an album (Me), a travelling multi-media exhibition (Mekons untitled)(United - misspelled!), irregular tour dates ("when we can afford to get everyone together") and a track (Where Were you) on Universal's definite punk box. As a member of Clash/Combo The Waco Brothers ("my social life") he has an exiting new album (Wacoworld) and a growing circle of fans, including Bruce Springsteen. As cartoonist Chuck Death he has a new collection of his Great Pop Things strips, produced in partnership with Colin Morton, on the shelves. as a part of the Pine Valley Cosmonauts he produced and played on the recent tribute disc Salute the majesty of Bob Wills. And as a distinctive and thrilling artist ("my day job") he has the great and the good knocking on his door: "Seymour Stein (Sire records boss) saw my paintings at South By South West in Austin last year and asked me to do something for the Rock and Roll Hall of Fame. As Bob Wills was being inducted I felt obliged to do it - it was a bit rough painting Billy Joel though!"
That's not surprising , beacuse Langford's paintings are shot through with a mordant wit, a lot of cross-cultural symbolism and a deep distrust of the music business. the works "are as much about music and politics as art."
"This is about side-stepping the mounds of critical theory that left me nailed to the floor for 10 years after I finished art school. I never had any trouble writing songs - the only way I managed to start doing the paintings was to think of them in the same way! I scratch them and scrape them and kick them around the floor and rub filth into them - I'm not quite sure why, but they're never finished until I've done that."
---
| | |
| --- | --- |
| Mekon Jon Langford, top left, with his rendering of Hank Williams as homoerotic saint, right, plus tragic heroes Woody Guthrie, Bob Wills, Curtis Mayfield. New Langford paintings will debut at the Barbican, London, this year. | |
---