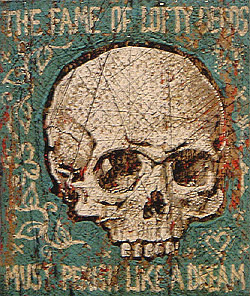 (Richard A. Chapman/Sun-Times)
Jon Langford?s efforts to balance family life with performing inspired a new song, ?Torn Apart.?

By Andrew Herrmann,
Staff Reporter
Jon Langford, 46, is game for taking the "middle-age test:''
You know you're middle age when -- your age starts showing around your middle. ("I was fat in my 20s,'' says Langford.)
You know you're middle age when -- your friends start telling you how young you look. ("People do say that,'' says Langford. "I say, 'Why do you have this image of me as this old fat guy?'")
And you know you're middle age when -- you stop criticizing the older generation and started criticizing the younger one. ("We've always ripped the younger generation,'' says Langford. "The older generation is too sad to criticize.'')
People in their 40s may hear the footsteps of middle age creeping up behind them, but Langford carries the additional baggage of being a living icon of an earlier era, a person who reminds some others of their own past. He and his band, the Mekons, were seminal figures in punk rock -- that noisy howl of rebellion of the late '70s.
"When you're a punk rocker and you're dated back to 1977, you're supposedly past your sell-by date," says Langford. "Some people think I'm supposed to be some kind of geriatric rot because I'm in my 40s."
Langford went kind of country, not Shania Twain stuff but a growling form that melds wistful Hank Williams realities with in-your-face political aggression.
Moving here 12 years ago to follow his Chicago-born wife Helen, the Welsh-born Langford still records and tours with the Mekons, as well as the raucous Waco Brothers.
Like most 40-somethings, he acknowledges getting older and rejects the notion he is old. He jokes he has no trouble staying out late playing, but "I find our fans find it harder to be out at night. We do an early show and we get an amazingly popular response. They're so happy. They've got kids.''
And, now, so does Langford -- two sons, 6 years and 22 months.
"I've tried to restructure my life so I can have a marriage and try to be a good father,'' he says. He tours less, and when he does, he tries to do it in spurts of a few weeks and then return home.
Balancing family obligations and professional ambitions isn't easy. A song he's written, called "Torn Apart,'' is about "the pull between the two.''
"I can get pretty comfortable and happy and settled at home and then I have to go away. And by the time I get myself comfortable and happy being away, then I have to go home,'' he says.
Langford's work is critically acclaimed. But a typical live audience is in the hundreds, not the tens of thousands he dreamed of when he was a kid. Time and experience have changed his definition of success. He's had two contracts with major labels; he now makes records with smaller independent distributors where he retains more control.
"We ended up on major labels, and we'd open up in these huge festivals, part of which was great, but really wasn't us,'' he said. Getting a major label contract was "like revving up and then driving into a wall. All of a sudden you're just an employee.''
He's satisfied -- and laughs that he'd better be, because at 46, there's no turning back now. "The route is chosen. You're almost unemployable. I'm past the barrier when I could have stopped doing what I do.''
Langford finds that "reassuring.''
"You get to your 40s, you can have some perspective on life. Things become clearer: you look back [on younger days] and wonder: Why did we do certain things? Why did we want certain things?'' These days, he says, "I have a better idea of who I am and what I do.''
The challenges aren't over: he has a solo record out this month, "All the Fame of Lofty Deeds'' (Bloodshot Records), for which he also painted the cover. "I think I have a few more decades in me,'' he says.