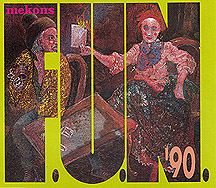 The Mekons: Mekons F.U.N.
SONGS

Makes No Difference     04:41
Having A Party          05:01
Sheffield Park          03:51
One Horse Town          07:12
Hashish In Marseille    03:22
(Tony Byker reads Walter Benjamin)
One Horse Dub           04:23
Notes:
1990 - CD on Blast First (BFFP 62)
1990 - LP on Blast First
Produced by the Mekons with Ian Caple for sin Recordings, Brixton, London, England. The Mekons' reaction to house music? "One Horse Town" features rants by Lester Bangs. Recorded for fun, as the title suggests, at the prompting of some airhead at A&M, F.U.N. '90 was received with stunning silence at the label and got zero promotion. It eventually proved a contract breaker. Adding insult to injury, A&M also chose to lop off two tracks from the Blast First U.K. 12".


Lineup:
Jon
Tom
Sally