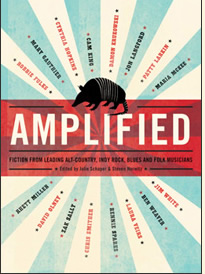 Amplified, more information
Sixteen original short stories by some of most important songwriters today
Amplified presents sixteen short stories by some of the most compelling songwriters performing today. With original contributions from Mary Gauthier, Jon Langford, Chris Smither, Maria McKee, Patty Larkin, Jim White and Rennie Sparks of The Handsome Family, Amplified showcases artists working in the short story format, many for the first time.
NASHVILLE RADIO, more information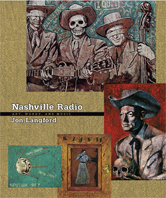 long-awaited collection of Jon Langford's paintings includes an exclusive CD
This large-format, full-color paperback reproduces 215 of Langford's acclaimed paintings. It also includes writings about music and art and a CD with 18 new recordings of Mekons and Waco Bros classics & rarities.
144 pages, $29.95 postpaid
SPECIAL EDITION! 70 copies of NASHVILLE RADIO come with a limited-edition signed color print of "Horizon Boys Vanish," one of the images from the book -- available exclusively from this website.
available from Verse Chorus Press mailorder
---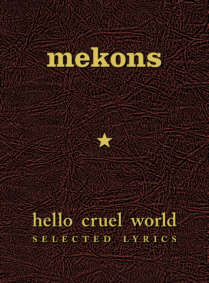 MEKONS: Hello Cruel World. Selected Lyrics (with lots of artwork and photographs) ($19.95)
A nifty pocket-sized hardback containing the lyrics to 125 Mekons songs, many of them illustrated by various Mekons. Also includes handwritten original drafts of lyrics, plus candid photos of band members on the road by noted photographer Anne Lehman.
To see sample pages, click here

-------------------------------
MEKONS ART PRINTS
-------------------------------

Verse Chorus Press is proud to offer for sale beautiful limited-edition color letterpress prints of four of the illustrated lyrics from the Mekons book "Hello Cruel World."

Hand-printed by renowned letterpress printer Inge Bruggeman in limited runs of 100 copies each (numbered 1-100), the prints are 11 x 15 inches and printed on heavy, archival-quality card stock. Each was created by a different Mekon, and is printed in a different color on a different-colored paper.

They are perfect for framing and made to last. To ensure they survive the rigors of the US Postal Service, we will ship them flat, in protective packaging, via priority mail.

Cost is $15 per print, or $50 for the set of 4, plus $6.95 shipping and handling within the USA. For insurance add an additional $1.30. Please ask for a quote on shipping outside the USA.

Signed copies: a very limited number of sets (numbers 6-15) were signed "mekons '02" by the artists (in their usual collective spirit). These are available on a first-come, first-served basis for $100 a set plus $6.95 shipping and handling. For insurance add an additional $2.20. Please ask for a quote on shipping outside the USA.

Pay via Paypal (to <info@versechorus.com>) or send check/money order to: Verse Chorus Press, PO Box 14806, Portland OR 97293.


Verse Chorus Press, PO Box 14806, Portland OR 97293
(503) 777-4611 (phone) + (503) 777-4627 (fax)
---
GREAT POP THINGS, by Colin B. Morton & Chuck Death ($16.95)
More information
---
UNITED - mekons art - mekons novel - mekon cd
10 1/4" X 7 1/2" 200 page collection of writings, art and critiques.
Including 59 color illustrations (25 full page) and 32 black and white illustrations.
More information