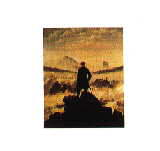 2nd LP or Devil Rats And Piggies A Special Message From Godzilla (Red Rhino album 1980)
The Mekons
SONGS

Snow                          02:40
St. Patrick's Day             02:31
D.P. Miller                   02:50
Institution                   03:05
I'm So Happy                  02:58
Copper Squad                  02:43
Business                      02:28
The Trimdon Grange Explosion  03:18
Karen                         02:41
Corporal Chalkie              03:03
John Barry                    02:35
Another One                   03:08
Notes:
1980 - LP/CS? on Red Rhino, UK [RedMEK1]
1994 - unauthorized CD reissue on Cherry Red, UK [CDMGRAM 76]
2000 - CD on Quaterstick (QS 66)

Written and recorded by The Mekons. Incidentally, the Cherry Re- CD-reissue is being challenged -- the ownership is somewhat questionable and the CD was mastered from a vinyl copy of the LP! The Mekons have issued a cease-and-desist order and are planning a legitimate reissue of the album (from the original master tapes). So don't buy it!
Lineup:
Andy Corrigan
Tom Greenhalgh
John Gill
Mary Jenner
Jon Langford
Kevin Lycett
Mark White