Arcansas Democrat-Gazette 6/7/92:
Love songs mark 'Mekons' 'comeback'
BY JACK W. HILL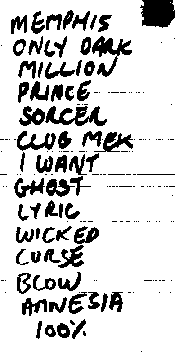 When Mekons first came to Little Rock in December 1989, commercial success seemed just around the corner for the British group of punk-folkcountry-radical Marxist rockers.
At the time the group had an album, "The Mekons Rock 'n' Roll," on A&M Records. The deal was short-lived, though, and Mekons were soon back in the land of small record labels.
With "The Curse of the Mekons" (the latest album title pokes fun at the group's own predicament), the band now records for Blast First, and as part of a supporting tour will perform Wednesday at Juanita's, 13th and Main streets.
Hardsoul Poets, a North Carolina group, opens the show at 9 p.m. Cover charge is $7.
Mekons' recording history - it's hard to to find any ol the albums outside used or rare or specialty stores - may be bleak, but hope is again looming.
"We're halfway or more to getting a new deal together to record an album for a new label to be started by WEA, the Warner-Elektra-Atlantic people", Mekons' guitarist-singersongwriter Tom Greenhalgh said in a recent telephone interview from Athens, Ga., a stop on the group's brief current tour.
'We've got a new album recorded, 'I (the red heart symbol for love) the Mekons.' It's all love songs ostensibly, for the theme, allhough some of them might be recognized as about other things, like sex.
"The album should be out in September, but we haven't signed anything yet. It's a strange new label, to be filled with acts from all over the world. We'll have absolute creative control and we're hoping to re-release a lot of our back catalog as well."
Mekons could be the sole surviving act from the punk rock days of the late 1970s, when the band's UK contemporaries were the Clash, the Gang of Four and the Sex Pistols.
The band (which takes its name from a race of aliens on the British TV show "'Dr. Who") released its first album "The Quality of Mercy Is Not Strnen," on Virgin Records in 1979. Subsequent albums came out on a variety of labels: Red Rhino. CNT, Sin, ROIR Twin/Tone and Strange Fruit.
Many of Mekons' songs have a leftist slant. The band has done benefits for striking miners and the song "If They Hang You" saluted novelist Dashiell Hammett for refusing to "name names" during the McCarthy era. Several songs on the album "So Good It Hurts" mention former President Richard M. Nixon.
Mekons also provide resourte material for fans.
"The notes for each (Mekons) song cite relevant books, movies or artworks for those undaunted by intellectualism," said the entry about Mekons in Ira Robbins' 1989 book "The New Trouser Press Record Guide."
Greenhalgh said the band is preparing a two-hour video that it hopes to make available to its fans. The video will contain footage of a live Chicago show, old promotional pieces and bits of interviews.
Other core members of the band are Sally Timms, Susie Honeyman and Jon Langford. New members are drummer Jon Langley and bassist Sarah Corina. All the musicians are English and all still live in England, although Langford, who married a Chicago woman, spends much of his time now in the Windy City.
The next album, Greenhalgh said, will include 12 original songs and "Point of No Return," written by "Lonesome" Bob Chaney, a New York City friend of the band.
---
Setlist and article I got from Dan Bailey. Thanks again.